Taking stock: Are impact investors really ready to take on the world's 'intersecting crises'?
Impact investing has achieved impressive growth and captured widespread interest, but it's still generating just a fraction of the impact required to tackle today's biggest challenges. At this week's SOCAP Virtual, one of the world's largest impact investing gatherings, one interactive session asked attendees to take stock. Is the industry really moving forward, or might impact investors themselves be holding back real change? Meg Massey listened in.  
Is impact investing ready to transform the mainstream, rather than simply be part of it?
That was the overarching question at a SOCAP Virtual session on Wednesday, where advisor and author Jed Emerson moderated a lively discussion about the fundamental shift wrought by the Covid-19 pandemic, the Black Lives Matter movement in the US and beyond – including current protests against police brutality in Nigeria – and the ongoing climate crisis. 
These "intersecting crises," in the words of Resilience Capital Ventures' Gillian Marcelle, are creating a once-in-a-generation opportunity to transform the economic system into one with a more equitable and less extractive model. The question is whether impact investors have the will to commit to it. 
I'm actually not convinced people are really willing to make serious changes
"If we really are serious about shifting power, shifting who's in the room when decisions are made about deployment of capital, reorienting ourselves away from the shareholder return toward beneficiary value, we're gonna have to make some really serious changes," Emerson said, early on in the conversation. "These changes are not going to be comfortable… I'm actually not convinced the people [in the impact investing industry] are really willing to do that."
Rodney Foxworth, founder of the capital intermediary Common Future, outlined that challenge more concretely. A commitment to racial justice, he explained, means recognising the "structural disparity" reflected in unrealistic investor demands or returns that accrue to investors but not communities. "Those are the questions I think we should be raising at this point, and really fundamentally shifting how we progress as impact investors."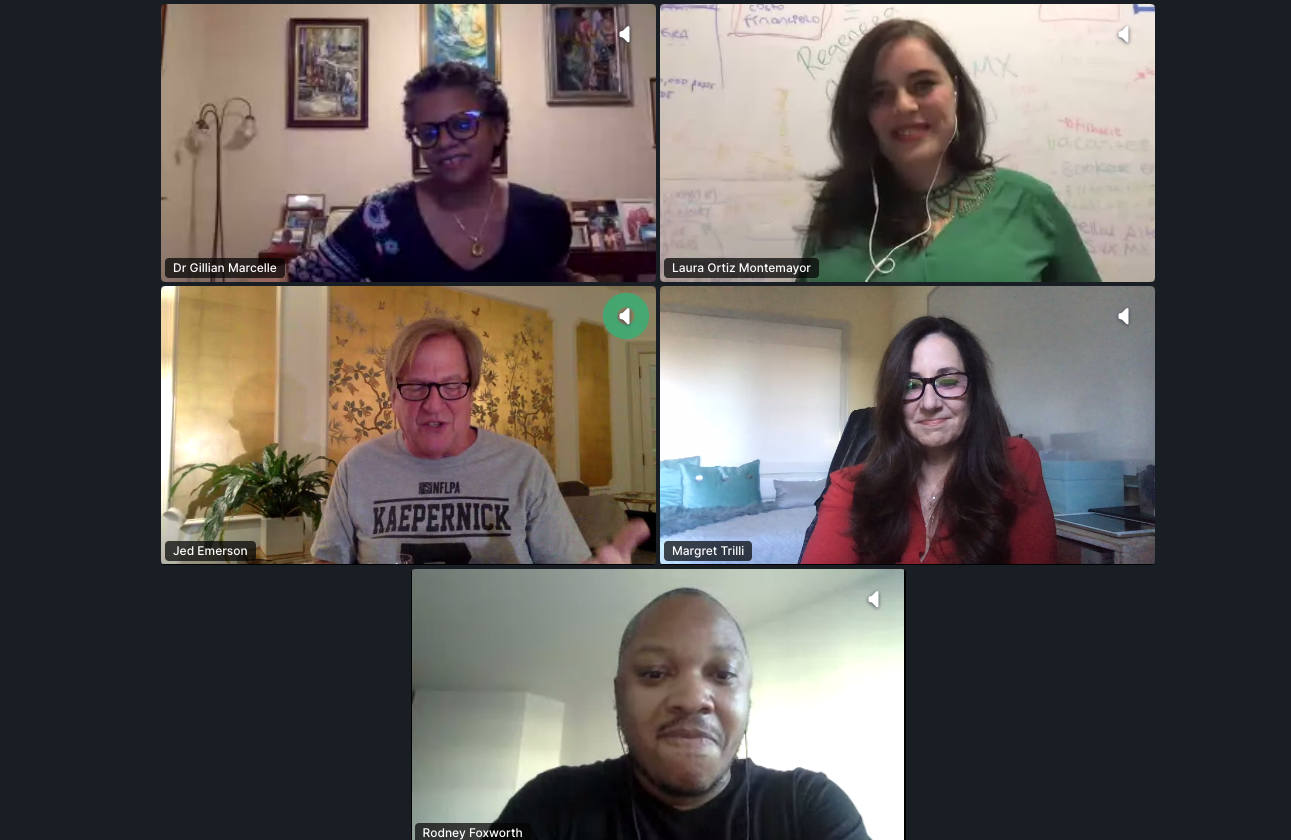 Above: SOCAP Virtual speakers, clockwise from top left: Gillian Marcelle, Laura Ortiz Montemayor, Margret Trilli, Rodney Foxworth and Jed Emerson
Power dynamics among people are not the only point of contention – the relationship between people and resources is also in need of a reset. Laura Ortiz Montemayor, founder of advisory firm SVX Mexico,  put it bluntly: "There is no infinite planet."
"We are thinking about the planet as an infinite pie," she said. "The pie of value can be infinite, the pie of maturity can be different or infinite, but the pie of growth has to be addressed. It's either economic growth exponentially, or life."

"Covid, in large part, evolved out of a break with our relationship with nature," Emerson said in a post-session interview, echoing Montemayor. "We're destroying habitats, taking animals out of theirs... this lack of respect keeps us separate from nature and separate from each other." 
We have to prove that we're worthy of getting financial capital, when the folks who have got the financial capital created this mess
Marcelle, also speaking to Pioneers Post after Wednesday's discussion, pointed out that Europe and the UK are "far ahead of the US in terms of disclosure and standards," but "when they are honest they'll admit it's the E and G [of ESG, or environmental, social and governance investing], maybe a little bit of gender to cover the S." And, she added, racial justice was "not part of the conversation" in Europe compared to its prominence among investors in the United States. 
Can the conversation get beyond words to concrete actions? The panelists all agreed that impact investors need to be far more intentional about implementing the power shift so often lauded in venues like SOCAP. What that looks like in practice comes back to the question of willpower – and a serious commitment to humility.
"The majority of us have to prove that we are worthy of getting financial capital when the folks who have got the financial capital have created this mess," Marcelle said – a statement met by virtual approval in the form of "mic drops" in the chat window accompanying the online discussion. "We should not be trying to make a business case for diversity and inclusion. We should be asking the people in power, why have you messed up and what are you going to do about it?"
Header image by Chris Henry on Unsplash 
Thanks for reading our stories. As an entrepreneur or investor yourself, you'll know that producing quality work doesn't come free. We rely on our subscribers to sustain our journalism – so if you think it's worth having an independent, specialist media platform that covers social enterprise stories, please consider subscribing. You'll also be buying social: Pioneers Post is a social enterprise itself, reinvesting all our profits into helping you do good business, better.