The hard-earned lessons of a cross-border social business partnership
Social enterprises are sprouting up all over the world, but in some areas the movement is slower to get off the ground. Although international programmes can be of huge support to local pioneers, it's not quite as simple as transposing experience from one country onto another. The partners in one recent cross-border project share some lessons learned with our DICE Young Storymaker Mathilda Mallinson.

The British Council's DICE programme, which nurtures creative and social enterprise in six countries around the world, is founded above all on partnership. Partnership between local and global agents to nurture post-growth economies, from the ground up. But while partnership offers many solutions, it also brings its own challenges. Openness about expectations and a willingness to evolve is key to success, as one DICE-funded pairing recently discovered.
The Social Enterprise Development Accelerator (SEDA) is a three-way partnership between UK/Estonia-based NGO Asfar, France-based Positive Planet International, and business associations in the Assiut governorate of northern Egypt. Assiut is one of the nation's poorest regions and culturally, according to SEDA, does "not create a supportive environment for social enterprise," as a relatively socially conservative region. 
SEDA's goal is to grow Egypt's social enterprise movement, while encouraging the promotion of women and young people within its ranks. In the summer of 2019, 20 Egyptian entrepreneurs from the Assiut area were flown to either London or Kuala Lumpur, to learn from leading names in each capital. They were connected with mentors – successful social entrepreneurs and social business consultants – from those countries, in the hope these relationships would outlive the programme's completion in early 2020. Separate workshops were held in the Assiut governorate for business and community leaders, promoting social enterprise and women and youth employment more broadly.
A foreign concept
But theirs is not a straightforward success story. SEDA's goals have had to shift since its launch in 2019, says Sheniz Tan, Asfar's CEO. Asfar oversees numerous projects in the near and Middle East, providing development opportunities for women and young people. Tan's honesty about the obstacles faced should reassure others on the same rocky road, because the partnership has readjusted and moved forwards each time.
"The moment we started delivering our project, we discovered that the concept of social enterprise was still quite foreign in the region," Tan explains.
Egyptian law doesn't have a legal definition for social enterprise: bodies must either register as an NGO or as a for-profit. Moreover, NGOs are not legally allowed to be financially self-sufficient through hybrid models. This forces many into donor-dependency, and often comes with a sense of unease about profiting from social goals. During their training week in London, Egyptian participants were surprised and sometimes sceptical about the broad criteria by which British businesses can qualify as social enterprises – even debating with one mentor whether his enterprise was social at all.
SEDA's goal shifted from opening up a ready-made sector to women and youth, to formalising and growing the sector itself
As a result of this conceptual gap, Tan says, SEDA's goal shifted from opening up a ready-made sector to women and youth, to formalising and growing the sector itself. For example, Asfar and Positive Planet had partnered with local umbrella NGOs ANWA and ASBA in order to recruit participants for the SEDA project, but ended up inspiring the NGOs themselves to shift their own focus. ANWA and ASBA run large-scale microfinance programmes; they now give preference to applications that have a social element.
And the different perspectives made the work all the more rewarding, insists Enas Abdul-Aziz, Egypt country manager at Positive Planet International, which supports sustainable development solutions in disadvantaged regions, and employs women and young people to execute them. "Our beneficiaries went from being confused and discouraged with the idea of social enterprise, to developing a passion for it and becoming advocates," she says. The project has created a "buzz" for social enterprise within Assiut's civil society, she feels.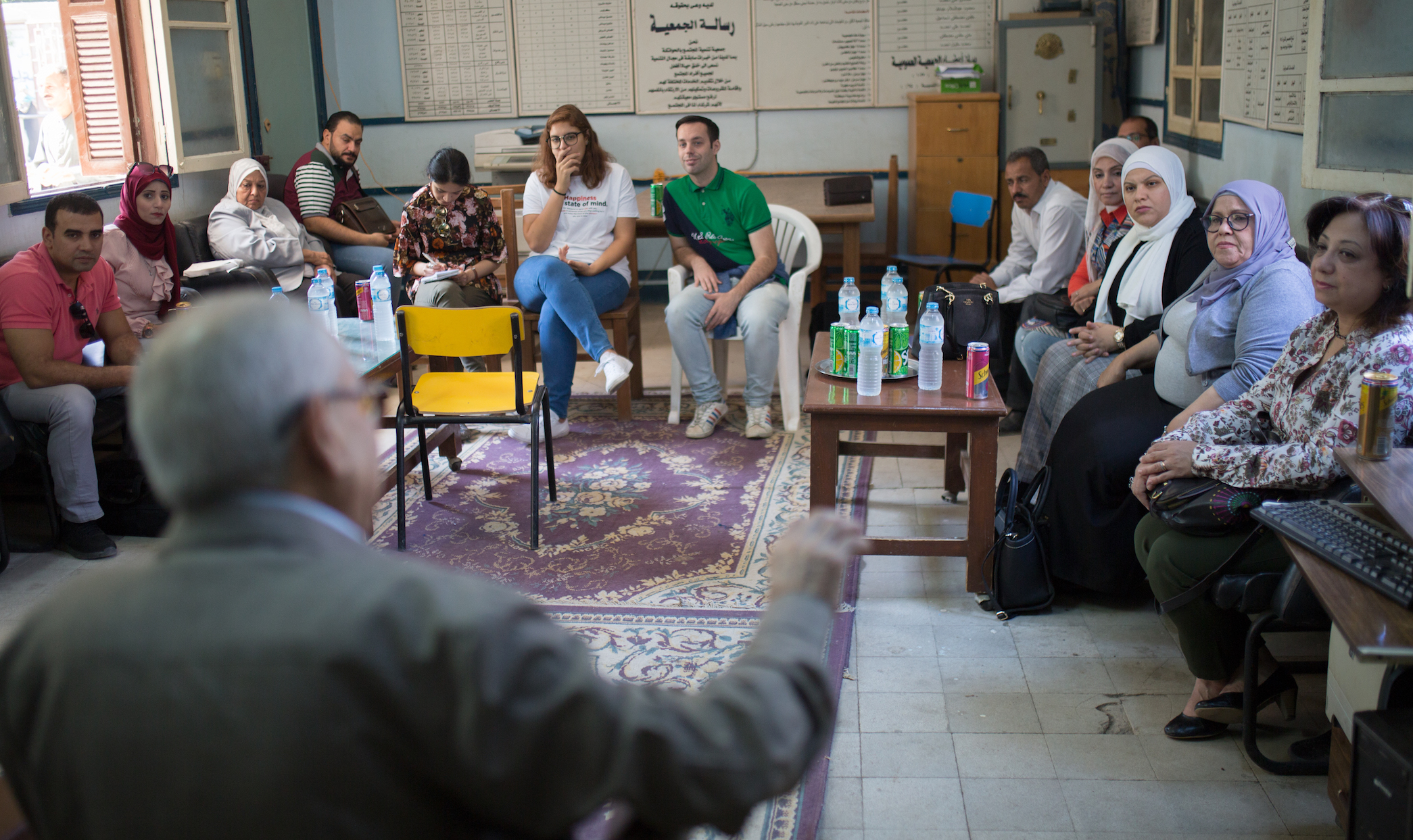 New audiences
Another realisation SEDA came to was the need to target a wider audience. The project initially wanted to reach youth and women social entrepreneurs, but it is the "marginalisers" – the people or factors responsible for their exclusion – that need more work, Tan admits. "You can develop potential in women and young people, but if you haven't changed anything above, eventually they'll hit a glass ceiling." Rather than solely focusing on women's organisations, SEDA therefore included men's business forums in its activities.
Other individuals from the community were involved too, explains Abdul-Aziz. Awareness sessions in Assiut villages attempted to change misconceptions around youth and women leadership, while workshops with board members of local social enterprises explored the business case for gender equality.
Have these efforts made a noticeable difference?
Abdul-Aziz is optimistic: "Change is a lengthy process. Yet we saw real engagement and open mindsets and passion towards the project goals."
Change is a lengthy process. Yet we saw real engagement and passion towards the project goals

Visa complications
More obtrusive obstacles emerged, however, too. The initial plan was for all 20 entrepreneurs to travel to the UK for training, but the UK Home Office only granted visas for two. Abdul-Aziz said this was difficult for their beneficiaries, who had applied "wanting to self-improve and learn from the UK's social enterprise sector," and lost out on a "once in a lifetime experience".
But those who missed out went to Kuala Lumpur instead – thanks to a visit organised by Positive Planet – home to a booming social enterprise sector. And the crisis turned out to be a blessing in disguise, says Abdul-Aziz. "The UK is an outstanding example for social enterprise best practices, but it is still a first world country while Malaysia stands as a symbol for a developing country whose cultural context is similar to Middle Eastern ones," she says. "This has already inspired SEDA beneficiaries to work on similar models in their hometown and make them feel that it is doable."
Meanwhile, the Egyptian delegates in the UK felt a clash of learning styles. They had come ready for lectures and the informal British learning style caught them off-guard. Delivery had to be reconsidered, but with only two attendees, there was plenty of flexibility to adapt. "Do a strong country assessment before moving into it, and confirm what your partner's expectations are going to be throughout the project delivery," is Tan's advice. " A strong partnership means you can do far more".
Enlightening experience
Unexpected similarities – as well as unexpected differences – can make such partnerships richer. Jordan Worthington, one of the British mentors engaged by SEDA, cherishes his relationship with his SEDA mentees (two Egyptian women who have founded NGOs), whose diverse perspectives blow open discussion, freed of cultural tensions by "the shared goal of progress".
"It's enlightening: somebody so completely different from myself actually has the same common goal, the same passion, and the same thought process on how they're going to achieve it," he says.
The Egyptian sector has a unique sense of perseverance we quite honestly cannot compare to any other country
"I felt the sincerity of what they wanted to do. I felt the passion of why they wanted to do it. That right there is why I set up my incubator, that's why I do mentorship, and it's why I'm on the phone right now."
Abdul-Aziz agrees. "The Egyptian sector has a unique sense of perseverance we quite honestly cannot compare to any other country". British and Malaysian mentors "were astonished by the amount of work our delegates do with very little resources and external support".
It is meaningful work, clearing untrodden roads towards inclusive and creative economies. But it is no easy task. For projects like SEDA, which insist on prioritising poorer regions like Egypt's Assiut governorate (as opposed to wealthier cities like Cairo), that is even more true.
It helps, says Abdul-Aziz, that "we are all connected to one another through the DICE network": this allows them to share lessons and refine processes. Now, Asfar is looking to partner with Red Ochre, another incubator working with the DICE programme, to tackle different territories in the Middle East and Caucasus.
Mathilda Mallinson is a DICE Young Storymaker – one of 14 young journalists recruited by Pioneers Post and the British Council from six countries to report on social and creative enterprise.
Photo credits: SEDA