'We've got to think creatively': AVPA research highlights Africa's massive funding gap
The first mapping of its kind identifies 820 social investors in sub-Saharan Africa and a growing role played by corporates. But capital is not matching demand and it is heavily skewed to just three countries. With an annual funding gap of up to $1.2tn to meet the Sustainable Development Goals, action must be taken, says the AVPA's Frank Aswani.
More than 800 social investors are operating in sub-Saharan Africa, according to the first comprehensive study on this topic published by the African Venture Philanthropy Alliance (AVPA).
The Landscape for Social Investments in Africa – which also considers those providing non-financial resources as social investors – finds that donors, development finance institutions and sustainability-aligned fund managers are the biggest players across east, west and southern Africa. These deploy billions of dollars annually, mainly through multi-year programmes.
Corporates and corporate foundations are also emerging as "strong drivers" of social investment growth, according to the study which was published this month. That is especially the case in South Africa, where large companies are required to spend 1% of net profit after tax on corporate social investing: they channelled a total of US$2.7bn between 2015 and 2019, and growing each year, to social causes.
But the overall supply of capital in sub-Saharan Africa remains "inadequate" and "not well-aligned to demand" from social enterprises and impact businesses, said Karnika Yadav, associate partner at advisory firm Intellecap and a co-author of the research, speaking at its launch event last week. 
We don't have enough money coming through the traditional channels of aid and government funding, so we've got to think creatively about this – Frank Aswani, AVPA
More venture philanthropy and other innovative financing models could be used, she said, "to leverage local capital and improve efficiency and sustainability of high-impact NGOs and enterprises".
Angel investing is gaining momentum on the continent – in southern Africa, increasing from US$2.6m in 2015 to US$12.9m in 2018, while researchers identified at least 13 angel networks in east Africa – but angels mostly prefer investing in sectors which are not strongly aligned with the Sustainable Development Goals (SDGs), such as e-commerce, consumer goods, and information technology.
Nor were incubators and early-stage support providers meeting demand from social businesses: they remained "highly concentrated" in Kenya, Nigeria and South Africa, and even within these countries were concentrated in the main cities, said Yadav. 
Social investment flows are also skewed towards these same three countries. In southern Africa, 55% of development finance institution capital goes to South Africa, while in west Africa 47% of development finance institution capital goes to Nigeria. For SDG-focused fund managers, the concentration is even more extreme: 86% of their investments in southern Africa go to South Africa, and 70% of those in east Africa to Kenya.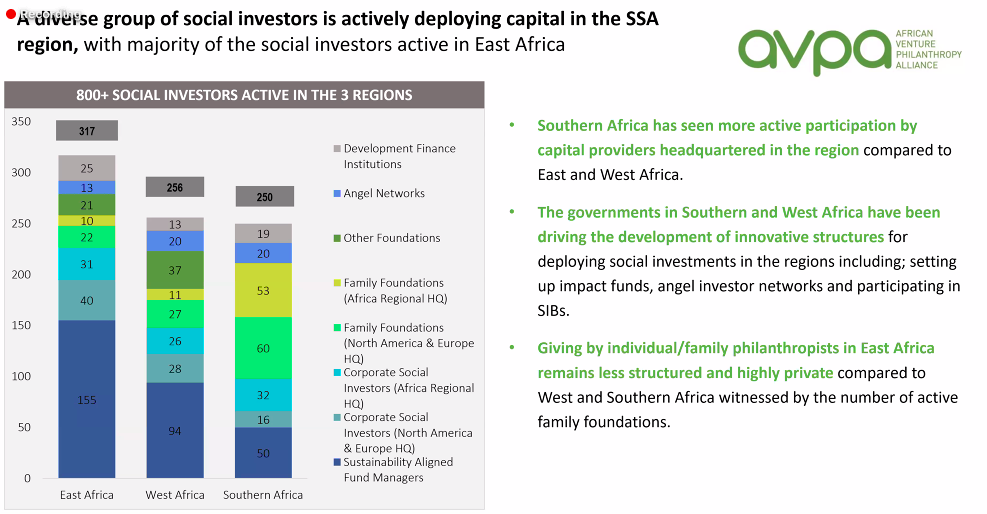 A slide from the launch event showing the different types of social investors across three sub-Saharan African regions 

Capital along the continuum
The continent needs an estimated $500bn-$1.2tn annually between now and 2030 to fill the current financing gap, if it is to meet the SDGs. While development aid is currently a big portion of social investment, it has been declining over the past five years.  
"We don't have enough money coming through the traditional channels of aid and government funding, so we've got to think creatively about this," said Frank Aswani, CEO of AVPA, at the research launch. A combination of capital "along the continuum", from grants to debt to equity, would help solve this financing problem, he said. 
This required a solid understanding of the current landscape – hence the study – but also more collaboration among the different kinds of investors, which often operate in silos. Connecting with pools of capital deployed by African diaspora communities, faith-based organisations, savings and credit cooperatives  and other local capital providers could advance health care, education and affordable housing, according to the report's authors.
KEY FINDINGS
There are more than 820 social investors operating in sub-Saharan Africa: 39% in East Africa, 31% in West Africa and 30% in Southern Africa
The majority of social investment capital comes from international sources, although there is a growing number of regionally based social investors
Donors, development finance institutions and sustainably aligned fund managers are the largest providers of social capital, deploying billions of dollars every year, mainly through multi-year programmes
Corporates and corporate foundations are emerging as strong drivers of regional social investment ecosystems
Demystifying social finance
AVPA, a pan-African network launched in 2018, aims to increase the flow of capital into social investments on the continent, and ensure its effective deployment for maximum impact. It is a sister network of EVPA in Europe, formed 16 years ago, AVPN in Asia, and the more recently launched Latimpacto in South America. 
Among AVPA's goals is to "demystify and standardise" innovative finance, especially for smaller ticket transactions or investors. There was a "huge need" to educate investors, said Aswani, and initially the goal had been to build an association of pan-African innovative financing institutions. However, he said he was shocked to find that only one institution, the Bertha Centre for Social Innovation and Entrepreneurship at the University of Cape Town, was active in this area of education. 
AVPA will therefore focus on training universities and business schools to set up their own "centres of excellence", which Aswani said would have as much impact on the innovative financing sector as mobile phones and mobile money had achieved for financial inclusion.
Last week AVPA also unveiled its Deal Share Platform for Africa, which will be piloted over the coming months with a focus on gender and Covid-19 response.
It allows social investors to share information about their investees and grantees, flag resources those organisations need to grow, and invite others to partner, support or co-invest alongside them.