New Co-operatives UK leader Rose Marley on the future of co-ops: 'Young people see them as exciting'
Social entrepreneur Rose Marley wants to boost the UK's co-op movement, saying the new generation is ready to embrace co-operative principles. And the inequalities exposed by the pandemic show they are needed more than ever.
Co-operatives are a global phenomenon. There are 3m of them in the world, employing around 10% of the global workforce, and the 300 biggest co-operatives have a total turnover of $2tn (£1.47tn).
But the origin of the worldwide modern co-operative movement is a group of men in the northern English town of Rochdale, who founded a shop to provide high-quality food at affordable prices for working class communities during the first industrial revolution, in the mid-19th century.
So heading Co-operatives UK, the trade body for co-operatives in Britain founded 150 years ago, is not without symbolic significance for Manchester-born social entrepreneur Rose Marley, who started her new job as the organisation's CEO in January.  
"I believe now is a real moment for co-operatives to really grow," she says. Today's young people are very receptive to the co-operative concept according to Marley. "They have an inherent and intrinsic values-based system that the co-operative movement speaks to."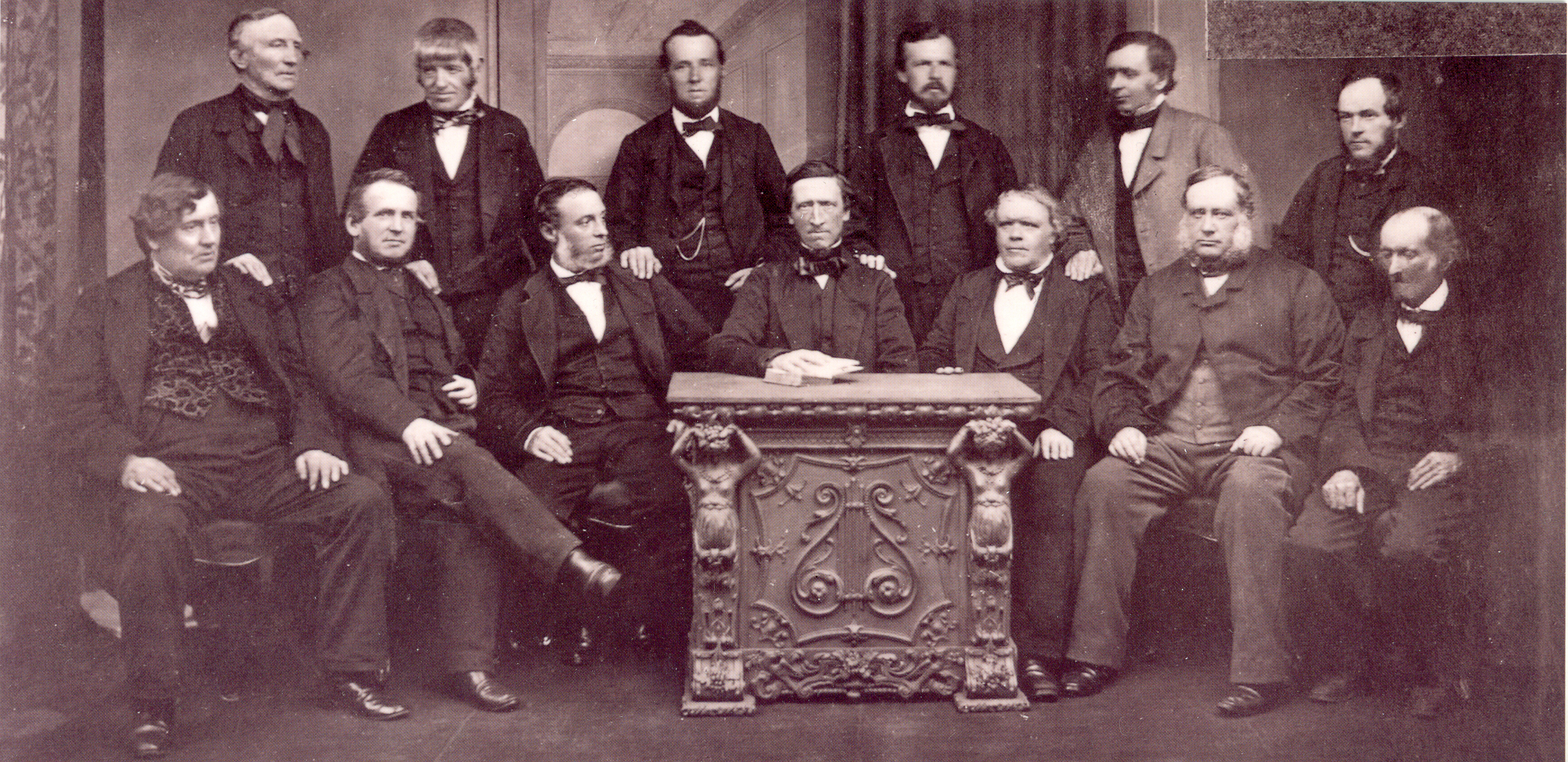 Above: the Rochdale Pioneers are considered to be the founders of the modern co-operative movement, here in 1865
The job is not without challenges: while co-ops (usually defined as organisations or businesses that are owned and controlled by members to meet shared needs) contribute £38bn to the UK economy, they represent less than 1% of all British businesses, and the movement is actually in decline in the UK at the moment  – there were fewer co-operatives as a whole in 2020 than there were in 2019. But Marley is bringing a fresh perspective and new approaches.
The first thing on her list is to promote what she calls "Britain's best-kept secret" far and wide. The co-operative movement tends to be quite inward-looking, Marley says. "I really feel like we need to trumpet this model."  
Young people have an inherent and intrinsic values-based system that the co-operative movement speaks to
The UK counts more than 7,000 independent co-operatives, which employ more than 240,000 people and have over 14m members (more than one-fifth of the UK's population). Although the number of co-operatives reduced between 2019 and 2020, their total turnover showed a small growth of £340m to £38.2bn. The biggest and most well-known are retail giants the Co-operative Group and  the John Lewis Partnership, each of which have an annual turnover of more than £10bn.
"I didn't realise how many co-operatives were in my life. My nephew had an apprenticeship with a co-operative, my granddad's business turned into a co-operative, and my favourite venue for discovering new artists is a co-operative – the Trades Club in Hebden Bridge [West Yorkshire]. And none of this was visible to me."
The co-operative model is a "third way" that is often forgotten, Marley says. Public service delivery, for example, is presented as a "binary choice" between private and public sectors, while the co-operative model can bring "the best of both options".
The power of education
One of the reasons why co-operatives are often overlooked is rooted in education, Marley says. She points out that while she received a lot of business support when she started her social enterprise, at no point was "the co-operative model really explored and put forward as an option". Young people in schools or at university are not introduced to co-operatives enough, she says. 
"One of the big things that we need to do is to start demonstrating to people at a lot younger age how you can create enterprise and community solutions through the co-operative model, so that when somebody is thinking of starting their own business or trying to solve a problem, it's a 'go to' model for them."
I didn't realise how many co-operatives were in my life
When she announced she was holding "CEO surgeries" to hear what people have to say and ask about the co-operative movement, she was amazed to find that the first enquiry she received was from a 16-year-old. A Co-operatives UK-YouGov poll conducted in December showed that young people could name more co-operatives and understood them better than their parents. "It feels like there's a gap," says Marley. "The 'boomers' generation [people born between 1946 and 1965] sees co-operatives as an old-fashioned thing. And young people treat it like it's new, like it's exciting, like it's innovation."
Marley says the members of "generation Z" (born between the mid-1990s and the mid-2010s) are different from their predecessors, in their awareness of social and environmental challenges – and most importantly, their readiness to do something about it. 
One proof of that is the high turnover among young employees across all industries, she says. "Young people have been told so much that they're not going to have a job for life, they're not looking for one. That means that when they don't like what their employer's ethics are, or how they are being treated as an employee, they will just move. And when it comes to selling products and services, good, fair business resonates with our young people."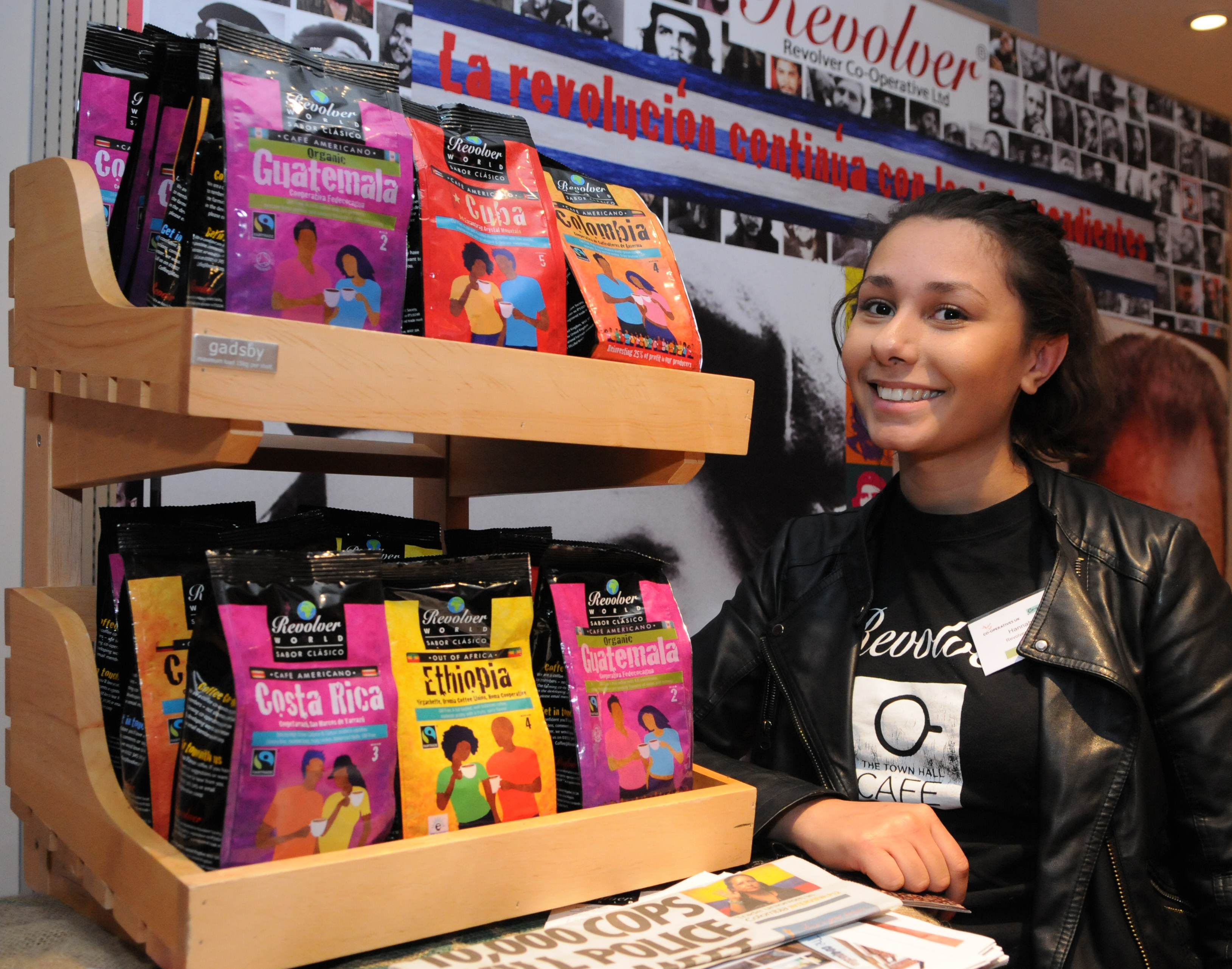 Above: Revolver Co-operative sells ethically sourced coffee produced by co-operatives around the world
The world is undergoing major change and the co-operative model can provide tried and tested solutions to be ready for the future, according to Marley.
"The co-operative movement started within the context of an industrial revolution, and now we are at the cusp of the fourth industrial revolution," says Marley. "We've got automation, artificial intelligence, nanotechnology. Without a doubt, these are going to present challenges, and business opportunities." Co-operatives' ethos can be merged with technology to create more equitable opportunities, she adds. "Principles like open source – the principle that  you leave your back-end open for people to be able to create plugins and improve your tech – are co-operative. We're already aligned to the thinking of what is changing our world."
We're already aligned to the thinking of what is changing our world
Changes go beyond borders, and so does the role of Co-operatives UK, which represents Britain's co-ops internationally and is part of the International Co-operative Alliance. It has recently created an international working group focusing on its approach to international disaster relief funds, the UN sustainable development goals and improving best practice sharing on new innovations. 
"What binds us is the co-operative values and principles and the ongoing need to find co-operative solutions to the issues we face today," Marley says.

Levelling up the UK
The woman described by Greater Manchester mayor Andy Burnham as "a true innovator and outstanding entrepreneur" who "cares deeply about re-investing in our people and our communities" brings a range of experience to the co-operative world. 
Growing up in Manchester when the "Madchester" scene was in full swing (a golden era of music-making in the north English city during the 1980s and 90s), Marley started a career in the music industry at what she describes as "a really entrepreneurial time in Manchester – everybody got a real feeling that you could achieve anything". She managed bands and artists for world-leading record labels such as EMI Records and AOL Time Warner and travelled the world. But she was struck by how unequal the arts scene was. "What I consistently noticed was that there weren't many people that spoke like me," she says, referring to her undiluted Mancunian accent. 
A willingness to create equal opportunities and to "make a difference to people's livelihoods" led her to move on from music to become a social entrepreneur and she founded SharpFutures about 10 years ago. The Manchester-based social enterprise supports young people to find employment in the creative and technology sectors, by organising apprenticeships, work experience and volunteering. Seeing the level of inequalities in the UK and around the world, exacerbated by the pandemic, was one of the reasons why Marley decided to embrace the co-operative movement. Co-operatives are growing where the need for a fairer system is highest, in sectors as varied as the music industry, energy and housing, she says. "It's not a surprise that these models are emerging where our crises are."
For me, it's about learning what we do well, and where we do well, so that we can replicate this across the whole of the UK
One of the deepest inequalities in the UK is the gap between the affluent south of the country, propped up by London, and the "left-behind" north of England: on average, the GDP (the value of goods and services produced) per head in the north west of England is £28,500 a year, while in London it is nearly double that. The UK also has the fourth highest level of regional inequality across small regions among OECD countries.
"I am a Northerner, I can feel that difference, I can see that difference in every park and public space when I'm in the south – I can see the backlog of 'levelling up' to do," Marley says. 
"Levelling up" is very much on the UK government's agenda – delivering change in the north of England was a major pledge at the last election. Marley says growing the co-operative movement – in all sectors, communities and geographical areas across the UK – will lead to a "natural" levelling up. But she also acknowledges that co-operatives are only one part of a bigger equation. 
"I'd love to say the co-operative movement could level up the country, but there are so many factors to that," says Marley. "We're really keen to work with the government to do that. But we are one small part of what needs to be done to level up. There's a big job to do there."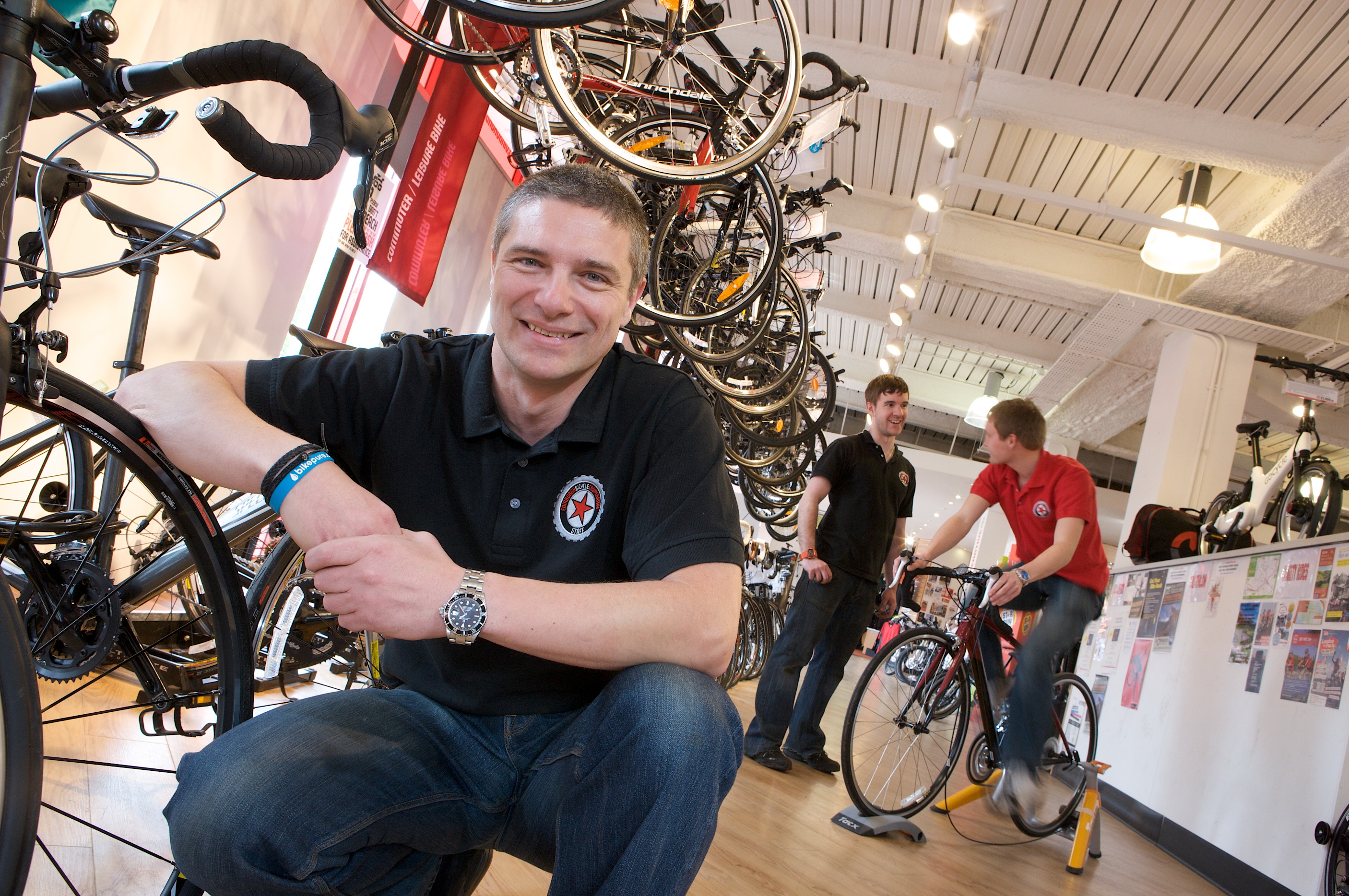 Above: The Scotland-based Edinburgh Bicycle Co-operative gives equal say to workers and profits are shared
Describing herself as a "fan of devolved power", she highlights the importance of working with member organisations in all the nations of the UK. There is a lot to learn from Scotland, where co-operatives, like social enterprises generally, are "flourishing", in part thanks to government policy, awareness and understanding, she says. 
"For me, as a new CEO, it's about learning what we do well, and where we do well, so that we can replicate this across the whole of the UK, and model best practice."
Pandemic turning point
The pandemic could be a turning point for co-operatives, Marley says. "We all got to know our neighbours, we all got to know our local area, we all got to see those grassroots organisations day in, day out delivering for our community." 
Trust in co-operatives in the UK is high: a survey conducted in December showed that 59% of consumers trusted coops, compared with just 35% for standard businesses, and nearly half of shoppers said they were likely to choose a co-operative business over a conventional one when shopping for goods or services.
2020 has been "horrendous" and the pandemic has impacted a "significant number of lives", Marley says. "There are challenges, and that means that there are opportunities to create enterprises that do affect change...we have a receptive audience at the moment." 
Pictures courtesy of Co-operatives UK. Header image: M20 Photography.
Thanks for reading our stories. As an entrepreneur or investor yourself, you'll know that producing quality work doesn't come free. We rely on our subscribers to sustain our journalism – so if you think it's worth having an independent, specialist media platform that covers social enterprise stories, please consider subscribing. You'll also be buying social: Pioneers Post is a social enterprise itself, reinvesting all our profits into helping you do good business, better.