What Biden's American Rescue Plan means for the impact economy
The $1.9tn stimulus bill will immediately help communities that have been most affected by the Covid-19 crisis. This and previous support packages are creating a favourable environment for impact investors and social entrepreneurs – but what comes next will be crucial for them to help the Biden administration fulfill its pledge to make US society more equitable. 
The American Rescue Plan, passed by the US congress on 8 March, is what it says on the tin: an emergency bill aiming to save the national economy from pandemic-induced disaster. One of the biggest US government spending packages since the second world war, the $1.9tn fiscal plan aims to relaunch the economy from the bottom up, by targeting funding to the communities most in need. Measures include extending emergency unemployment benefits, boosting funding for local authorities, schools and childcare and distributing cheques to all but the wealthiest in the country. And this time, small enterprises are first in the queue when it comes to business support.
"Never before has there been so much money injected into the economy," says US-based Kate Byrne, CEO of Katapult X, a global community of investors, technologists and founders aiming to drive positive change. "In addition, the majority of the money will be going to mid and lower-income folks. Small businesses and social entrepreneurs, the true engines of the economy, will benefit."
Small businesses and social entrepreneurs, the true engines of the economy, will benefit
By helping marginalised or disadvantaged communities, the bill is also helping the social enterprises that operate within them. 
"Social entrepreneurs are usually close to the problems that they want to solve," says Grace Rodriguez, CEO of Impact Hub Houston, an accelerator and support platform for social entrepreneurs based in Texas's biggest city. "And they tend to be in these populations that are underserved," she added. "By making sure that more funding and more resources go to women and minority entrepreneurs, we are helping more impact entrepreneurs: this is how all of this ties in together."
For example, since many social entrepreneurs are women, support for childcare will make a big difference, she says. "A lot of women had to leave the workforce to take care of and educate their children as they're homeschooling. So if we were able to provide more funding for people to get childcare for themselves, then they would be able to return to the workforce, and return to their businesses."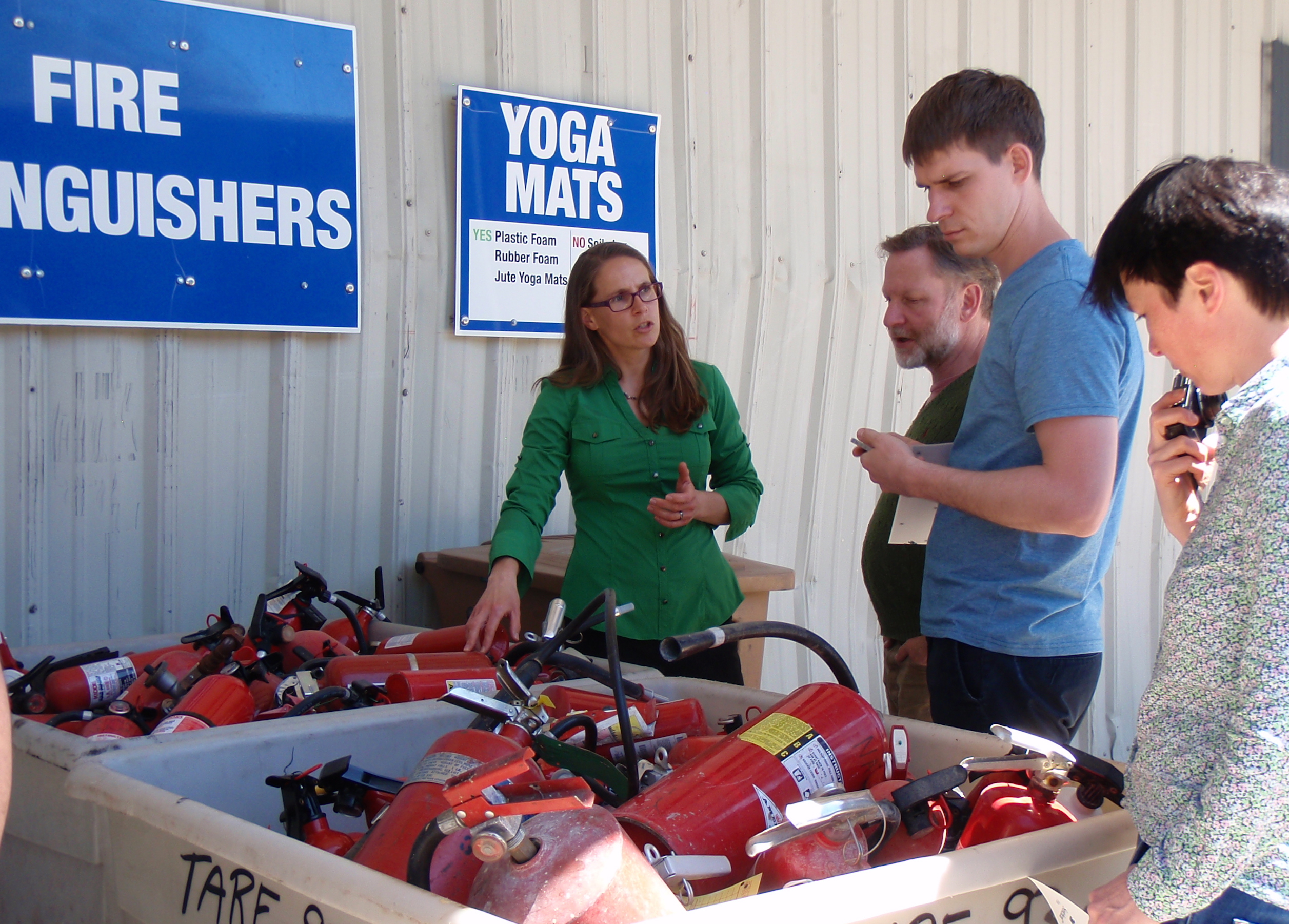 Above: Colorado-based social enterprise Eco-cycle, one of the world's oldest non-profit recycling organisations, aims to build zero-waste communities
Fran Seegull, president of the US Impact Investing Alliance, also highlights the immediate benefits of the bill for the impact sector.
"The latest stimulus bill was a rescue bill, and it was appropriately focused on providing immediate relief to communities and households in the face of the pandemic and economic downturn," she said. "Provisions related to vaccine distribution and support for state and local governments, for example, are vitally important to ending the pandemic and stabilising the overall economy. These and other programmes included in the American Rescue Act and previous rounds of legislation will likely have significant implications for the communities where impact investors work."

Underserved communities and businesses
The policies announced in the American Rescue Plan follow earlier legislation passed by the Trump administration, notably the Coronavirus Aid, Relief, and Economic Security Act (CARES) Act, the record-breaking $2.2tn support plan passed at the start of the pandemic. It notably introduced the Paycheck Protection Programme (PPP), which provides forgivable loans (which can be deferred or forgiven under specific circumstances) to incentivise businesses to keep their workers on payroll.
Increased support for Community Development Financial Institutions (CDFIs), thanks to the CDFI Rapid Response Programme which started in February, will have a major impact on locally-rooted social enterprises. CDFIs are specialised organisations that provide financial services to low-income communities and those that can't easily access financing. The CDFI Fund (which has been providing grants and guaranteed bonds to mission-led financial institutions since 1994) will deploy an additional $3bn in grants this year, compared to about $300m previously.
John Cochrane, senior manager of policy and programmes at the US Impact Investing Alliance, says the American Rescue Plan showed that the government had learned from previous initiatives. 
"There definitely was some learning from the programmes that were in the CARES Act in 2020," he says, giving the example of the PPP which many small businesses "in the most acute distress" struggled to access initially as much of the support went to bigger companies first. The new law has safeguards to make sure small and underserved businesses will be targeted.
'Profound and ongoing' challenges
While the American Recovery Plan gives an indication of what the Biden administration wants to prioritise, many of the measures included in the bill are to be phased out at the end of 2021 or in early 2022, so the focus is on what comes next.
"Attention has already shifted to what these relief bills signal for subsequent recovery efforts," Seegull says. Some of the provisions already put in place "provide important models" for how the federal government could continue to support "entrepreneurial ecosystems" in areas where impact investors work.
"Collectively these programmes represent the largest-ever public sector investment into historically underserved small businesses, but the challenges in these communities are profound and ongoing."
President Biden's next stimulus plan will focus on infrastructure, and he is expected to give a broad outline of it as early as next week.
There's a clear role for the business and investment community to come in and support some of the goals that are put forward by this administration
"If you consider the fact that budgets are going to be constrained by the huge amount of spending that's keeping us going through the crisis," Cochrane says, "there's a clear role for the business and investment community to come in and support some of the goals that are put forward by this administration. So we are definitely eager to figure out where private sector actors, and impact investors, can fit in."
Cochrane suggests some of the infrastructure package could go to a domestic development finance vehicle – a sort of American development bank, that would be able to act like the US International Development Finance Corporation (which partners with the private sector to invest in developing countries) but focused domestically. Like the IDFC, it could be used not for direct investment, but working with intermediaries, fund ventures and CDFI-type institutions.
Public money could also be a catalyst for impact investing as it can de-risk some investments, for example by providing loan guarantees to attract the most cautious investors, Cochrane adds.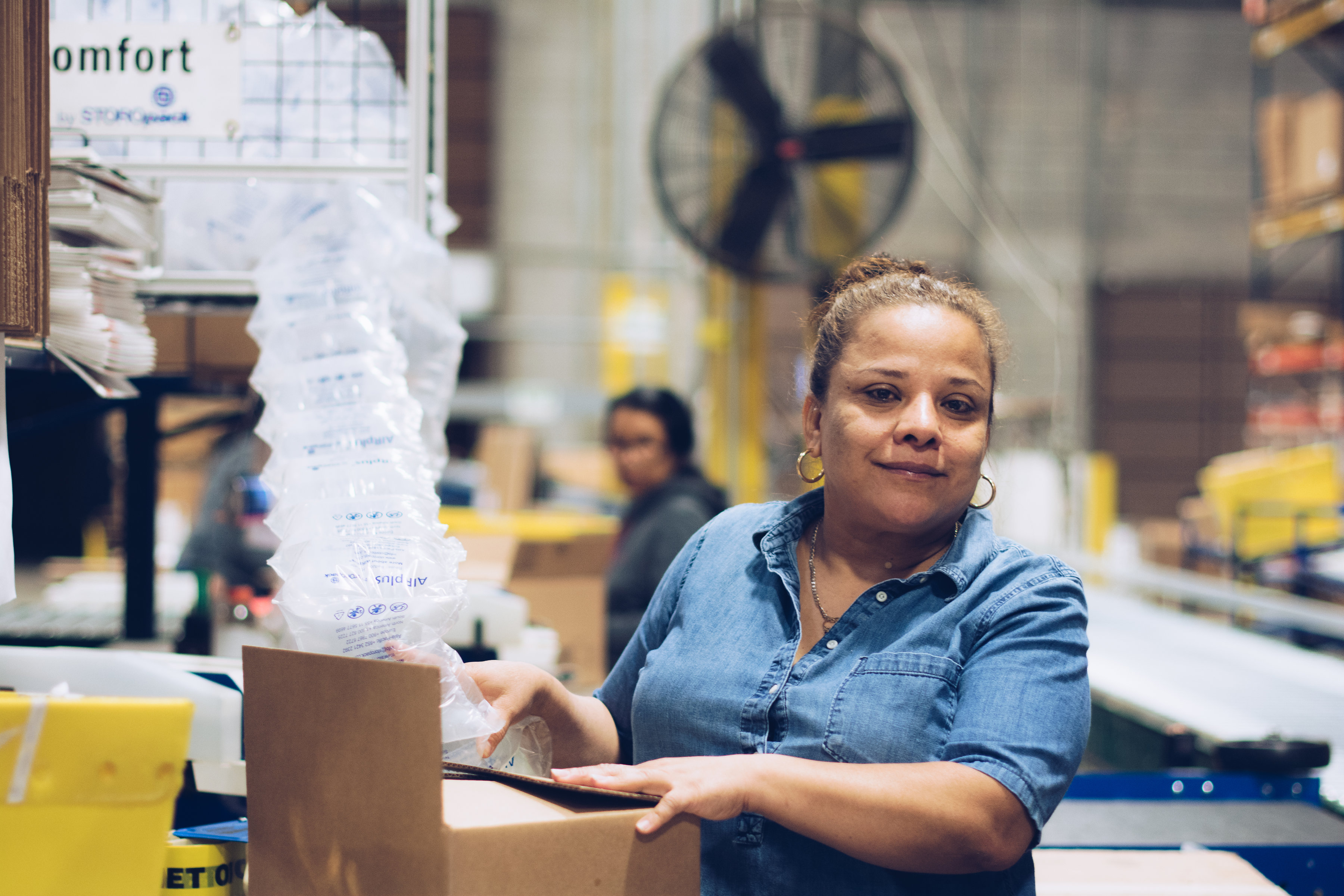 Above: a worker in a warehouse supported by First Step Staffing, a non-profit which employs people facing barriers to finding jobs in four US locations
Funding the 'ecosystem builders'
Rodriguez, from Impact Hub Houston, says accelerators, platforms and networks also need funding to help social enterprises develop.
"There needs to be funding for entrepreneurial ecosystem builders, because there are a number of organisations that are helping entrepreneurs, small businesses, startups, especially those that are founded and led by women and people of colour," she says. 
"But they don't work together very well because everybody's heads are down, focused on the problem that we're trying to solve and the people that we're trying to serve. 
"If there were funding for people who were able to serve as the facilitators of collaboration among different organisations, that would make a huge impact."
She suggests these "facilitator" platforms or networks could receive funding through CDFIs, for example, just like individual businesses do. 
There's a danger of keeping systems of institutionalised disparity in place
Social enterprises are also little understood by the government, Rodriguez says: it supports chambers of commerce and charities, but not the mission-driven, for-profit sector. 
But more backing for accelerators and the like would be in the government's interest, she suggests. "I think [the government] would see more of the types of outcomes that they actually want, because they want more economic development. They want more people to create their own businesses and create jobs and grow, but they don't understand how a lot of that can happen in the impact space."
The biggest challenge remains reaching people who fall through the cracks, such as migrants and refugees, Rodriguez says. Often unbanked and unregistered, it is virtually impossible for them to receive support through formal channels. "There's a danger of keeping systems of institutionalised disparity in place. But at least [the American Rescue Plan is] helping bridge the gap for some people."
Thanks for reading Pioneers Post. As an entrepreneur or investor yourself, you'll know that producing quality work doesn't come free. We rely on our subscribers to sustain our journalism – so if you think it's worth having an independent, specialist media platform that covers social enterprise stories, please consider subscribing. You'll also be buying social: Pioneers Post is a social enterprise itself, reinvesting all our profits into helping you do good business, better.