SKOLL 2021: 'Living legend' Stacey Abrams inspires global changemakers at forum opening
US activist Stacey Abrams opens Skoll World Forum 2021 by calling on audience of changemakers to see "volunteerism and voting" as indelibly linked when fighting for social progress. 
US leader and activist Stacey Abrams gave a rousing introduction to the 2021 Skoll World Forum yesterday, calling on attendees to see "volunteerism and voting" as two sides of a coin when fighting for social progress.
Introduced as a "living legend" in the eyes of Democrats – her work helped ultimately to seal Joe Biden's 2020 US presidential win – Abrams urged listeners to look beyond investing in non-profits. 
"For too many organisations, there is a division between the work that we do in the non-profit space, and the work that has to be done in the democracy space," she said.
"But I would argue that these jobs are intertwined and indelibly linked, because if policies continue to foment that undermine racial injustice, we will never have a democracy worthy of its name."
Hosted by the Skoll Foundation annually since 2004, the Skoll World Forum is one of the biggest and most high-profile events in the global social enterprise calendar. It runs between Tuesday 13 and Thursday 15 April this year as an online event.
For too many organisations, there is a division between the work that we do in the non-profit space, and the work that has to be done in the democracy space
Abrams, who has worked for years to expand voting rights among disenfranchised people, was an apt choice to inspire a virtual audience for the opening plenary of some 1,500 social change leaders from around the world. She served as Democratic leader of the Georgia House of Representatives for seven years prior to running for governor; she was not elected but won more votes than any other Democrat in Georgia's history at the time. She launched Fair Fight Action to ensure every American has a voice in our election system, Fair Count to ensure accuracy in the 2020 census and the Southern Economic Advancement Project, an initiative to broaden economic power and build equity in southern states.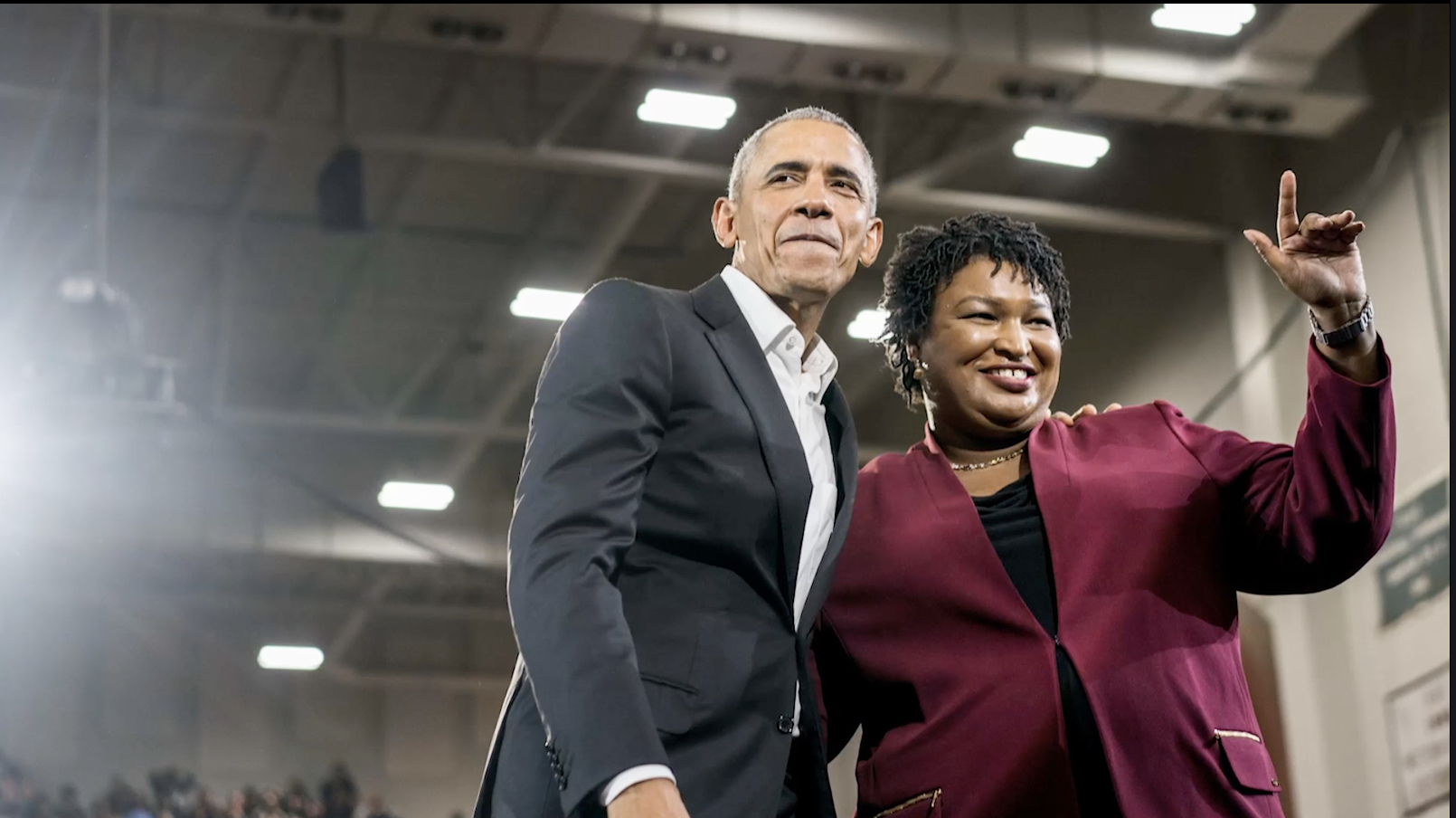 Stacey Abrams with former US president Barack Obama: "Having nothing was not an excuse for doing nothing"
Her own understanding of the connection between racial justice and democracy had developed many years before her 2018 campaign for the governorship, she said. Her parents – who had grown up in the "deep and dire poverty of Mississippi" – had instilled a sense of responsibility to help others. "As my Dad would put it, having nothing was not an excuse for doing nothing."
But they also taught the young Abrams about democratic rights.
"My parents not only took us with them to volunteer, they took us with them to vote. And they wanted us to understand that voting and volunteering were two sides of the same coin – two sides of how we make progress in this country.
My parents not only took us with them to volunteer, they took us with them to vote
"As individuals, volunteerism was the way we could touch the lives of others and make improvements. But voting was how we could build collective power as a community and change the future."
The work of social entrepreneurs and of democracy campaign groups had created "pathways to create the ecosystems of good", Abrams added. But these different spheres "have to relate to one another, and have to challenge one another for better".
She proposed three approaches: investigate (seeking to deeply understand problems faced by communities left out of the conversations), experiment (expand entrepreneurial work and "invest in the possibility of failure") and iterate solutions from one location to another.

Presidents and pandemics
Normally held in Oxford in the UK, last year's Skoll World Forum gathering was called off due to the Covid-19 pandemic, and replaced by more than 100 independently-organised sessions. This year's fully virtual forum, with a theme of "Closing the Distance" across local and global divides, continues that approach with most sessions curated by other social innovation organisations.
The annual Skoll Awards for social entrepreneurship – with prize money of $1.5m to each winner – will this year be presented in autumn rather than during the forum.
However, as in previous years, the 2021 forum boasts some high-profile names – including one or two celebrities. Tuesday's opening plenary also featured two former presidents: Ernesto Zedillo (Mexico) and Ellen Johnson Sirleaf (Liberia), both of whom are members of The Elders, a group of global leaders working together for peace and human rights; and José Andrés, chef and founder of World Central Kitchen. The plenary was closed with a performance by Venezuelan musician Liana Malva (pictured below) who aims to raise awareness of environmental problems through her work.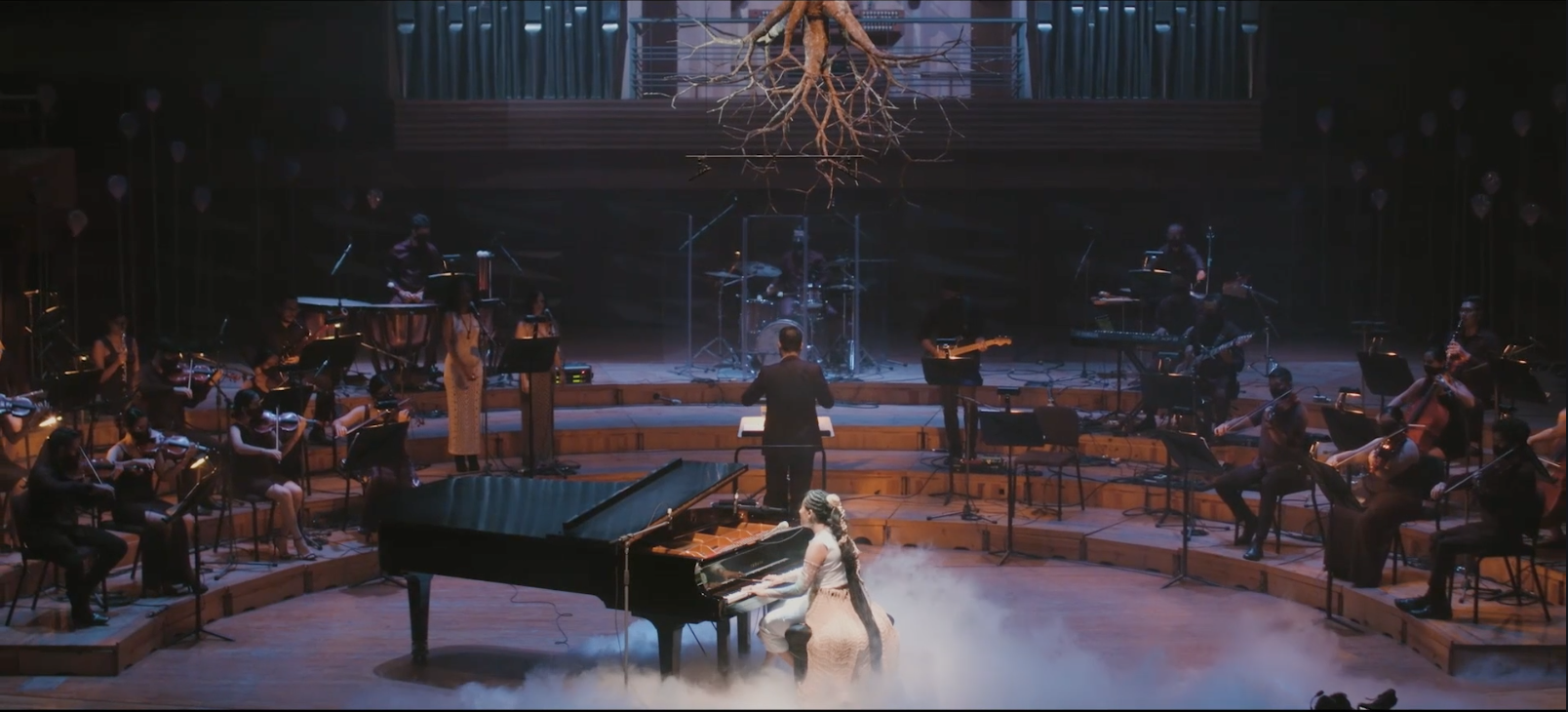 Other speakers in the line-up this week include digital minister of Taiwan Audrey Tang, actor Mark Ruffalo, chair of the Elders Mary Robinson, and White House climate advisor Gina McCarthy.
The Skoll World Forum continues until Thursday; registration is free. Check back soon for more coverage on Pioneers Post.
Header photo: Stacey Abrams speaking at the Skoll World Forum 2021.
Thanks for reading Pioneers Post. As an entrepreneur or investor yourself, you'll know that producing quality work doesn't come free. We rely on our subscribers to sustain our journalism – so if you think it's worth having an independent, specialist media platform that covers social enterprise stories, please consider subscribing. You'll also be buying social: Pioneers Post is a social enterprise itself, reinvesting all our profits into helping you do good business, better.