Social enterprises can help solve the climate crisis, COP26 to be told
Global social enterprise movement plans to deliver statement to 2021 UN Climate Change Conference emphasising its solutions to climate change, following discussions at Social Enterprise World Forum Policy Forum this week.
This story was updated on 29 April to include the final statement.
The global social enterprise movement will deliver a statement to COP26 to "get the word out that it is one of the tools in the toolkit" in the fight against climate change.
The 2021 United Nations Climate Change Conference will be held in Glasgow, Scotland in November, bringing countries together to negotiate new commitments to cutting carbon emissions. 
The plans for the social enterprise statement were revealed on Tuesday 27 April at the Social Enterprise World Forum (SEWF) 2021 Policy Forum which is running online from 27-28 April, co-hosted by Canada's Common Good Solutions.
In a discussion entitled 'What is the SEWF Policy Forum Message to COP26?', Eric Lombardi, president of Buy Social USA, said: "We all know what social enterprise is and we all know there's a climate emergency. This is an opportunity for us to think really big...to step back and think about what social enterprise has to offer to that conversation."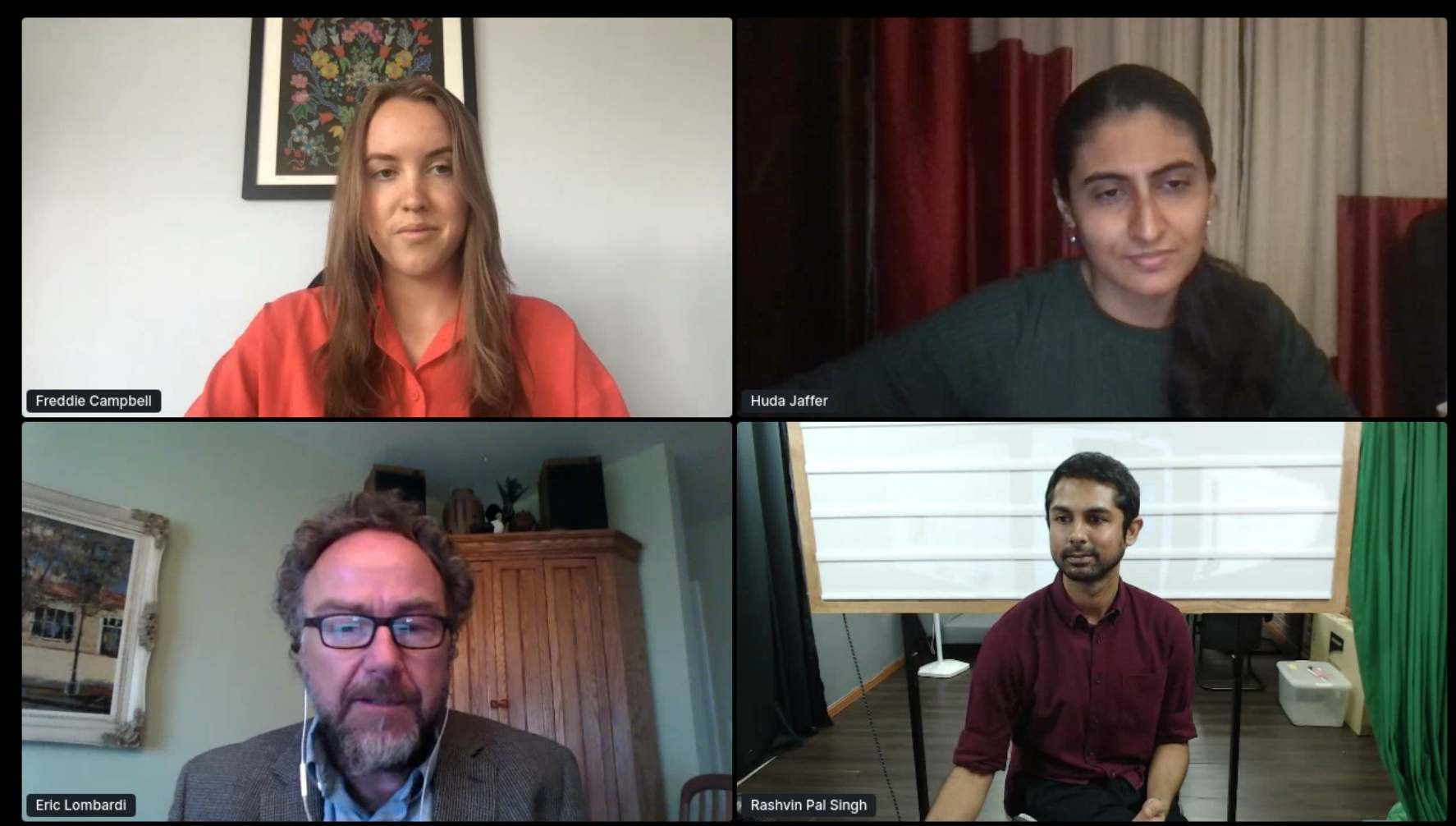 Eric Lombardi with fellow panel members at the SEWF Policy Forum: "Capitalism is the root of the problem"
Lombardi, a longstanding campaigner with the zero waste movement, and former executive director of US recycling social enterprise Eco-Cycle, pointed out that addressing climate emergency needed massive system change across the world, particularly relating to energy, waste and mobility.
"Capitalism is the root of the problem," he added. 
"When people were creating capitalist systems they didn't think they were going to destroy the planet. [Climate change] is as serious as the bondage of human beings," he said. "We need to think really big today."
The model that social enterprise offered – of "pursuing profit" rather than "maximising profit" – was vital to creating the necessary changes in the capitalist system, he said.
Other speakers at the session spoke about how their social enterprises contributed to the fight against climate change. Huda Jaffer, lead designer at India's Selco Foundation, explained how decentralising energy systems could improve equity among populations. Rashvin Pal Singh, group CEO of the Biji-biji Initiative in Malaysia, said that his organisation's focus on managing waste and recycling supported the development of a circular economy. And Freddie Campbell, programme co-ordinator at Canada's Indigenous Clean Energy, emphasised that indigenous wisdom should inform policymaking in relation to the use of energy. 
The aim of the statement to COP26, Lombardi said, would be to "get the word out that we are one of the tools in the toolkit". 
The session speakers are currently working with SEWF founder and managing director Gerry Higgins on a draft of the statement which is likely to highlight themes including social procurement and climate resilience. Pioneers Post will bring you more information – as well as details of any opportunities to be involved in developing its final version – as soon as we have it.
UPDATE 29 APRIL: A statement was finalised during the SEWF Policy Forum. However, Maeve Curtin, SEWF strategic policy adviser, told Pioneers Post that the climate emergency and COP26 will continue to be discussed at future SEWF events this year. "The discussion isn't closed," she said, "and we hope to use this statement to continue expanding the dialogue on what the social enterprise movement can offer as solutions to help address the climate emergency to more actors within the social enterprise movement and even more broadly across sectors."
Read The SEWF Message to COP26.
Header photo: A student goes to school wearing a mask to protect him from the smoke that blankets the city of Palangka Raya, Central Kalimantan. Photo by Aulia Erlangga/CIFOR, reproduced under a Creative Commons licence