Tim Smit slams 'incompetent' social entrepreneurs
"I have met more incompetents in the world of social enterprise than I have met anywhere else."
Sir Tim Smit, who is a well-known social entrepreneur himself as co-founder of UK eco-attraction the Eden Project, yesterday condemned people who demanded respect because they called themselves social entrepreneurs and yet didn't know how to run a business or find out what communities actually needed.
He added: "I'm very pro social enterprise. But I'm very anti talking in a library-hush of respect about it."
Smit was debating the alternatives to capitalism with Daniela Barone Soares, CEO of impact fund Snowball and ecological economist Professor Tim Jackson, author of Prosperity without Growth and Life after Capitalism. The online event on Wednesday 19 May 2021 was hosted by MarketingKind, a membership group of marketers who aim to create positive change.
A moral compass was missing from today's capitalism, said Smit, whose Eden Project in the south west of England is famous for its eye-catching biomes housing rainforests and exhibitions for visitors. "We live by lies – that we can continue growing, that it's ok to do less bad than to be objectively good," he said.
Capitalism spends too much time counting stuff and not enough on the poetry of life – Professor Tim Jackson
Tim Jackson too criticised the current economic order. "Capitalism spends too much time counting stuff and not enough on the poetry of life," he said. "We think that the good life is owning more and more stuff. This model isn't good for us or the planet."
Barone Soares criticised the current financial systems which meant that shareholder value was considered above everything else. "Every other piece of the pie is disregarded in favour of one part of it," she said.
As an example of a solution, she proposed that the fiduciary duty of pension fund managers should be redefined. "They define their fiduciary duty as maximising the money that people can get," she said. "But the problem is that, if by the time you retire, the world is so horrible that you have to spend a lot more money, then that fiduciary duty hasn't been achieved." She suggested expanding the concept of fiduciary duty to consider what the world would be like when people retired, and whether they were going to be able to enjoy their retirement in that world.
Jackson said that people needed to be educated to have a different vision of "the good life". "I passionately believe there is a vision of the good life that is more fulfilling and meaningful," he said, "but we don't teach it to our kids...we believe that comfort and material possessions is all there is."
Smit emphasised that social enterprise could be part of the solution to the negative effects of capitalism and that there were many opportunities for social enterprise to take up, particularly in farming and food production.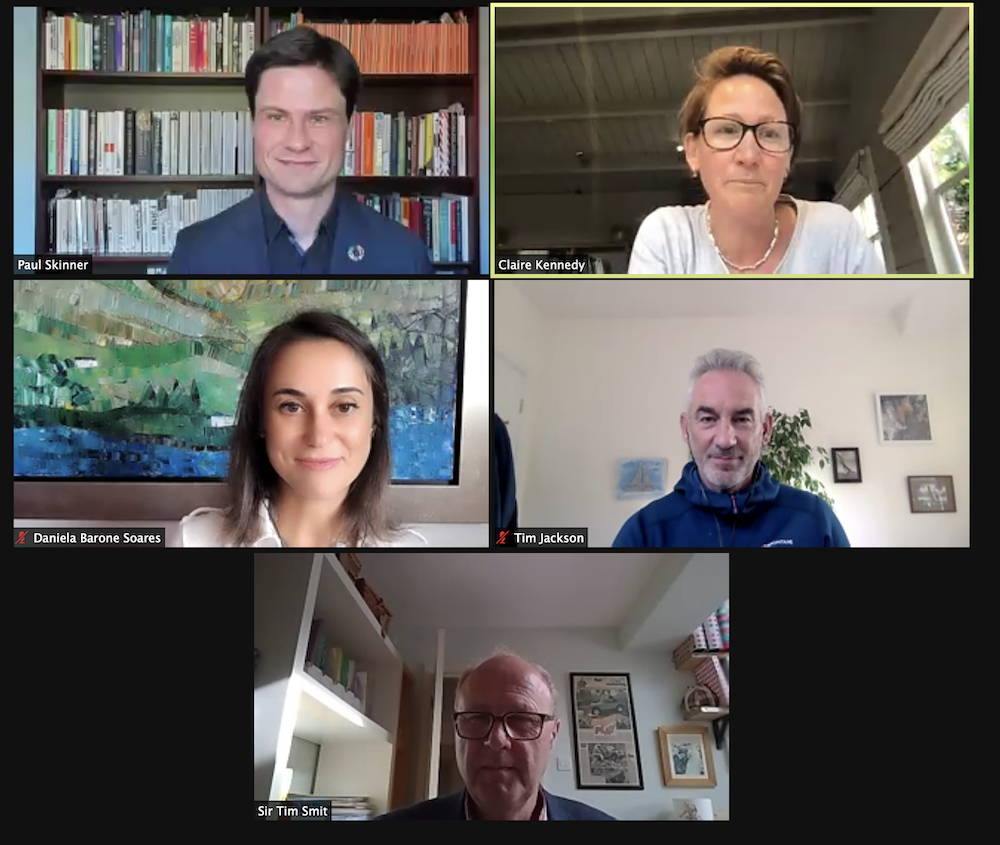 Paul Skinner and Claire Kennedy of MarketingKind are joined by Tim Smit, Tim Jackson and Daniela Barone Soares in a discussion exploring solutions to the negative effects of capitalism
Barone Soares flagged that corporate purpose could be restored "in a genuine way". "I'm not talking about the n-th soap that you don't need," she said. She flagged several businesses, including Danish glass recycling company Shark Solutions, and UK ethical loan community interest company Fair For You, as examples of "inspirational businesses that are thinking beyond selling stuff". 
But she added: "It is a fallacy to expect that companies are going to save the world. They aren't. It has to be everything and everyone." Massive system change was needed combining people, culture, policy, governments and regulation, she said.
Header photo of Tim Smit at the Eden Project by Ben Foster, courtesy the Eden Project