UK government funds new taskforce to rocket boost global impact investing during G7 presidency
Nick Hurd, Ronald Cohen and Elizabeth Corley are joined by Douglas L Peterson of S&P Global in new taskforce
Government-funded initiative aims to emulate "rocket booster" effect of UK's last G7 presidency on impact investment
A new taskforce backed by the UK government will aim to push impact investing worldwide – especially in Africa – and work towards globally accepted reporting standards by the end of the year.
The Impact Taskforce, chaired by former UK civil society minister Nick Hurd and run by the Global Steering Group for Impact Investment (GSG) and the UK's Impact Investing Institute, will "propose solutions to harness private capital at scale for public good", GSG announced today.
The taskforce is funded by the UK government as part of its G7 presidency during 2021, as well as by one other "substantial donation from the industry side", said Cliff Prior, CEO of GSG. Pioneers Post has requested further detail on the budget.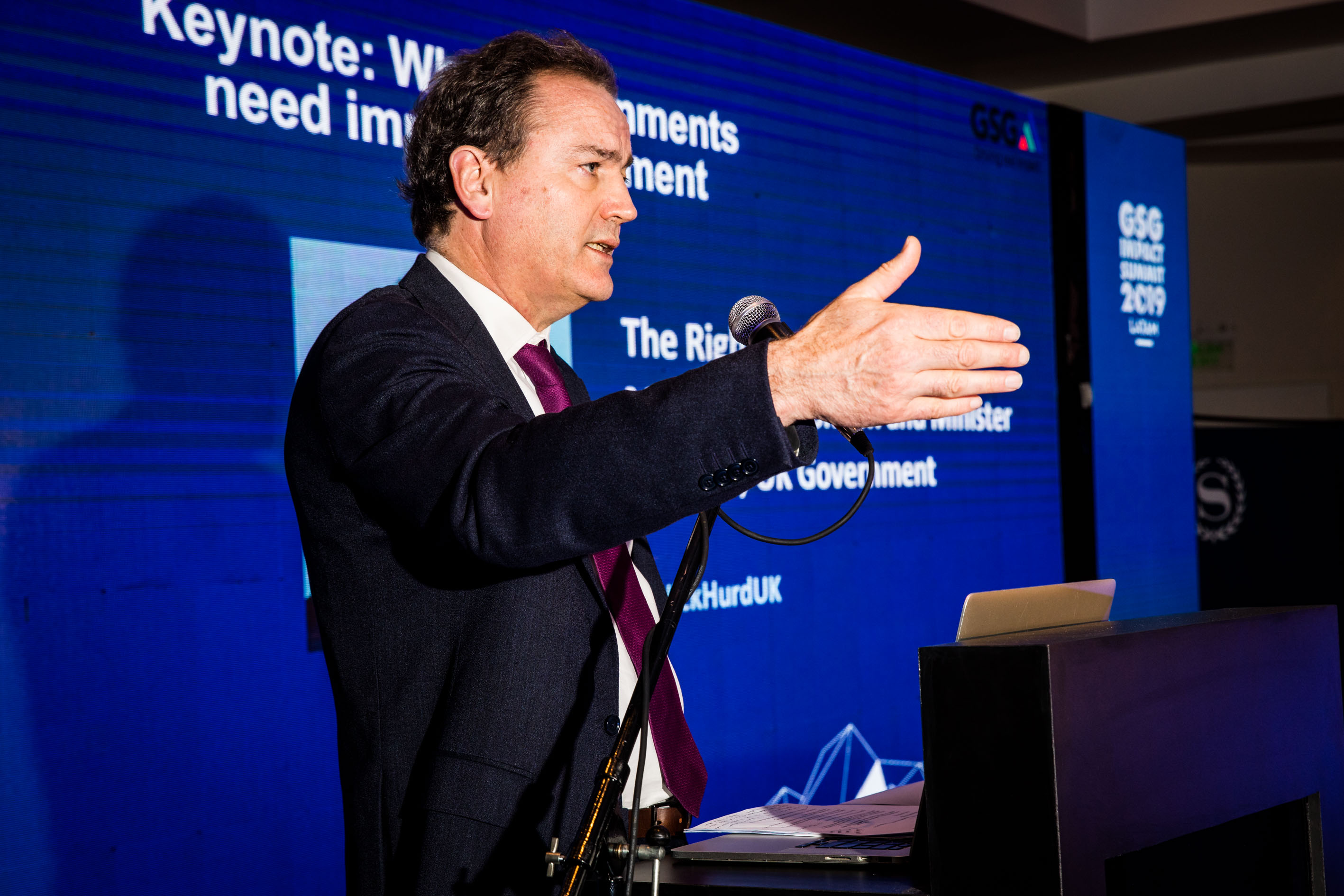 Above: Nick Hurd speaking at the GSG Summit in 2019
It will run until shortly after the end of UK's G7 presidency in December, but Prior told Pioneers Post he hoped it would become "a multi-year process" adopted by subsequent G7 leaders, and that findings would also be brought to the larger group of G20 countries – chaired by an emerging economy, Indonesia, for the first time in 2022.
The Impact Taskforce will have two working groups: GSG will oversee efforts to simplify and harmonise how companies and investors report on and account for impact, while the Impact Investing Institute will oversee recommendations for creating impact financing vehicles that can mobilise private capital at scale.
For both goals, the UK's Foreign, Commonwealth & Development Office (FCDO) had requested a specific "lens" on emerging economies and particularly Africa, said Prior.
Developing countries face a massive financial shortfall to achieve the Sustainable Development Goals by 2030: the Covid-19 pandemic is estimated to have increased the existing $2.5trn annual shortfall by a further $1.7trn. The UK government has slashed its 2021 international aid budget by about 30% compared to 2019 levels in the wake of the Covid-19 pandemic.

CEOs seek standardisation  
Working alongside Hurd – who is chair of the Access Foundation for Social Investment and who led the UK government's work to grow the impact investment market alongside the then prime minister David Cameron between 2010 and 2015 – will be Douglas L Peterson, president and CEO of data and ratings giant S&P Global, and Dame Elizabeth Corley, former CEO of Allianz Global Investors and chair of the Impact Investing Institute. 
Peterson, who will lead the working group on reporting and transparency, said: "Transparency and a common language for accounting and reporting are essential for every asset class and investment approach, and impact investing is no exception."
Transparency and a common language for accounting and reporting are essential for every asset class and investment approach, and impact investing is no exception - Douglas L Peterson
In recent months, calls have been growing for internationally recognised standards to be created for impact reporting, including from Larry Fink, CEO of US investment giant BlackRock.  
Peterson added: "The development of globally accepted impact standards will allow investors to see clearly how companies are performing both financially and on their returns to society, enabling them to better allocate their money to investments with positive impact."
Sir Ronald Cohen, GSG chair, also joins the new initiative as senior advisor and taskforce member. A full list of members has not yet been published, but GSG said it would "bring together relevant, diverse, and practical voices" from the G7 countries and beyond. 
'Another level'
Today's announcement echoes developments in 2013 when former UK prime minister David Cameron created the Social Impact Investment Taskforce, led by Ronald Cohen, as part of the UK's G8 Presidency.
While that was a "rocket booster" for impact investing, said Prior – it led among other initiatives to the creation of the GSG, now active in 33 countries – the industry had since moved on significantly. It was a "fantastic opportunity", he said, that the government now wanted to take it "to another level" in its first return to the helm of the G7 since 2013. 
Asked why an additional group needed to be convened outside of the GSG's existing work, Prior pointed to the "really outstanding list of members" – including S&P's Peterson – who would "raise the level of influence".
We need to mobilise trillions of dollars... The Impact Taskforce will show how that can be done - Nick Hurd
Nick Hurd said: "The state of our world requires a change in mindset from governments and the market. It will not be enough for private capital to do less harm. We need to mobilise trillions of dollars into investments that combine return with positive social or environmental impact. The Impact Taskforce will show how that can be done."
Sarah Gordon, CEO of the Impact Investing Institute, said: "Impact investment has the potential to contribute to solutions to some of the biggest challenges we face – whether that is a just recovery from the pandemic or addressing the climate crisis. 
"To harness private capital at scale for public good, we need structures that meet investors' requirements and deploy capital where it is needed, improving access to decent jobs, education and healthcare, and investing in a just transition to a net-zero world."
Header image by SpaceX on pexels 
Thanks for reading Pioneers Post. As an entrepreneur or investor yourself, you'll know that producing quality work doesn't come free. We rely on our subscribers to sustain our journalism – so if you think it's worth having an independent, specialist media platform that covers social enterprise stories, please consider subscribing. You'll also be buying social: Pioneers Post is a social enterprise itself, reinvesting all our profits into helping you do good business, better.