Carbon-capture project receives Scottish Catalyst Fund's first investment
Sustainable Thinking Scotland (STS) has become the first investee of the Catalyst Fund, securing a £190,000 loan which it will use to develop a carbon-capture project.
The £15m Catalyst Fund launched in June 2021 and offers loans to social ventures in Scotland on a flexible, revenue-based repayment model.
The investment will enable STS, a community interest company based in Falkirk, to fund the development of their biochar water remediation technology. Biochar is a type of charcoal which is obtained by burning biomass in an oxygen-deprived environment, therefore capturing the carbon that would otherwise be released into the atmosphere and storing it into the ground. 
STS has set a high bar for a new generation of ambitious, high-growth social enterprises serving people and planet
Biochar has a number of uses including increasing soil fertility and improving water quality. STS plans to use it to filter nutrient pollution in waterways and add it to soil used for food production.
Sean Kerr, co-founder and director at STS, said the investment would be "the catalyst which allows us to drive innovation and regulation within these new carbon markets, helping to set the standards for environmental recovery, whilst contributing towards Scotland's net zero ambitions".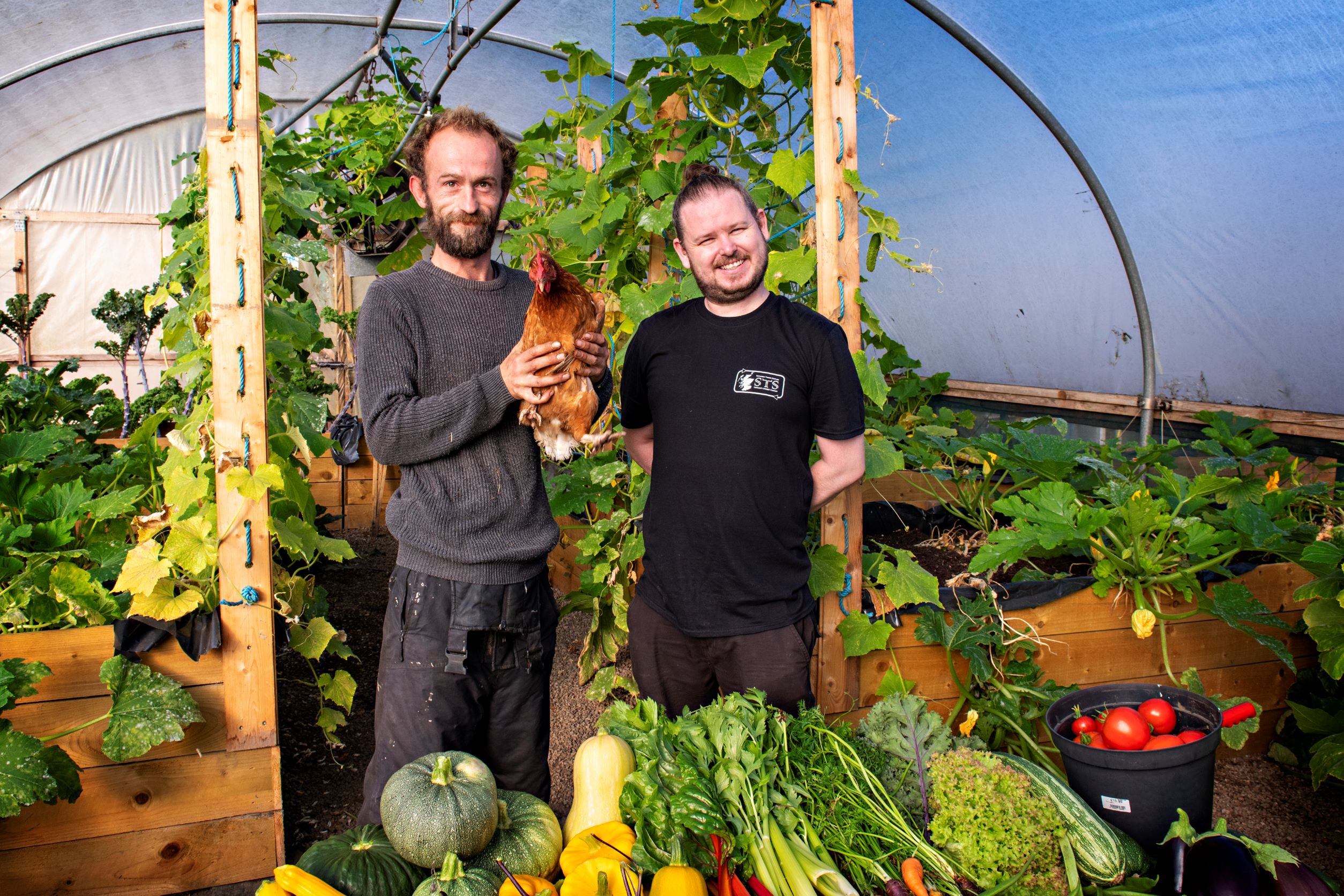 Above: Steve McQueen and Sean Kerr founded Sustainable Thinking Scotland in 2016. The CIC's work includes increasing local sustainable food production and providing community-level green waste recycling (credit: Open Aye CIC)
Flexible finance
The Catalyst Fund aims to offer an alternative to conventional growth finance such as debt or equity, providing capital to early-stage social enterprises that need more time to develop technologies or which have uneven revenue streams. Financed by the Scottish government as part of its £30m Third Sector Growth Fund, it is managed by startup support agency Firstport and network body Social Enterprise Scotland and offers loans starting at £50,000, to be repaid only when investees begin to generate revenue. Monthly repayments will vary, based on a percentage of trading income.
Daisy Ford-Downes, head of group investment programmes at Firstport, said STS had set a "high bar for a new generation of ambitious, high-growth social enterprises serving people and planet".
The fund is targeting about 20 investments per year over the next decade that directly benefit individuals, communities and/or the environment. There are currently 35 social enterprises at pre-application stage, and information sessions since the fund was launched in June attracted more than 100 attendees, according to Firstport.

Support for net zero transition
STS's work covers both environmental and social goals. Founded in 2016 by Sean Kerr and Stephen McQueen, the social enterprise's activities include increasing sustainable food production, providing community-level green waste recycling, and education projects targeting vulnerable people.
News of their investment, however, comes days after new findings suggested that many social sector organisations in Scotland were failing to prioritise the environment, even as the country prepares to host the international COP 26 summit. Pauline Hinchion, director at Scottish Communities Finance Ltd, said the findings showed many organisations were not making the connection between social and environmental issues.
Firstport CEO Josiah Lockhart told Pioneers Post his organisation was "currently in discussions with partners and stakeholders to understand how we can embed support within our programmes to help social enterprises, regardless of sector, product or stage, with the transition to net zero". Firstport was also in the process of having its own work, investments and grants audited, he added, to create "a baseline for future carbon reporting and a net zero strategy".
Top picture: Biochar can capture and store carbon and help tackle climate change (credit: Open Aye CIC)
Thanks for reading Pioneers Post. As an entrepreneur or investor yourself, you'll know that producing quality work doesn't come free. We rely on our subscribers to sustain our journalism – so if you think it's worth having an independent, specialist media platform that covers social enterprise stories, please consider subscribing. You'll also be buying social: Pioneers Post is a social enterprise itself, reinvesting all our profits into helping you do good business, better.