"The future's so bright, I gotta wear shades"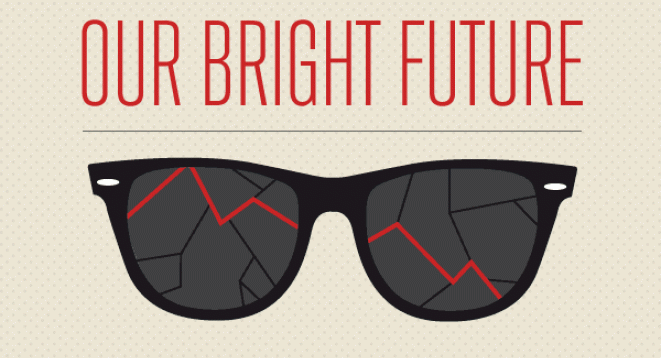 Despite technological progress and increased connectivity today's young people are stuck with planetary overshoot, social inequality and myopic governance. How can they be inspired to take control of their future? Amanda Feldman looks for answers in her new column "Our Bright Future"
"The future's so bright, I gotta wear shades." – Timbuk3
After featuring as a Top 20 hit in the 1980s, this catchy one-hit-wonder became a classic graduation anthem as students shook hands with professors, received accolades for high attendance and scurried off to follow their dreams. We didn't imagine we were inheriting high unemployment, financial instability and resource constraints. Or that our future would actually be brighter, only thanks to a hot sun and depleting ozone. The future has not shaped up to be the rosy image we imagined in our hip Wayfarers, as unemployment, instability and superstorms plague our generation.
Several polling organizations have intermittently asked Americans since the 1980s how likely they think it is that today's youth will have a better life than their parents. 2011 saw an all-time low at 44% answering very/somewhat likely, and it probably hasn't gotten much better. The world often feels like it's on its heels, waiting for the next angry slap, the next credit downgrade, the next Arab Spring.
Rather than talking about a bright future, we hear a lot of talk about the radical change we need. I've always been fascinated by revolutions, since studying the rise of the novel at university. One short novel caught my attention, published in 1893 under a pseudonym – Mademoiselle Ixe, by Lanoe Falconer. On the surface, a simple, engaging story; but as I nearly went blind staring at microfilm of late 19th century newspapers, I discovered that the story was bound by conspiracy, cosmopolitanism, social justice and - you guessed it – revolution. A real one: the Russian Nihilist movement. This small library book was not just a beautifully crafted novel, but a plea for humanitarian aid that circumnavigated banned printing presses to reach the comfortable English public, demanding compassion for revolutionaries across the globe.
My generation has so much more connectivity (and freedom of press) than those revolutionaries, and grassroots activism is still a strong force - see now-banned
Last Dictator Standing
for a comedic stance on that. But we're also in gridlock: planetary overshoot, social inequality, myopic governance are wheels churning furiously on a muddy back road. We're in the midst of a market revolution, and for better or worse, we find ourselves at a moment of breakdown, change-as-usual or breakthrough (or at least that's how we think about it at
Volans
). A lot of us may choose to distract away from the serious issues our generation faces, but frankly, for me, breakdown is not an option. 
I don't think it ever is – which is why each generation feels like its battles are more pressing than those of the previous. But we're always fighting for the next generation. We need a new one-hit-wonder graduation anthem that empowers bushy-tailed students to actively shape a brighter future, since the consensus is that it's not looking so good. Any suggestions?
Over the course of my coming blogs, I hope to take off the shades, and drill down into the intergenerational dynamics at play in these market revolutions. It'll get personal, often involve song and hopefully cause some constructive discomfort. It's the least I can do.