Localize puts its own winning label on $20,000 Canadian Good Deals prize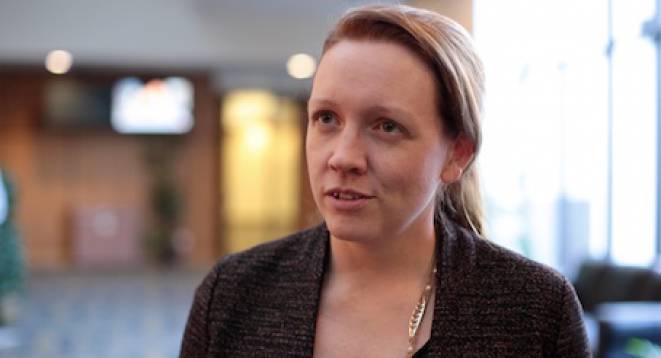 A service that 'shines the spotlight on local food' in grocery stores and restaurants has got its own name in lights as the winner of this year's $20,000 Social Enterprise World Forum Good Deals pitch contest.
Localize was chosen in a tight contest against three other impressive social ventures in front of an audience of 1,000 people in Calgary, Canada.
The two-year old enterprise based in Edmonton, Alberta has ambitions to extend its food labelling programme across Canada and beyond in its bid to initiate a dialogue about where our food is produced and whether our buying choices support our local economy.
'With our help, food businesses can more easily market local food and consumers can more easily support local food,' said founder Meghan Dear.
The contest was based on the UK's Good Deals social investment pitch contest and chaired in Calgary by Tim West, founder of Good Deals and editor of Pioneers Post. Pioneers Post has already posted coverage and video footage from the world forum – and will be releasing film interviews with many of the Canadian pitch contestants over the next few weeks.
Chair of judges Andreas Souvaliotis, Executive Chairman or Social Change Rewards and one of Canada's leading social entrepreneurs, said the panel chose Localize 'primarily because of their tremendous potential scalability and impact'.
He said: 'Their idea is brilliant and resonated endlessly with my own passion for influencing consumers on a mass scale. Their rapid growth to date also impressed us. I genuinely can't wait to see how far they can take their concept and how broadly they can succeed.'
Souvaliotis, who was joined on the judging panel by Sheetal Walsh, Deal Maker on the Global Entrepreneur Programme, and CEO of The Big Issue Australia Steven Persson, described the process as 'remarkably tough'.
He said: 'Four finalists with four compelling business models, inspiring missions and terrific impact potential! I remember reading about them, even before they presented to us, and wondering how I would ever be able to vote for one over the other three. Then came the awesome presentations, filled with passion, packaged so sharply and delivered with such crisp professionalism – I truly hadn't expected to be that consistently impressed by all four. We (honestly!) did have a moment when we contemplated splitting the prize four ways but then we convinced ourselves to look a bit harder and score all the detailed parts of each pitch, in order to come up with a single winner.'
Fellow judge Sheetal Walsh commented: 'It was a tough competition with all the entrepreneurs providing grass roots social impact. We congratulate the Albertan winners who will enhance the way people shop and choose their groceries. It will be interesting to see how they take their model and go global. We wish them all the success and believe SEWF 2013 was a huge success for all.'
Through a cohesive shelf labelling program, Localize shows customers where their food has come from and gives a 'Localize Score' which measures how local that product is. Each label has a unique QR code, allowing customers to scan the code with their smart phones and pursue more information about the full story of the product. Already working in 50 grocery stores in Alberta and Saskatchewan with over 300 food producers, Localize has created a unique partnership between consumers, grocers, and food producers, and is paving the way for making local food businesses a sustainable part of our communities.
Fellow finalist Shift Coop is a Vancouver-based enterprise that aims to transform the delivery industry in urban areas by replacing delivery trucks with its heavy-duty cargo tricycles.
'The nimble design of our trikes offer a unique ability to use bike lanes and gain front-door loading access, providing efficiency and reliability advantages to our clients,' said Shift. 'We are focused on exceptional service and handle each package with personal care because our workers share ownership of the co-operative enterprise. And we help build resilient, livable communities by getting noisy, polluting trucks off the road and offering a clean, friendly service with zero tailpipe emissions.'
Souvaliotis said that the Shift team 'stole our hearts with their incredibly genuine passion' and the fact that they came up with their idea and implemented it practically straight out of school. 'Simple, yet drastically innovative and, in my opinion, a solid business concept. I hope to see them thrive in every major urban centre in North America!'
Vecova Centre for Disability Services and Research pitched its Beverage Container Pick-Up Service, which promotes recycling, creates employment for people with disabilities and contributes to the sustainability of a local charity. In 2011, 16.5% of Calgary's recyclable beverage containers were not refunded – many went into landfill. 'Our new service makes recycling empty beverage containers easy for homeowners, condos and businesses… The more customers we have, the greater the number of people we can employ.' Proceeds above the cost of operations support Vecova's education, employment and housing programs for persons with disabilities.
'Vecova fascinated me with their multi-layered social impact (environmental and special employment), combined of course with plenty of business potential,' said Souvaliotis. 'I would characterise them as the clearest example of Michael Porter's "Shared Value" model that so many of us see as our only option forward.'
City Farms Coop's pitch highlighted the fact that over 80% of Canada's population lives in cities, and over 50% of Canadian farmers are over the age of 55.  'Without encouraging the development and success of new farmers we are at risk of losing invaluable knowledge about producing food.' 
City Farms Co-op is a co-operative of new, small-scale farmers who are committed to growing food for their community while cultivating a system in which their farms can be economically, environmentally and socially sustainable.  
'City Farms had me smiling with its simple beauty as a clean, healthy, "real" and very financially sustainable urban food production concept,' said Souvaliotis. 'But I also smiled endlessly because of the passion-packed presentation by its founder. What a treat that was – I left that judging session inspired, energized and full of smiles!'
More information on the winner can be found online at www.localizeyourfood.com; on Twitter: @LocalizeProject and on Facebook at www.facebook.com/LocalizeYourFood
Click through to see Pioneers Post TV's SEWF first day video and wrap film.