Good Deals 13: strong forces power forward the brave new world of social investment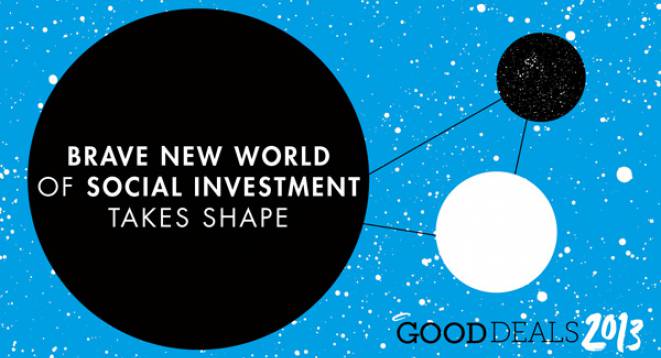 As the UK's social investment conference, Good Deals, ushers delegates into a brave new world of social investment, Pioneers Post hears from key figures in diverse fields as they explore the past, present and future of this movement.
There are strong forces driving the social investment agenda. The G8+2 Social Investment Taskforce, social stock exchanges in the UK and now in Canada, a UK social enterprise index, and growing numbers of entrepreneurs innovating across the globe are just a few manifestations of what this year's Good Deals event is calling "a brave new world".
"These forces are no less powerful than those that drove worlds of tech and venture capital," says Sir Ronald Cohen, outgoing chair of the UK's social investment wholesale bank Big Society Capital.
But the direction in which this world is heading is only just beginning to take shape. "Inflecion point", "nascent", "emerging" are just some of the words people are using at the moment to describe the social enterprise and social investment terrain, which strives to achieve social objectives through efficient business models, and puts social and environmental goals at the heart of finance. 
"Is it a brave new world? If so what does it look like?" asks Dawn Austwick, in her new role as chief executive of Big Lottery Fund. 
But 'brave new world' is not quite the right term for everyone - for some there is nothing new about the development of businesses to create positive social change. "We've been doing it for years," says Anna Whitty, chief executive of ECT Charity, an award-winning provider of community transport.
It may not be a new world but it is a lot different now, according to Abbie Rumbold, partner at charity and social enterprise lawyers Bates Wells Braithwaite."Twenty years ago local authorities were just commissioning small contracts, and now we're looking at a wholesale revolution in probation services," she says.
The idea of a brave new world comes from Miranda's speech in Shakespeare's The Tempest. Sophi Tranchell, CEO of Divine Chocolate, a UK bastion of the fairtrade movement, draws on the scene in which Miranda sees drunken sailors emerging from a shipwreck after the storm.
Tranchell suggests that perhaps today's social entrepreneurs and social innovators are not so distant from those drunken sailors, instead emerging from the shipwreck of the financial crisis, with a new approach to business and social imperatives.
Drunken sailors or not, social enterprise and social investment are garnering attention as means of tackling environmental damage, inequality and social problems which are all set to intesify in an increasingly populated world.
Leading advocates of social finance accept that social investment may not always be the answer. But at the same time it is increasingly evident that social investment has become a subject people are prepared to engage with in order to understand its potential, says David Hutchison chief executive of Social Finance.
Caroline Mason, recently appointed chief executive of the Esmée Fairbairn Foundation, echoes this sentiment, as the incoming head of an innovative charitable foundation that primarily awards grants to social sector organisations, but also allocates a sum of its funding pot to social investments.
"There is a huge amount of talent and professionalism at the frontline and if we can use social investment as a means of catalysing and galvanising that it would be brilliant," she says. 
But if social organisations are to claim their place at the investment table, they will need to work on their business models and processes, according to Claire Bench, head of corporate responsibility at Deloitte. This view is embodied by growing numbers of incubator schemes and corporate partnerships working to build efficiency into social ventures.
The Deloitte Pioneers Programme is one example of corporates navigating their way in to the social enterprise space. And at Good Deals, RBS is investing in the winner of the social enterprise pitching session, and giving prizes to the champions of this year's 
RBS SE100 Index
, which compiles live data on social impact and growth data of the UK's social enterprises.
But if the world of social investment is to be classed as brave at all it must put "social first, and money second", says Jeremy Nicholls CEO of the SROI Network. He reminds us that a brave new world is not necessarily a safe one, and social entrepreneurs will have to work hard to ensure that financial imperatives do not trump social objectives.
There is a web of agendas and values to be untangled, as delegates at this year's Good Deals begin to shape the brave new world of social investment.
#gdeals13