Issue #13: No big deal? How social enterprises are weathering the Brexit storm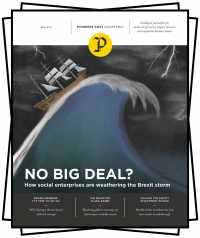 The digital version of the 13th edition of our print magazine, Pioneers Post Quarterly, is available to read for our subscribers here.
This issue includes:
Cover feature: how social enterprises are weathering the Brexit storm
The mighty mediator: the inside story of the Impact Management Project – a game-changing initiative that's helped reach consensus among thousands on what impact really means
Solving the equity investment puzzle: details of the deal that may just have made a breakthrough in financing social enterprises
Close-up: our new photo feature, with beautiful images of social enterprise on the front lines in Brazil, Nepal, Uganda, Scotland and Nicaragua (thank you to all our readers who submitted photos!)
The Guv'nor: our regular columnist Bob Thust on 'permeable' governance, and why just having a diverse board isn't enough
Four mantras for making communications more manageable: real-world tips for a comms plan you'll actually stick to
We'll be adding these and other features to the website over the coming weeks and months.
Please note that this digital version of the printed magazine is premium subscriber-only content. By subscribing you'll unlock all premium content on this website, including videos and podcasts, plus you will receive the printed magazine through your door each quarter! 
And don't forget that Pioneers Post is itself a social enterprise. Your subscription helps us to become financially sustainable so we can keep delivering the social enterprise news and helping you do good business, better!
(Any problems reading the issue? Contact us at hello@pioneerspost.com)