Australian hosts of SEWF 2022 to target 100,000 visitors
The 2022 Social Enterprise World Forum is heading "to a new level" with the Australian team behind it pledging to attract 2,500 in-person visitors plus another 100,000 online.
The 2021 event closed yesterday evening in Canada with an online handover ceremony from this year's host city, Halifax, to Brisbane. Event organisers said there had been 3,000 participants from 131 countries during the two-day event.
Read our news stories, interviews and videos from SEWF 2021
Speaking to Pioneers Post after the ceremony – which included the premiere of Brisbane's welcome video above – Luke Terry, CEO of White Box Enterprises, the Australian host of the event, said: "We are taking it to a new level. We want to mix things up; we have to do it differently."
We want to mix things up; we have to do it differently
With support from the state of Queensland's political leaders, a growing wave of excitement from the region's social enterprise community, and backing from corporate partners, Terry said the team was exploring innovations in how to create a great event online. 
He added that, post-pandemic, the state borders would be open for visitors. "We can't wait to have you here," he said.

Australian participants in the Social Enterprise World Forum handover ceremony from Halifax to Brisbane yesterday
Terry said the SEWF 2022 event, planned for September, would focus the vision of the next generation on social enterprise.
"There's so much happening in the world right now, we need businesses that do good," he said. "How do we get our young people to say, social business is the way of the future?"
He added that the role of the Queensland indigenous community would also be crucial. "Our region's traditional owners can tell some incredible, untold stories," he said.
A catalyst for Australian social enterprise
Tom Allen, founder and CEO of Australian social enterprise support organisation Impact Boom, was one of the leaders of the team that bid to be the host of SEWF 2022. He told Pioneers Post that the motivation to host the event came from seeing the positive effect that the event had upon social enterprises in New Zealand when it was held in Christchurch in 2017. 
The SEWF has been hosted in Australia before, in Melbourne in 2009.
We are already seeing the hugely positive catalytic effect of hosting a Social Enterprise World Forum
Even now, said Allen, changes were beginning to take place. "We are already seeing the hugely positive catalytic effect that hosting an SEWF has, with really strong momentum building nationally around social enterprise in Australia. Since launching the bid process, we have seen the formation of state-based social enterprise networks, stronger government commitments and great work being done on a national strategy."
A journey through the pandemic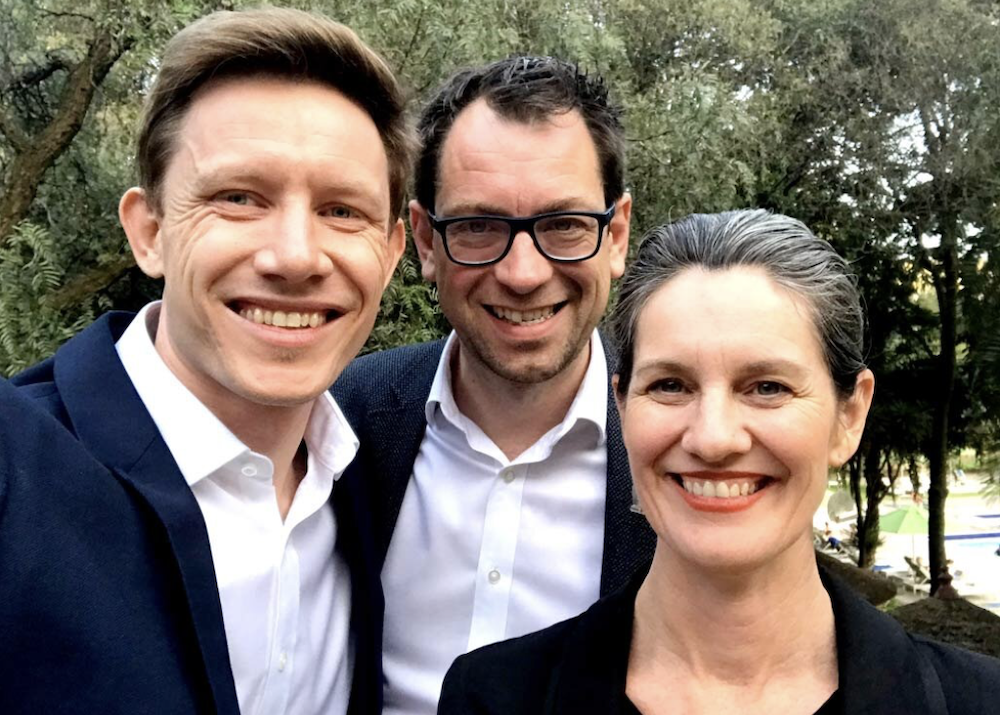 The journey to the Brisbane handover ceremony has not been smooth. The Australian team pitched for SEWF 2022 at the event in Addis Ababa in 2019. Six months later, the Covid-19 pandemic struck. (Pictured here, from left: social entrepreneurs Tom Allen, Luke Terry and Emma-Kate Rose after delivering the Australian pitch to the SEWF board in Ethiopia to host the forum.)
While the Australian team's event partners began to pull out amid the global economic uncertainty, Luke Terry said that the core group remained committed to pulling off the event.
Terry's White Box Enterprises, which supports the creation of jobs-focused social enterprises, took the bold step of taking on an AUD 100,000 loan from impact investor Seventh Street Ventures.
"We're only two years old and we had this big AUD 1m thing sitting on our balance sheet," said Terry. 
But he explained that the investment had enabled the team to take an entrepreneurial approach to getting the event off the ground, by recruiting an events manager, putting in place the necessary risk mitigations and attracting new partners (including Westpac Foundation, the Indigenous Land and Sea Corporation and Torrens University) to run alongside current partners which include SAP and Google.
"We're totally pumped!" he said.
Allen emphasised that Australia had a lot to showcase to a global audience. He said: "Australia has a huge diversity of exciting social enterprises which are successfully demonstrating that business can be used to tackle deep-rooted social, environmental and cultural issues. Those within the sector show an amazing amount of generosity, openness and collaboration. Our First Nations people have incredible stories to share."
He added that academia too was becoming increasingly involved to support the social enterprise ecosystem.
"Couple this with some of the world's most beautiful beaches and landscapes, and SEWF 2022 is an opportunity not to be missed."
Thanks for reading Pioneers Post. As an entrepreneur or investor yourself, you'll know that producing quality work doesn't come free. We rely on our subscribers to sustain our journalism – so if you think it's worth having an independent, specialist media platform that covers social enterprise stories, please consider subscribing. You'll also be buying social: Pioneers Post is a social enterprise itself, reinvesting all our profits into helping you do good business, better.