Issue #9: Why We're All in the Battle Now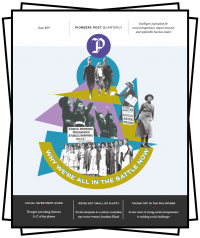 The digital version of the ninth edition of our print magazine, Pioneers Post Quarterly, is below. We'll be adding individual articles in their usual format over the coming weeks and months. Problems reading the issue? Contact us at hello@pioneerspost.com
Cover feature: Is the social enterprise sector really a great place to be a woman?
The Pioneers Post Special Guide to Social Investment: a selection of thought-provoking articles from social investment leaders plus our A-Z of social investment and advisors.
Global Focus: The Philippines.
PLUS: An interview with Young Foundation chief executive Helen Goulden, Jonathan Bland's insights into how to realise the true potential of social enterprise and a peek at plans for the Social Enterprise World Forum 2018.