K is for Know Yourself: what really – really – drives you?
"Personal ambition, neediness, the desire to save, to do good, to be known" – there are many things that motivate social entrepreneurs. Understanding what motivates you is crucial, writes Liam Black in the latest extract from his book The Social Entrepreneur's A to Z.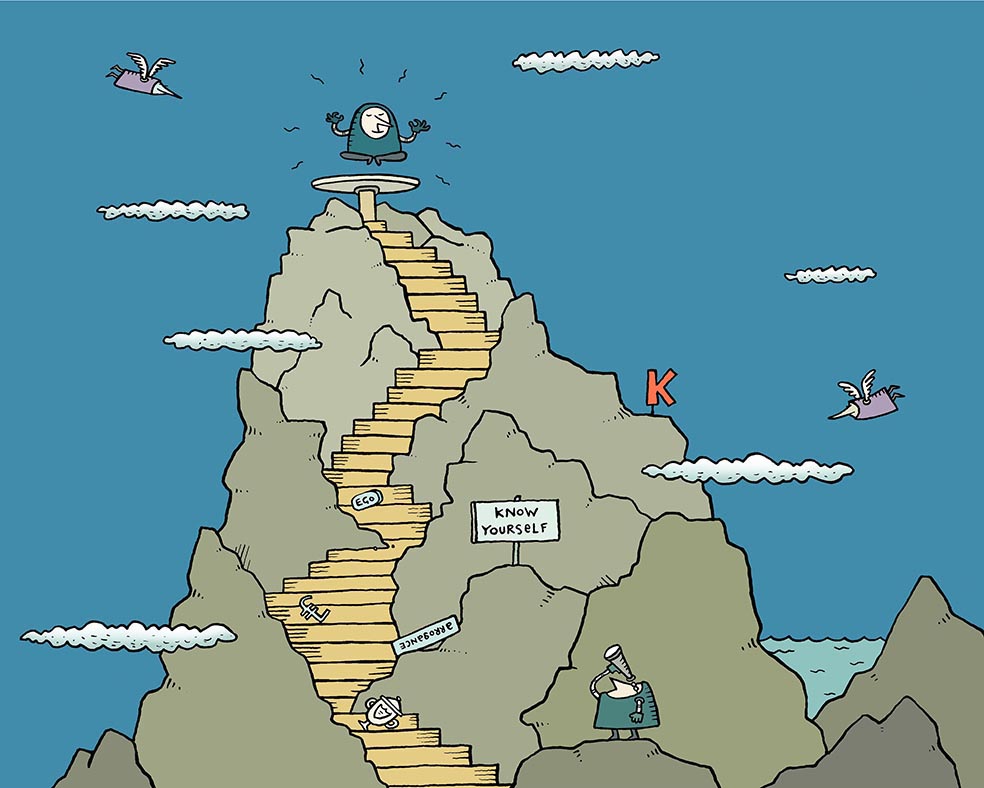 "Commandment #1: Believe in yourself. Commandment #2: Get over yourself." Kristan Higgins, writer
What really – really – drives you and what do you want? If you want to be socially enterprising over the long haul, understanding what motivates you is crucial.
In today's cult of the busy and preternaturally brilliant entrepreneur there is little time for honesty about real motives and desires. If you'd asked me in my twenties and thirties what my driving motivations were I would have outlined a strange hybrid of left wing politics, option-for-the-poor Catholicism and Irish republicanism.
No doubt that these were important to me. But looking back at that needy, driven, contradictory young man I can see clearly that a core part of what drove him was seeking the approval of an absent father (long story)*. Look at me, Dad, helping all these homeless people, aren't I great? Aren't I?
And, to be frank, I hugely enjoyed the attention which came with being in the vanguard of the UK social enterprise movement. It feels very good to be talked and written about and even better if there are awards and baubles. (And look at me now in middle age wanting you to love this book and tell me I'm needed.) There may well be no 'I' in 'team' but there is sure as hell a lot of 'ego' in 'social entrepreneur'.
A word of caution to all those middle class, European and American social entrepreneurs who think they have the answer for the problems of Africa or know what the youth off the housing estates need: You don't. Do Kenyans and Cambodians really need more over-educated university graduates from Oxford and Stanford working out their own issues through the belief they are social entrepreneurs?
The Brazilian priest and champion of the poor Helder Camara once said: "The poor are not the raw material of your salvation." This is for all of us to tattoo on our foreheads (whether we do God or not).
It's messy this social entrepreneurship thing, this mix of personal ambition, neediness, the desire to save, to do good, to be known, recognised, rewarded, happy, useful. But try to know why you do what you do and temper your passion to change the world with a large dose of humility.
"There may well be no 'I' in 'team' but there is sure as hell a lot of 'ego' in 'social entrepreneur'"
* There is a whole book to be written about male social entrepreneurs and their fathers. Every single one I've mentored has had a very complicated relationship with their dads and the need to impress them and seek their approval for their socially entrepreneurial heroics.
The Social Entrepreneur's A-Z with foreword by Nobel Laureate Muhammed Yunus and illustrations by Spike Gerrell is available to order through Amazon here. You can read more details on the book itself here.
Tune in to the A-Z Podcasts!...
To delve into the issues tackled in his book further, Liam has recorded a series of podcasts with business leaders from a number of sectors. To accompany this chapter he talks to former HR director at the BBC Lucy Adams and his own former mentor. Listen here.