Good Stories: Better comms for social enterprises
Got a great social enterprise story to tell? Good Stories, the marketing and comms conference, was packed full of inspiration and expert tips for improving your communications. Delegate Anna Patton shares her takeaways.
Social enterprises have great stories. So why do they often struggle to tell them?
One-fifth of social enterprises in the UK say they're not good at marketing, branding and PR; more than half consider themselves average at best. Among small charities, the picture looks similar: over 40% say they need upskilling in external communication.
This isn't very surprising. Communication is not necessarily prioritised among the operational stuff; it's often considered something anyone can do, and so not worth much investment in specialists.
It's also really time-consuming. Thought social media was quick and easy? Factor in five hours per week per channel to do it properly— as strategist Ruth Thomson advised us yesterday at the Good Stories event — and you've quickly filled up half your week. (As for blogging — I'd say two hours at least per post.)
Mixed messages
For social enterprises in particular, the challenge is multiplied by their eternal identity crisis. Should you be talking about your social impact, or will that make potential consumers think you're worthy but probably of substandard quality (like the "undrinkable Nicaraguan solidarity coffee" of the past, as one speaker put it)? On the other hand, will the image of a slick business deter those who feel that social services should never be profit-driven?
The answer is likely: it depends — on your business model, and on who you're talking to. But there was a common theme among the enterprises at Good Stories of competing on a level with mainstream businesses first, with social impact a great additional benefit. Belu, which gives 100% of its profits to WaterAid, only cracked the market thanks to a high-end rebrand that opened doors to the restaurant trade. Many people who buy SoapCo products don't even realise they were made by disabled or disadvantaged people. HCT Group competes with purely commercial providers, in a market where "no one cares that we're a social enterprise", as Frank Villeneuve-Smith, communications director put it. And startup Chatterbox, which delivers language classes through refugee tutors, is increasingly presenting itself "as a language service first, and a social business alongside", according to founder Mursal Hedayat.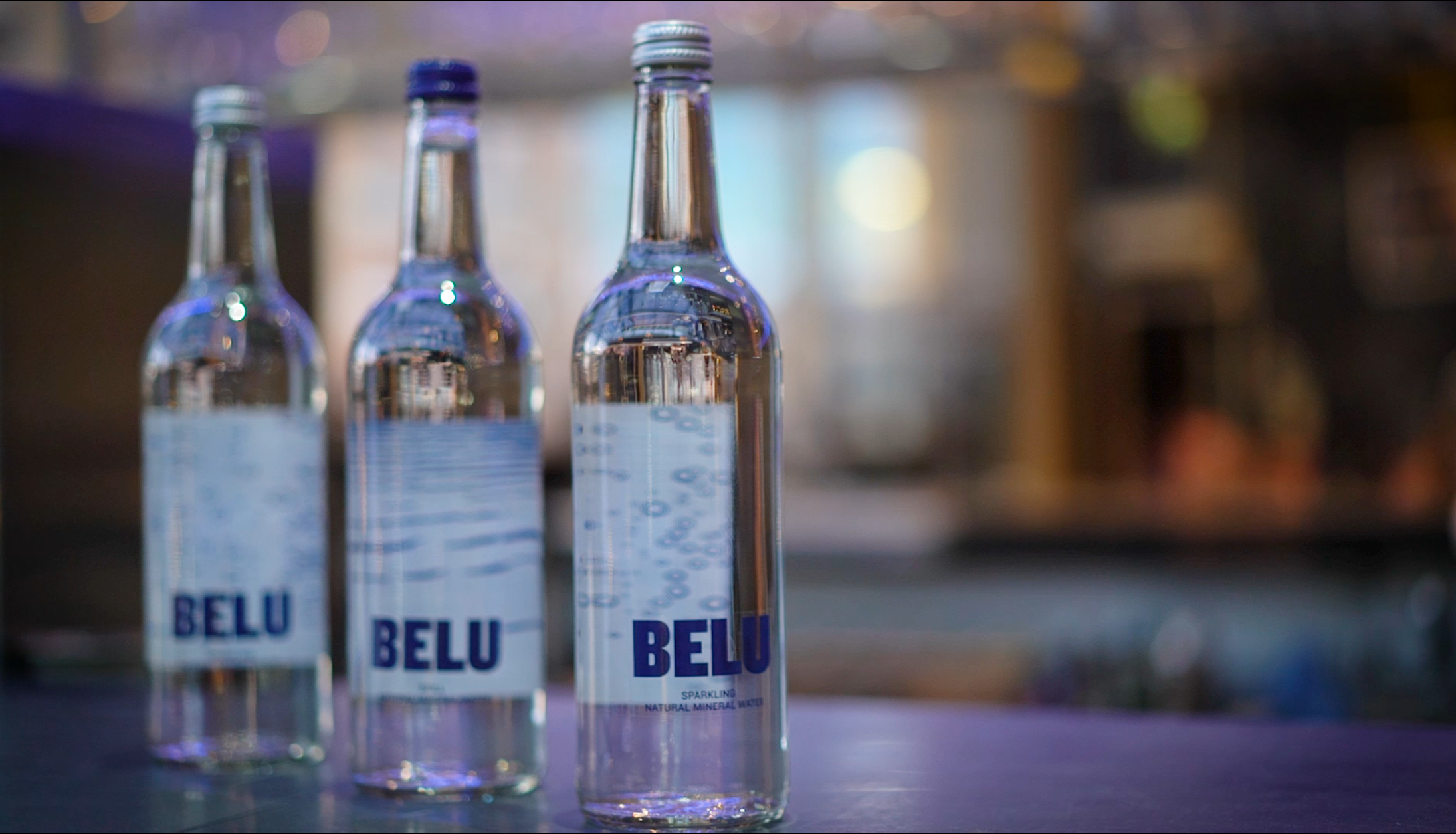 Belu's high-end rebrand opened doors to the restaurant trade
That doesn't mean there's nothing to say about social impact. Villeneuve-Smith said HCT Group still communicates "what makes us different as a social enterprise", just without the "lecturing" about doing good. Brand expert Miho Aishima agreed: social enterprises should inspire people to do good — just not through guilt or fear.
How to say it
So how should social enterprises get the word out? Here are some of the best tips from the day's various speakers:
Communication is about messages, audiences and channels/tools, said Matter&Co founder Tim West. It's tempting to jump to the tools but be strategic, and spend time on the first two (West has 20 years' experience in social enterprise communications — probably worth taking his advice). Invest time in getting your brand right. As Aishima put it: why spend money on advertising when you're not that clear about what you want to say?
Understand what makes a story. Watch crowdfunding videos for lessons in telling a powerful story in a few minutes, advised consultant Jamie Veitch. Find and pull out themes of tension, conflict, overcoming obstacles. A story can be simple, as well: look how much is conveyed by a one-word (or even no-word) headline on an Economist cover.
Put people first. There's a reason that reality TV is so popular, and that's because humans are obsessed with other humans. Talk about your people — or let them do the talking themselves, advised Fiona Young from Social Enterprise UK. Larger organisations in particular can be great at the big picture overview with lots of stats, she said, but often forget to hone in on the individual stories. Both perspectives are needed, though.
Choose your social media platform(s) according to where your audience is: don't just create an account on Snapchat/Instagram/etc. because that's what everyone else is doing (remember those five hours per week). Even if you have multiple audiences, it's still possible to cater to each of them via one platform, said Thomson: target 50% of posts at your primary audience, 30% at your secondary audience, etc.
Get to know how to work with journalists: be persistent, build relationships (once you get to know someone well they may help you tweak a pitch to make it more news-friendly), send targeted and really clear press releases. And if you do get contacted by a journo, get back to them as soon as you can. "Even 30 minutes can make all the difference", said Emma Worley, co-founder of the award-winning Philosophy Foundation.
Worley also advises getting out there and writing yourself. If you read something you disagree with, don't just ignore it: publish your own take on the issue. LinkedIn or Medium are good platforms if you can't get a letter or opinion piece published in the press.
Finally, get over your embarrassment, said West. Be confident as you talk about the double bottom line you're achieving — whatever way you choose to tell it.
Good Stories was produced by Pioneers Post and the NatWest SE100. It was held on 6 September 2017 at the RBS/NatWest conference centre in central London. This article was first published on Anna Patton's blog and is reproduced here with her permission.