Don't bottle it up: The London venture tackling mental health one vine at a time
Volunteers are queuing up to lend a hand at London's only commercial vineyard – and not just for a taste of its organic white wines. Pioneers Post paid a visit to one of the UK's top social enterprises to find out more
An organic dry white wine from... Enfield, north London. An unusual concept – especially when it comes from a volunteer-driven social enterprise. 
Forty Hall Vineyard, listed on last year's NatWest SE100, is the only commercial vineyard operating in the capital. From its base on Forty Hall Farm – which is run by specialist environmental education provider Capel Manor College – it produces organic still and sparkling wines. Its 14,000 vines are tended by volunteers, many of whom get involved for mental health reasons.
Founder Sarah Vaughan-Roberts had always been interested in the social and therapeutic benefits of being outdoors. Around 10 years ago, she noticed a gap in the market for a London vineyard. Lucky timing meant that one acre of land, leased to Capel Manor by the local council, became available – and once they began planting, "people saw we were serious about it". In 2010, Forty Hall Vineyard was established as a not-for-profit limited company, going on to secure startup funding from the National Lottery. Now spreading over 10 acres, the vineyard has been selling wine commercially since 2017. 
Wine not?
Forty Hall Vineyard produces five varieties of grapes: Ortega and Bacchus for still white wines, and three 'traditional-method' sparkling varieties. The vines grow as naturally and organically as possible, in soil free from chemical residues, and harvested grapes are sent to a winemaker in Sussex, Davenport Vineyards, to be bottled.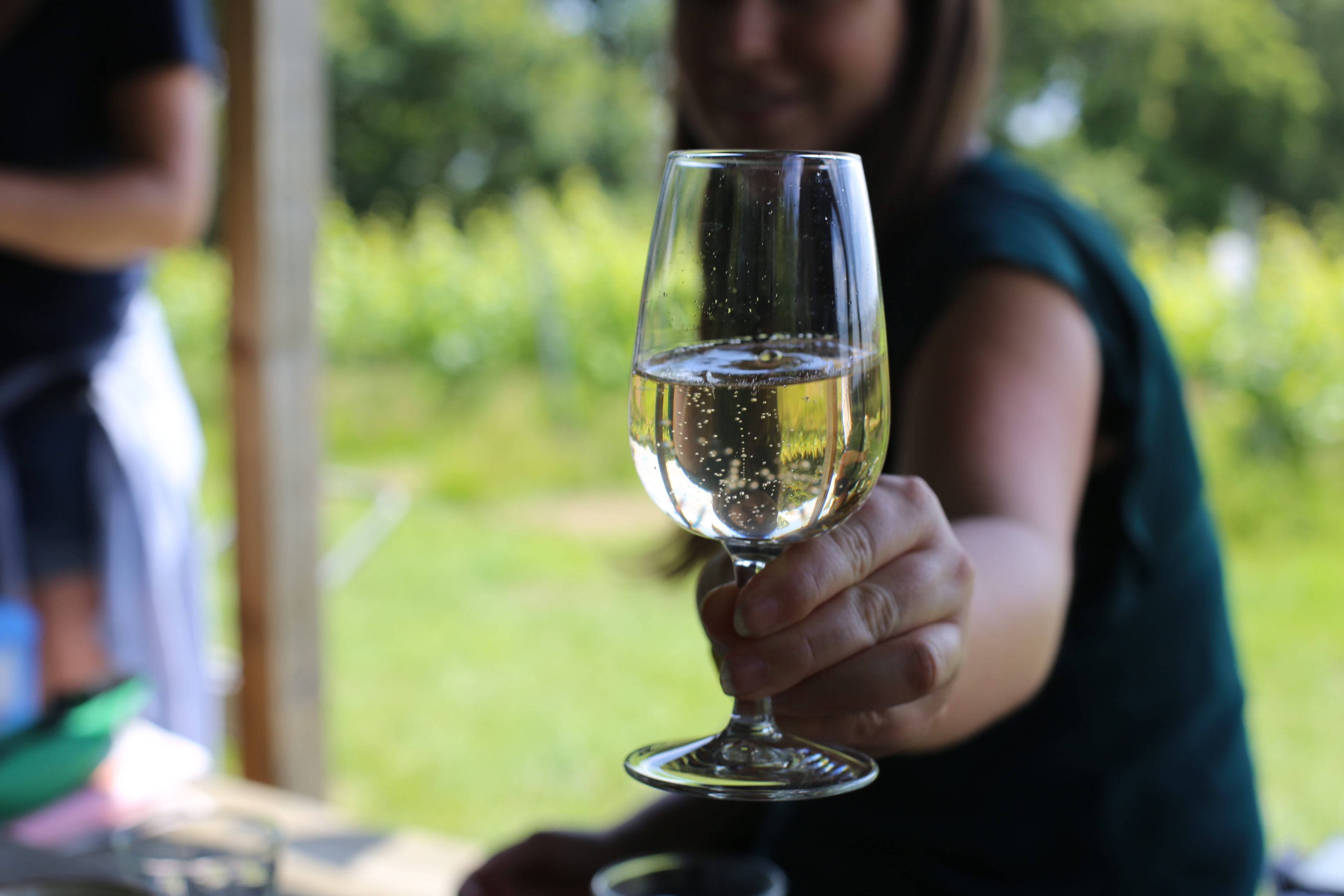 The vineyard produces two single variety still dry (organic) white wines, as well as the only sparkling wine made from grapes grown in London.
The wines are sold at the vineyard itself and via its online shop, from the farm shop, and through some independent local stores and restaurants. Those sales, plus other revenue streams including from corporate team days, currently generate around 60% of the vineyard's income (the rest comes from grant funding). 
"We always wanted to be taken seriously as winemakers," says Vaughan-Roberts, who spent three years juggling a diploma in viticulture and oenology with raising young children. It appears to be paying off: in 2018, the vineyard had its largest harvest to date, producing 20 tonnes of grapes, a four-fold increase on previous years.
A voluntary workforce
Running an organic outfit is resource-heavy – and it's one of the enterprise's main challenges. They deal with diseased vines, for example, with a precisely-measured mix of bicarbonate of soda and water, says Emma Lundie, head of operations. "That's why it's really important to keep on top of the pruning."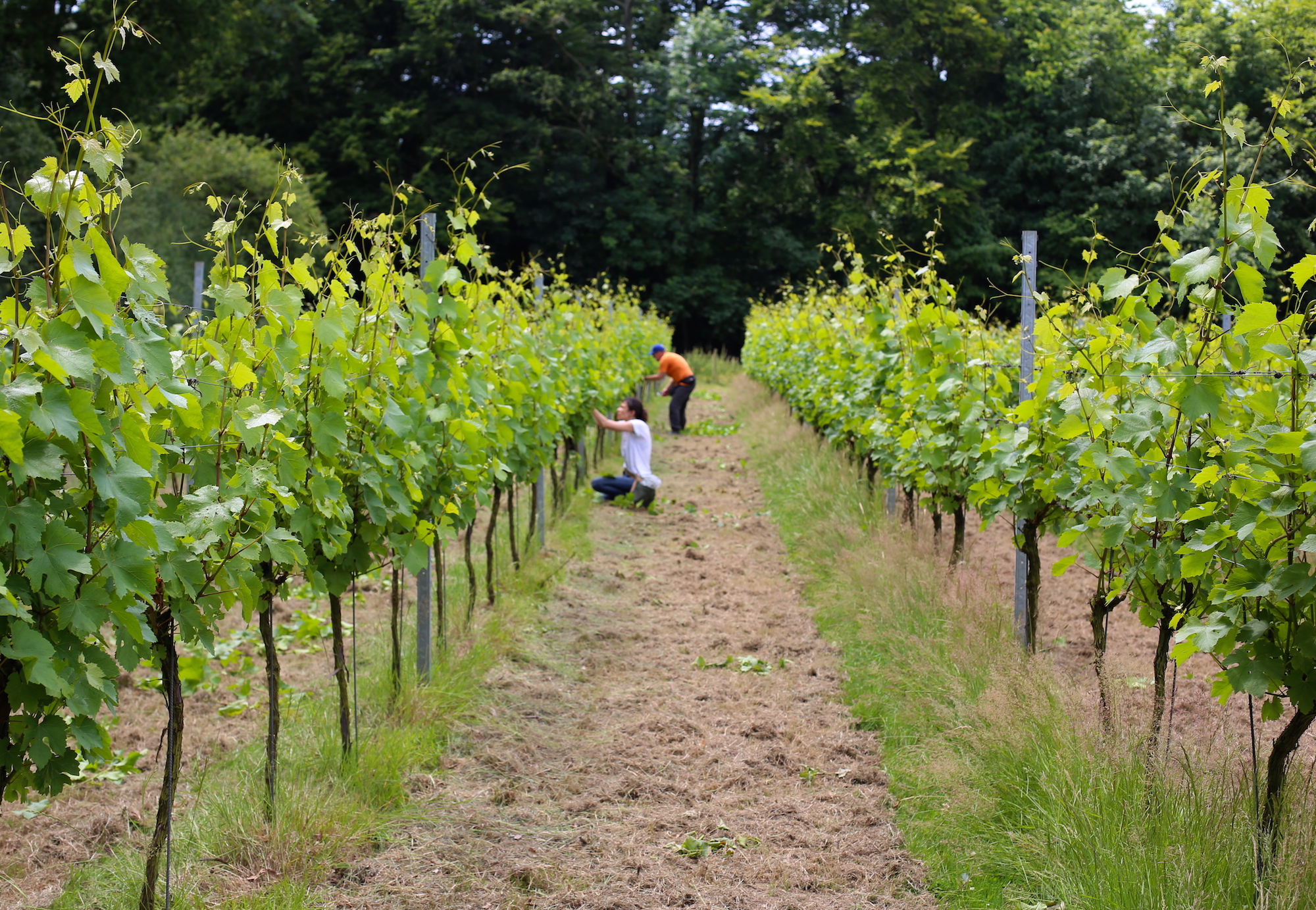 Starting in 2010 on just one acre, the vineyard is now over 10 acres – with land provided by Capel Manor College – and in full production, picking its largest harvest to date last year.
With just eight part-time paid staff (full-time equivalent of less than two people), the workload relies heavily on volunteers. To date more than 160 have worked in every aspect of project and business delivery, management and planning – year-round, whatever the weather. Even with the 70 volunteers currently on their books, there's still plenty to do. "We're currently behind with everything!" says Vaughan-Roberts. When Pioneers Post visits in high summer, the pressure is on: the vines are flowering, a sign that it's about 100 days until harvest.
Volunteers are encouraged to take ownership over the work and how things are run: Vaughan-Roberts describes the enterprise as "very bottom-up" and says over half the board are volunteers. They also run the wine stalls at markets, host corporate days, lead tours and plan social activities.
Don't bottle it up
The mental health benefits of the project became clear right from the start of the project. "We noticed so many volunteers saying, 'I feel so much better in my life since visiting here'," says Vaughan-Roberts. As a result, they began researching green therapy more strategically, and went on to hire some ecotherapists.
Among them is Charlotte Antoniou, who has worked with Forty Hall Vineyard for four years. She tells us ecotherapy – defined as being out in nature, doing purposeful and meaningful work with other people over a period of time – "has proven benefits on mental wellbeing".  Mental health charity Mind echoes this, claiming it can improve people's "social connectivity" and "increase their enjoyment of green spaces", as well as giving them access to education and training. At Forty Hall, 68% of volunteers reported more positive feelings and 90% said they felt more socially connected, according to the vineyard's own surveys. 
The vineyard is a metaphor for life. It has its ups and downs of the vine and weather, bad times then lead to good
There are other, perhaps less tangible, benefits that come with working the land. "Everyone is passionate about making the vine the best it can be," Antoniou says. When a frost wiped out vines one winter, volunteers were "gutted" – almost going through"a grieving process". But the following year was successful: "The vineyard is a metaphor for life. It has its ups and downs of the vine and weather, bad times then lead to good."
And Vaughan-Roberts says precisely the oddity of working in a vineyard in London can provide people with something to be proud of and simply a talking point, particularly for those who've been out of work for a while. "It's very different, it's unusual, it's something to be an expert in," she says. 
The mental health aspect of volunteering is understated, though; on site, it feels like simply a working farm. "Everyone here can just come and go, and just help us out. If they want or need to talk to someone, they can speak one-to-one to our ecotherapists, but if not that is fine too," the founder says.
Problems in perspective
Volunteer Dave Thornton started coming to the vineyard on Sundays in 2014; after he retired, he increased this to Wednesdays too. 
"We do whatever is needed throughout the year," Thornton tells us. "Weeding, filling out the shoots, moving the wires in the trellis, picking the grapes. Something different all the time."
Above: Volunteer Dave Thornton says volunteering helped him transition into retirement. Around 160 people have volunteered at Forty Hall Vineyard since 2010.
As team leader, Thornton sets tasks for the other volunteers and monitors the quality of the work. He's also a 'block head', he tells us, meaning he is responsible for a specific area (or 'block') of vines. Each week, he comes in to monitor the block for disease, looking at the health of the vines, and reports back to the other block heads. They then, as a team, set priorities across the whole vineyard. 
It helped me transition to not working after retirement – doing something regular, making a contribution, achieving something
"It really helped me transition from working to not working after retirement – doing something regular, making a contribution, achieving something," he says. "I like to see the lifecycle of the vines and work with people from different walks of life. [Being here] helps maintain a connection with things that are real. Your problems get put in perspective." 
Pouring over the future
Vaughan-Roberts hopes the vineyard will become commercially sustainable through sales of wine, though funding to support the ecotherapy side of the enterprise will still be needed (so far it has had various small grants from local authority and charitable trusts). The enterprise recently launched a new three-year ecotherapy project, Flourish – with £126,000 funding from the National Lottery's Community Fund – which will involve new groups as volunteers, including refugees and carers, with other activities such as a lunch club, and yoga and art sessions.
She is frustrated with the usual fundraising system, though: "Everyone wants to give you project work, but that means creating new things rather than continuing what you're doing well." She has fought hard to explain that Flourish is not a short-term project that will achieve major outcomes in a short space of time. "We're not going to say people: 'Come for 10 weeks and miraculously be better.' Life's not like that! We have people who have been here for years and they ebb and they flow. Life gets better, then it gets s**t again."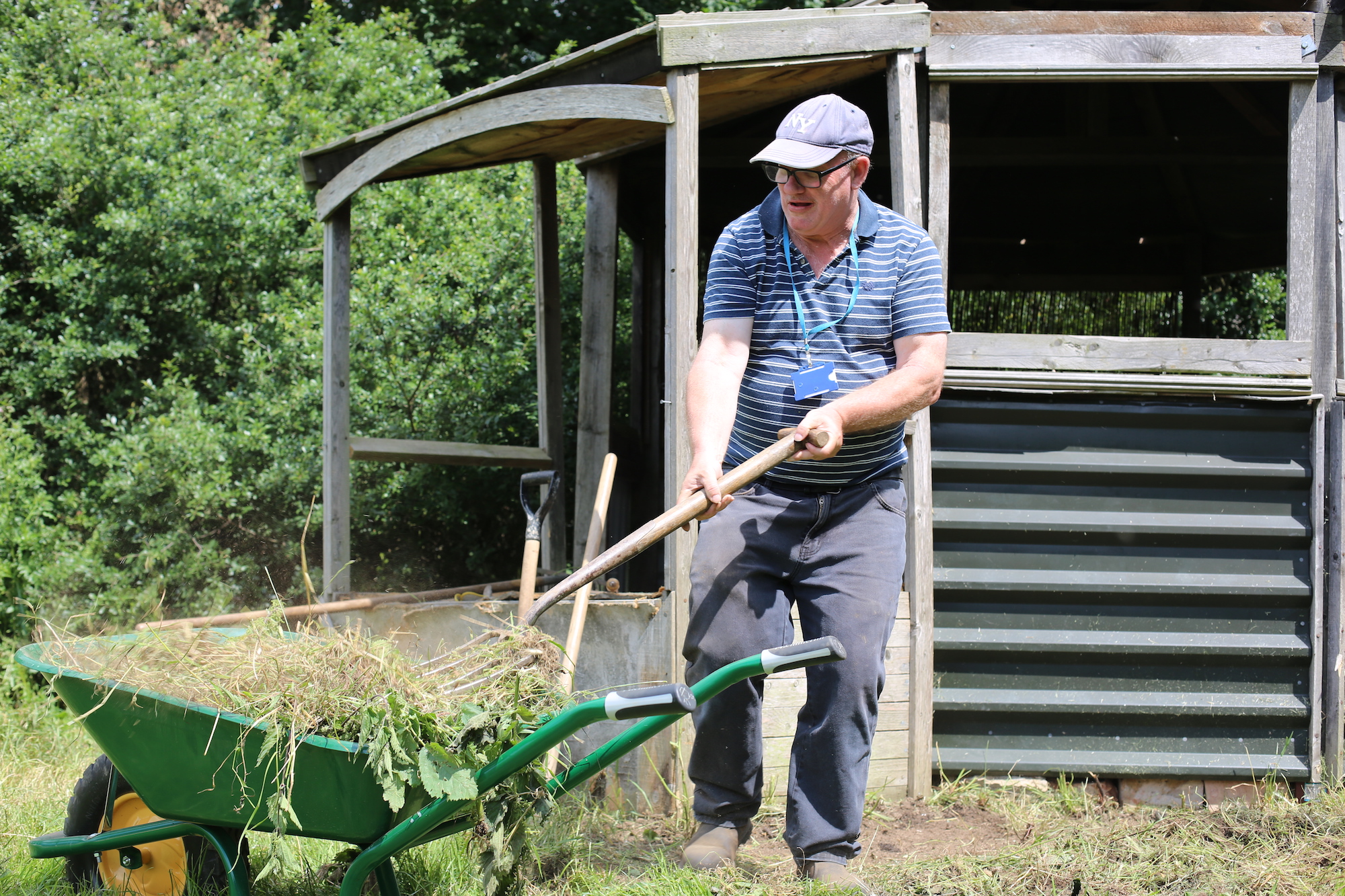 Volunteers get involved in everything at the vineyard, from maintaining the grounds and pruning to hosting corporate team days and leading tours.
So what's the future for Forty Hall Vineyard – will it be expanding soon?
The founder says she gets this question often. "This is the language of the commercial world filtering over to social enterprise, and it doesn't necessarily fit," she says. "Sometimes it's good to get to a point where you feel like you don't have to grow. We just need to be doing what we're doing as well as we can."
"We're never going to build another 10-acre vineyard," says adds, "but we're scaling in terms of reach and who we're working with and the number of sessions we can run, and being more inclusive."
And, despite the pressures of unpredictable weather, funding and all the other trials and tribulations of running a social venture, the founder still seems quietly convinced that putting down roots all those years ago was the right decision. "You kind of have to visit us to get it," she says.
The Pioneers Post team were invited to visit Forty Hall Vineyard in July 2019. All photos: Pioneers Post.
Read about more top social enterprises in our SE100 collection.