WISE ways to lead: Community comes first for enterprise support organisations
WISE WEEK: In exceptional times, you need exceptional leadership. Three women on this year's WISE Inspiration List demonstrate just that when it comes to supporting other entrepreneurs. 
When your organisation exists to support other entrepreneurs, how do you offer them some form of stability through a pandemic, while sustaining your own business too? Three leading ladies on this year's WISE Inspiration List prove that it's possible.
Read on to find out how Bayo Adelaja of Do it Now Now, Annie Warburton of Cockpit Arts and Aoise Keogan-Nooshabadi of Supply Change navigated turbulent times by endlessly communicating, taking calculated risks – and keeping their eyes on the prize.
 
A first-time grant fund for overlooked leaders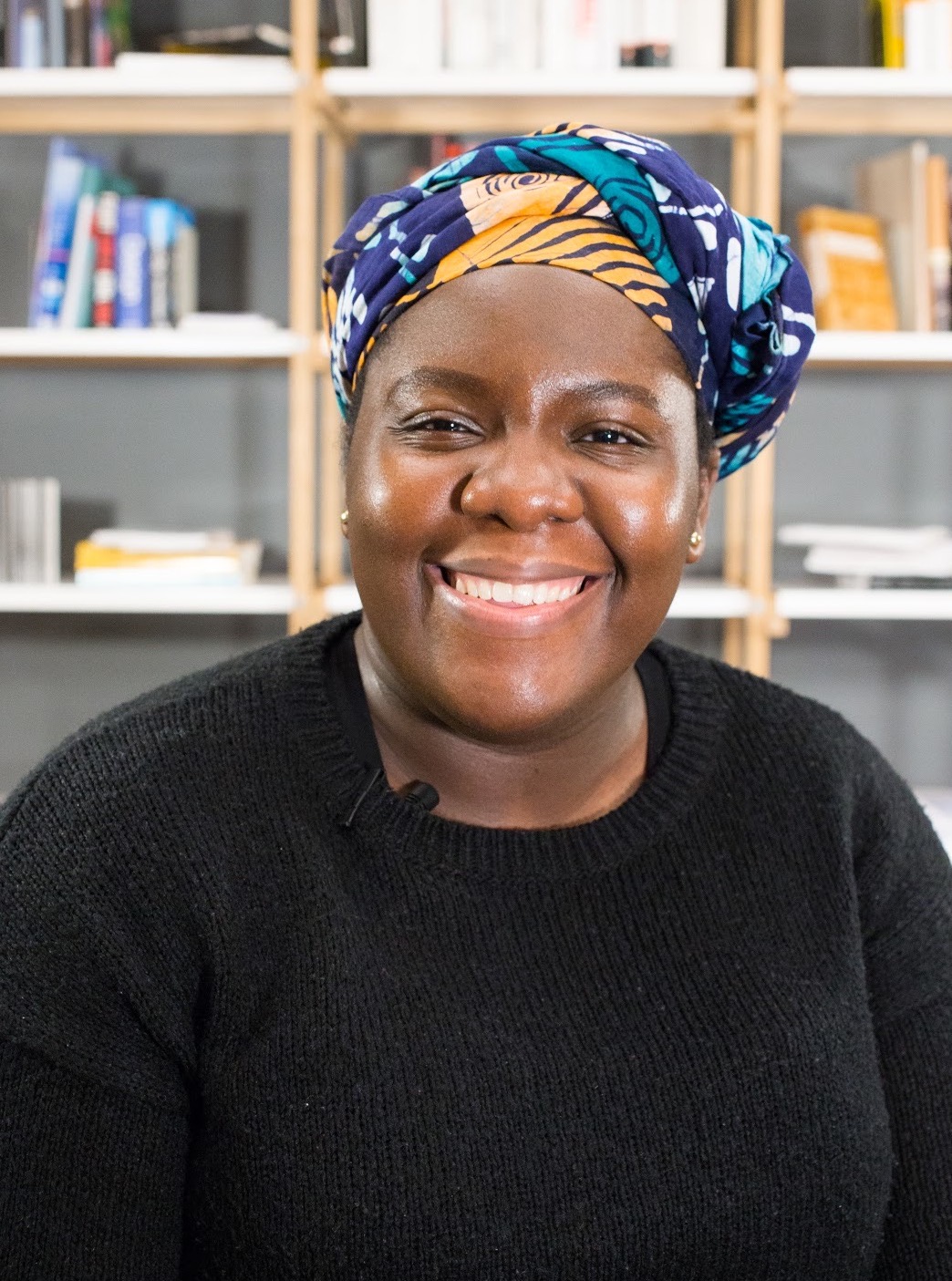 Her efforts to support underrepresented entrepreneurs have earned awards and been named among the best in Europe. So it's no surprise that Bayo Adelaja's attention turned to these groups when Covid-19 hit.
Knowing the situation would not return to normal for some time, the CEO and founder of Do it Now Now says she was "scared" that, without support, the many "fantastic organisations" bridging the gaps left by austerity would simply disappear. 
"My thought was: in 18 months, we were going to see an incredible reduction of organisations formally supporting Black people [alongside] an increase in risks to them: mass unemployment, higher engagement in crime, stress and mental health problems." 
Her worries were further confirmed when she interviewed Black civil society leaders, who said their biggest challenges included reduced fundraising ability, loss of unrestricted income and reduced staff capacity. None of the interviewees were able to claim government support for their organisations, and they were yet to access money from various Covid-19 grant schemes. 
"We'd been sitting on this idea to run a grant fund," Adelaja says. "We thought: why not now?"
We'd been sitting on this idea to run a grant fund. We thought: why not now?
So Common Call, the UK's first grant fund dedicated to Black-led social impact organisations, launched in July, thanks to funding from the Paul Hamlyn Foundation. 
The Do it Now Now team expected up to 100 applications. Within a few weeks and with no promotion budget, they had 478. Adelaja believes many of them were applying for grant funding for the first time – won over by "a fund run by Black people, who may understand [the] culture, without [them] having to over-explain it".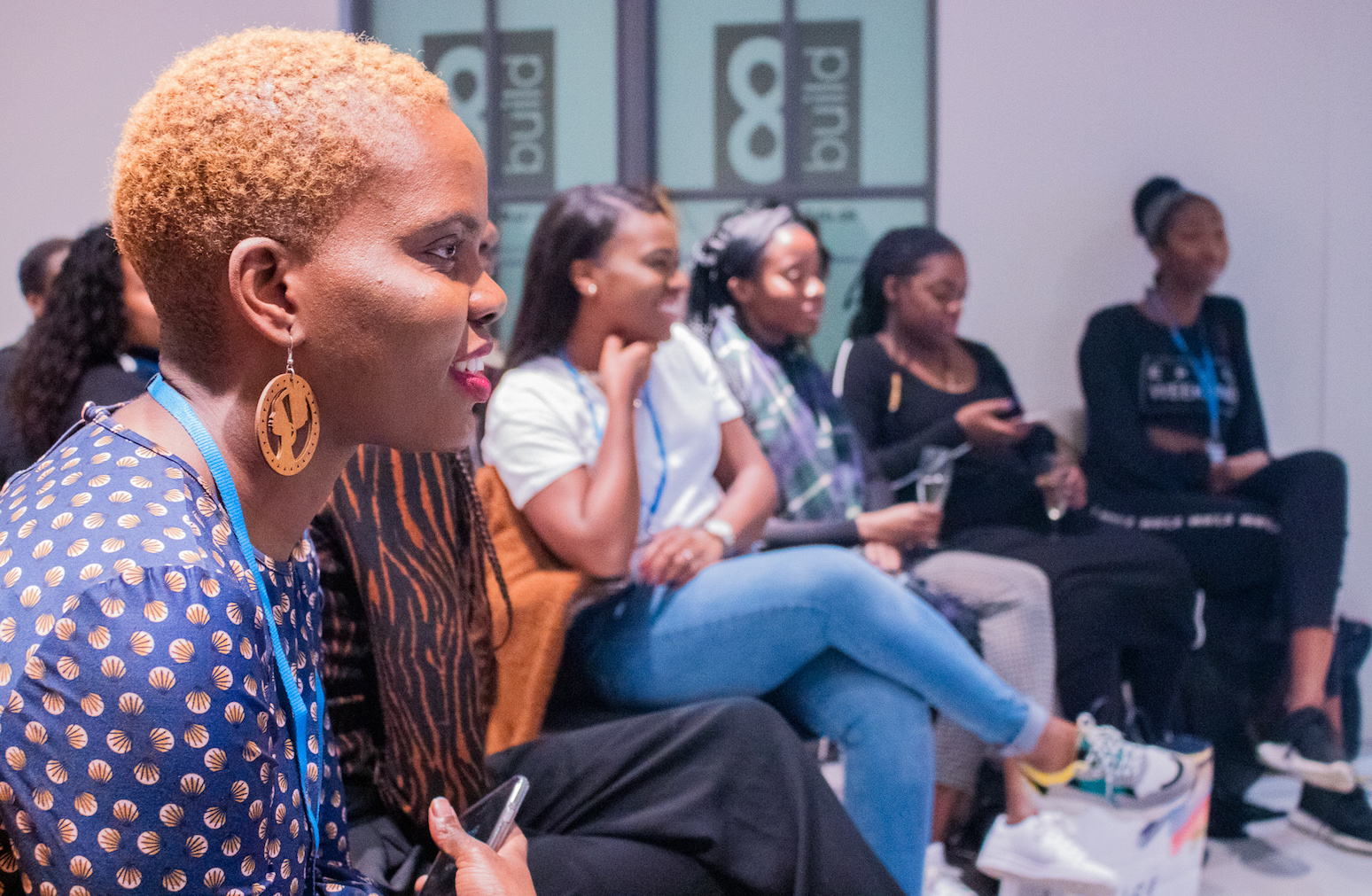 Above: Participants in a previous programme run by Do it Now Now, which aims to 'bring social empowerment to Black communities across the globe'
Sixteen grantees were selected in October, who will receive grants of £3,000 and one year of organisational support. But longer term, Adelaja sees another opportunity: using what they've learned from this pioneering fund to help foundations and trusts "to support black people better" and providing first-time applicants with "a really good entry point" to securing further funding. 
All this while Do it Now Now was going through its own turbulent time. The first lockdown delayed a major source of income (training and consultancy contracts with corporates), while Adelaja's own financial situation, in her own words, had "gone to pot"; as a freelancer rather than an employee, she could claim only limited government support.
But, as a teacher of entrepreneurship, she had the tools and knowledge to get through the crisis.
I did what I always say in the classroom: talk to your people first
That included not "jumping on the bandwagon" with lots of online events, which "felt not very true to us", instead designing more community-focused support such as one-to-one networking matches. 
It also included doing "what I always say in the classroom: talk to your people first". Adelaja's "over-communication" aimed to ensure her team of nine knew what might be ahead, "so they could make a decision in good time if they wanted to jump ship".
"I was very proud of myself, in hindsight," she says. "I practised the things I preach."
Taking risks to keep makers' costs low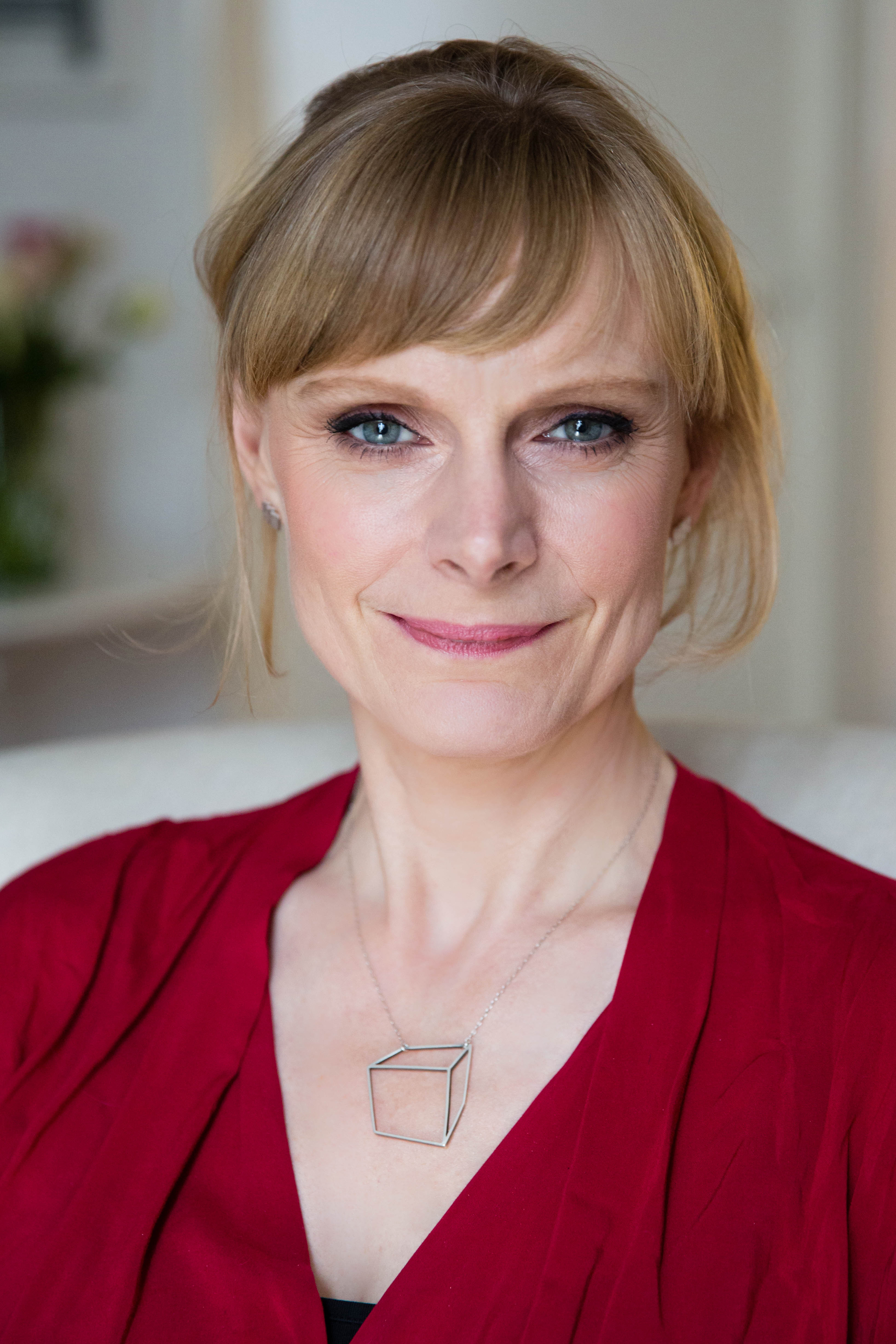 "Talent is everywhere, opportunity isn't," says Annie Warburton. "We bridge that gap."
Warburton is the CEO of Cockpit Arts, a London-based studio for contemporary craft and the UK's only business incubator for makers. It's home to makers, designers and artists working in 23 different disciplines from weaving to ceramics to leatherwork, supporting 300 jobs. All studios are subsidised, with a fifth of makers on full bursaries offering studio space, business support and equipment; it also runs a scheme for creatives facing barriers to setting up a business, as well as funded apprenticeship schemes. 
But Covid-19 presented an obvious threat to Cockpit Arts, which gets its revenue from license fees paid by makers to use the space, and by offering tours to international visitors and other consultancy projects. 
If we're not putting our makers first in response to a crisis, we're not doing our job
Keeping both her own business and that of her makers afloat were not conflicting goals, though. "They're two sides of the same coin," says Warburton. "If we're not putting our makers first and foremost in response to a crisis, we're not doing our job. But obviously we need to stay solvent so we can exist for another 35 years."
The CEO took "some very quick and risky decisions" to keep things running. She furloughed three-quarters of her staff, and – contrary to what others may have done – cut the maker license fees by 67%.
It was, she says, "a huge hit" to the company's revenue. But the alternative could have been worse: "People at that point were in panic mode… I was worried we would have a very quick, mass exodus." Sending a message to makers that Cockpit Arts was there to support them was vital. The discount continued for three months; makers currently get a smaller (30%) reduction. In terms of community, it paid off: of the 147 makers based there pre-Covid, 145 are still there.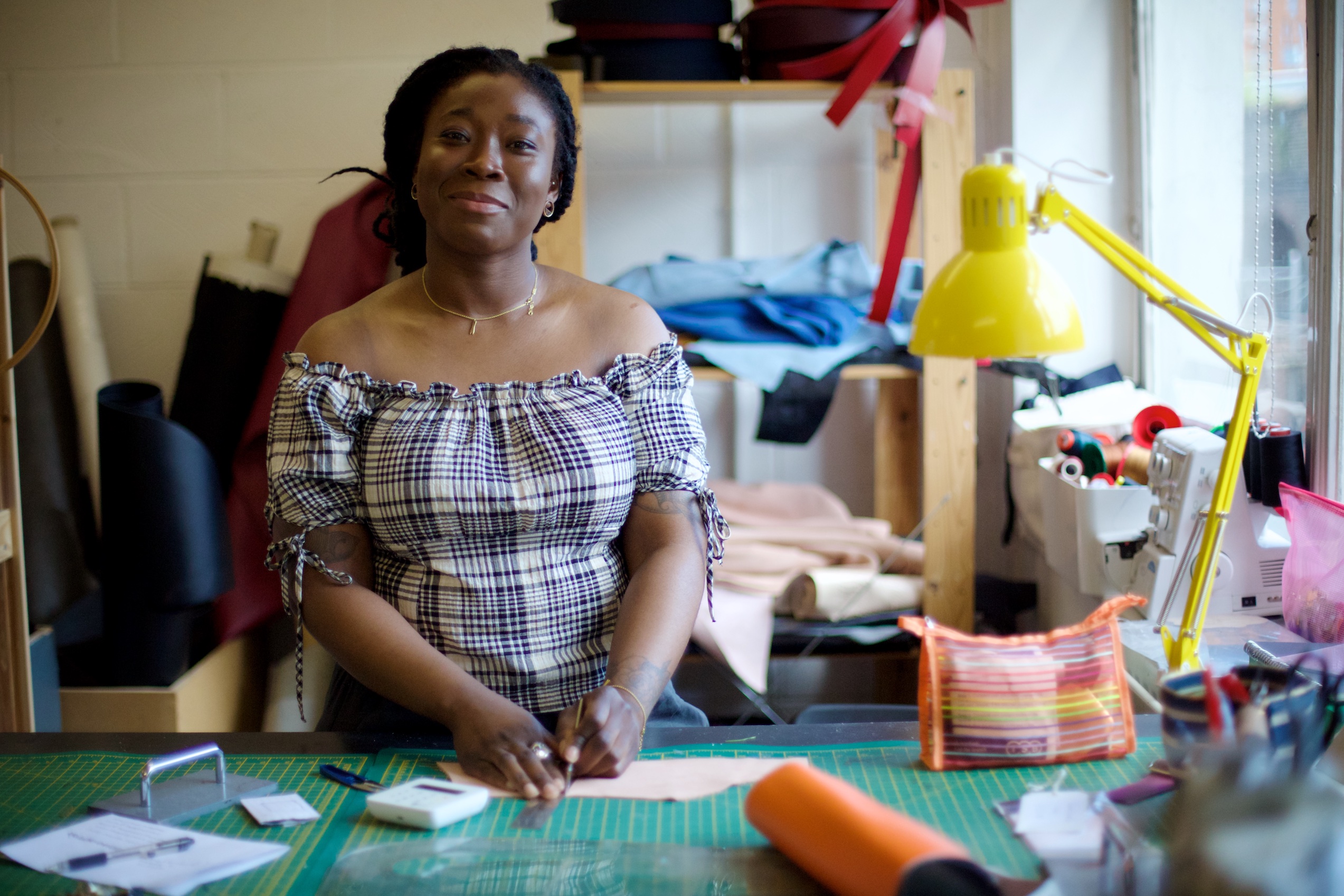 Above: Anu Bankole, who designs and makes leather bags and accessories at Cockpit Arts (credit: Jamie Trounce/Cockpit Arts)
To make up the cash shortfall Warburton spent the summer writing funding bids, successfully securing grants from the Arts Council and the Mayor of London's culture office. The latter were so impressed by Cockpit's approach to the Covid-19 crisis, they recommended it to colleagues as an example of best practice. In fact, her deft management means Cockpit Arts is ineligible for more recent arts funding, which is only for organisations facing insolvency by March. Cockpit is, happily, not in that situation, but Warburton admits 2021 is "going to be super challenging".
You have to respond to weather along the way. But even when you're tacking, you're still on course
But arts leaders like herself can draw on their creativity in tough times, she believes. "You're trained to be responsive, inventive, to come up with ideas." That creativity kicked into gear in June, when – with reduced staff and "on a complete shoestring" – Cockpit Arts went ahead with hosting their usual summer festival, but in digital form.
It was exhausting, Warburton admits, but "so worth doing, so joyful. For the community it created a sense of togetherness, something to work towards at a time when it was most needed."

How would she sum up her leadership approach? The CEO likens it to sailing a ship: "It's about creating steadiness and evenness, and knowing your long-term destination."
"You're going to have to respond to weather along the way. But even when you're tacking, you're still on course."
Keeping the custom coming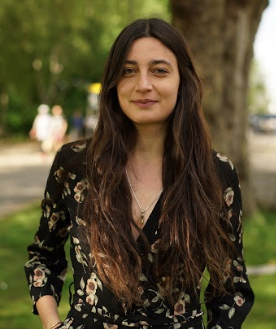 Supply Change helps large buyers find suppliers who can deliver quality goods and services – from coffee to cleaning services – as well as social impact. Launched in summer 2019, the B2B platform hopes to vastly increase the number of social enterprises in private and public sector supply chains. 
"Our complete strength is in our supplier base. Supply Change wouldn't exist without them," says 26-year-old Aoise Keogan-Nooshabadi, one of the three co-founders.
So, when the pandemic hit, she focused on supporting the company's social enterprise members. While some were thriving – those producing personal protective equipment or sanitiser, for instance – and others were pivoting to survive, many social enterprises in the UK were clearly "going into hibernation mode".
The worry was not just the potential closure of hundreds of such businesses, but also the potential downsizing of those that continued, since large buyers typically require suppliers to be of a certain size before they'll work with them.
Our complete strength is in our supplier base. Supply Change wouldn't exist without them
Checking in with each of their approximately 75 social enterprise members, Keogan-Nooshabadi and her colleagues heard that concerns were accessing fast finance and managing contract issues, so she set up webinars with experts – grantmakers, accountancy firms and legal experts – to help answer questions. Supply Change also facilitated peer support groups for entrepreneurs in partnership with the social entrepreneur foundation UnLtd. And, because networking with potential customers had come to a standstill under lockdown, they ran several 'meet the buyers' events. The October edition featured among others construction giant Wates, insurance company Zurich, East Sussex County Council and several housing associations.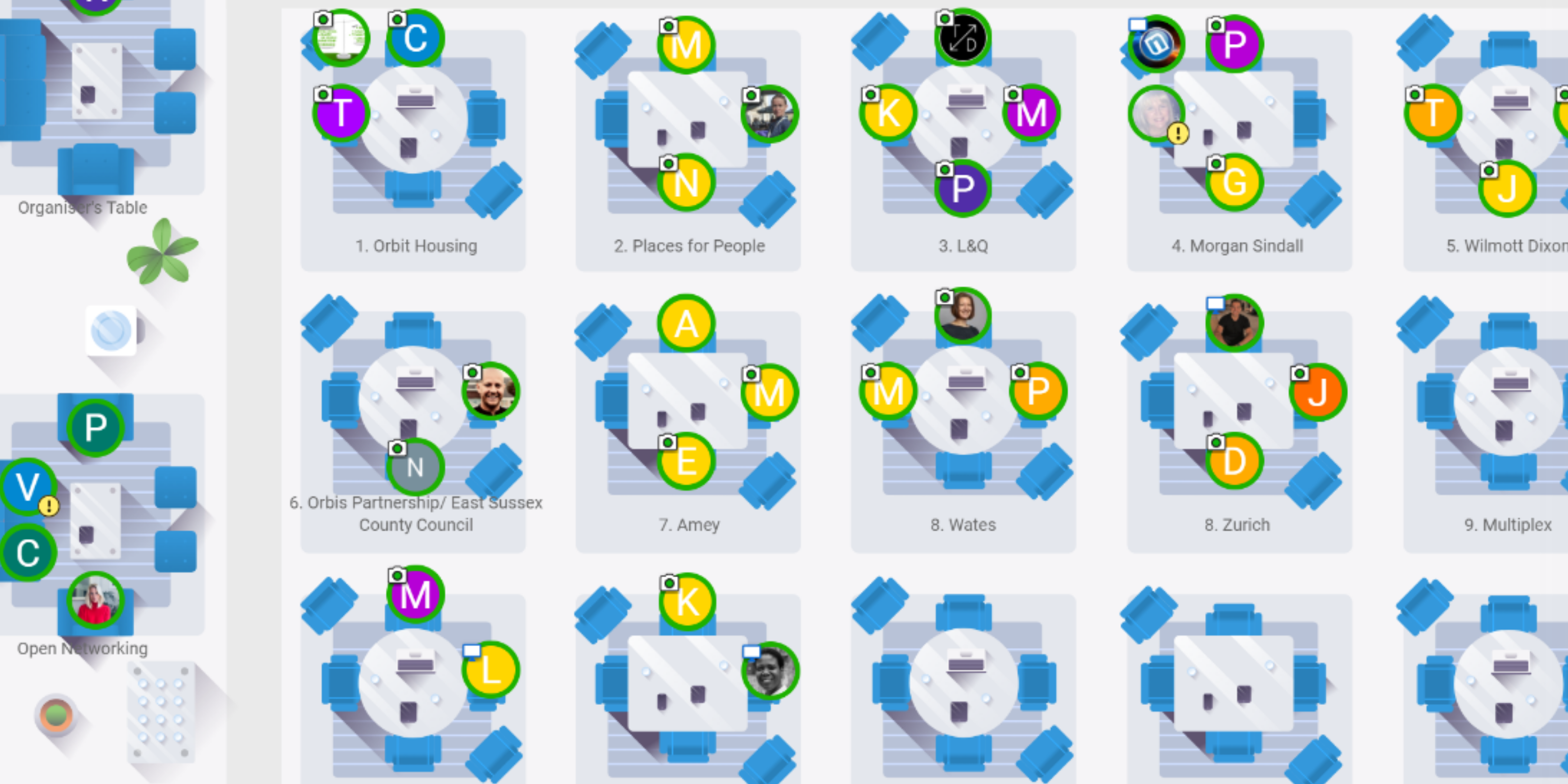 Above: Social enterprise suppliers meeting potential buyers online thanks to Supply Change 
Meanwhile, with a new marketing plan – and the help of a new part-time hire – Keogan-Nooshabadi helped Supply Change to grow its website traffic by over 400%, which in turn boosted sales. With a fellow Year Here alumnus, she also researched, collated and produced the Social Enterprise and Charity Coronavirus Continuity Handbook, a resource that was used by over 250 entrepreneurs. 
Since it launched, the company has helped redirect £100,000 worth of public sector spending towards social enterprises tackling issues such as homelessness, climate change and those living with dementia. 
A supportive team was the backbone of getting through the last few months
And Keogan-Nooshabadi is "definitely hopeful" about the longer-term impact of the coronavirus on buying habits. Consumers are now shopping more locally and more aware of the value of community, she says, and the same ethos is moving up into boardrooms, putting pressure on executive teams and heads of procurement to think about where they spend their money. Some still see social enterprises as less professional, but getting some straight-talking social venture bosses in front of potential buyers can make all the difference. "These aren't fluffy charities that won't get the job done, these are serious business people."
Supply Change was in some ways well cushioned when Covid hit. It's small and nimble (its three co-founders all work part-time) and it was fortunate to have some cash in hand, allowing experimentation with new services, says Keogan-Nooshabadi. But she also credits her "very supportive" colleagues who all recognised how difficult the period was both at work and outside. "That was the backbone of getting through the last few months," she says.
This feature is part of a special series to mark WISE Week 2020, in which we celebrate women in UK social enterprise and impact investing, in partnership with NatWest. Find more stories and interviews with leading women in social enterprise in our WISE Collection.