How to: be part of an ethical supply chain
How can social enterprises get contracts with corporate and other clients as part of an ethical supply chain? Five expert tips from Aoise Keogan-Nooshabadi, co-founder of Supply Change, which helps social enterprises win and deliver contracts and works with buyers from construction, local authorities and housing associations and corporates. Part two from last month's NatWest WISE100 webinar on ethical supply chains.
Listen to the podcast above to hear more from Aoise Keogan-Nooshabadi in part 2 of our WISE100 webinar, hosted in partnership with NatWest on 15 June 2021.
Catch up with part 1, on creating an ethical supply chain, with Jo Salter.
1. Shout about your impact and quality  
Social enterprises are often "a little bit more expensive than the alternative," said Keogan-Nooshabadi (pictured). "But to shout about our quality and the impact of our products can really make us stand out and show that we are providing value for money despite being that bit more expensive." Social value has become "a primary area of consideration" for buyers, who are moving away from solely price-based purchasing decisions, she added. "We should never underestimate how motivated buyers are by social value".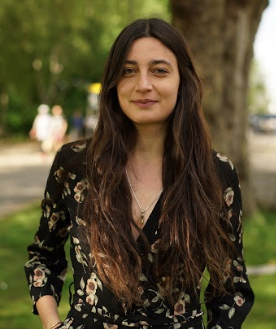 There are many incentives for companies to buy from social enterprises, she said: it can help them reach their sustainability goals, engage and retain staff, appeal to socially-minded clients or other stakeholders and support the communities they are involved with – all things social enterprises should emphasise when bidding for a contract.
"Covid, climate change, and of course, the murder of George Floyd have exposed so many shortcomings of both private and public sector organisations and how they do business. So there's a really huge incentive to build back better now."
2. Meet and build relationships 
Products and services don't just sell themselves, so meeting clients and building relationships is a chance to bring buyers on your "impact journey". Personal connections are a "really convincing element" when it comes to making a sale.
Attending sector events, including online events, can be a way of reaching out to clients. Supply Change itself runs "meet the buyer" events to match procurement teams with social enterprise suppliers. 
3. Learn about your clients and their needs 
Truly understanding the needs of your clients will help you to solve their problems, Keogan-Nooshabadi said. "Asking questions at a really early stage can be really important to ensure that you're meeting their needs." 
Some of the questions she suggests include: 
What do clients want and what do they need? 
What have they bought, and who have they bought from before? 
What are their values and what are the values of their network? 
What are their impact goals? Are they working towards certain Sustainable Development Goals? Are they interested in carbon offsetting? And what causes have they supported previously? 
How can you fit into those impact goals? 
Where are they spending their money: locally, nationally or internationally? 
How can you build yourself into that? What else can you, as a supplier, bring to the table?
What are their delivery schedules (and will you be able to work with their timelines)?

4. Give the best service you can without underselling yourself
Keogan-Nooshabadi's fourth tip was perhaps an obvious one: give the best service possible. 
That can mean staying in touch with the buyer, checking on how a contract is going, asking what areas need improving, or sharing interesting articles and links to events. Sometimes, a social enterprise can offer to mentor staff or talk to stakeholders; this can help to bring everyone in the client organisation on board with social value principles. And social enterprises, particularly small ones, can typically react quickly and be innovative. "Buyers love our nimble and resourceful approach to things," she said.
We should never underestimate how motivated buyers are by social value
But never undersell, said Keogan-Nooshabadi – a warning that's particularly important for social businesses, small businesses and female-led businesses.
"We [social enterprises] have definitely been guilty in the past of cutting prices to meet buyers' demands, just to win a contract. That said, I think it is really important to bear in mind that the impact and the work we do does cost money. And with this triple bottom line, there is an additional charge. And I think buyers will appreciate this if we do that too."
5. Use platforms with a ready-made audience for you 
Social enterprises should make use of platforms or networks that already have an audience for them, said Keogan-Nooshabadi. For example, these could be organisations that specifically target buyers interested in social enterprises; industry membership groups that work with targeted sectors; organisations that support a specific type of business; events that attract a relevant audience; and organisations specifically set up to support social enterprises and get them into different supply chains. 
Sign up to the Pioneers Post newsletter to be the first to hear about our next WISE100 webinar, and find more stories and interviews with leading women in social enterprise in our WISE100 Collection.
Thanks for reading Pioneers Post. As an entrepreneur or investor yourself, you'll know that producing quality work doesn't come free. We rely on our subscribers to sustain our journalism – so if you think it's worth having an independent, specialist media platform that covers social enterprise stories, please consider subscribing. You'll also be buying social: Pioneers Post is a social enterprise itself, reinvesting all our profits into helping you do good business, better.