China: State monopolies give way to social enterprise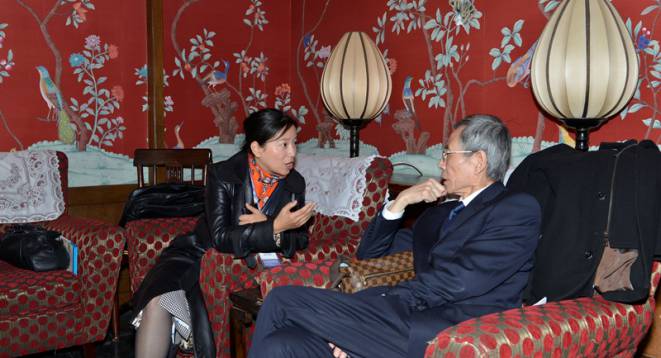 As the state loosens its grip on public services in China, Beijing is sending strong signals that social innovation and investment will be driving forces of a refreshed public services system. Adam Pillsbury from the British Council explains the new dynamics of social enterprise in China.
Three decades of rapid economic growth have lifted hundreds of millions of people out of poverty in China. But it has also produced regional and income disparities and a host of social and environmental problems that social enterprises are helping to address. 
"Social entrepreneurs have begun to appear en masse, social impact investors are eager to participate, academia is heavily interested, local governments have begun experimenting with social enterprise incubators, and the media is calling for a spirit of social entrepreneurship," according to a recent UBS-funded study (China Social Enterprise and Impact Investment Report),
At the top, China has committed to pursuing more balanced economic and social development and is encouraging public participation in the provision of some public services. In 2013, the government announced policies to define its roles as regulator, customer, and investor in the public services sector. 
Significantly, China has invited private investment in the areas once under state monopoly such as elderly care, medical and health care, affordable housing and environmental protection. Also key, is China's push for financial sector reforms to support more investment in SMEs and micro businesses – the business model adopted by many social enterprises.
The Chinese media has also been creating a buzz around social enterprise, and social investment, broadly defined, has received wide coverage in state-controlled media. 
Beijing, in other words, is sending strong signals that social innovation and investment will be driving forces of a refreshed public services system. 
To be sure, social impact investment as practised in the UK is at a nascent stage in China, but in August the British Council and seven partners launched a pioneering Social Investment Platform here to promote social investment and offer £1 million in investment to outstanding social enterprises through a business plan competition. 
Social investment is generating excitement and debate about how to grow the market and what safeguards to put in place. This was evident at a recent UK-China Social Enterprise and Investment Dialogue convened by the British Council in Beijing that brought together Chinese philanthropists, policy advisers and social entrepreneurs as well as UK experts and Culture Secretary Maria Miller who was in China with the Prime Minister's trade delegation. 
Kieron Boyle, the head of Social Investment at the Cabinet Office, presented UK funding innovations to support social enterprise such as Big Society Capital, the world's first social investment bank, and Social Impact Bonds. 
He explained that the mission of Big Society Capital was to build lasting infrastructure by investing in intermediaries rather than directly into social enterprises and to serve as a cornerstone investor that could help to attract more private capital into the sector.
Creating incentives for private investment is an idea that resonates in China. Xu Yongguang, the influential chairman of the Narada Foundation (which supports and funds social enterprises), called for a mixed investment model in China that blends philanthropic and private capital. 
He said that donations and grants would remain necessary to help start-ups get off the ground but that the only way to attract significant amounts of private capital was to allow dividend payments. 
Other speakers disagreed, saying that permitting profit distribution could undermine a social enterprise's social mission. This could tarnish the image of social enterprise among the Chinese public in the wake of well-publicised scandals involving NGOs. 
The audience was eager to question Peter Holbrook, the chief executive of
Social Enterprise UK
, about how UK social enterprises enshrine their social mission. Peter also spoke about the Social Value Act – a relatively new piece of legislation in the UK, which requires public authorities to consider social, economic and environmental wellbeing when commissioning public services contracts – which has helped build the strong rationale for social innovation in UK public service delivery. 
The Chinese government has committed to purchasing more public services from social organisations. But creating and implementing detailed policies for an efficient, reasonably transparent national procurement system could take years. 
In the meantime, Chinese social enterprises will continue to develop powerful solutions to entrenched problems. Zheng Weining spoke about Canyou, a thriving social enterprise with 3,700 employees that provides IT support services, electronics manufacturing and software development.
He founded Canyou, which means "Friends of the Disabled", in 1997, years before he had heard the term "social enterprise", to create jobs for people who like him and a large proportion of his staff, are physically disabled. Career options remain limited for the 85 million people in China with physical disabilities. 
Canyou is blazing a trail in promoting diversity in China and receiving recognition abroad, having been named international social enterprise of the year at the UK Social Enterprise Awards in 2012. It is an example of local best practice from which the UK and other countries can learn through a more globalised movement. 
Global learning
As Peter Holbrook noted at the end of the summit: "The growing dialogue is fascinating and what is remarkable is that the social enterprise community here in China is grappling with exactly the same issues as in the UK and almost everywhere else in the world: equity versus debt, the role of dividend caps, asset and mission locks, attracting mainstream finance and public sector procurement." 
Calling the event "a great opportunity to learn and share practice", Zheng Weining hoped that China could learn from the experience of the UK in developing social investment to tackle difficult problems. He said this would, "enhance China's social development and provide opportunities for UK social investment and enhanced cooperation".
Kieron echoed this sentiment, adding: "There was a huge degree of interest in the UK model and a real ambition to join in the global debate on these issues. The work of the British Council and platforms such as the Global Learning Exchange, launched at the G8 in June, will be hugely helpful ways to continue that dialogue." 
Opportunities to build enhanced UK-China cooperation abound. One tantalising question is whether China will join international efforts to promote social enterprise and investment ahead of the G20 summit next year in Australia. 
As Peter concluded, "given the dynamic energy and potential future scale of social enterprise, China needs to be much more actively engaged in the global discussions around social enterprise and social investment discussions must be elevated from the G8 to the G20 as quickly as possible".
This is the second article in our 'views of the world' series tracking developments in social enterprise across the globe, you can find the first one here. The views of the world series is in partnership with the British Council.
The British Council is the UK's international organisation for educational opportunities and cultural relations, working on the ground in six continents and over 100 countries.