Community farm provides source of hope in Africa's troubled heart
In the heart of Africa – in the Democratic Republic of Congo's mineral rich lands – a group of women have set up a thriving cooperative off the back of a $250 grant. They are supporting growing numbers of women affected by rape in conflict and sustaining their operation in one of the most brutal settings in the world. Here crisis management is dealing with a military raid. 
British filmmaker Fiona Lloyd-Davies travelled to the DRC to film Seeds of Hope, a film that follows this community of women and children who are finding solace from the horrors of war through a cooperative agricultural venture. 
In eastern Congo, Masika Katsuva spends each day working with, caring for and counselling the women and children who have come to her having experienced sexual violence. She is 'Mama' to over one hundred women, men and children who without her help may not be alive. 
At the age of just 15 Masika was raped by her schoolteacher. Years later armed militias stormed into her family home. She and her two daughters fell victim to rape as weapon of war and her husband was killed. 
Shunned by her parents-in-law, Masika and her daughters found refuge in a church before embarking on a social venture that would help to heal the physical and emotional wounds of hundreds of women and children.
Building hope
With a tiny grant of just $250 from Oxfam Masika bought a field that could be used to cultivate crops. With violence continuing to ravage the Democratic Republic of Congo (DRC), word began to spread about the project Masika was embarking on and more victims of the conflict came to her. 
It helps us to be together in the field. When we meet as a group, for a moment it helps us to forget what we've been through.
Each day the united community head to the field to either plant, sow or tend to their seeds, depending on the time of year. Dressed in colourful shawls and wraps, the group sing whilst they work. Back at the compound some of the women stay behind to look after the children and babies, many of whom were conceived through rape. They laugh and play with old tires and go to school once they are old enough. 
Some from the community head to the local market in Minova once a week to sell their excess produce. They invest the profits they make into the centre and have been able to build over 50 houses for the community. The field not only provides food and a source of income, in working together everyday Masika's community can talk about their hurt, share their pain and eventually begin to heal. 
One of the women from Masika's community says: "It helps us to be together in the field. When we meet as a group, for a moment it helps us to forget what we've been through."
Battling against the odds 
The conflict in the DRC began in 1996 and officially came to an end in the early 2000s. However, the country has been haunted by past tensions and sporadic outbursts of violence have not been uncommon in the years following. Rebel groups, such as the M23, have continued to fight against the central government and have carried out brutal attacks on villages.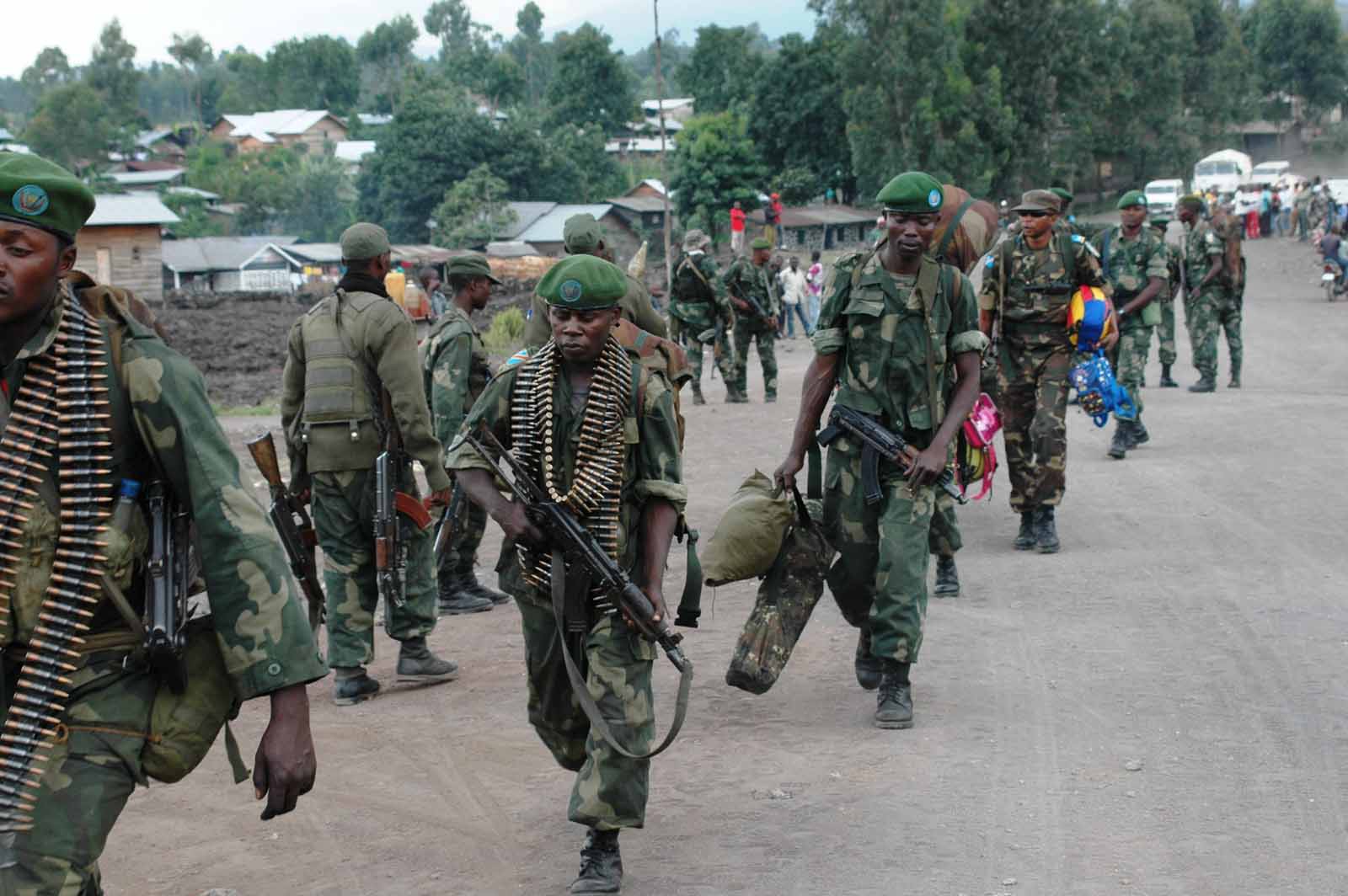 Congolese National Armed Forces. Photo credit: MONUSCO Photos, Flickr
Speaking at a screening of Seeds of Hope at the Frontline Club in London, filmmaker Fiona Lloyd-Davies says: "It wasn't the first time I'd heard about these sorts of events happening to people, but what was really shocking and what stayed with me was the frequency, the level of violence against women and how pandemic it was – that it was happening to everybody." The use of rape as a weapon of war has been relentless in the DRC, with all sides of the conflict being found to have taken part in atrocities aimed mostly at women and children. Having reported on the conflict in Bosnia, Lloyd-Davies knows first hand that the use of sexual violence in conflict is not isolated to the DRC.
A study published in the American Journal of Public Health found that an average of 48 women and girls are raped in the DRC every hour. Margot Wallstrom, former U.N. Special Representative on Sexual Violence in Conflict, has described the DRC as "the rape capital of the world". One of the crucial issues, which the situation in the DRC highlights, is the potential bias of international law in the way in which it does not specifically take gender issues into consideration. 
Even though the UN's Disarmament, Demobilisation and Reintegration (DDR) conflict resolution programmes have been in operation since the 1980s, they do not pay much consideration to female victims of war. The focus tends to be on getting rid of weapons, but women and children do not necessarily carry weapons. "Due to the roles that girls play [in conflict situations], including cooking, domestic tasks, transporting provisions and sexual services, they are rendered almost invisible, under the radar of international law and disarmament initiatives," writes Isabelle de Grave in an article for the Inter Press Service news agency. 
Last month, the Global Summit to end Sexual Violence in Conflict was hosted by William Hague and Angelina Jolie in London. It shone light on the issues facing the DRC's population, which have been left in the shadows and given little attention by international media. 
Jean Roger Kaseki, the first Councillor of Congolese origin elected in the UK, believes that the situation in the DRC has been overlooked in the last decade because of attention being focused on terrorist threats from the Middle East and elsewhere. 
He says: "The reason why the Congo is not in the news is because there is no terrorism. There is no immediate security threat coming from the Congo. This is why there is this media blackout."
A report by the International Rescue Committee has estimated that between 1998 and 2007 approximately 5,400,000 people have died as a result of conflict in the DRC, which far exceeds the death tolls of other conflicts such as those in Afghanistan, Iraq and Rwanda. 
Unshakable resilience
Despite the hostility and risks resulting from the environment they are working in, Masika and her community refuse to give in, knowing how important their work is for the women and girls who come to them. 
You will feel their suffering. My task is to try to restore them to their old selves.
Seeds of Hope documents Masika's hard-won progress throughout 2011 – at which point there were 150 individuals at the centre. It then follows the community's recovery from violent upheaval after soldiers arrived one night in November 2012 to rape, beat and steal. Lloyd-Davies says to the moved audience at the Frontline Club that after "meeting Masika for the first time and hearing her story" she felt "that this was a woman's story that needs to be told". 
In the months following, Lloyd-Davies interviews some of the perpetrators of the November attack. One soldier, who remains anonymous in the film, says: "It's true that we raped here. We found women because they can't escape… Sometimes you kill her. When you finish raping then you kill her child. When we rape, we feel free."
Despite harrowing setbacks and the daily challenge of providing support to hundreds of victims of violence, Masika remains committed to her work. She continues to provide individuals with basic needs such as clothes, food and water, as well as helping provide healthcare and education and counselling to help them move forward with their lives. "You will feel their suffering. My task is to try to restore them to their old selves," Masika explains in the film.
With the Global Summit last month, increased international media attention and a new UN mandate introduced last year to try and disarm militia groups, there is hope that the situation in the DRC will improve. 
Pursuit of Justice
For the victims at Masika's centre, justice is the way forward. Following the November 2012 attack a trial took place. Forty soldiers and officers were charged but it is difficult to consider the trial a success. In May this year only two soldiers were found guilty of rape as a war crime, with many of the others being deployed on operations and some senior officers simply never appearing in court.  
The fact the trial took place at all was a success but much more needs to be done in order for the resilient community at Masika's centre and the thousands of other victims of sexual violence in the DRC to feel that justice has been served. 
Header image: Erich Ferdinand, Flickr