Social Value Act needs more bite, says Lord Adebowale
The Social Value Act is yet to "develop and deliver the teeth necessary" to drive the way in which public services are delivered in the UK.
This was the message from crossbench peer Lord Victor Adebowale at the Social Value Summit held in London this week by Social Enterprise UK (SEUK).
The CEO of social care charity Turning Point continued: "The Social Value Act was fantastic at introducing the concept that commissioners should look beyond the economic benefits and consider social value.
"Although being a sceptical person...I thought this is one of the fastest Acts ever to pass through parliament and my measure of an Act is if it passes through really quickly, it's probably because all the teeth have been extracted."
The Social Value Act had its first reading in the House of Commons in June 2010 and was then given Royal Assent just under two years later in March 2012. It came into force on 31 January 2013.
The Act requires all public bodies in England and Wales, including local authorities, to consider how the services they commission and procure might have a positive impact on the economic, social and environmental well-being of the local area – rather than considering cost alone.
If it's important, we measure it and if it's really important, we start measuring it in the same way
Lord Adebowale said: "The problem it seems to me is that we don't really have industry standards for what social value is. We account for things...but we don't 'count' social value and, until we do, it is going to be very difficult to talk about in any reasonable way.
"Some bureaucracies are necessary – if it's important, we measure it and if it's really important, we start measuring it in the same way."
CEO of Interserve, one of the UK's largest land managers and Social Value Summit sponsor, Adrian Ringrose, said that the Act had "laid down a challenge" to those working in the public sector to be innovative in the way they operated and that it was now time to take this challenge further by creating systems to accurately measure social value. 
"In seeking to understand the social value we're creating, we believe we need to see our business in the context of the communities where we are operating. Social value is about people and place, it's not really about business units and division and function. 
"We need something more fluid, that's less bound by structure and the tyranny of spreadsheets," he said.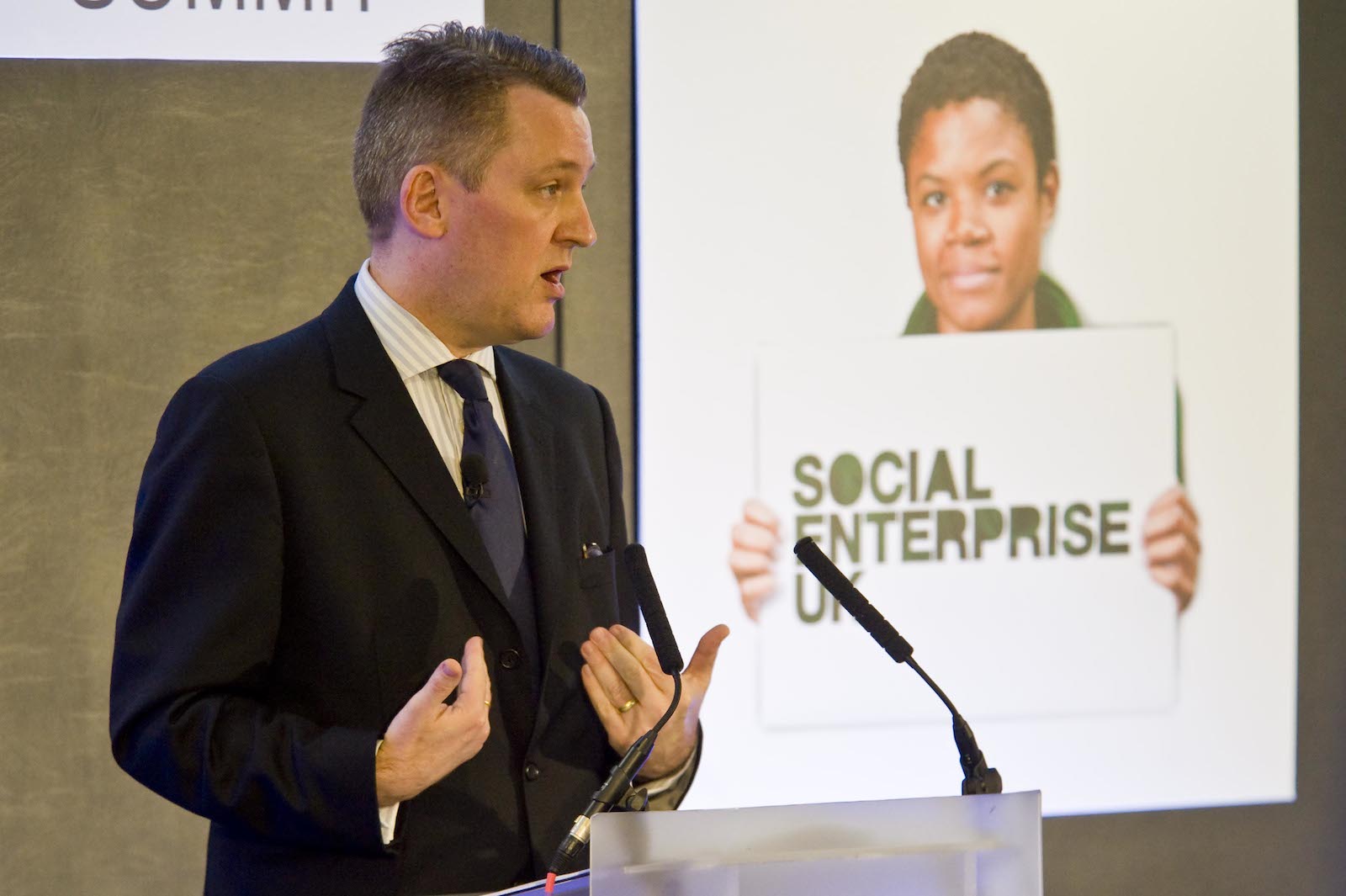 Adrian Ringrose, CEO of Interserve. Photo credit: SEUK
The Social Value Act has recently been reviewed by a government panel that included Labour MP Hazel Blears and the Prime Minister's enterprise advisor Lord Young of Graffham. 
Lord Young said: "For the past few months we've been looking into social value and the more I heard about it, the better I thought the idea was. But like all good ideas it depends on execution. 
"We've got to find an objective way in which we can evaluate the social value element...Until we agree on what we're talking about, it's going to be very difficult to take it further."
Taking a step back from the demands of more structured impact measurement, Peter Holbrook, CEO of SEUK, said: "I think we have to recognise that we are on a journey here. 
"I think the risk actually to this dialogue is that we do try to create a single definition and a single unit of measurement we can all measure it by. Because we know that social value is, in essence, subjective and we have to learn to live with that, and continue these conversations and work out what it means in different walks of life." 
Also speaking at the Summit, Hazel Blears gave further insight into what to expect from the government review. She stated it was likely to conclude that while "lots of local authorities" and "lots of good private businesses", as well as social enterprises, were embracing the Act, central government was yet to utilise it effectively. 
"Central government really needs to push on," she said. The review is due to be released in the next few weeks.
Photo credit: Social Enterprise UK