Bangladesh Exclusive: social enterprises call for support amid political unrest
Reporting exclusively from Dhaka, Ellie Ward says the home of trailblazers Grameen and Brac is calling for government backing for Bangladesh's emerging social enterprise success story.
Bangladesh's growing social enterprise sector needs government backing and supportive policies in order to tackle the country's biggest social and environmental issues.
This was the conclusion of the social entrepreneurs, investors and academics who gathered in Dhaka last week for the British Council Social Enterprise Policy Forum.
President of the Bangladesh Federation of Women Entrepreneurs Rokia Afzal Rahman told the Forum: "What we need now in Bangladesh is policy support. We have very little policy support from the government, but if we had this I think the social enterprise sector could move a lot faster."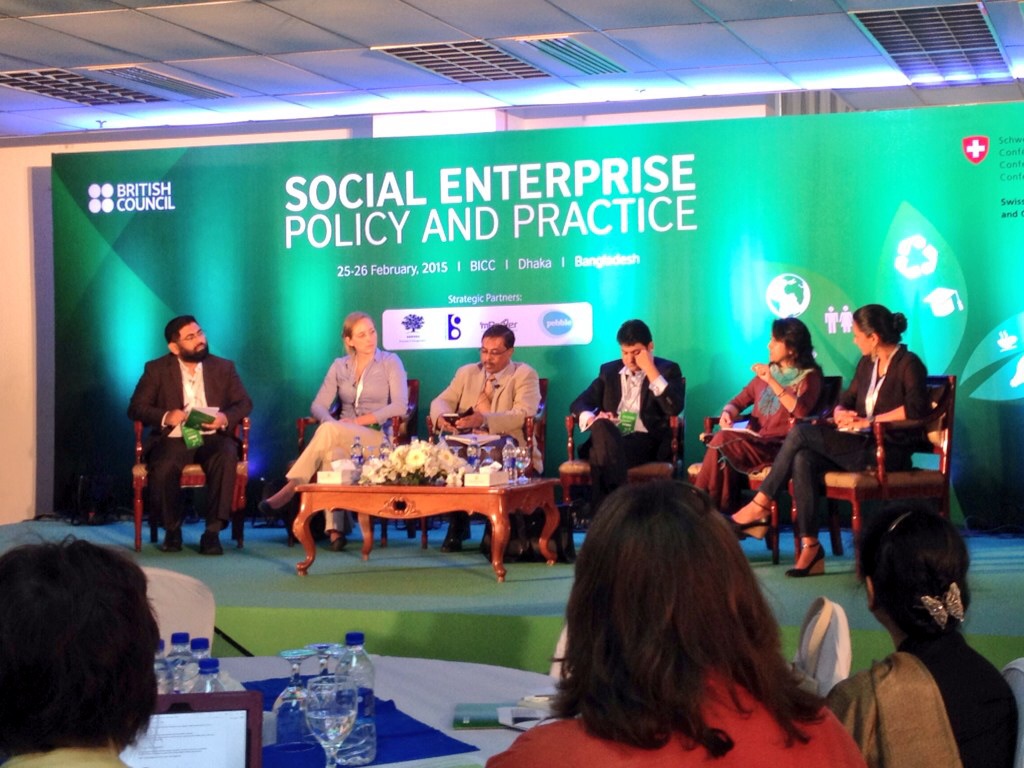 British Council Social Enterprise Policy Forum, Dhaka. Photo credit: Pioneers Post
The Forum was held over two days and aimed to raise awareness of Bangladesh's social enterprises and catalyse support for them among the public, media and politicians. It brought just under 200 people from all over the world to discuss social enterprise policy, as well as other key areas within the sector including female social entrepreneurship, technology innovation and social impact investing.
Bangladesh has a long history of social innovation and is home to the Grameen Bank, a pioneering institution in the development of microfinance, and Brac, the largest NGO in the world.
Mark Clayton, deputy high commissioner at the British High Commission, said: "Brac and the Grameen Bank are household names not only in Bangladesh but across the world... Bangladesh has a really big social enterprise base on which it can build."
Over the past decade Bangladesh has undergone important developments in its human development indices. The UNESCO Adult Youth and Literacy Report 1990-2015 states that literacy levels for individuals over the age of 15 increased from 35% in 1990 to just under 60% in 2010 and sets a target of just over 70% by the end of 2015.
However, there are still around 45 million people living in poverty in Bangladesh. The founder of one social enterprise, Mridul Chowdury, told Pioneers Post about some of the challenges facing social entrepreneurs in Bangladesh.
He explained that the government did not know how to categorise his social enterprise business model because it was not a traditional for-profit or non-profit business. 
Bangladesh has a really big social enterprise base on which it can build.
"We are working with very low profits. Often we're experimenting with ideas so we need more support to help us create new social models. These cannot be created overnight – they take time and resources," he said.
Chowdury's organisation, mPower, is a Dhaka-based social enterprise which aims to connect communities to necessary services such as healthcare through mobile phones and other technology.
Echoing this call for action, founder of Prochesta Mobile Veterinary Clinic Chandra Putul said: "There are both legislative and funding barriers. We did not get any seed funding so we cannot expand our service. More should be done to raise awareness about social enterprise. People think that we are working as an arm of government and don't pay for our services."
The clinic provides low-cost treatment for and free education about common diseases rife among farm animals in Bangladesh – helping to protect rural farmers' livestock and, in turn, their livelihoods. 
Dan Gregory, head of policy at Social Enterprise UK (SEUK), was invited to the Forum to share lessons learnt from the UK policy perspective on social enterprise. Although there is no legislated definition of social enterprise in the UK, the government has introduced a number of policies and initiatives to support the sector – from the Social Value Act to a tax relief on social investment (SITR) and through the launching of various organisations such as Big Society Capital.
Gregory told Pioneers Post: "A lot of conversations come back to awareness and understanding of what is social enterprise and where it fits in the wider economy."
There are clear lessons that Bangladesh can learn, he said. "What this government has not done a lot of and what the last government spent more time and effort on is awareness raising," said Gregory.
"We had social enterprise ambassadors – SEUK's CEO Peter Holbrook and celebrity chef Jamie Oliver being two of them – and this helped explain social enterprise to people [30 social enterpreneurs were chosen as ambassadors in 2006]. If I could make one criticism of the current government, it's that they dropped this too early. They assumed that everyone got it but there's still more to be done.
"Any government, anywhere in the world looking at social enterprise as something to promote, must promote the concept of it," he concluded.
The calls for policy around social enterprise emerge at a time of political unrest in Bangladesh. In January the global media reported on the politically motivated petrol bomb attacks on public transport and just last week a court in Bangladesh issued an arrest warrant for the leader of the opposition party Khaleda Zia.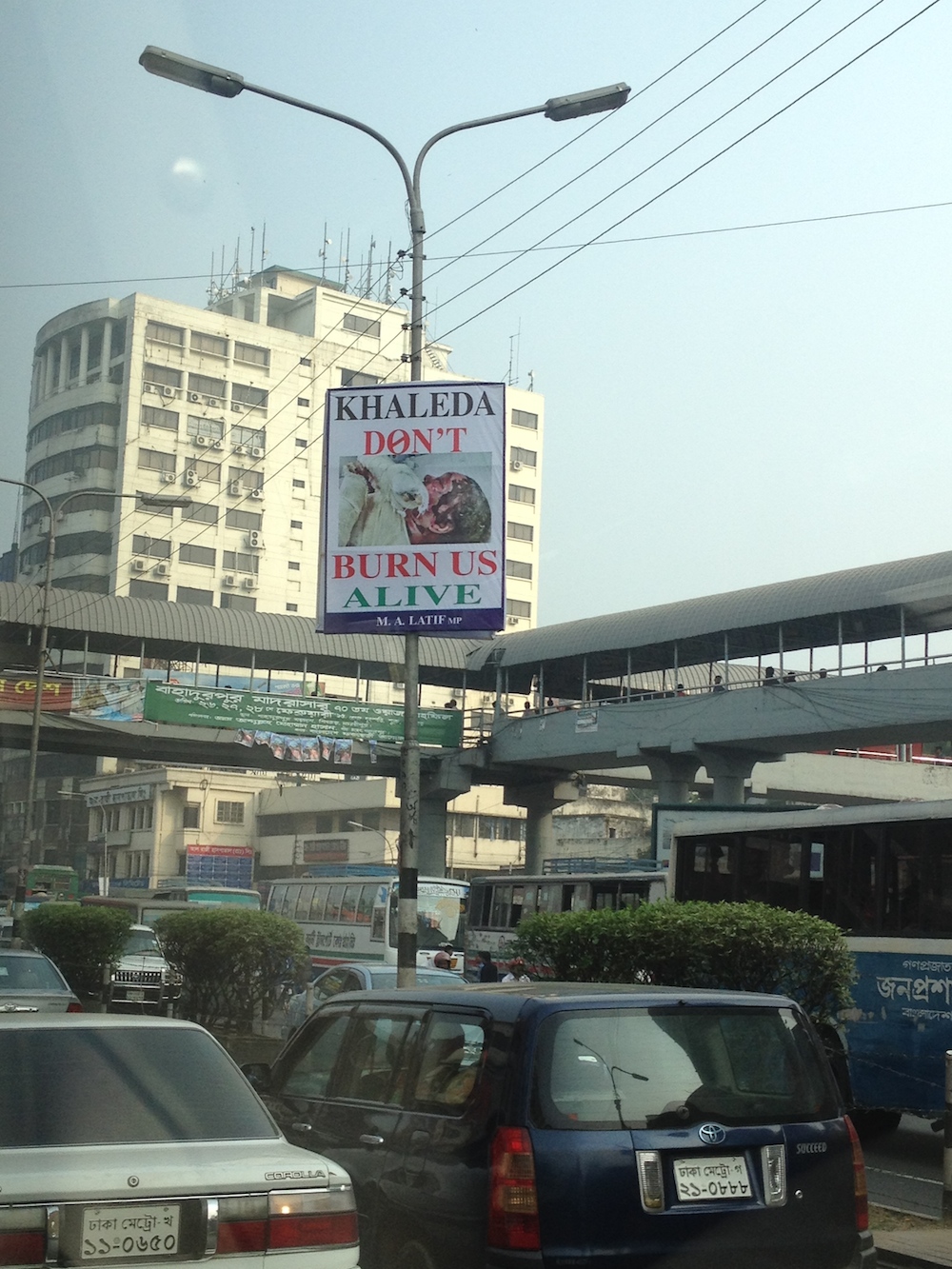 Dhaka, Bangladesh. Photo credit: Pioneers Post
This does not mean that work to promote the social enterprise sector will be halted though, the deputy director of the British Council Bangladesh, Matt Pusey, told Pioneers Post.
He said: "We work very closely with the government here, they are one of our key partners. Bangladesh is currently going through a particularly difficult time with regards to the political situation, however, that doesn't mean business just stops. 
"We ensure that we have robust systems in place to ensure we can continue with our work supporting the growth of social enterprise and we continue to engage with the government."
Header photo credit: Wonderlane