Handmade success: Hathay Bunano empowers 7,000 women in Bangladesh
Bangladesh's social enterprise sector is gathering momentum rapidly, with increasing numbers of entrepreneurs looking to combine business with creating a social impact. Ellie Ward visited Hathay Bunano, one such enterprise which now employs 7,000 women from Bangladesh's most impoverished communities, empowering them with both skills and finance.
Next month will mark the two year anniversary of the Rana Plaza factory collapse in Bangladesh. Killing more than 1,100 people and injuring around 2,500, the industrial tragedy has been described as "the worst accident in the garment industry" anywhere in the world.
A 2015 report released by the Alliance for Bangladesh Worker Safety, which was formed in response to the Rana Plaza disaster in July 2013 concluded that "voluntary changes from global retailers have transformed Bangladesh's garment industry for the better". However, the findings have been widely criticised for lacking transparency and credibility.
Bangladesh's garment industry employs approximately four million people, of which 80-90% are women. Far removed from these mass production units that have been the focus of international media in recent years is Bangladesh's social enterprise sector.
Safety and fair pay come first
A two-hour drive (if the traffic gods are watching over you) out of chaotic Dhaka sits the very first Hathay Bunano production unit in Narshingdi, where up to 50 women are busy creating bright blankets, children's shoes, rattles and a number of other colourful handmade products.
The unit is modest but clean, airy and perfectly safe. A big poster with the words health and safety sprawled across it dominates one wall while windows line another. The atmosphere is relaxed, with the women chatting to one another whilst clacking their knitting needles at rapid speed.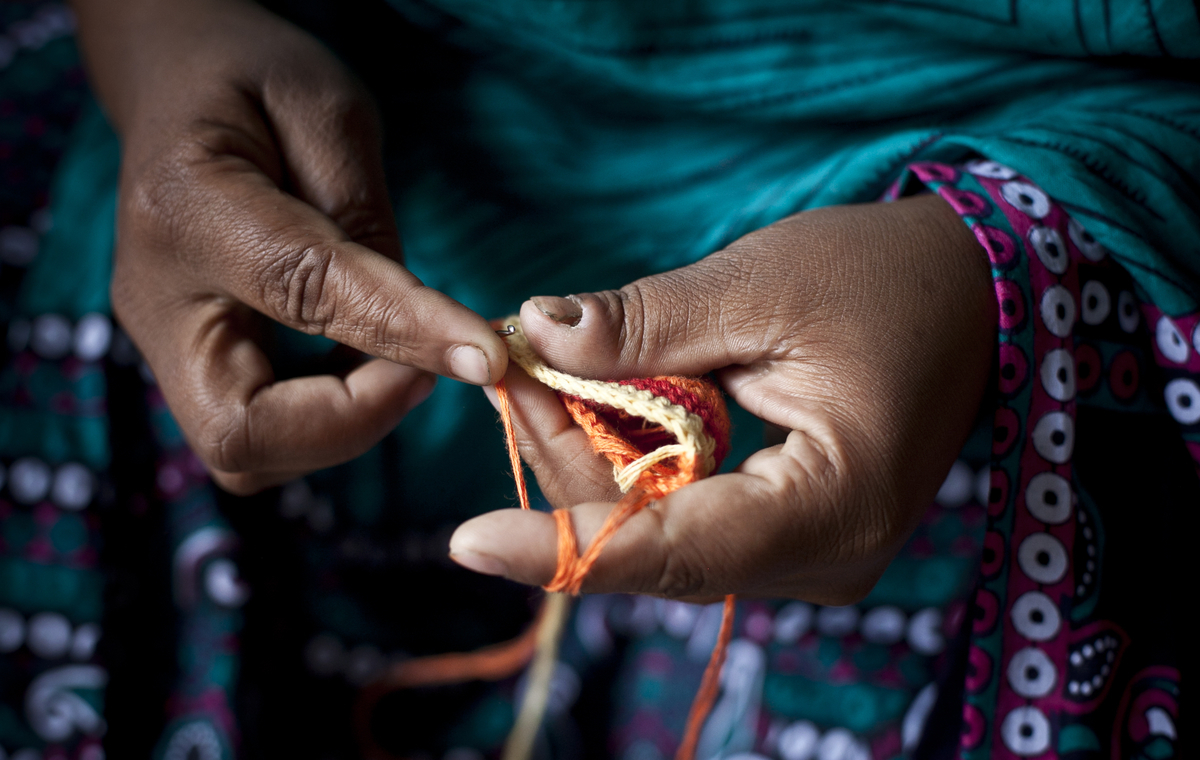 Photo credit: Hathay Bunano
Hathay Bunano is a non-profit that was founded by Samantha Morshed in 2004. Shortly after moving to Bangladesh, Samantha contacted a local NGO and invited 12 women to her house where she taught them how to knit a range of products. 
After just three weeks the team started work on their first order. Four months later the Narshingdi unit was set up. "We started it as a way of bringing fairly paid, flexible employment to areas where there is very little opportunity for women," Samantha explains.
The number of women employed by Hathay Bunano and the number of units operating across Bangladesh increased over the next six years, leading to the setting up of for profit venture Pebble Child Bangladesh.
The newly appointed CEO of Hathay Bunano, Rayhan Kabir says: "Pebble is the commercial arm of the organisation and markets the products made by Hathay Banano around the world. Hathay Bunano is a completely non-profit organisation and due to Bangladeshi law is not allowed to sell products internationally. It therefore sells goods to Pebble, which is responsible for distribution." 
The combined efforts of Hathay Bunano and Pebble have meant that the organisation employs around 8,000 women across Bangladesh and exports to 37 countries including the UK and Australia.
As a registered Fair Trade organisation, Hathay Bunano has taken part in a number of external auditing processes, which have ensured that both safety and wage requirements are being met. The analysis showed that the wages offered by Samantha and her team are double that of the average wage in garment factories across Bangladesh.
Key stats:
| | |
| --- | --- |
| Countries exported to | 37 |
| No. of employees | 8,000 |
| Average age of employees | 25-35 |
| Minimum age of employees | 16 |
Women empowerment through employment
Hathay Bunano's social mission is to empower Bangladesh's most disadvantaged women through training, skills and employment. Each woman employed by Hathay Bunano receives two weeks free training. 
Rayhan explains: "When women work with us they want to spend their money on the education of their children. The education level within the families of the women is increasing day by day. 
"The younger women also delay their marriage by working with us. In our head office we see that most of the women reach 26 or 27 and still they are not married. They want to empower themselves as individuals before marriage, which is still very uncommon in Bangladesh." 
Shilpi takes a short break from her work to describe some of the benefits of working at Hathay Bunano: "We have flexibility here because we can bring our children and for those of us who have children studying in school we can drop them off and pick them up. If we work in a garment factory we won't get this flexibility so there's no way we can take care of our children and family."
She also explains that some families are initially sceptical about the organisation. Shilpi says that some families ask, "What is the use of going there because these people have come from outside?" 
"They say 'She will come and go, there's no point in going there'. I confronted that and said 'I have nothing to lose... There is no risk of financial loss'."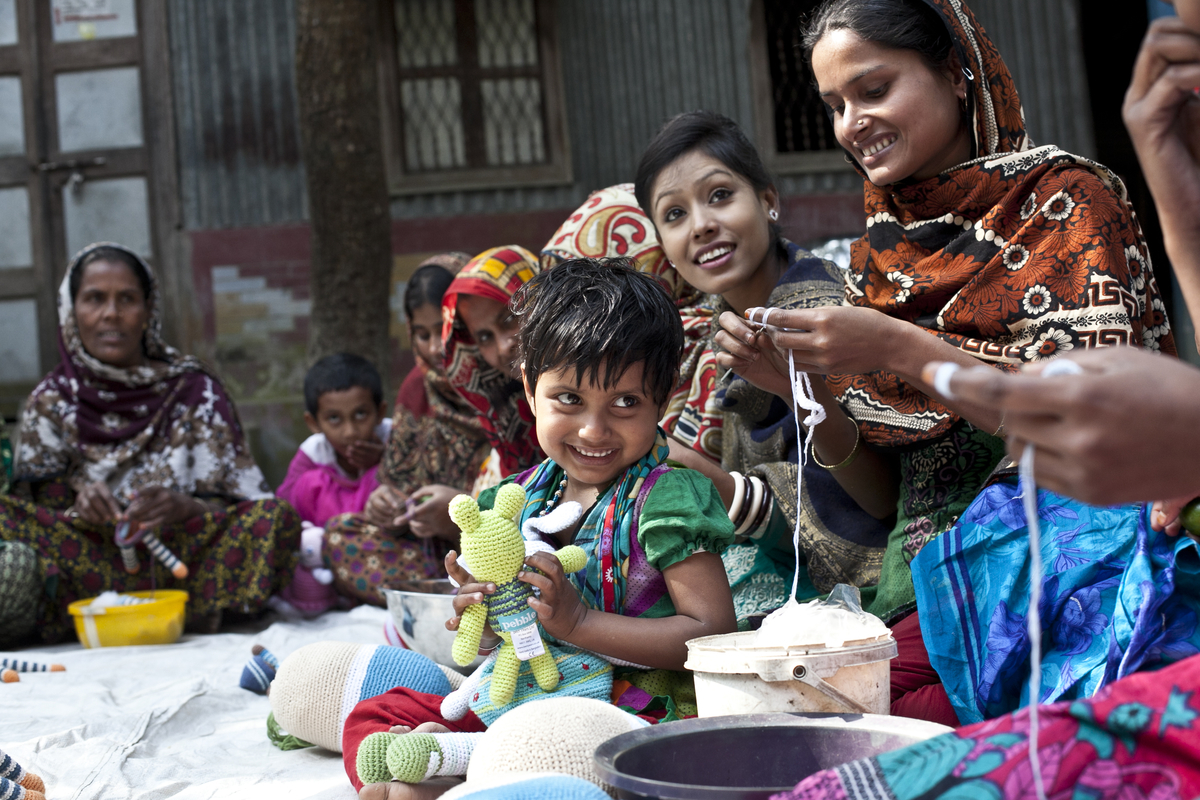 Photo credit: Hathay Bunano
Rayhan and his team are faced by a number of cultural challenges. "We always face difficulties in rural areas because Bangladesh is a Muslim dominated country. Our religion does not allow women to work outside their home. 
"But we provide them a working environment within their communities so they don't have to travel far to go to work. Initially when we start any production unit in a rural area, people always try and stop our activities. We arrange a lot of meetings with the community to make them understand our objectives," says Rayhan. 
After being interrupted by a passing car with a megaphone attached to it announcing that a boy has gone missing in the village, Nasreen, a Hathay Bunano supervisor says that while she "does not face many challenges from her staff," because "the women are very poor they sometimes take loans from people to meet some of their immediate needs".  
She continues: "It's not a widespread problem and there is no organisational policy around advance payments, but sometimes I try to help if I can." 
Expanding family 
With Pebble profits on the rise and increasing interest internationally in Hathay Bunano products, plans to expand are being set in motion. Rayhan explains that as well as opening more production units and employing more women in Bangladesh's most impoverished rural areas, the Hathay Bunano team are aiming to provide more child care facilities for their employees.
"Currently, we allow the women to bring their children to the work premises and over the past year we have established five pre-schools in the rural areas so that women can be close to their young children but also continue working as much as they wish.
"Our vision is that we will establish a pre-school for every production unit so that women feel that their family is safe when they are at work. The pre-school concept is new in Bangladesh so we are trying to develop it so that other factories and industries can develop a similar kind of facility beside their factories," says Rayhan.
Bangladesh's social enterprise sector is gathering momentum rapidly, with events such as the British Council's Social Enterprise Policy Dialogue encouraging debate and bringing the community together. 
Last month, social entrepreneurs and academics called on the Bangladeshi government to introduce social enterprise legislation at the Policy Dialogue, in order to support the sector as it continues to help solve Bangladesh's most pressing social and environmental issues.