Lush talk clean business practices at Oxford Street
Creating a truly socially and environmentally responsible supply chain, on any scale, is about looking people in the eye and building trusting relationships, says the founder and head buyer of LUSH. Ellie Ward talks to Mark and Simon Constantine at the opening of the international cosmetics company's biggest shop to date on Oxford Street.
International cosmetics company LUSH has been stocking up bathrooms with lime green shower gels and sea salt scrubs for 20 years and last week opened its biggest shop to date on Oxford Street in London. 
LUSH was founded by Mark Constantine and Liz Weir in a small kitchen in Poole in 1995 and last year "generated a turnover of £454m… and a pre-tax profit of £23.3m" according to The Telegraph.
The privately owned business prides itself on its commitment to social and environmental responsibility. While it doesn't identify itself as a social enterprise or even a social venture, it is committed to ensuring that its supply chain is as environmentally responsible as possible and seeks out start-ups and cooperatives that tackle social issues where they are based.
Amongst the chaos of shoppers and calming scents of new bath bombs at the Oxford Street store opening, head perfumer and buyer Simon Constantine, told Pioneers Post that his team travel as much as possible to build strong relationships with all of their suppliers.
He says: "It's an organic process we run... We find people and businesses through a number of different avenues, but the requirements each time are that they're people we really believe in, people that are local and people that we can trust. It sounds simple, but it's not always easy.
"We're trying to find ways of doing business with people that encourages good environmental practice, gives them regular income and creates a social benefit. As a business we can offer unique things that most NGOs and charities can't, which is a guaranteed market for a product. If they've got a product but they don't know who they're going to sell it to for example, we can do that. We can support with the business development.
"We're also trying to encourage more sharing of knowledge – recently in South Africa we brought a number of local businesses together simply to share and tell each other what they're doing so that they don't feel quite so lonely and share best practises."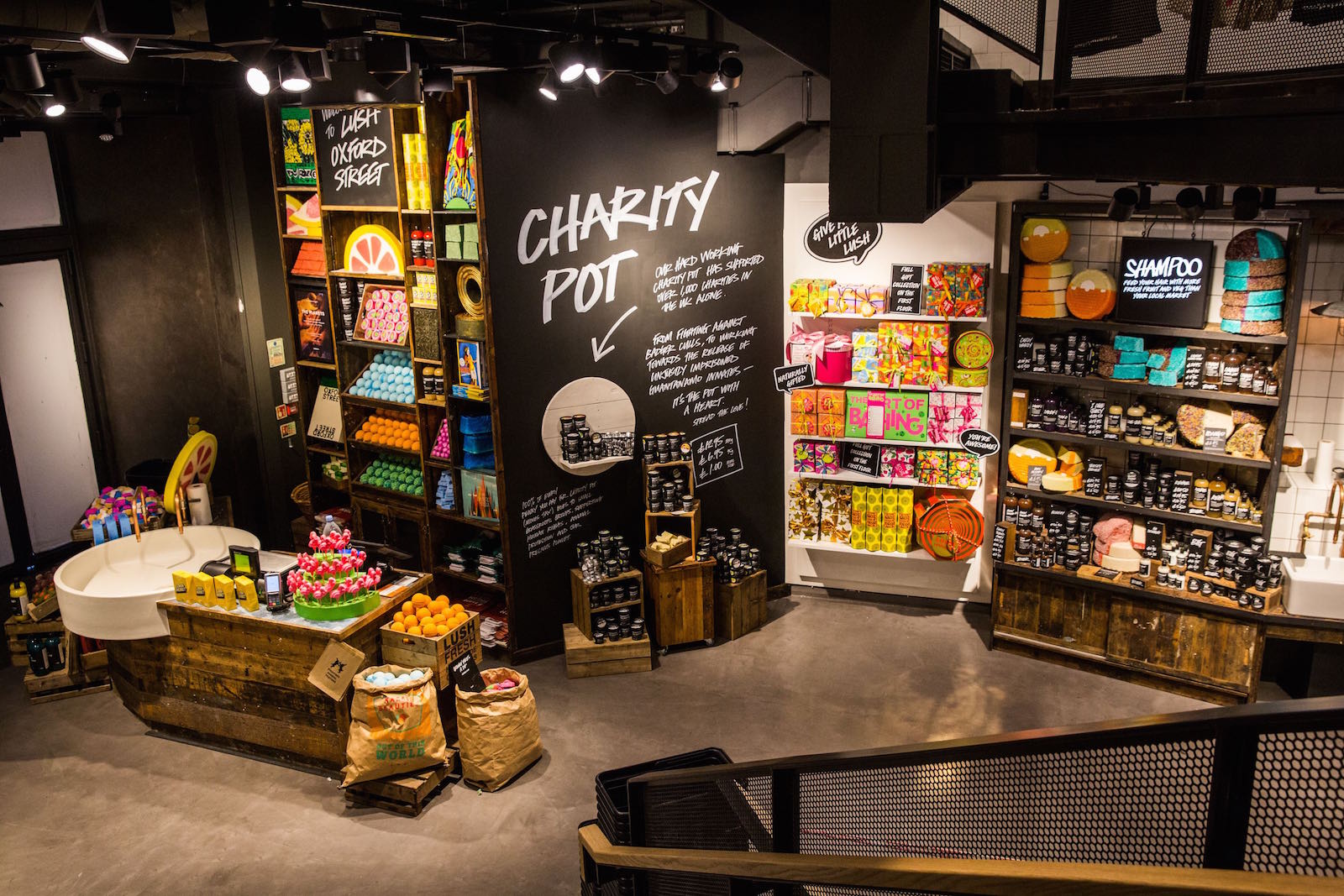 LUSH Oxford Street. Photo credit: LUSH
Opening up
Among the suppliers LUSH's Ethical Trade Initiative trained buying team source produce from is Canaan Fair Trade, which processes olive and almond oil from the stock farmed by a number of cooperatives in the West Bank. Canaan aims to improve the economic situation of the farmers who make up these cooperatives. 
Son of co-founder Mark, Simon explains: "We work with a number of networks in both Palestine and Israel. For example, we've been buying olive oil from Sindyanna for about eight or nine years. They are an NGO that works to try and bring Israeli and Palestinian people together in peace through workshops run by women.
"We have to be very, very sensitive about who we deal with, how we deal with them and how we interact. Not everyone agrees with us buying from a Palestine project depending on the way they look at the world, but it's not our job to interfere in that. We want to support people, whilst being open and honest about it at the same time."
When it comes to Fair Trade and other certifications LUSH's head buyer has an open mind, admitting that while they're not perfect, they can help guide supply chain decisions.
He says: "Everybody's got this perfect image of ethical business but the truth is people are people no matter where you are so the way I look at is we try to be as open as honest about it. 
"We have an open door policy with both our products and campaigns. If you come in, take a look and don't agree with it, you don't have to spend your money here but at least you're informed with the knowledge of where your money is going." 
Meet the boss 
In between taking journalists on guided tours of the new megastore on Europe's busiest high street and greeting the founders of the Conservative Party's anti-fox hunting campaign group Blue Fox, Mark Constantine sits down for a cup of tea – no milk. 
He explains that it has been a challenging process to ensure that the company's supply chain meets the core social and environmental values LUSH was founded with, but that a lightbulb moment occurred when he met with the founders of chocolate company Green & Blacks.
They explained that for them it was simply about building relationships with all the individual cocoa farmers they bought from. Essentially, this is exactly what LUSH has done – only with suppliers of a vast number of different produce. 
Mark admits that he leaves the travel to his son and the rest of the buying team. "I'm a real baby. I stay home and worry," he says.
He also opens up about the risks involved in the extensive travel that is required: "We lost one of our buyers to malaria, which was awful and blew us apart. He was Simon's right hand man and contracted cerebral malaria while in Ghana... They're all sent on the most rigorous of courses now so that everyone can self diagnose and everyone knows what to do in hostage situations – it's just them and the Guardian journalists I think that goes on these courses. 
"It's a hell of a challenge doing the real thing and maintaining it, and going back to fix it when it doesn't work and being realistic, kind and compassionate." 
Last year, LUSH gave over £5m to more than 1,000 charities and projects that are working to create positive social and environmental change. Mark explains that while many companies give large lumps of money to well known charities, LUSH is committed to ensuring that its money creates maximum impact.
He says: "Not all money has the same value to all people… We're trying to make sure we choose the right people and that we listen to them and then provide the correct amount of money. We also want to work alongside organisations to make them as effective as possible."
View from the top 
Over the past two decades, LUSH has expanded from being one shop in Poole to owning over 100 shops in the UK and more than 900 around the world. 
If you've got 12,000 staff you can't... boss people about because they don't stand for it.
Mark describes being at the helm of such an operation: "If you've got 12,000 staff you can't from a central position do anything really. You can't boss people about because they don't stand for it. You can only inspire on the one hand and beg on the other – the thing I beg is that each person makes someone's day everyday. Focus on that."
As the customer demand for products increases, so does the demand for the raw materials that go into them. Head buyer Simon insists that this growth will not compromise the company's ethics.
"Once you see the tropical rainforests stripped in favour of palm oil plantations or what a mine looks like, you think, 'I can't go backwards'. We've got to make the most of what we can do as a business."
Header image: LUSH Oxford Street
Photo credit: LUSH