Get a taste of social enterprise in the UK this Saturday
Members of Parliament, government ministers, local councils and businesses big and small are to work together to promote Social Saturday in the UK this Saturday.
Now in its second year, Social Saturday is part of Social Enterprise UK's (SEUK) Buy Social campaign and consists of a day of events and activities across the country to celebrate social enterprise in the UK and encourage people to spend responsibly.
CEO of SEUK Peter Holbrook CBE said: "Social Saturday is all about celebrating and raising awareness about our growing movement. This year we want to really put social enterprise on the map through a range of events across the country. When you buy from social enterprises your money goes so much further, I encourage you to go out there and get buy social today."
On Saturday Croydon Council and Greenwich Council are teaming up to host a networking event with keynote speeches, which aims to raise awareness about the impact social enterprises are creating in the community among local residents. In London, Divine Chocolate are hosting a social enterprise fair, which will feature stalls from Liberation Nuts, Papi's Pickles and Fikay Fashion. 
Charlotte Borger, communications director at Divine Chocolate, said: "Social Saturday is a great opportunity to showcase Social Enterprise – raising awareness of the great businesses in our neighbourhoods and across the UK offering excellent products and services while putting more back into communities and benefitting more people." 
She also urged for people to head down to the fair at the popular independent Lexi Cinema in Kensal Rise to "find out about the companies that are doing business differently". 
Also in London Accumul8 – a social venture which produces jams and preserves to fund creative initiatives for homeless young people – is hosting a photography exhibition. And further north in Liverpool the Blackburne House Group is hosting a family entertainment day that will involve local produce, children's activities and music. 
Minister for civil society Rob Wilson said: "Social Saturday is a great opportunity for people across the country to buy social and explore the breadth of this vibrant and growing sector. We want to help social enterprises thrive, which is why we are making it easier for people to invest in the social enterprises they support the most, helping us to build a truly compassionate society."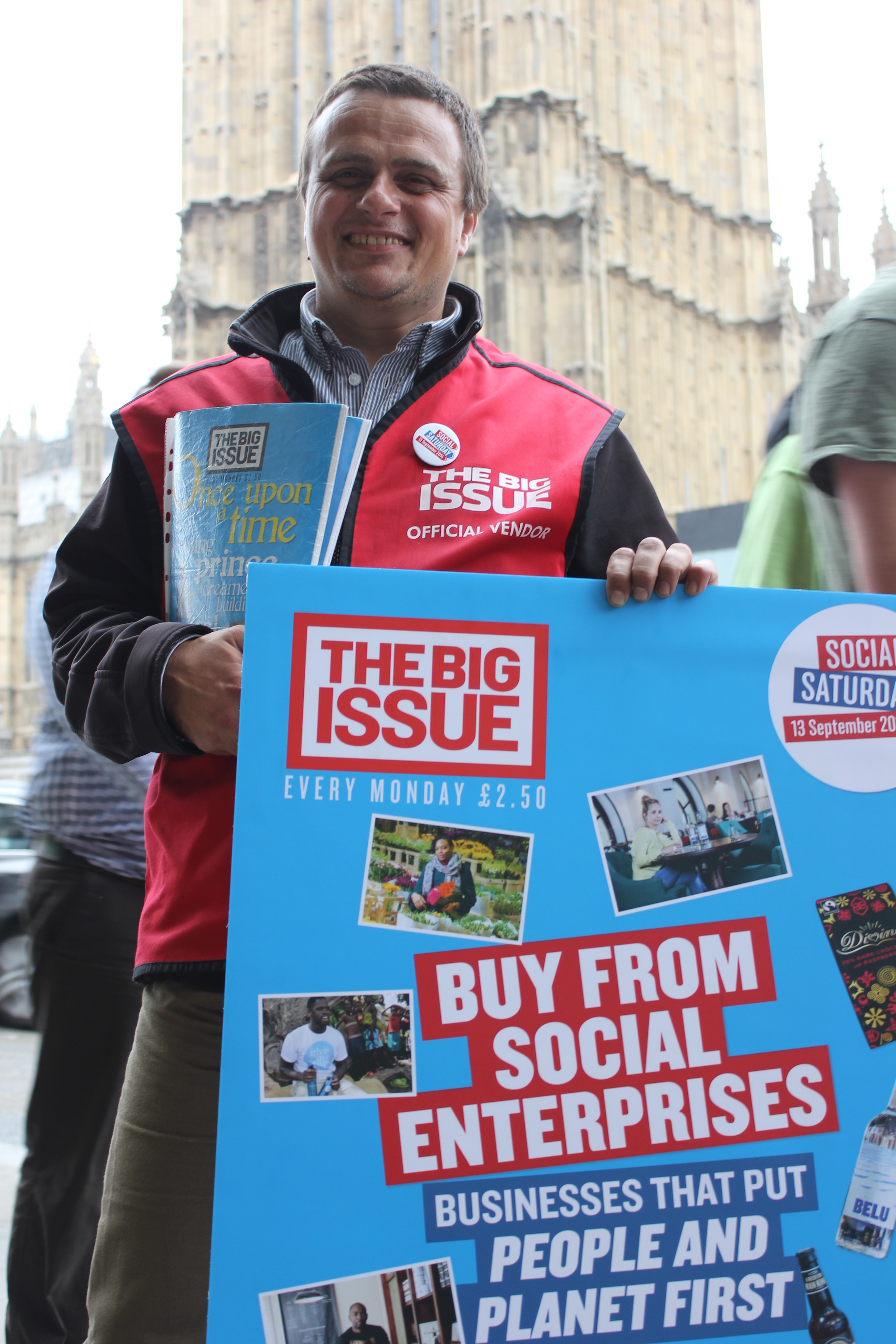 Big Issue vendor promoting Social Saturday last year. Photo credit: SEUK
Header image: macaroons from Miss Macaroon
Photo credit: SEUK