Big Issue launches new coffee brand in London
One of the UK's most well known social enterprises, the Big Issue, has launched a new coffee brand – Change Please.
The project has been created in partnership with fellow social enterprise Old Spike Roastery, which produces premium, ethically sourced coffee and is staffed by people who used to live on the streets.
Change Please coffee will initially be sold through eight coffee carts, run by former homeless people, that are being rolled out across London over the next month. The coffee on sale will also be available to buy online here.
The Big Issue's national distribution director Peter Bird said: "Change Please is the fresh approach now required to help the homeless.
"Selling the Big Issue works well to provide people currently living on the streets with a way to help themselves work towards a better life, but there is a gap between that segment of homelessness and securing a regular job that needed a solution; Change Please provides that and will hopefully be the hand up that people need to work their way back into society."
Baristas will be paid London living wage and all money made through coffee sales will be reinvested into the programme and will finance the training of the next wave of baristas. Change Please will also be working with a number of partners in food and beverage, legal and banking industries including Barclays and PWC to provide pathways into permanent employment for the baristas.
Cemal Ezel, founder of Change Please said: "Change Please is a win win. Through it we're combining the growing consumer demand for top quality coffee on the go together with a fully rounded programme designed to get homeless people back on their feet."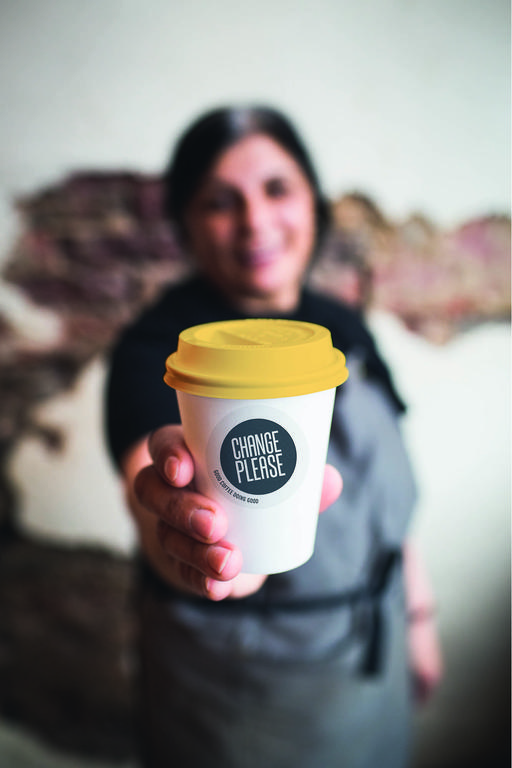 Change Please coffee. Photo credit: Big Issue
The takeaway coffee market is forecast to be worth £8bn in the UK next year and the average London coffee drinker has more than two cups on the go daily. At the same time research by Crisis has found all types of homelessness are on the increase across the UK with a record 280,000 people approaching their local authority for homelessness assistance. Rough sleeping, the most extreme form of homelessness, has more than doubled in London in the past five years.
The launch of Change Please has been welcomed on Twitter, with the 'Big Issue' trending for most of this morning, and by the national media.
Social Enterprise UK tweeted: "Fantastic coverage for launch of @changeplease in @guardian and other media - p'ship from @BigIssue @OldSpikeRoast." And the UK's leading charity for homeless young people Centrepoint tweeted: "Great news, great idea and great coffee from our friends at @BigIssue."
This business idea is similar to that of another social enterprise We Walk the Line, which trains and employs ex-offenders, homeless individuals and young people not in education, employment or training, to run coffee carts.
Co-founder of We Walk the Line Mat Corbett said: "It's always a pleasure to hear about like-minded initiatives and it's fantastic news that The Big Issue are bringing coffee that changes lives to a wider audience.
"Their involvement will no doubt inspire more social enterprise start-ups across the UK to join existing café's such as The Feed CIC in Norwich, The Home of Honest Coffee in Manchester and of course We Walk the Line CIC in London.
"The more supporters of 'coffee with a conscience' across the UK, the better, as every cuppa you buy leads to a positive change where it matters in your local community with reductions in homelessness, re-offending and youth unemployment.  We would love for The Big Issue to reach out to all purveyors of hot beverages and social impact and lead a cafe coalition to make a greater impact sooner."
Header photo credit: Big Issue