New survey reveals Scots bosses' attitudes to social responsibility
Over half of Scottish business leaders agree that there is a clear business case for investing in community, social and environmental issues, according to a report published today by Social Value Lab.
However, the same report, which involved a survey of 1,000 businesses of varying sizes across Scotland, also found that almost one third of business leaders feel that the sole responsibility of companies is to maximise profit.
Deputy first minister of Scotland John Swinney said: "There is a wealth of international evidence to suggest that promoting competitiveness and addressing inequality are important interdependent ambitions.
"It is encouraging to learn that more than half of all business leaders surveyed believe there is a clear business case for investing in community, social and environmental issues. I am sure this proportion will continue to grow and I would encourage all those surveyed to learn more about the Scottish Business Pledge and what it can do for their businesses."  
The Scottish Business Pledge was launched by the national government in May last year. It is a voluntary commitment made by Scottish businesses to promote and practice the principles of fairness, equality, and opportunity.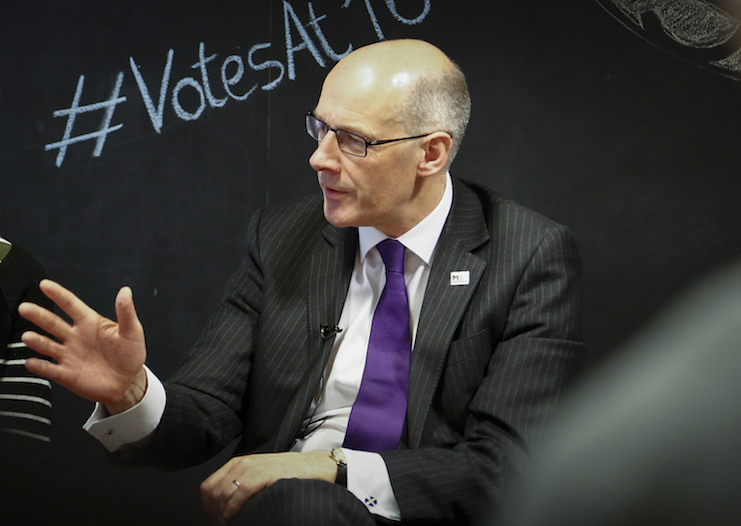 John Swinney. Photo credit: Scottish Government
Social Value Lab's Better Business study was delivered in partnership with social enterprise development agency Firstport, CEIS and the Scottish Business Awards. It also included analysis of corporate social responsibility (CSR) and reporting practices among Scotland's 500 leading companies. Of these top 500 companies, just 13% of all board posts are held by women and only 4% of CEOs of these companies are women.
The study finds that 'the larger the business, the more likely it is to formalise its commitment to corporate responsibility'. For example, 32% of small companies reported specific initiatives, rising to 62% of mid-sized companies and 90% of large ones. It concludes that 'this confirms the view that corporate responsibility in small businesses is driven by the owner/leader's values, largely unplanned and with no desire for recognition'. This contrasts with some of Scotland's largest companies, which 'are delivering well publicised and resourced CSR programmes and are more influenced by the interests of employees, public opinion and business image'.
Social Value Lab director Jonathan Coburn said: "Many businesses are trying to do the right thing but face intense competition, tight profit margins and the costs of meeting existing responsibilities – they struggle to release the money or time to go further with their commitments.  
"The aim of this study is to get a realistic picture of corporate responsibility and explode the myths. We wanted to get a balanced view."  
The study asked respondents to identify potential barriers to changing corporate behaviour. The two main obstacles cited were the ability of companies to meet the costs and the lack of staff capacity to get involved in 'discretionary activities'.
Other barriers cited included:
Growing financial pressures to meet existing obligations, such as paying the UK living wage and dealing with pension auto-enrolment

The challenges of public ownership and shareholder expectations, with pressure to place short-term profits and share price above non-financial considerations

Operating in highly competitive markets with low margins

Competitors that fail to bear the full costs of social and environmental responsibility make it difficult for others not to follow suit
The prevailing view among the business leaders was that action on corporate responsibility must come from companies themselves rather than further government legislation which could be difficult to enforce, might reduce competitiveness, and is unlikely to lead to meaningful or sustained behaviour change.
Around one in five businesses didn't see any role for further government intervention. Instead they called on government to increase engagement with representatives of the business community to develop a realistic understanding of what is possible and identify agreed measures.
Karen McGregor, CEO of Firstport said that "social enterprises are leading the way" by "operating ethically in the marketplace, doing the right thing by employees, and making a real impact in communities across Scotland".
She continued: "We would urge the private sector to look at how they can work alongside social enterprises, for example using them as suppliers, as well as learning from existing good practice."
To read the report in full, please click here.
Photo credit: Giuseppe Milo