Global social innovation round-up #33
Bye Bye Boris
Election fever hit the UK this week as votes were cast for the Scottish Parliament, the National Assembly of Wales and the Northern Ireland Assembly, as well as councillors in England and Mayoral elections in many major cities including London. Having been elected in May 2008, Boris Johnson (pictured below) did not stand for re-election as London mayor. New data from charity think tank NPC shows what has happened to the charity sector during Johnson's time in charge.
The data shows that the number of charities serving London has risen by almost 15% (from just under 17,000 in May 2008 to more than 19,400 in February 2016) during Johnson's time as mayor, in comparison to a 2.4% decline in the number of charities registered in England and Wales over the same period.
Dan Corry, CEO of NPC, said: "Voluntary bodies have always been an important part of the fabric of life in the capital, and they have been growing. This might indicate that London's voluntary sector is growing and thriving. But the numbers might equally be taken as a response to rising demand, as London's citizens struggle under the pressure of lower public spending and shortages".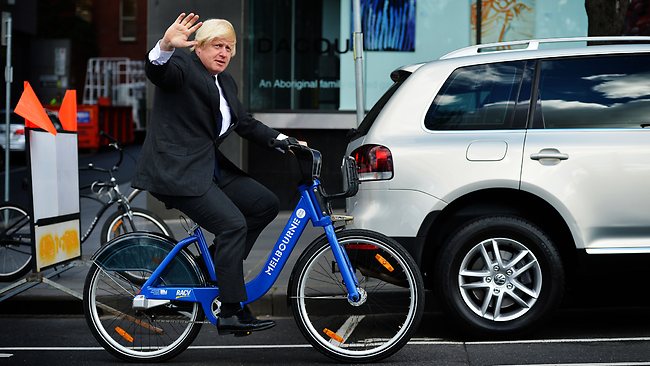 Photo credit: Federation European Cyclists
Impact venture fund invests $13m to prevent malaria
HERi Africa, an impact venture fund that invests in socially driven companies in Madagascar, has co-invested $13m in Bionexx – a company that produces the active ingredients of a new generation anti-malaria medicine. Since 2005 Bionexx has been cultivating and purifying these active ingredients. According to the European Venture Philanthropy Network (EVPA), of which HERi Africa is a member, Bionexx purchases the active ingredients of the antimalarial (Artemisia Annua) directly from smallholder farmers, in turn contributing to a 30% additional yearly income of 10,000 rural families. EVPA also revealed that HERi Africa and Bionexx are currently exploring the launch of a social impact bond.
Social Ventures Australia welcomes new government fund
In its budget this week the Australian government announced a AU$96.1m fund to 'finance innovative policy interventions to help people find jobs and avoid getting trapped on welfare'. The Try, Test and Learn Fund aims to test interventions and policies that engage the private sector with social issues.
CEO of Social Ventures Australia Rob Koczkar told Pro Bono Australia: "The fund could unlock opportunities for the development of innovative service and finance models, and attract co-investment from the private sector in important social initiatives… Private capital is never going to replace the need for ongoing investment by government in critical services, but there is scope for it to have significant impact in areas including affordable housing supply, social impact bonds (SIBs) and social enterprise development."
London regeneration project demonstrates significant social return on investment
A £140m regeneration programme in the London Borough of Harrow has demonstrated a significant social return on investment according to a new report carried out by the London School of Economics (LSE).
LSE assessed social return on investment as £10 for every £1 invested in the development at Rayners Lane, a former council owned estate. This reflects what Home Group, one of the UK's largest providers of social housing and supported housing and products, spends in order to run it, compared with the return the community and landlord gain in social benefits.
Previously the estate proved difficult to manage and unpopular – fear of crime was high and generally it was very run down. Home Group's redevelopment included; delivering houses and apartments, local shops and business space, along with the Beacon – a multifunctional community centre – sports facilities and a new park. The report concludes that learning, skills and employment have shown noticeable signs of improvement with local schools improving and the number of people with qualifications increasing. To find out more, please click here.
Hurrah! Funding available for community renewable energy projects
Multinational retailer Marks & Spencer (M&S) has this week opened applications to its £350,000 community energy fund. Now in its second year, the fund is offering private, not-for-profit projects that are using renewable energy to provide community benefits up to £12,500 to grow their impact. Last year, the initiative received over 240 applications. The 2016 applications close on 31st May.
To find out more, click here.
Header image: River Thames. Photo credit: Andrew Smith