UnLtd announces 2016 Big Venture Challenge winners
A catering service helping Sri Lankan women into employment and a cycle shop offering training for ex-military service men and women are among the winners of the 2016 Big Venture Challenge, it has been revealed this week.
The Big Venture Challenge programme is run by UnLtd, the Foundation of Social Entrepreneurs, and is funded by the Big Lottery Fund England. Each of this year's 20 winners will receive 12 months of business support, connections to help them grow and access to a £20,000 non-repayable grant to help them raise investment.
Mark Norbury, CEO of UnLtd, said: "These social entrepreneurs are doing more than providing jobs – they are developing these individuals' life chances. We believe that given the right support and access to funding, they have the potential to dramatically improve the employment landscape."
Joining the founder of Papi's Pickles Abi Ramanan (pictured below) and Julia Lally from Devon based Cycle Systems as 2016 winners is the founder of Year Here Jack Graham and the founder of Special iApps Beverley Dean. Year Here offers postgraduate courses to develop practical responses to poverty and inequality and iApps build educational apps for children with Special Education Needs.
Since it was launched in 2013, the Big Venture Challenge has supported entrepreneurs to raise over £8.2m of investment and in turn increase their social impact. On average ventures have reached 42% more beneficiaries each year after taking part in the programme. Big Venture Challenge has also helped attract over 40 new angel investors to social investing and many of the graduates of the previous years are now going on to raise Series A investments (first and often most signficant investments) of over £1m.
Previous winners of the Challenge who went on to raise investment include Little Forest Folk, London's first full time outdoor nursery that offers places to vulnerable children, and Oomph!, a provider of fun, inclusive and effective exercise classes for older adults.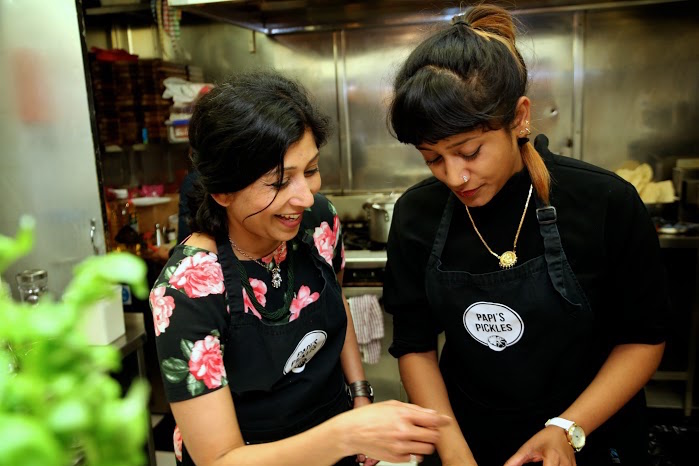 Papi's Pickles founder Abi Ramanan (right) in the kitchen
The full list of 2016 Big Venture Challenge winners is as follows:
Abi Ramanan, Papi's Pickles, London; Restaurateurs working with unemployed women to provide South Indian and Sri Lankan food.

Beverley Dean, Special iApps, Durham: building educational apps for children with Special Education Needs.

Cemal Ezel, Change Please, London: employing people with a history of homelessness to work on mobile coffee vans.

Cherie White, Think For the Future Ltd, Nottngham: offering Personal, Social, Health and Citizenship (PSHCE) education and mentoring to young people.

Damian Payton, Hive Manchester, Manchester: creating young digital talent and linking to employers.

Elizabeth Shassere, Textocracy Ltd, Worksop: enabling public services to more effectively canvas citizens.

Jack Graham, Year Here, London: offering postgraduate courses in social innovation, working to build smart responses to poverty and inequality.

Jemma Phibbs, 2JEvents, Oxfordshire: a venue management service letting service for schools, enabling them to rent out unused spaces and bring in income.

Julia Lally, Cycle Systems, Devon: providing high quality training for ex-military service men and women in bicycle maintenance.

Louise Allen, Essential Safeguarding: training for children and teachers on abuse in intimate teenage relationships.

Pravin Isram, Canvas Coffee Shop, Hampshire: a speciality coffee shop supporting those in early recovery from addiction to develop skills and confidence.

Ruth Anslow, hiSbe Food CIC, Brighton:  an independent supermarket focusing on stimulating the local economy:

Sandra Green, Green Revolutions CIC: enabling people to have access to transport.

Sarah Wallbank, Yes Futures London: running extra-curricular personal development programmes to improving young people's confidence, resilience and access to successful futures.

Sarah Marie Taylor, Green Scene Education, Nottingham: offering horticultural classes which align to the primary school national curriculum, delivered on school grounds.

Shaun Fox, Legacy Sport, Huddersfield: offering sport and health programmes to schools.

Stacey Jade Mason, Creative Optimistic Visions,Coventry: supporting young people to be safer and better equipped around safeguarding.

Steve Hodgkins, Jobs Friends & Houses CIC, Blackpool: job creation and training to prevent re-offending based around building trades and letting.

Tara Ashkham, Infused Learning, Nottingham: providing post 19 qualifications through blended learning.

Will Jackson, Zephx Ltd, Cambridge: app helping people suffering from chronic lung diseases to do their physiotherapy.