Scottish social enterprise grows 'in the face of challenges'
There is now one social enterprise for every 1,000 people in Scotland.
A report published last week shows that the number of social enterprises in Scotland increased by 8% in the last two years, with a total of 5,600 now operating in the country against a population of about 5.4m.
Social Enterprise in Scotland: Census 2017 was launched on 6 September at the Community Enterprise in Scotland (CEIS) Policy and Practice conference.
The Census reports the formation of 599 social enterprises since 2015, with an average age of 20 years and a majority (64%) led by women.
Gerry Higgins, CEO of CEIS, said: "The data in the report contain a broadly positive picture, with social enterprises making a significant economic contribution and demonstrating resilience in the face of challenges for the economy and public services."
According to the report, Scottish social enterprises have an economic contribution of £2bn Gross Value Added (GVA). Housing activity accounts for one third of the sector's GVA, while Health and Social Care providers deliver the largest Value Added in absolute terms (£753m). The sector also provides more than 80,000 full-time jobs.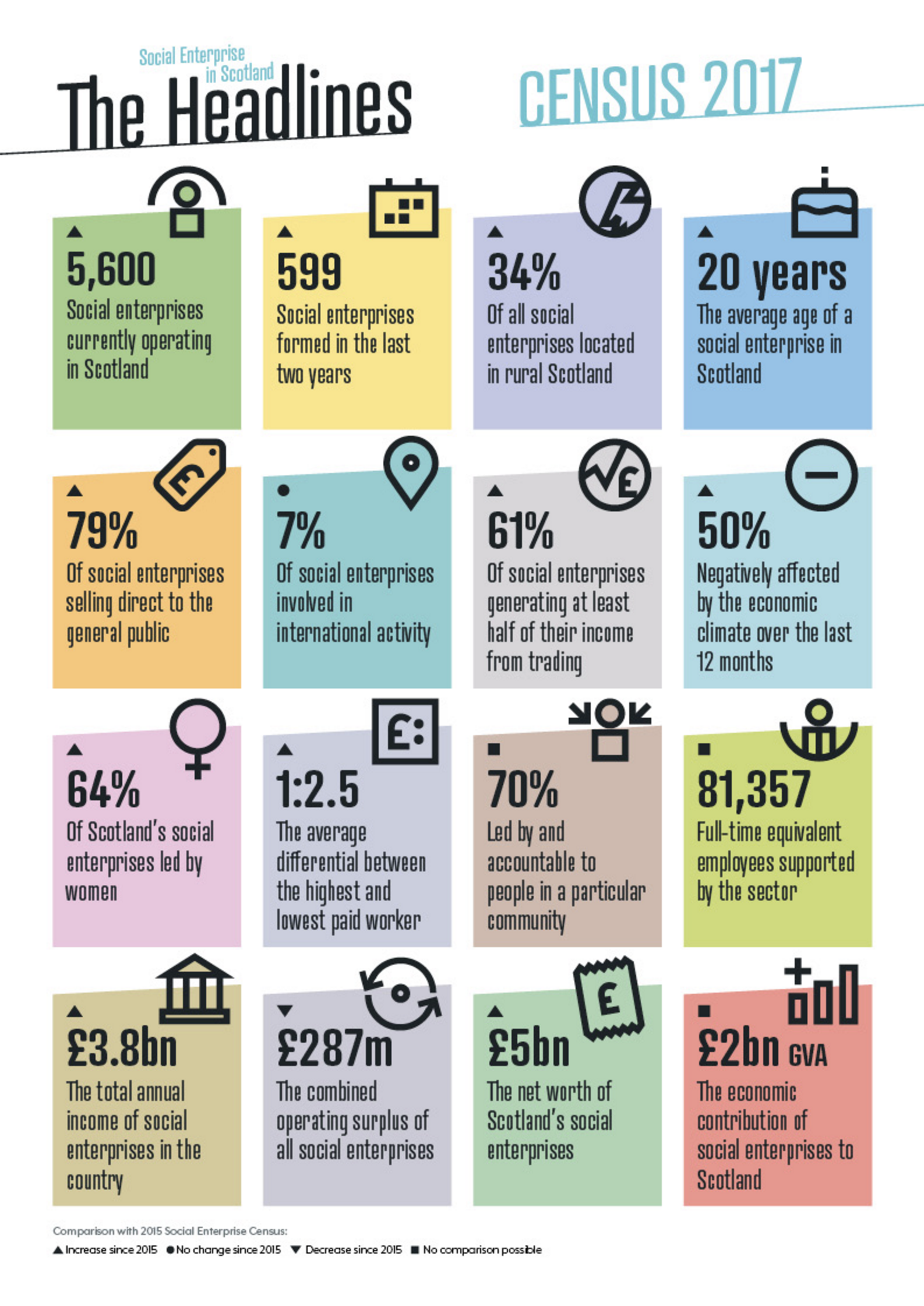 With Cordant Group recently announcing its plan to introduce a salary cap for top earners at £400,000 (20 times its lowest-paid staff), the Census shows that, on average, the top salary for a social enterprise employee in Scotland is 2.5 times that of the lowest paid.
The Census aims to track the changing scale, operations, and economic contribution of Scotland's social enterprise sector. It is a collaborative project led by CEIS and funded by Big Lottery Fund, the Scottish Government, and Social Investment Scotland.
11 organisations comprise the project's Steering Group, including Social Enterprise Scotland, Highlands and Islands Enterprise, Social Enterprise Academy, and the Council of Ethnic Minority Voluntary Sector Organisations (CEMVO).
After its baseline report in 2015, the Census is being conducted every two years over the course of the next decade.
However, the Census also reports waning confidence within the sector, with over one third of social enterprises reporting feeling slightly or much less confident about their economic prospects over the coming year (compared with the last 12 months).
Higgins added: "The 2017 Census also shows that some parts of the sector remain fragile or in need of continuing support to fully realise their potential."
Angela Constance MSP, communities secretary, said: "The Scottish Government will continue to support social enterprises through our ten year strategy, investing millions of pounds into the sector.
"We are keen to work with social enterprise communities at home and abroad," she said, adding that Scotland would be hosting the Social Enterprise World Forum in 2018.
"I am proud of all we have achieved, working collaboratively and I look forward to doing even more in the years to come."
You can read the full Census report and summary documents here. 
Photo credit: davidaveyard