Government estimates 471,000 social enterprises are active in UK
A government report published on 15 September estimates that there are 471,000 social enterprises in the UK and 1.44m people employed by the sector.
Social Enterprise: Market Trends 2017 found that social enterprises make up nearly 9% of the total UK small business population, which comprises all enterprises with fewer than 250 employees.
The report also compares the characteristics of social enterprises with the slighter broader category of small or medium-sized businesses (SMEs), which are those enterprises that employ less than 250 members of staff and are neither traditional non-profits nor social enterprises. It found that 93% of social enterprise employers generated a profit over the last year, compared to 76% of SME employers.
The report was commissioned jointly by the Department for Digital, Culture, Media and Sport (DCMS) and the Department for Business, Energy and Industrial Strategy (BEIS).
The Cabinet Office produced a biennial report on UK social enterprise market trends in 2012 and 2014. These studies estimated the number of social enterprises in the UK based on the Small Business Survey (SBS), which is the BEIS flagship survey of small businesses.
However, the 2017 report proposed a different methodology after concerns were raised over the suitability of questions used to identify social enterprises in the SBS.
Social Enterprise: Market Trends 2017 altered the criteria to identify a social enterprise, covering the following aspects: income, use of profits, and organisational goals.
To qualify, at least 50% of an organisation's income must come from trading or commercial activities, with rules or restrictions in place to ensure profits are chiefly used to further social or environmental goals. Social or environmental goals must also be of equal concern, if not greater than, financial goals.
The report also identified 22% of the UK SME population as socially-oriented businesses – that is, businesses that have social or environmental goals, but do not use their profits chiefly to further those goals. Two-thirds are purely commercial SMEs, with no predominant social or environmental objectives.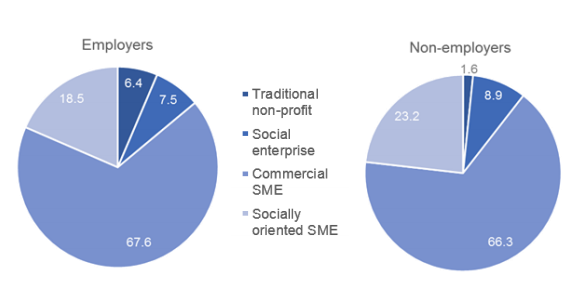 In terms of leadership, the report found that social enterprises are less likely to be entirely male-led compared to SME employers. It also found that the two groups had similar percentages of individuals from minority ethnic groups in leadership positions.
Social enterprise employers are reportedly more likely to 'innovate' and implement new ideas than SME employers. Two thirds of social enterprise employers innovated products or services (43% of SME employers) and half innovated processes (19% of SME employers).
The top three reported obstacles for social enterprise employers were found to be: competition in the market (61%), regulations (58%) and taxation (49%). This was followed by recruitment and skills (39%), workplace pensions (28%) and the UK's exit from the EU (28%).
To read the full report, click here. 
Photo credit: UK Parliament