SEWF 2017: what the delegates thought
There were 1,600 people from all around the world at the Social Enterprise World Forum in Christchurch last week, making it the biggest world forum to date. Rata Ingram had a chat with some of them to find out what was inspiring them and what lessons they were going to take home.

Clary Castrission, CEO

40K Group (Sydney, Australia)

Why have you come to SEWF?

I began a social enterprise that won the 2016 Google Impact Challenge Technology Against Poverty Prize, and I have been invited as a speaker about global citizenship and the sustainable development goals.

What do you hope to get out of the conference?

I hope to learn more about who's doing social enterprise well, who has cracked the social enterprise model and learn pragmatic approaches.

What do you think about SEWF so far?

Some of the speakers have been phenomenal. For example Natasha Garcha from the workshop about doing social impact investment well. I'm getting some interesting insights from the Scotland and Canadian speakers as well.

 

Why have you come to SEWF?
I started a tourism company, but I had a concept that I wanted to go beyond the normal operation of business. I wanted to make it more community-inclusive. In Vanuatu tourism took revenue and I wanted to be giving back to the community, giving people more security, and working with young people and youth groups. I am commissioning smaller operations, making my business very community-focussed.
What have you learned from the conference so far?
I've been talking to a lot of people here. The context here is quite different, hearing from many different countries. You can still trace common themes like social issues and involving youth. I'm very much enjoying it. I'm learning a lot, getting new ideas to bring home and implement.
 
Donne Marie Threadwell,

Inspiring Stories (Christchurch, New Zealand)

Why have you come to SEWF?

I've come to learn about what others are doing (locally and globally) in the social enterprise sector, what challenges they've faced and how they've overcome them. To be inspired!

How are you finding it so far?

It's awesome! From the organisation of the event to the quality of speakers, it has all been amazing.

What are your hopes for the future of social enterprise?

I hope New Zealand adopts a more inclusive approach to social enterprises. We have a massive opportunity to learn from countries who have already adopted social enterprise as part of their communities/economy. I want to see New Zealand recognising social enterprise as a legal entity in its own right.

Kat Cowan,

CBEC, the Community Business Economic Centre (Kaitaia, New Zealand)

What has been your perspective of SEWF so far?

The event is so inspiring and great for making connections. I work in craft and recycling, and it's great to see different types and approaches to working in this area. Realising how fast and passionate everything is, it's exciting!

What are you main takeaways from the event?

A new sense of belonging, and confirmation what I'm doing is a good thing and it is happening.

What's been your favourite part so far?

I loved Julia Arnott talking about Rekindle. Also hearing from a lot of people working in recycling and craft, seeing that taking care of the earth is the top priority.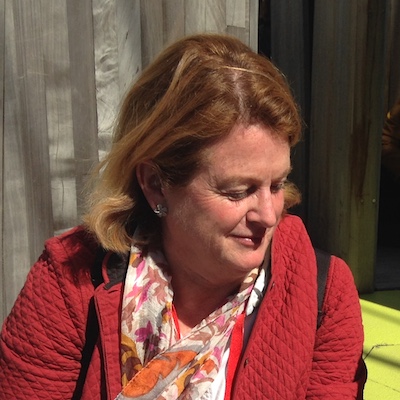 Jeannette Gurung, Executive Director, 

WOCAN, Women Organising for Change in Agriculture and Natural Resource Management (Hawaii, USA)

What have you got out of the event so far?

This isn't my usual crowd, so there's a lot of new people. I've been trying to figure out how to take advantage.

What brings you to SEWF?

I was invited as a speaker. My organisation focuses on gender and women's rights. We were the first in the world to create a certification standard for endorsing participation and benefits for women. We monetise the impact of women's empowerment.

Where do you see the future of your social enterprise headed? What are your hopes?

I'd like to see our certification program used more widely, for the market to be built on social value rather than profit. We need to assert entrepreneurship opportunities for women and incentivise organisations to provide more benefits, because right now there's a lack of investment in empowerment, and that something that really needs attention and resources.

 

John Stevenson, Founder of

Revilo (Tauranga, New Zealand)

What brings you to SEWF?

Next year I'm hoping to launch a new social enterprise, so I'm having discussions here in the lead-up to that. I'm taking the opportunity to network and learn more about what it takes to create a successful social enterprise. It's a big and broad project, called Revilo, centred around making healthy living easier for all New Zealanders. It was inspired by some of my own personal struggles. My wife and son have had some health challenges and I wanted to be able to put healthy food on the table, but it's the more expensive option. I even had to go to the food bank for a few weeks, and that made me realise I want to be a part of the solution.

What are your main takeaways so far?

For me it's the validation that what I'm doing is worthwhile. Initially, I was wondering if I should become an expert in healthy eating, but I wanted to make more impact, and I could do that by creating a framework. There's been a lot of talk here about creating systems, not products. About tackling big problems structurally to change the system. Instead of charities relying on donations and grants we can create this self-sustaining business model that's doing real social good. I feel validated by social enterprise, and am being inspired and encouraged by hearing all the case studies.

What have been your favourite parts of the event?

Being exposed to such a wide variety in a short-paced stretch of time. Hearing four or five different enterprises get up and talk about what they're doing, and then having a Q&A session, it's a great way of doing it. Raw case studies.

What are your hopes for the future of social enterprise?

I hope it will really take off as an idea, in fact, the conference has shown how much it already is! It's only a matter of time. The social enterprise mindset makes sense for the economy. It's better for the planet, more cost-effective long term and profitable. I hope we will get to the point that regular business is the odd one out.

 

Jimmy Pham, founder and chairman,

KOTO Foundation and Enterprise (Ha Noi, Vietnam)

What brings you to SEWF?

I was invited as a speaker for a plenary on characteristics and values of social enterprise.

How are you finding the atmosphere?

Very friendly. I like how it's being run so sensibly and responsibly. Here it is much more grassroots than last year's forum in Hong Kong. Lunch is not so formal, out in the carpark and in the theatre, mixing with different people.

How did you get involved with social enterprise?

I started a social enterprise, KOTO, 20 years ago in Vietnam, so I'm one of the pioneers. We were one of the first recognised social enterprises. We take disengaged, disadvantaged, at-risk youth and transform their lives by giving them holistic training and getting them jobs in hospitality.

What do you hope for the future of social enterprise?

To exist and become supported and successful. It needs support from the global community. I'd like there to be more awareness of what it is, and policymakers coming to the table to bring benefits. As well as top-down support, from the community-level there should be more people supporting enterprise by buying and engaging with their products and services, and advocating the social impact social enterprises can bring.

Rata Ingram worked with Pioneers Post as an intern during the Social Enterprise World Forum 2017. Pioneers Post is proud to be media partner to the event. To see all of our Social Enterprise World Forum coverage click here.

Header image: Peanut Productions, New Zealand