Voices Against Violence: how theatre is combating domestic abuse in the Solomon Islands
Solomon Islands women are all too frequently attacked by their husbands - the country has one of the highest rates of domestic violence in the world. But a courageous group of women is challenging this culture through theatre and social enterprise. To mark International Day for the Elimination of Violence Against Women on 25 November, we explore their journey from shy beginners to confident performers who are making real change in their communities.
Eight women stand silently on a theatre stage. Their jaws are set strong, their bare feet are planted squarely on the floor, their fists are clenched by their sides. Together they slowly take one step forward, then another.
Suddenly they clap their hands once, then bring their left hands up to their cheeks as if they've been struck, flinch backwards and gasp in pain.
The women turn again to face their audience and their eyes silently tell their stories. These are stories that have rarely been heard: how they, their sisters, their mothers, their grandmothers, have been beaten by their husbands, humiliated or controlled; how these women have had no alternative but to tolerate abuse like this for years, for lifetimes.
These women are performers with Stages of Change, a theatre group founded in 2013 on the Solomon Islands as a way to tackle the huge problem of domestic violence in the islands' culture. Their performance, Voices Against Violence, features 14 women using mime, choreography and traditional Melanesian imagery to convey their experiences and their message that this abuse must end.
The group began hesitantly but, with the help of professional theatre directors from the Conch Theatre Company in New Zealand plus backing from the British Council and others, they've gained confidence, performed overseas and even impressed heads of state. Now they are creating a social enterprise to continue their work into the future.
I meet the group's leader Rhian Sanau in September 2017 at the Social Enterprise World Forum in New Zealand in a workshop about the British Council's Active Citizens programme. The British Council's support for active citizenship, plus a partnership with the British High Commission in the Solomon Islands and the European Union, helped the idea for Stages of Change to develop.
Active Citizens is a method of helping people all around the world develop the skills and capacity to tackle, in their own way, the problems that their communities face. After we spend an hour with other Social Enterprise World Forum delegates discussing how people need to first learn about themselves before they can work well with other people to create change, Rhian and I sit down for a quick chat. Rhian speaks quietly and eloquently about the journey she and the other performers have taken.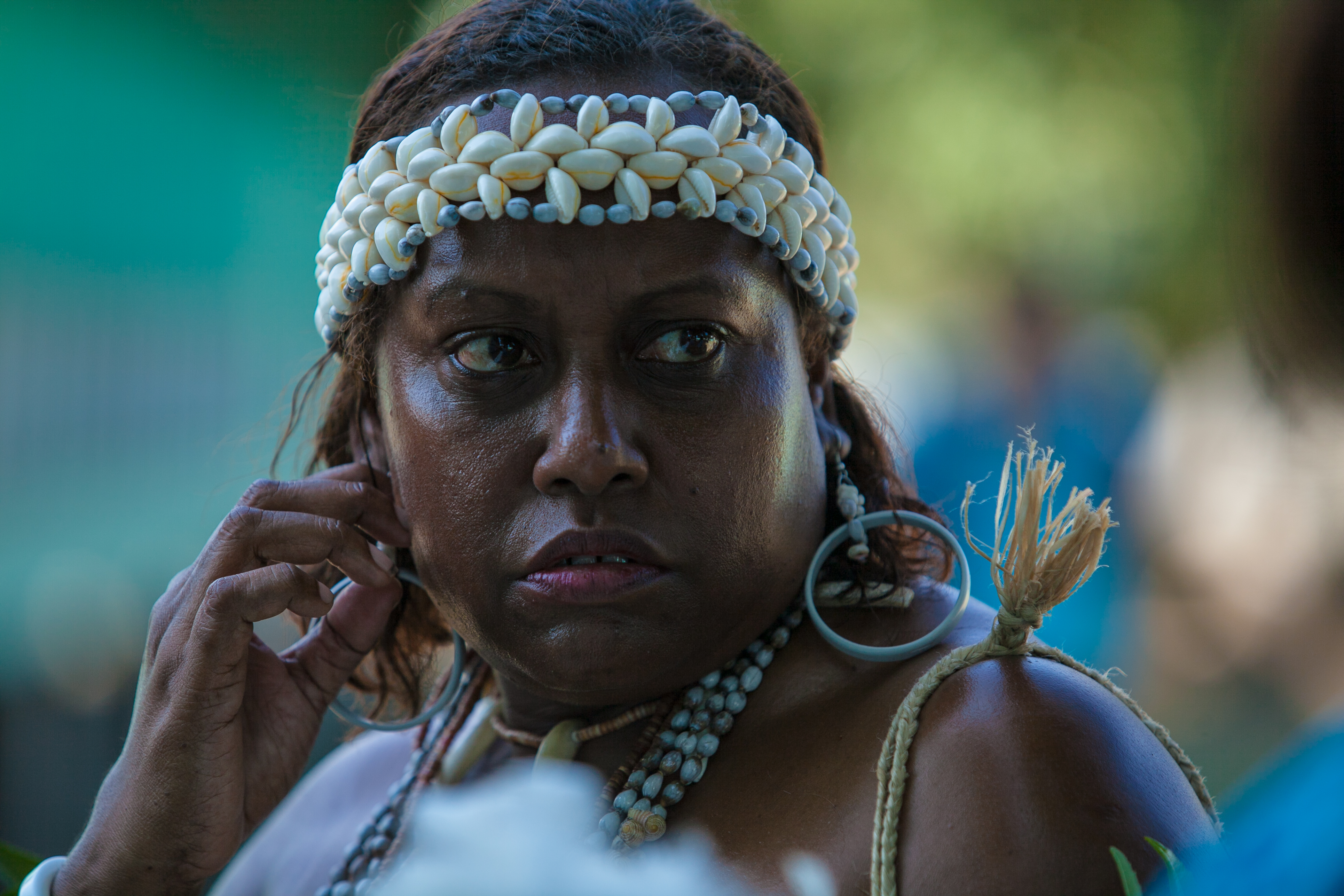 Rhian: "Through theatre we can speak out"
"It's a taboo in our society to talk about these issues," she says. "But most women in the country face domestic violence." (In fact, according to the World Health Organisation, nearly three quarters of men and women in the Solomon Islands believe violence against women is justifiable and almost two out of three women have experienced some form of violence from a partner.) For these Solomon Islands women, using theatre is a non-confrontational way to safely address the issue. "With visual theatre we have action without words," Rhian explains. "There's no naming and shaming in theatre. Through this we can speak out."
And speaking out is exactly what they have been doing. They have performed across the Solomon Islands as well as further afield, including in Papua New Guinea, Samoa and Fiji. In 2015, they visited Brussels in Belgium to perform at an international conference where they also met the EU Commissioner for International Cooperation and Development Neven Mimica.
For the British Council, Stages of Change is an inspiring example of what its Active Citizens programme can achieve, but there are many others too. In the Social Enterprise World Forum workshop, Jakira Khanam of the British Council explains how the programme is working across the world, using the same approach to empower people to take their own positive social actions. She adds that some of the projects that emerge from the process – like Stages of Change – go on to become social enterprises. Other projects to have developed out of Active Citizens include a student-run drive to increase donations to a food bank in the UK, an English-language training project in Vietnam and, in the Philippines, a tourism enterprise run by a range of ethnic groups in a conflict zone.
You must let the people define what the problem is. Then give them the opportunity to come up with the solutions
Samoa is the 52nd country to host Active Citizens training with workshops taking place in November. Samoan Alatina Ioelu is also with me in the Social Enterprise World Forum workshop. He is chief executive of the Small Business Enterprise Centre in Samoa which is hosting the Active Citizens programme. Alatina explains that one of the challenges the country faces is high unemployment and that he believes social enterprise could be a powerful way for the community to begin to help itself. "It's not about creating cities and factories" to generate employment, he says. "It's about giving people a positive outlook. We can help communities see that they can still make money and address some of their social issues."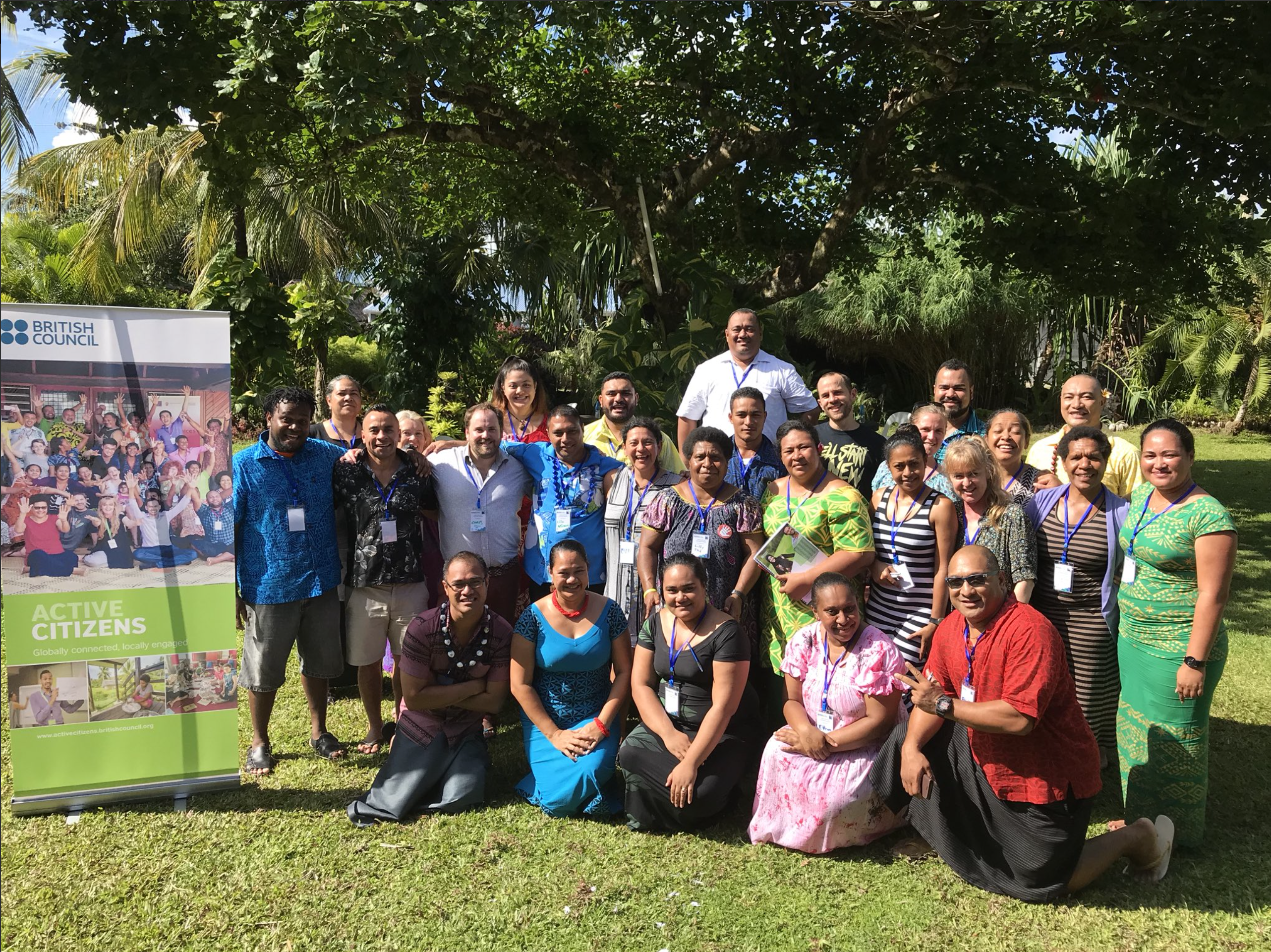 Active Citizens participants in Samoa in November 2017
Peseta Afoa is another workshop delegate. She is president of Samoa's Women in Business Development organisation and she too is involved in the Active Citizens training. She emphasises, in a nutshell, what it's all about. "You must let the people define what the problem is," she says. "You'll be amazed at how understanding they are about the problems they have. Then give them the opportunity to come up with the solutions."
For Stages of Change, this is exactly what has happened. The theatre group has given the women a voice and a way to solve the problems they faced. In addition to their regular performances, they've been interviewed for newspapers and radio, a documentary about them has been screened in six countries and their stories have been compiled into a book. What's more, their work has been credited with contributing to a law passed in 2014 which, for the first time, protects women and children in the Solomon Islands from domestic violence.
"One of the greatest messages is that women can do it," says founding production co-ordinator Lanieta Leo. "When the opportunity is there, I believe women can do it."
See Stages of Change on Facebook @StagesOfChange
There are two films about Stages of Change available on YouTube: one is 3 minutes long and the other is 23 minutes.
Header photo: A Stages of Change performance. Photo by Faanati Mamea.