Making social enterprise the future
At a new project in Jamaica, 'master trainers', teachers and school students are all learning new skills and approaches which can transform lives.
"If you're going to get social enterprise truly embedded into schools you need to get the schools themselves working differently," says Lindsey Hall, chief executive of the UK-based Real Ideas Organisation.
"You need to work with people on the ground, understand what their opportunities are and try and help them to find a way through that is going to work for them." But, she adds, it's well worth making the investment.
Hall and her colleagues have been supporting the development of the British Council's Social Enterprise in Schools Programme in Jamaica, a partnership with the Victoria Mutual Foundation which was launched in March, 2018. Starting with 1,800 students in six schools, the programme ultimately aims to work with 16,000 students across the country.
And though it's an ambitious target, in many ways social enterprise fits right into the prevailing culture, explains Damion Campbell, British Council Social Enterprise and Youth Engagement Programme Manager, Jamaica.
The average Jamaican wants to start a business. We're also very big on volunteering, and on addressing social needs
"We are a talented people in terms of arts, business and creativity. The average Jamaican wants to start a business. We're also very big on volunteering, and on addressing social needs."
Now, with unemployment markedly on the increase – and youth unemployment at three times the national average – the Jamaican government is turning a fresh eye onto the whole potential for social enterprise. It is revising its micro, small and medium enterprises (MSME) and entrepreneurship policy, with a specific section on social innovation. Within this policy, social enterprise is defined as 'a business whose mission is to solve social, economic or environmental problems at the community and/or national level through effective and ethical business practices with the reinvestment of profits to the social mission [and has] the dual responsibility of creating social value and ensuring financial viability.' The Ministry of Industry Commerce Agriculture and Fisheries and the Planning Institute of Jamaica have set up a social enterprise working group, whose stakeholders include the British Council.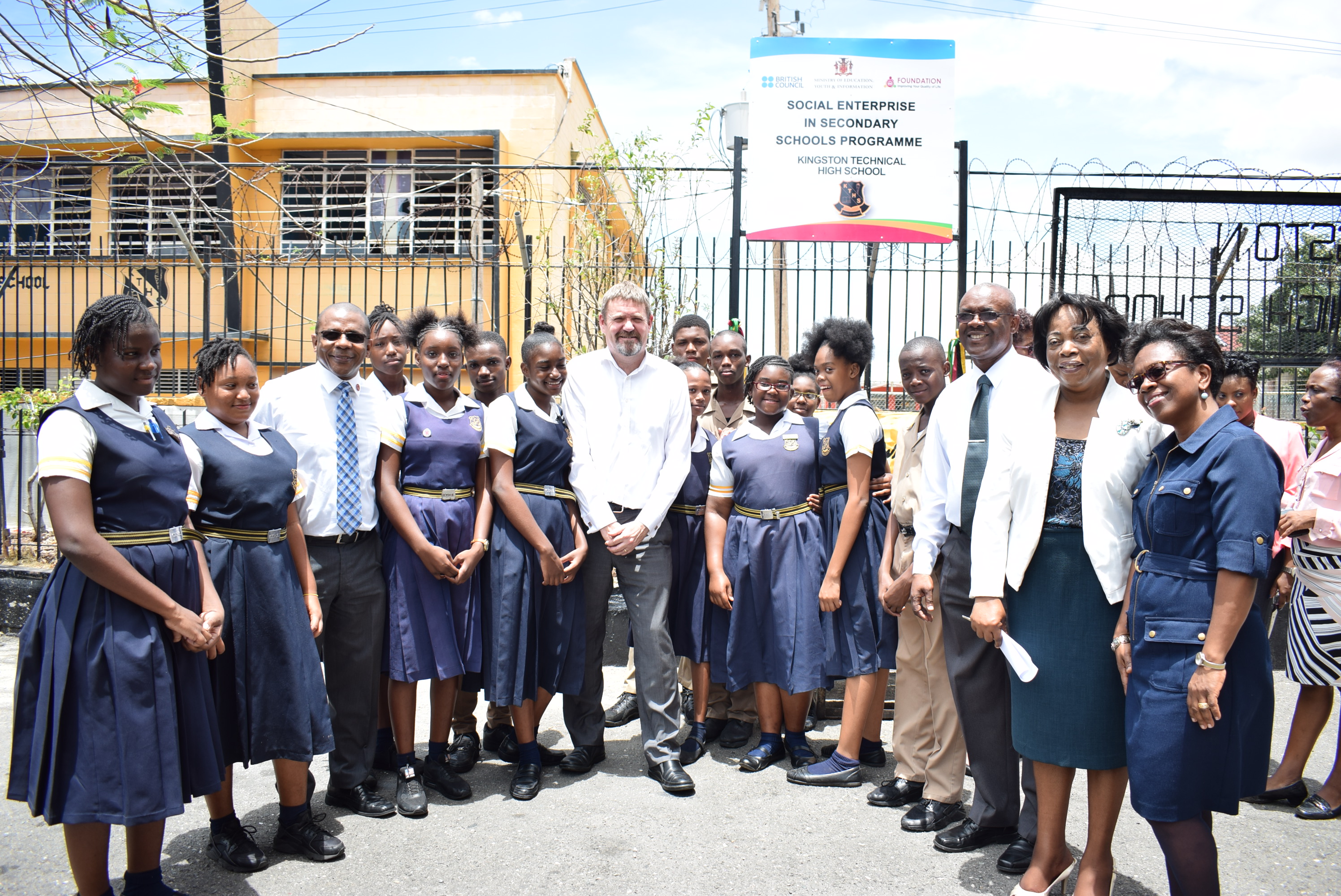 Mark Howard (centre left), Regional Director for the Americas at the British Council, and Courtney Campbell (centre right), Chairman of the Victoria Mutual Foundation Limited, joined by students and staff at the Kingston Technical High School.
Developing skills and awareness
The British Council schools programme links into this. It aims first to equip young people with skills, and to get them working on their own enterprises; but also through this to open up their awareness of all the different opportunities that they might take up – through work, higher education and/or through non-traditional areas of study – both in their immediate communities and more globally. It is being delivered through 'master trainers', who have already been working with RIO and are now turning to training teachers in the whole issue of what a social enterprise is and how to start setting one up.
Master trainer Gail Hoad has been talking to three schools, along with representatives from existing social enterprises. "I was new to the whole concept of social enterprise and it has been very interesting," she says. "It's also been very different depending from school to school. Some of the ones we are working with have a lot of resources, some have very little, some are in the heart of Kingston and some are rural, and so on.
"The common principles are the same but the support they need and the enterprise each school develops will be different. However, they've all been interested and excited about the potential. They didn't know the term 'social enterprise' but they knew the principles – they already have clubs and activities which have introduced the idea of income earning to address problems – and some have already developed ideas for their own projects."
One of those schools is Kingston Technical High School, which is planning to develop a 'cosmetology' (beauty treatment) social enterprise which will also eventually provide training opportunities for other people in and around Central Kingston.
Stacy-Ann Robinson-Panton is one of the teachers who have already been working in this field without particularly terming it 'social enterprise' in the past. She says: "We've been developing several products with students and teaching about marketing in the local community, for about seven years now. I was one of the first selected to take part in this programme and I think it's a lovely one. The students, who are aged 12 to 15, have a huge capacity and interest, and there are so many things they want to solve. They're full of energy, they're willing to put the work in and they want to be a part of whatever success stories result from this. The programme in our school will be self-sufficient, and it'll also offer scholarships to people who want to get involved and gain certification – it's not just limited to the school alone."
This is of course just the start. Kingston Technical High School is probably the most advanced in its planning, and it needs first to create (and fund) the physical building for its social enterprise. Other schools are still working out what they plan to do.
We deliver sessions on what a social enterprise is, but the schools also need to get to the point where they have one," says Hoad. "The project doesn't provide all the resources. It's a challenge, in terms of what needs to be done and how, but it's an interesting process."
"There is a really quite big journey and it's a big ask," Hall agrees. "We've now been developing additional materials and guides to support the master trainers, who're about to visit us and discuss how it's all been going and what they need. We'll continue to support them for a couple of years, and build as much remote support as we can. But I'm really confident that there are massive opportunities for building young people's confidence, skills and engagement with their communities. At RIO we believe that  if every young person in the world experienced social enterprise growing up, we'd end up with a much more egalitarian society."
It helps us get our minds straight so that we know about the aspects of a business, and get more experience before we leave school
George Lanley, 15, is one of the students involved with the social investment programme at Kingston Technical High School.
"It's a good programme. It helps us get our minds straight so that we know about the aspects of a business, and get more experience before we leave school. I think the best thing about it is the way it offers people certification, training and experience.
"We know our goals and what we want to achieve with the cosmetology lab. We'd like to get more people certified in our school and in the community and we'd like to offer at least one scholarship to a student who needs assistance in school. All we need to do is work together and put our minds to it."
Interested in social enterprise education? The British Council's Social Enterprise Adviser Juliet Cornford will join colleagues from Greece and Kazakhstan and speakers from the Social Enterprise Academy and Kibble Group for a Workshop and Lunch session at the Social Enterprise World Forum called 'Empowering the Next Generation: social enterprise in schools' (13th Sep).