Rania Ayman: Yes, she can
From selling perfume at college to building a national support community for female entrepreneurs in Egypt, Rania Ayman is determined to ensure that women take their place in the business world.
Rania Ayman isn't easy to reach. When we do finally speak on the phone, she's apologetic. "We're preparing for the graduation night for one of the cycles," she explains. "We're overwhelmed with preparations!"
It's hard to imagine the 25-year-old (pictured below) being truly overwhelmed. The founder and director of Entreprenelle, which helps female would-be entrepreneurs, talks so quickly I can just about keep up. She "barely takes a vacation" and regularly works weekends – but prefers this "to just hanging out… I'm doing what I love."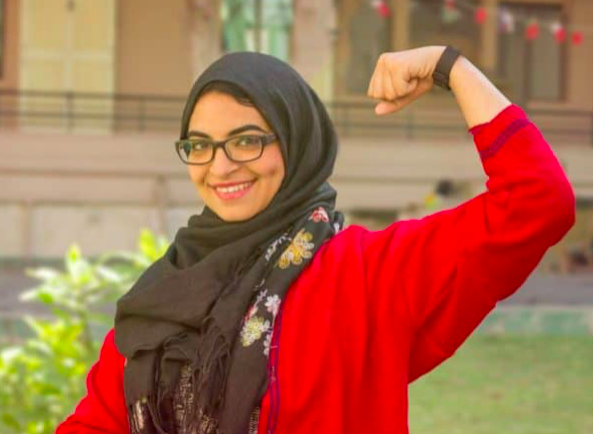 Ayman was raised in a middle-class family, the eldest of three daughters. After studying Business at university, she planned to start her own venture – and was surprised to find that start-ups were dominated by men and some older women, but "no young women". For someone who had founded an online cosmetics store while at high school, this made no sense. A voluntary role with the entrepreneurs' community Startup Grind made the divide clearer still: most of those attending events were men.
Ayman had found her cause. Alongside her day job in a marketing agency, she started blogging to motivate other young women to start a business. "There's no restriction other than the culture and the fact that they think it's impossible," she says.
There's no restriction to young people starting a business other than the culture and the fact that they think it's impossible
That culture, however, remains powerful – 87 per cent of Egyptian men (and 77 per cent of women) believe a woman's most important role is to cook and look after the home, according to a UN-led study last year. Women's voices in Arab countries are getting louder, particularly since the 2011 uprisings. But while the gender gap is closing within education, in the workplace it still looms large. Less than a quarter of women in the Middle East and North Africa (MENA) were employed in 2015, compared to around 60 per cent in OECD countries. Low employment rates affect entrepreneurship: most business owners start ventures after some time in paid employment. In recent years, Egypt's percentage of women entrepreneurs has been the lowest in the MENA region and Africa.
Even those well-positioned to succeed face discouragement. "Everyone told me: 'You won't do it, it will be hard to reach investors or run your business alone, you need a male co-founder'," Ayman says. She ignored them, launching Entreprenelle in 2015 to host an event for would-be entrepreneurs, billed "She Can" and with the message, she says, "that it's okay to fail".
87 per cent of Egyptian men believe a woman's most important role is to cook and look after the home
Today, Entreprenelle is a fully-fledged social enterprise aiming "to bridge the gender gap economically by educating, training and linking women to all resources possible". It delivers one-off workshops and industry-specific training programmes (for example, focusing on fashion or food). There's a strong focus on marketing: many participants have "awesome products", says Ayman, "but don't know how to price and sell them". Entreprenelle also hosts an online community and continues to put on "She Can" events.
Interestingly, Ayman wasn't initially focused on revenue, working on Entreprenelle above all "for the cause" and alongside her other work. Thoughts of sustainability, however, pushed her to figure out a business model.
Today, the enterprise generates income through advertising, sponsorship and workshop fees. Monetisation hasn't always been easy. "The term social entrepreneurship in Egypt is still not clear," she says. "[People think] if you're doing it for a cause why is it necessary to make money? It was a bit hard to convince people."
But convinced they were: the company now has seven full-time staff and 30 volunteers. Up to 70 women attend in-depth training each month. The Facebook page has nearly 200,000 followers. Over 15,000 women have been directly involved to date.
Sometimes if a woman's business is growing, she's more exposed to domestic violence 
Reaching that scale has taken the company far from its base in Cairo. It now works in eight governorates, including in rural areas where female-led businesses tend to stay small and informal, and where business support services are harder to access. In these locations, Entreprenelle's workshop fees are covered by donors. Programmes also take into account more traditional attitudes. "Sometimes if a woman's business is growing, she's more exposed to domestic violence, or her husband takes her money," Ayman says. So engaging men is part of the programme: husbands are invited to workshops; stories of successful male-female business partnerships are shared.
Entreprenelle is not the only cheerleader for women-led businesses. Numerous national and international initiatives in Egypt support female entrepreneurship as a means to boost GDP growth, incomes and gender equality. But Ayman insists there's "no competition", only collaboration. "Whenever we contact anyone to help us develop contacts or do a campaign, they're always supportive," she says.
Ayman's wider network has clearly been influential. Her mentors have played a big part in the company's progress, she says. At international events – like this year's Social Enterprise World Forum, where Ayman will be giving a masterclass – "networking is super important" and a chance "to open up my mind to new ideas". Investors are also shaping things: earlier this year, Entreprenelle was among the first investees of a new venture capital fund, Edventures. The funding – reportedly at least five figures in US dollars – will help generate more content and obtain rights to use training material from universities worldwide.
There are still ups and downs. Cashflow concerns sometimes "turn my stomach to butterflies", Ayman admits. But experience has made her pragmatic. "I've faced hard days in the past, so this one will pass too. We already made money, so we can do it again." And, despite being a solo founder — "unfortunately!" — Ayman leans on others with a similar vision.
"We have a community helping us… I feel safe and secure by the amount of people [on our side]," she says. "We're not working alone."
Rania Ayman is joining the British Council's delegation to the Social Enterprise World Forum in Edinburgh where she will be delivering a masterclass on "Bridging the gender gap economically" on 14 September.