Ten times braver: Can city leaders power up their ambitions for a new economy?
Creative and social enterprises are already identifying and testing ideas benefiting their communities – and city leaders could do much more to support them.
Creative and social enterprises are the "research and development department" of cities, identifying and testing ideas that can be rolled out to benefit whole communities – and city leaders need to dial up their ambition in supporting them.
This is the message from the British Council and Social Enterprise UK (SEUK), whose latest report, Global City Challenges: The creative and social economy solution, calls on mayors to be "ten times braver".
Published earlier this month, the report draws on examples from urban centres large and small to highlight solutions already spreading – from a wind energy cooperative in Copenhagen, to a commercial art studio employing youth from low-income neighbourhoods in Boston.
But a "truly ambitious city" could achieve much, much more. Deeper cooperation across sectors could mean marginalised groups being trained and employed to install solar panels, alongside energy firms partnering with local colleges to train young people in green technologies, alongside artists and horticulturalists creating vertical gardens and beautiful cityscapes.
The missing piece in realising such ambition, claim the report's authors, is city leaders. Home to the majority of the world's population and responsible for 80% of global GDP, our urban centres are also the focal point for some of today's most pressing problems – from social integration to public health to unemployment – but also hubs of creativity, diversity and entrepreneurship. This puts mayors in a unique position to connect the dots, driving a new economic approach.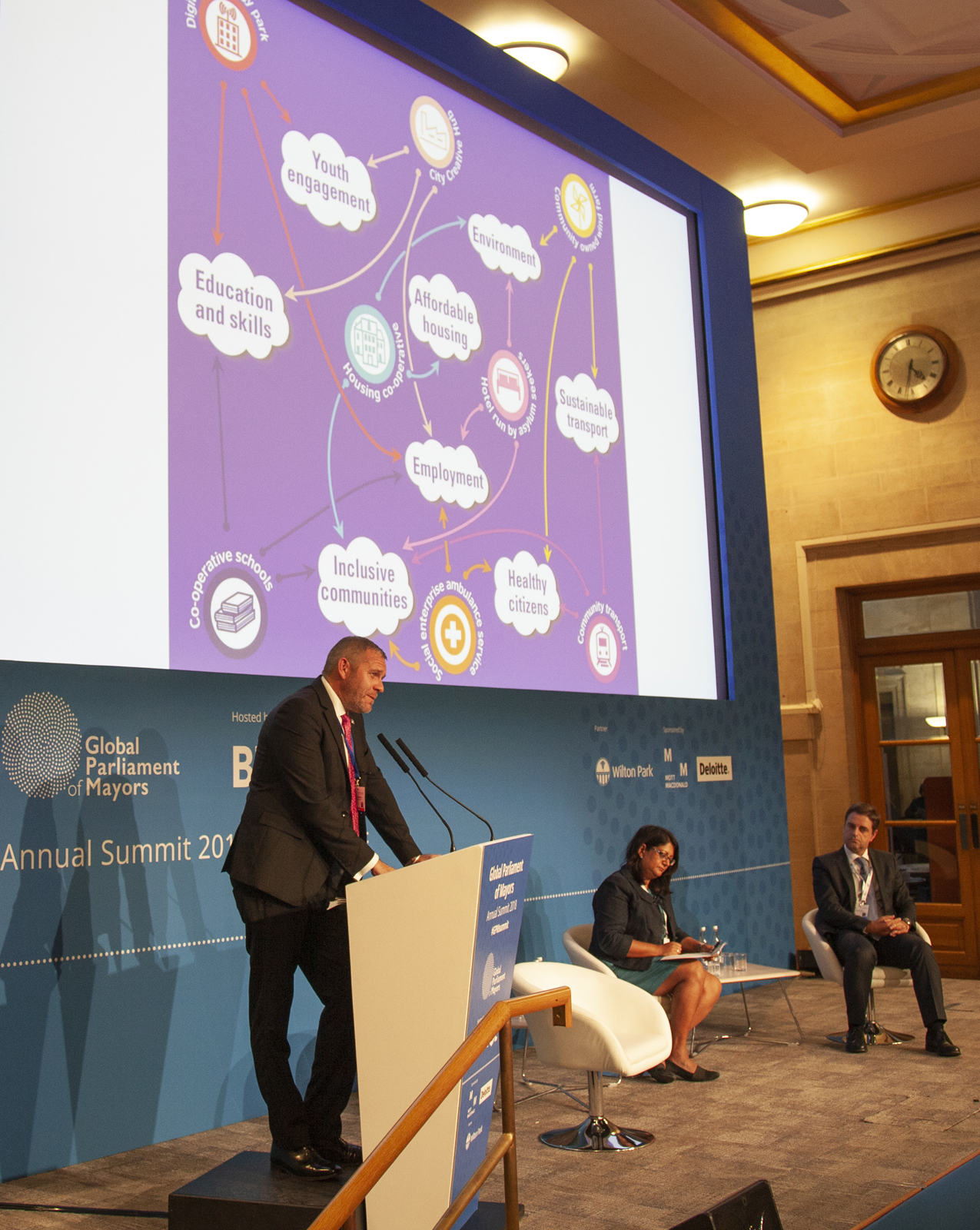 "Citizens should no longer be viewed as passive recipients of public services, or as economic units to drive growth, but as active collaborators on a shared mission," said SEUK chief executive Peter Holbrook, addressing the 80 mayors and city network leaders attending an annual gathering last week of the Global Parliament of Mayors in Bristol, England (pictured left).
Citizens and their ideas remained an "underutilised resource", he added.
Citizens should not be viewed as recipients of public services, or as economic units to drive growth, but as active collaborators on a shared mission – Peter Holbrook, SEUK
There are a number of ways mayors can change this, according to the report: through contracting and procurement, investment, enterprise development, tax and regulation, and awareness. Mayors should start by linking in to networks of entrepreneurs, or create them if they don't already exist.
Mayoral powers varied from one city to another, but everywhere "softer levers" of influence could play a role, said Dan Gregory, director of international and sustainable development at SEUK and one of the report's authors. Sometimes, he added, the best thing politicians could do was "get out of the way".
Ed Rowberry, chief executive at investment company Bristol and Bath Regional Capital, welcomed the report's focus on cities as a driver for change. His organisation has a strategic partnership with the Mayor of Bristol's office; working with an elected politician was good for the democratic legitimacy of an initiative, Rowberry said. It also raised its profile and "brings more people to the table, particularly businesses". 
Some city authorities may be less convinced. They may see creative and social enterprise as yet another sector "queueing up for attention", said the British Council's global head of social enterprise Paula Woodman. That's not the point. "It's not, do you invest in either housing or in social enterprise? It's not a trade-off or zero sum decision," she explained. "It's about employing a social economy approach across all sectors from housing to elderly care. That's what's really exciting."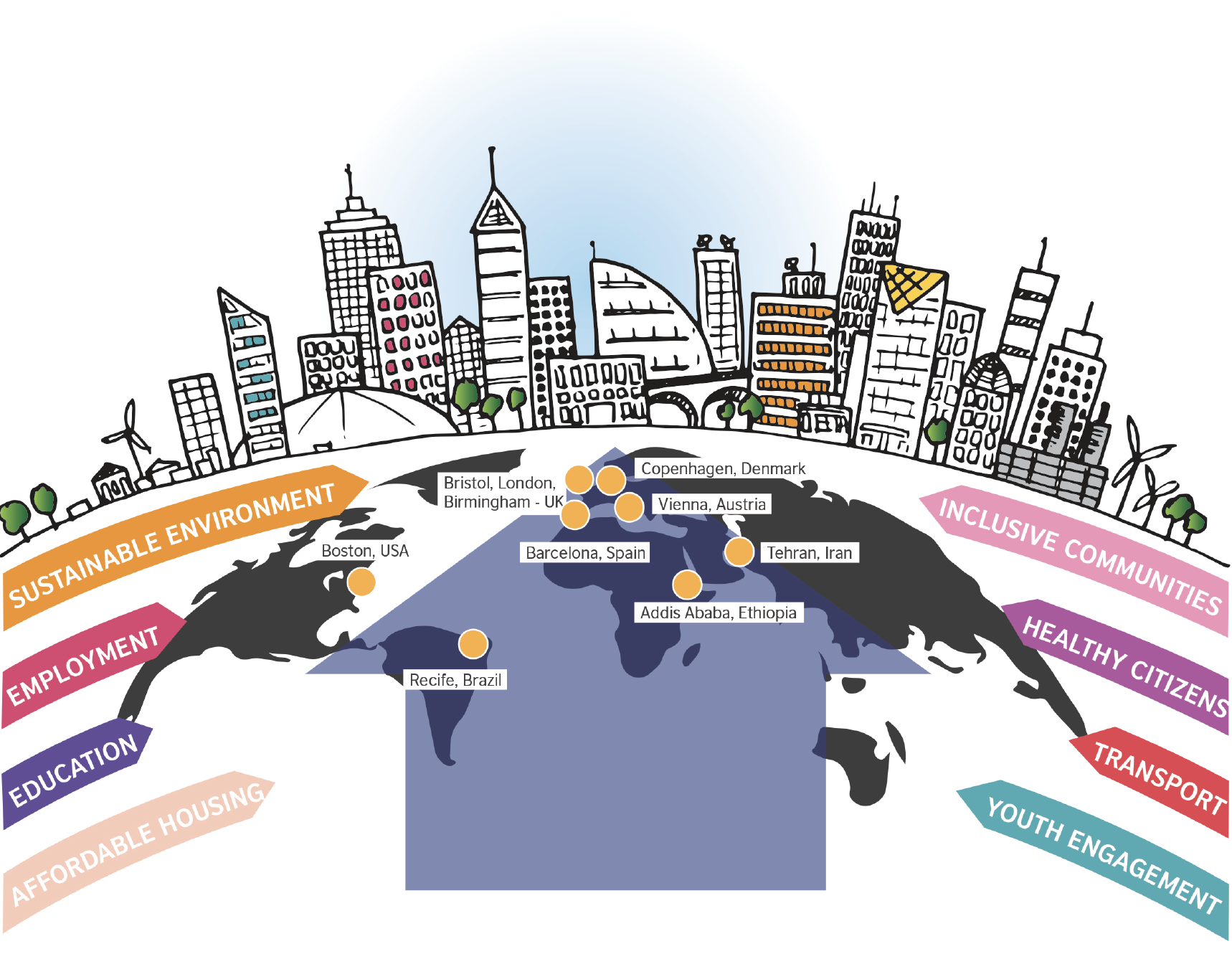 In every city there is an ecosystem in which change is both driven from the top down and from the bottom up. Graphic SEUK and KT&Co
Holbrook echoed this: "The notion that the private sector should drive economic progress and the public sector should drive social progress is outdated," he said. "The challenge faced by all civic leaders is how to reduce demand on public services – you do that by curating sustainable, inclusive economies that enable social mobility, creativity and entrepreneurialism to flourish."  
More participation would likely chime well with citizens too. Reykjavik's deputy mayor, Þórdís Lóa Þórhallsdóttir, pointed to the interest among younger Icelanders in shaping their communities, which had created "a totally new conversation" around how cities were run.
The mayor of Braga (Portugal), Ricardo Rio, told how youth associations created a programme to engage people in deprived neighbourhoods in cultural and educational activities, working alongside municipal departments. The change was visible, he said: "These were usually unsafe zones… now those problems are being solved through the community."
Some of his peers at the Global Parliament – which aims to "become a recognised force for good", involving 1,000 cities by 2030 – are already pioneering this approach. Bilbao (Spain) boasts participatory budgeting in every district, a set of citizen-agreed values that inform public policies, and a strong tradition of cooperatives. "We really believe in the social economy. There's no need for citizens to prove that it's worth it… they will be always welcome," deputy mayor Gotzone Sagardui Goikoetxea told Pioneers Post. On the whole, some cities still saw supporting social enterprise as an obligation, she said, but "more and more are turning towards the social economy".
We really believe in the social economy. There's no need for citizens to prove that it's worth it… they will be always welcome – Gotzone Sagardui Goikoetxea, Bilbao
Their support may be crucial if, as the Global Parliament of Mayors agreed, national and global institutions remain ill-equipped to deliver what citizens need. The Bristol Declaration – agreed at last week's gathering – calls for a stronger role for cities and international networks, and commits, among others, to creating a mechanism to share information and experiences on public health emergency response. 
Sharing is also the message for social enterprises. While the vision sketched in the report may sound futuristic, Gregory said first steps could be modest: replicating what works.
"[Social entrepreneurs] should have their eyes open to some of the amazing stuff going on around the world," said Gregory. "The UK is sometimes quite proud in thinking it's leading the way, but there's wonderful stuff happening in other parts of the world. You don't always have to reinvent things."
Header photo: Guggenheim museum, Bilbao, Spain; the city has strong support for the social economy. Photo by Phillip Maiwald, from Wikimedia Commons.