Why convincing corporates to buy social is not a huge challenge
Last week, five new companies officially committed to choosing social enterprise suppliers as part of the Buy Social Corporate Challenge, bringing the total number of firms on board to 15. The challenge has a target of £1bn of corporate spend – ambitious, but entirely within reach, writes Social Enterprise UK's director of business and enterprise, Jennifer Exon
Three years ago, we launched the Buy Social Corporate Challenge at Number 11 Downing Street. This campaign asks corporates a simple question – what if you could use your everyday business spending to change lives?  
The ambition behind the Challenge is vast – to shift how big companies spend their money, using their supply chains and procurement functions to support social. At the core of the campaign is the premise that social impact can be embedded into the way businesses buy goods and services. It's about going beyond CSR to use core business spend in a positive way. 
So how are we doing? 
As the Challenge enters its fourth year, we have seen companies from across sectors make a commitment to work with and support social enterprises. We started with seven businesses on board, and this has now risen to 15 with ENGIE, Lendlease, Nationwide, SAP and Willmott Dixon joining this year. 
While there is no fixed target – because we recognise that different companies spend in different ways – we do support businesses to develop appropriate and challenging targets, either as a percentage of spend (often 2-3% of their total) or an absolute number. 
In the space of three years, £65m has been spent on social enterprise goods or services through the Challenge and we now have 250 social enterprises supplying our corporate partners. There's still a long way to go till we reach our ambitious target of £1bn. But already, the Challenge has enabled social enterprises to re-invest £5.5m into their social missions: that's more money going into creating jobs, addressing financial exclusion, improving community health and wellbeing and protecting the environment. 637 jobs have also been created directly or indirectly through the Challenge – 308 of these in the last year alone. We surveyed 20 social enterprises winning work through the Challenge: all of them said they expect their turnover to grow as a result. 
The Challenge has enabled social enterprises to re-invest £5.5m into their social missions
Corporate contracts are helping social enterprises not only to grow but also diversify their offer, building their resilience. As an example, working with corporate clients has allowed Mediorite, which aims to open up the creative industries to young people, to expand into more complex and intricate areas of film such as the use of green screens and drones. And WildHearts, a well-established stationary social enterprise, set up a document management enterprise, WildHearts Horizon – partly due to the work it has won through the Challenge. 
We're also seeing a real willingness among companies to share learning and recommend social enterprise suppliers to each other, making the campaign very much a collaborative effort. Over half of the 250 suppliers have won new business as a result of a reference from an existing corporate partner. 
What about the corporate perspective?
There's a clear business case to working with social enterprise suppliers: every one of our existing 10 Challenge partners considers them of a higher or equal quality to their mainstream competitors.
Every one of our partners considers social enterprises of a higher or equal quality to their mainstream competitors
The majority of those involved in the Challenge also say it has contributed to diversity when it comes to supplier workforce. This is not surprising given that social enterprises are more diverse (and more representative of the UK population) than traditional SME suppliers: 41% are led by women and 12% by people from ethnic minority backgrounds. Meanwhile, two-thirds of social enterprises support people from disadvantaged groups. So switching to social enterprise suppliers helps companies to use procurement to reduce inequalities.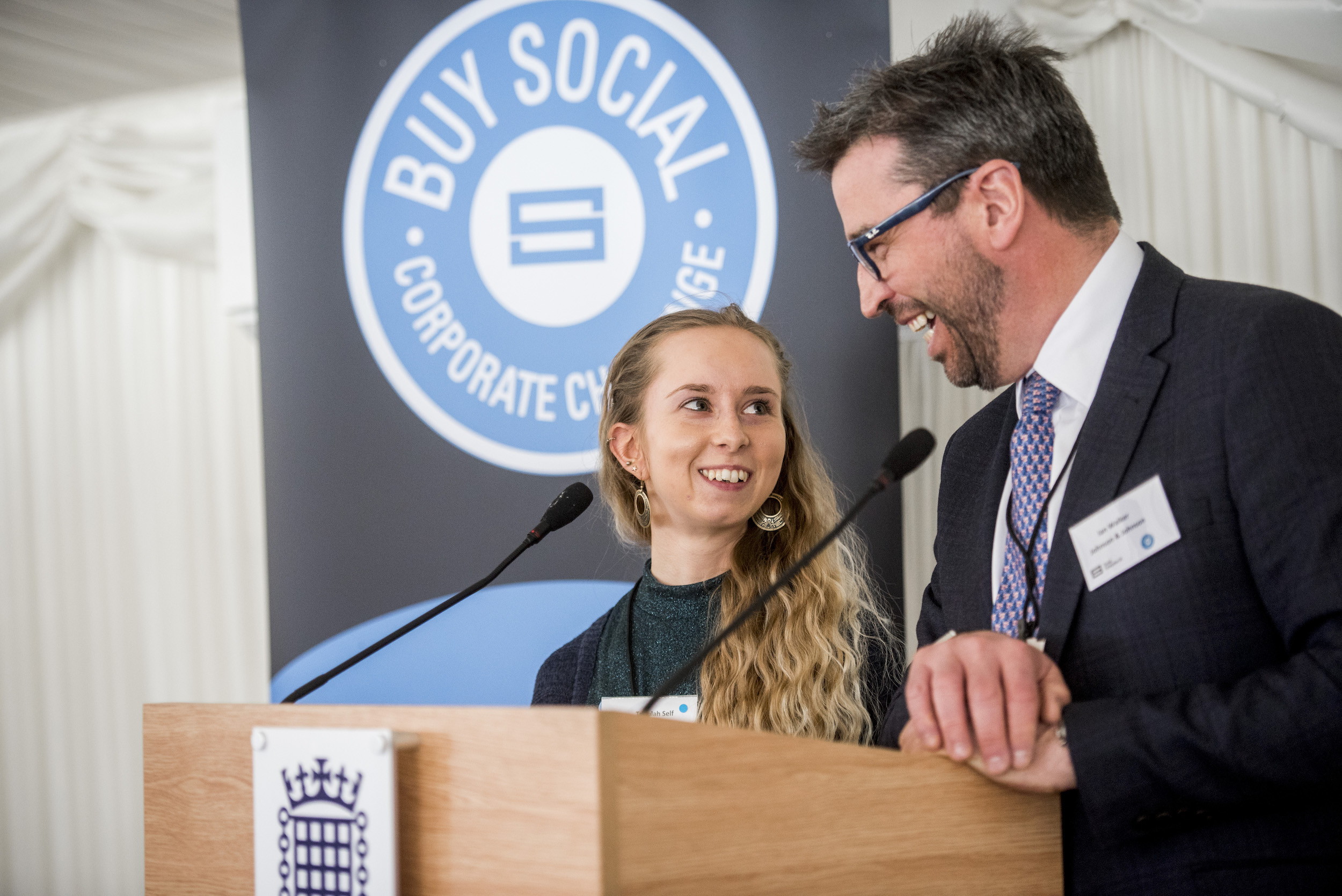 Tallulah Self, a filmmaker at social enterprise Inside Job Productions (which provides paid work and employment to young people struggling with their mental health), with Ian Walker, senior director at Johnson & Johnson Global Community Impact. 
The Challenge is also changing relationships between companies and their largest suppliers. Many large businesses have highly centralised procurement functions, so social enterprises often have to win business from other organisations further down the corporate supply chain. But we are starting to see corporates influencing their larger suppliers to also buy social. One example is Johnson & Johnson, which developed a strategy for social procurement with its facilities management provider, Sodexo. When this service contract came up for renewal it included a commitment from Sodexo to direct 3% of its spend towards social enterprises.  
It has not all been plain sailing, though. While demand from corporates is high, many social enterprises are not yet at a scale where they can fulfil these orders. And sometimes, a company will look for a social enterprise supplier, but find none working in that particular space. This is something we want to address. My colleague Charlie Wigglesworth has written about the need not only to build demand for social enterprises among corporate buyers, but to look at the supply side as well. How can we ensure that social enterprises are well placed to deliver contracts? It's something we are increasingly looking into, but it may well require a shift in moving funding and support away from particular 'issues' and towards the building of markets. 
Matching supply and demand is still tricky, and it can be hard for social enterprises to enter corporate supply chains
We also need to make it as easy as possible for businesses to find social enterprises they can work with. This is also something we are addressing. As well as signing up as a Corporate Challenge partner, SAP will also become SEUK's official technology partner, allowing us to use their software and skills to help social enterprises access markets. A staggering £2 trillion worth of business-to-business commerce passes through their Ariba network annually, more than Amazon, Alibaba and eBay combined. While it's early days in this partnership, we're going to be working closely with SAP to help direct some of this spend towards social enterprises. If just 1% goes to social enterprises that would translate into £23bn. Exciting stuff.
The Challenge has shown that matching supply and demand is tricky, and that it can be hard for social enterprises to enter corporate supply chains. However, the campaign has mobilised a group of forward-thinking businesses to make this all a little easier and is helping social enterprises grow, diversify their offer and most importantly increase their impact. There's a long way to go before social procurement becomes the norm – but we're getting there.  
Read the Buy Social Corporate Challenge - Year 3 Impact Report here. Pictured above: representatives of the Buy Social Corporate Challenge, along with Social Enterprise UK chair Lord Victor Adebowale, at last week's launch of year 4 of the challenge.
Thanks for reading our stories. As an entrepreneur yourself, you'll know that producing quality work doesn't come free. We rely on our subscribers to sustain our journalism – so if you think it's worth having an independent, specialist media platform that covers social enterprise stories, please consider subscribing. You'll also be buying social: Pioneers Post is a social enterprise itself, reinvesting all our profits into helping you do good business, better.