Purpose-driven publisher writes new chapter of Brazilian literature
Vira Letra is bringing novel perspectives to Brazil's literary scene through works by LGBT authors – and its founder believes demand for these books will only increase. DICE Young Storymaker Pedro Lira reports from São Paulo on a business that's challenging the bland stereotypes of mainstream publishing

In A Room of One's Own, Virginia Woolf pointed out an interesting fact: women have always been present in literature – as inspirational muses, housewives, and beautiful lovers – but they were almost always written by men and for men; always the character, never the writer.
Woolf's era is well behind us and countless women today take up pen and paper to tell their stories and create new narratives, but in Brazil getting published remains a challenge for female authors, especially for women of colour and from marginalised groups.  
This is the obstacle that Manuela Neves has sought to overcome. Neves is the founder and editor of Vira Letra, a social purpose organisation and independent publisher based in São Paulo, Brazil. It aims to publish LGBT and marginalised authors, especially lesbian women.
"When I talk about lesbian-themed literature, I'm not talking about creating a label. I'm talking about creating representation," she explains. "There is no unique way to identify and represent lesbian women. It's exactly the opposite that needs to be shown: the plurality of being a woman and a lesbian."
The importance of projects like Vira Letra grows by the day. This is not only because of the current Brazilian socio-political context, as the country is led by an avowedly homophobic president, but also because according to research by University of Brasília, the profile of authors published in the country has barely changed over the last 49 years.
70% of books published from 1965 to 2014 were published by men, 90% of them white
Research by the University's study group on Contemporary Literature shows that more than 70% of books published from 1965 to 2014 were written by men, 90% of them white (while in the Brazilian population as a whole, 44.2% are white). The characters in these stories reflect the authors: about 60% of the protagonists are men, 80% of them white and 90% heterosexual.
"This is a little scary because this reality does not reflect, in any way, the plurality and heterogeneity of the Brazilian society," says Neves. "LGBT characters began to emerge in [novels published by] big publishers, but the profile of the writer has not changed. The class that holds the power of the word remains the same."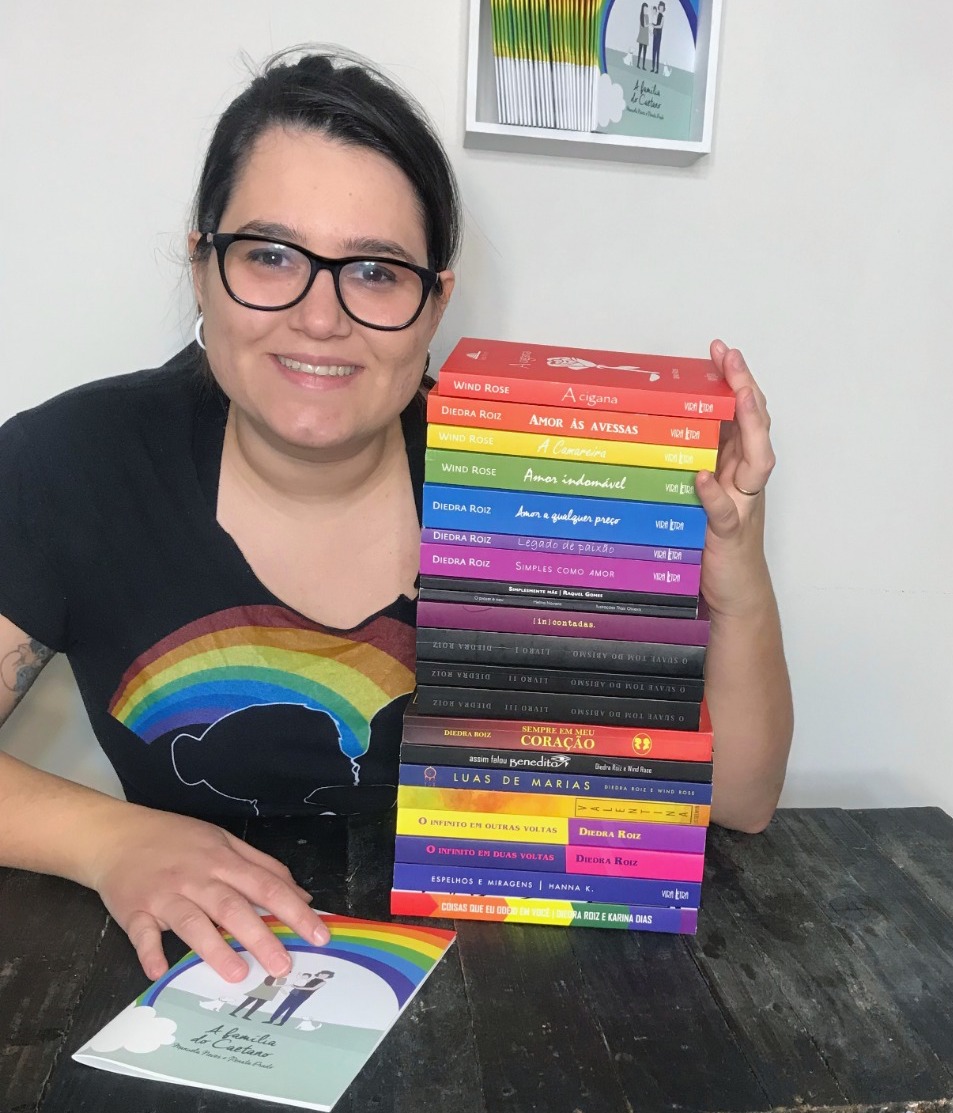 Founder Manuela Neves, above, has so far published 22 books around lesbian culture through the company – and believes the potential market for such works will only increase.
According to Professor Cíntia Schwantes of the department of Literary Theory and Literature of the University of Brasília, one of the main effects of writers being dominated by one group is that different identities are denied the right to subjectivity – in other words, they appear as little more than one-dimensional figures. "Characters absent or lacking centrality in the plot do not have this right," she says. "An absent character does not even have the right to exist." In this way, this reinforces traditional social hierarchies.
Neves is driven to expand representation not only of characters, but of authors. "Where is the LGBT writer? In the small publishers, independent publications, in the resistance. The current scene is increasingly diverse, increasingly beautiful," she says. "Those who say that representation does not matter are usually those who are represented all the time."
Those who say that representation does not matter are usually those who are represented all the time
A publisher of many colours
Vira Letra – a play on the Portuguese vira-lata, meaning mongrel or mutt – was established in early 2014. A graduate in publishing from the University of São Paulo, Neves wanted to open a publishing house focusing on books with LGBT themes. Her motivation was personal: she wanted to publish her mother's undergraduate thesis about "the process of acceptance a mother goes through after discovering her daughter's homosexuality," she says.
Since then, Vira Letra has published 22 books around lesbian culture, including a collection of short stories written by 15 lesbian women that highlight the plurality of being a woman and being lesbian. The print runs tend to be small (in the hundreds), but an exception was [in]contadas, which received, in 2017, sponsorship by the culture office of the state of São Paulo and had a print run of 2,000 copies.
Neves invests in building a good relationship with her authors. Diedra Roiz, who published the first book of her trilogy O Suave Tom do Abismo ('The Smooth Tone of the Abyss', loosely translated), with Vira Letra, says, "There is a lot of friendship and partnership involved [with Vira Letra], but also [shared] ideology. It is a pleasure and an honour to be part of a project of extreme importance like this, a small publisher specialised in lesbian literature, made by and for the lesbian public."
They are voices that, even within the LGBT universe, still struggle to be respected and heard
For Roiz, healthy narratives about lesbian women are important in fighting stereotypes. "Such narratives also serve to demystify the view that lesbian women are objects of fetish and desire for straight men or are women who wish to be men. [These are] stereotypes that need to be deconstructed." She adds, "They are voices that, even within the LGBT universe, still struggle to be respected and heard."
A different business model
To bring these voices to market, Neves has created a distinct business model. Vira Letra is a social purpose enterprise which publishes its books in partnership with writers, sharing expenses and profits with them equally. The business is not yet Neves' main source of income and until some months ago, she reinvested all the revenue that Vira Letra generated into its mission. Recently, though, the publishing house has reached a larger audience, generating larger financial returns and shared profits.
The books are sold on Vira Letra's website and distributed across Brazil and abroad, and at independent events and fairs. "As we work with marginal books, we can't afford to be present in large bookstores and megastores. We have already distributed products to these spaces, but they are placed in corners with minimal visibility, and that does not help," says Neves. Another impediment, she adds, is that large booksellers expect a discount of 40 to 50% off the cover price. She has negotiated sales directly with both bookstores and distributors, and found that the latter require an additional 10% discount on top of the reduction offered to booksellers.  "That's why this negotiation is not viable," she explains. This format is typical of the industry but makes such marketplaces out of reach for very small publishers such as this one.
Because of this, novels published by Vira Letra are a little more expensive than publications from large bookstores. The books are usually priced at R$ 50 (around GB£10 at current exchange rates). "Our production is small-scale compared to traditional publishing houses. The print runs are between 100 and 500 copies and that is exactly why the price is more expensive."
For the University of Brasília's Schwantes, projects such as Vira Letra serve niche markets but still have an important cultural impact. They publish works that major publishers turn down because the characters are of colour or gay. "The logic of publishing and circulating literature is continually changing as the types of text available to the reader increase, the availability of books increases and there is a bigger possibility of imagining the lives of people who are not in the mainstream," she says.
And Neves has ambitious plans to serve this growing market. "I want Vira Letra to be a reference, the biggest LGBT publishing house in Brazil." According to the last national census, 10% of Brazil's population are gay, lesbian, bisexual or transsexual. "I don't think we are limited. The public is here [so] Vira Letra can get even bigger," she says, adding, "As demand increases, I intend to increase supply."
The DICE Young Storymakers programme is a joint initiative of Pioneers Post and the British Council. Fourteen young journalists from six countries have been selected and will be reporting on social and creative enterprise in the coming months.