Hidden power: How corporate foundations can create better capitalism
Corporate foundations are no longer fluffy do-gooders which serve primarily to distract attention from their host companies' morally questionable behaviour. They can work hand-in-hand with businesses to create a better world. This was made clear by Erik Fyrwald, CEO of global agrochemicals company Syngenta, who spoke at the first C Summit, held in Munich in September.
When the CEO of a multi-billion-dollar agrochemicals company makes time in his diary to address a convention of 150 people who want to use corporate money to improve the world, the convention listens.
This happened last week in Munich when Erik Fyrwald (pictured top), who heads Basel-based, Chinese-owned Syngenta, was a keynote speaker at C Summit. The event, organised by the European Venture Philanthropy Association (EVPA) and Dafne, the European network of donors and foundations, aimed to explore how to more effectively use philanthropic corporate funding. It was hosted by the BMW Foundation.
Fyrwald's strong belief in his company's important role in tackling climate change was perhaps not what many might have expected to hear from the CEO in an industry that has been criticised for creating dangerous chemicals and promoting unsustainable farming practices. 
Our company and our foundation are helping farmers all over the world to better feed the world, but also to take care of the planet
But Fyrwald outlined to the audience a life-changing experience he had before working at Syngenta. "I'm here because of one person," he said and described a trip to Tanzania where he met a farmer called Jonathan who had been helped by the charity World Vision to modernise his rice-growing techniques so that his family was better off. On the flight home, Fyrwald explained, he realised that something had been missing from his life, "the feeling that you are impacting individuals."
Shortly after that, Fyrwald was invited to apply to lead Syngenta. Now his commitment to tackling climate change underpins the work of both Syngenta and its associated corporate foundation, he said. Especially as agriculture and food production contribute 25% of CO2 emissions.
"I feel honoured every day," he said. "Our company and our foundation are helping farmers all over the world to better feed the world, but also to take care of the planet."
Should corporates and their foundations have shared missions?
The C Summit aimed to explore the theme of 'alignment' between corporates and their associated foundations – whether they should share similar missions or not – and how to create maximum positive social impact.
Fyrwald explained that the common goals of helping farmers as well as fighting climate change underpinned the work of both Syngenta and the Syngenta Foundation. The foundation, however, focused upon the world's 450m smallholder farmers, who weren't customers of Syngenta.
In practice, Fyrwald said, the company's work benefited the foundation. For example, Syngenta had developed a type of corn which grew well under drought conditions. Syngenta had also provided the foundation with a low-cost version of this corn, which didn't perform quite as well, but suited the needs of the smallholder farmers.
The foundation too, Fyrwald said, was an asset to the company, particularly in helping to recruit good staff. "It's a good story to tell to bring in great talent," he said. 
The company and the foundation have a close relationship in terms of personnel: Fyrwald is the chair of the foundation board and Simon Winter, the executive director of the foundation, attends the company board meetings.
Syngenta's new Chinese owners (the Chinese state-owned ChemChina bought Syngenta for $43bn in 2017), Fyrwald said, supported the work of the foundation, but the argument needed to be clear. "I can justify to the owners that, because we are funding the foundation, we are going to have a much bigger business in five years," he said. "The real benefit here is that it's critically important to the world."
The power to nudge change
Other corporate foundations, the C Summit heard, had a variety of different relationships with their parent companies. 
Speaking after Fyrwald, Leslie Johnston (pictured below), executive director of the C&A Foundation, based in Switzerland, acknowledged that the C&A fashion chain – although it had always been values-led – was part of an industry that was unsustainable. "We are in ecological crisis, and what we are doing in fashion isn't helping," she said. The foundation's aim was to develop a fairer, more sustainable fashion industry, she said.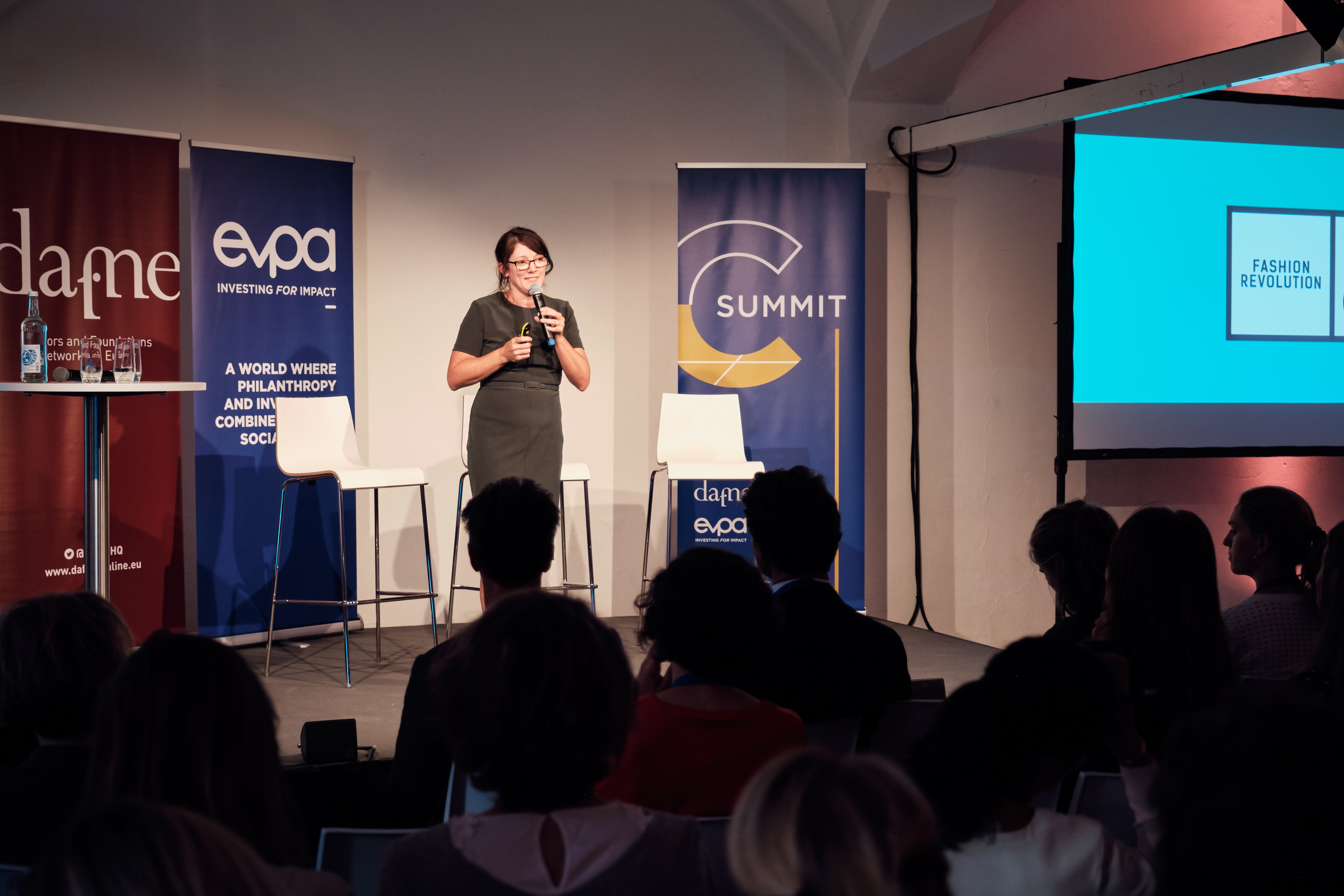 She added that the C&A Foundation – with its privileged position, such as having the company's CEO on its board – could help to nudge change within the parent company. The foundation also enjoyed an independence which meant that it could bring together different brands and innovators in the industry together to work for a common goal.
In contrast, other foundations had missions which bore no relation to those of their parent companies. The UK's Lloyds Bank Foundation, for example, supported people experiencing mental health issues, homelessness and domestic abuse. The Swiss JTI Foundation, endowed by tobacco company Japan Tobacco International, focused upon international disaster relief. 
If corporates are Mars, foundations are Venus
The C Summit was the first event of its kind in Europe, following work by EVPA and Dafne over the past five years to bring together a new community of people involved in corporate foundations and corporate social investment. "For too long," the pre-event publicity stated, "companies have overlooked and undervalued the role of corporate partners for sustainability. Corporate foundations have been perceived as a nice social appendix to a company's CSR report, or as a means to fulfilling the moral responsibility and stakeholder pressure of being a good corporate citizen."
Now, the organisers believe, times are changing with, for example, the August statement by the Business Roundtable, an association of CEOs of some of the USA's largest companies, to support a new ethos of stakeholder capitalism which no longer puts shareholders' needs at the forefront.
Speaking to Pioneers Post after at the close of the first day of the event, Steven Serneels, CEO of EVPA said: "Five years ago, foundations and corporates saw themselves as Venus and Mars." 
Now, he said, the gap was closing between them. "Corporates are on a journey to see what Venus has to tell them. And foundations are becoming more innovative – they are coming closer together."
The aim of this project, said Serneels, was to unlock more corporate assets for the greater good. 
• At the C Summit, the EVPA previewed new research about the types of strategic alignment that businesses and their corporate foundations could develop. The research will be launched in the coming months.