Social enterprises can save the world – if they can find the staff
If capitalism is in crisis, social enterprises have the solution – at least according to Social Enterprise UK.
The membership body's latest 'state of the sector' report, published every two years, finds that social enterprise is in good health, with such businesses much more likely to have grown recently than mainstream businesses. 
Capitalism in Crisis? Transforming our economy for people and planet reveals that 52% of UK social enterprises reported a growth in turnover in the past 12 months, compared with just over a third of mainstream businesses in the past year. Over three-quarters of the sample of 1,068 social enterprises interviewed are making a profit or breaking even. 
52% of UK social enterprises reported a growth in turnover in the past 12 months
Introducing the research yesterday in London, SEUK chair Lord Victor Adebowale drew attention to the report's title: "While it's a question mark, we can do something about it… I'm here because I believe social enterprises have the answer."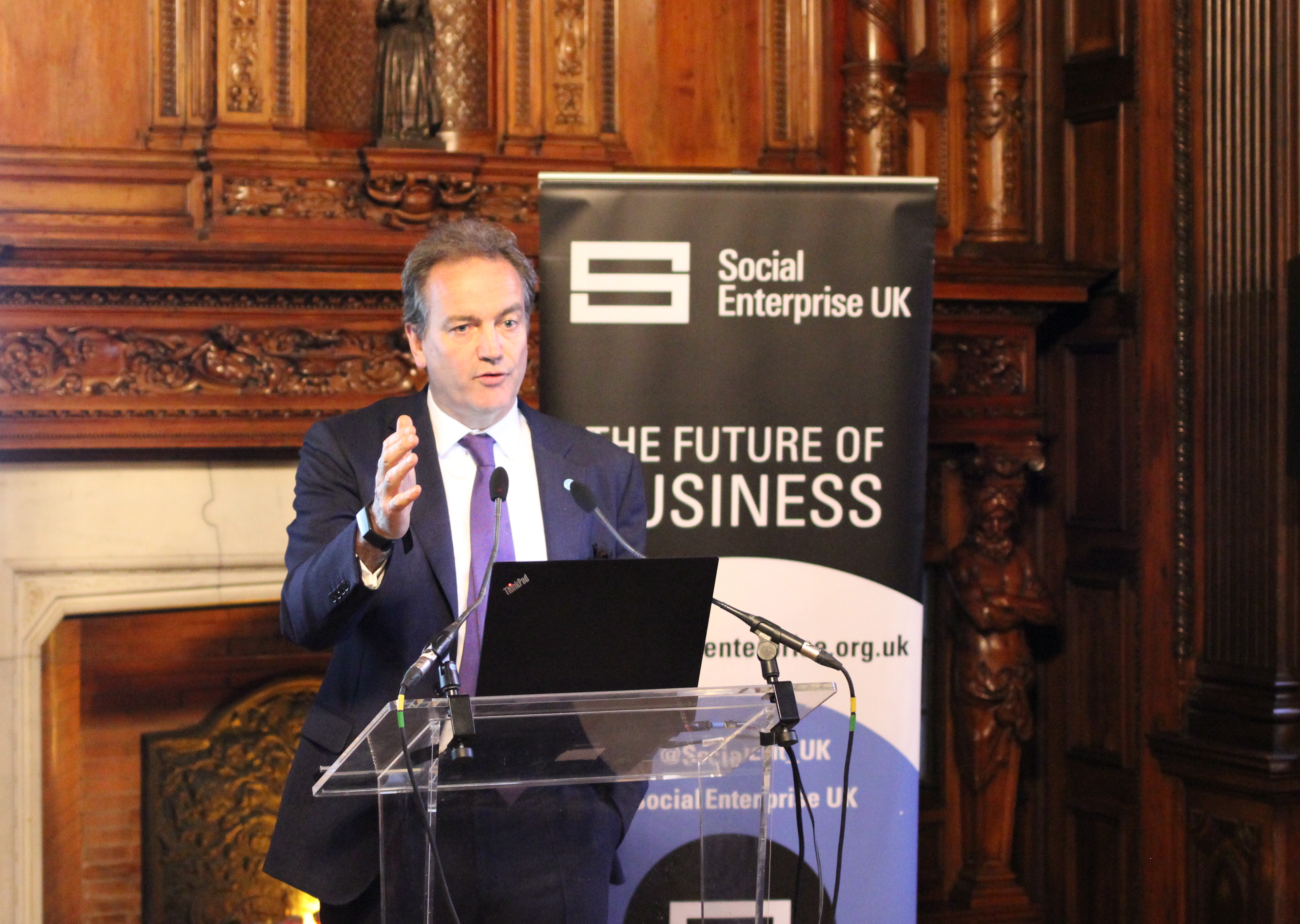 Government minister Nick Hurd (above): "Struggling nation should engage in a much more ambitious way with the social innovators"
He went on to highlight some damning indicators of inequality in the country – citing figures that active life expectancy for women varies from just 55 years in one London borough to 70 years in another. Social enterprises can help address this, he said, since they largely pay a decent salary (three-quarters pay a living wage compared with about one in five mainstream businesses). 
Their leadership also tends to be more representative of the country than other sectors: 35% have directors from a black Asian or minority ethnic (BAME) background – although just 13% are BAME-led.
Speaking to SEUK members after the report launch, Conservative MP and government minister Nick Hurd – who announced his resignation last month – signalled strong support for the movement, saying: "In this election that's coming, you've got power. Because you're a movement that is working and is now very important, economically and socially."
The former Minister for Civil Society added: "A divided nation ought to be listening to the organisations that bring people together. A nation that is struggling to find solutions to persistent, stubborn social problems ought to be engaging in a much more ambitious way with the social innovators."
Recruitment headaches ahead?
Social enterprises appear optimistic about the future, despite uncertainty around Brexit: two-thirds said they expect turnover to increase over the next 12 months. They're also paying their bosses better: average CEO salary appears to have jumped from £36,000 two years ago to £43,000 this year.
And 49% of social enterprises expect to employ more people in the next 12 months,  compared with just a quarter of SMEs polled in government research.
However, recruiting staff has become a more significant challenge, according to the SEUK report. Though only cited by 14% of respondents, it is now the fourth most cited barrier (after obtaining grant funding, obtaining loan finance and cash flow). The report's authors put this down to lack of awareness, and recommend cooperating with schools and colleges to tackle this and working harder to advertise careers in the sector.
'[Social enterprise] is now very important, economically and socially' – Nick Hurd MP
Charlie Wigglesworth, deputy CEO at SEUK, pointed out that while access to finance is still the single biggest challenge, when grouped together operational and economic factors (such as staffing and recruitment, customers, market demand and Brexit) are overall more important. This, he said, should be seen as "a plea" to those supporting social enterprise to make sure they're not just looking at finance, but also more broadly about "what would make a success of this movement". 
Wigglesworth also highlighted that social enterprises are increasingly seeing themselves as businesses: SEUK research in 2009 found that about 37% would describe themselves as charities; this year, that figure has dropped significantly to 11%. This may help to reinforce the case for social enterprise to be handled by the government's department for business rather than alongside charities in its department for civil society. 
The research also finds that:
56% of social enterprises introduced a new product or service in the past year (compared with 36% of SMEs)
40% are led by women (compared with 17% of SMEs and 5% of the FTSE 100) and two in five have a majority female workforce
75% view the environment as being of equal or more importance to cost when it comes to procurement decisions (compared with 24% of SME owners)
73% work with individuals facing disadvantage such as people with disabilities, the long term unemployed, people who are homeless, ex-offenders and people facing mental health challenges
The full report can be downloaded on the Social Enterprise UK website.