Short n Sweet: 17 October 2019
Tasty treats selected from your social enterprise and impact investing news releases. Read on for updates from the B Corp movement, a big commitment to buy social, latest research on giving to charity, and new hires at Social Investment Scotland
'Exponential' growth in demand for B Corp status
The number of UK businesses registering for an account on the B Lab website – the first step towards certification as a B Corporation – has risen "exponentially", according to Chris Turner, executive director at B Lab UK. And yesterday, the Guardian Media Group became the first major news organisation to announce it would become a B Corp.
Turner said demand was rising "at an uncontrollable rate" and that his organisation's weekly tracking of how many businesses had created accounts was continuing to surprise them: "We're setting new PBs [personal best scores] every week."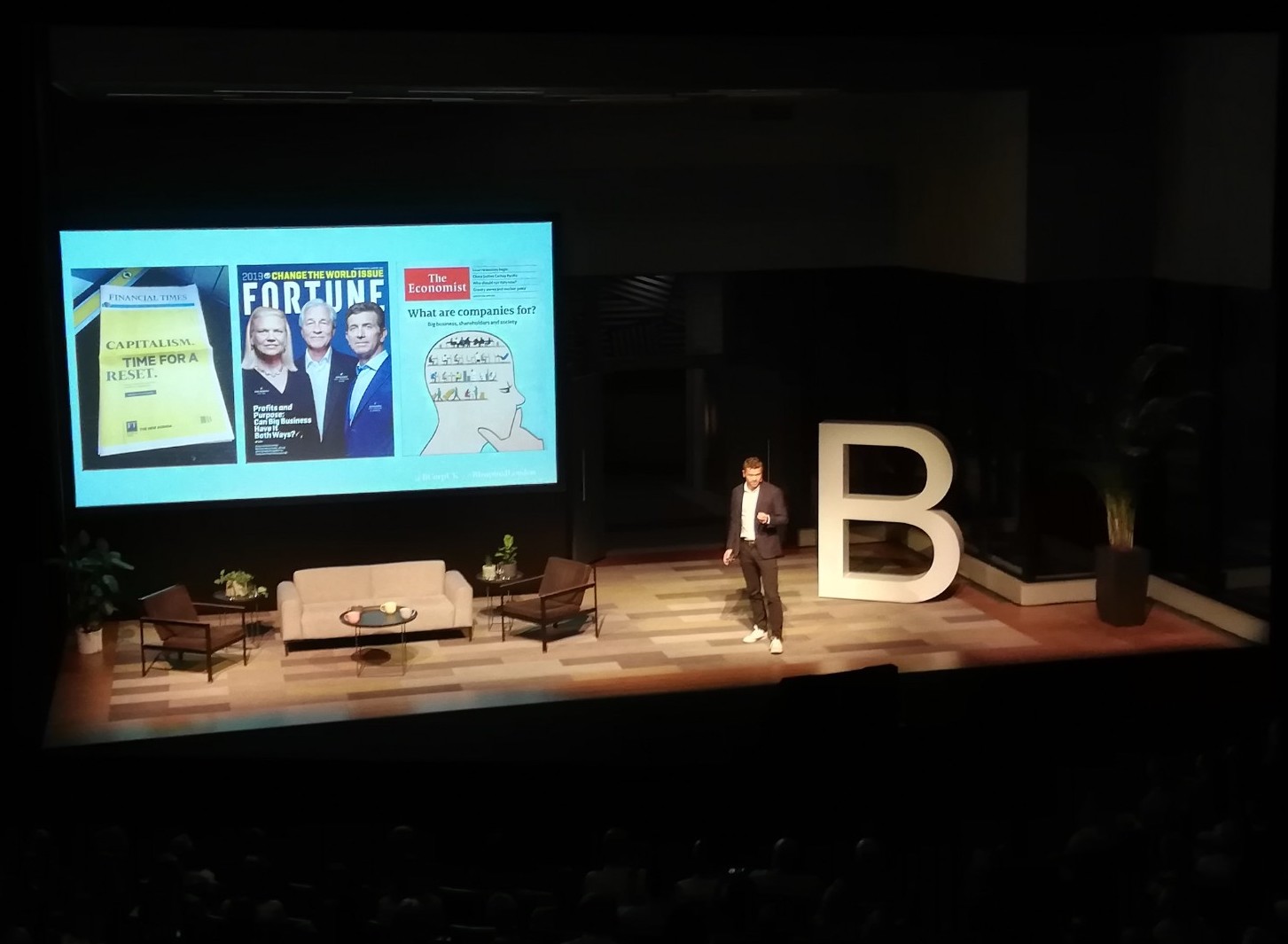 Above: Chris Turner, speaking last week, highlighted changing attitudes towards big business, as highlighted in mainstream media.
Speaking at the BInspired event in London last week – a gathering for 600 people pursuing responsible business models – Turner also shared that 32 new B Corps had been certified in the past 90 days – "a dramatic acceleration" that had been achieved by significantly increasing staff at B Lab, which manages the verification process.
Last week Turner suggested "profound discontent" with our political and economic systems had helped drive interest, and highlighted the "unique historical moment" brought about by the Business Roundtable statement in August, in which more than 180 major US corporate leaders rejected the notion of shareholder primacy.
B Lab also announced the creation of a new tool, the SDG Action Manager, to help businesses map their targets onto the Sustainable Development Goals and check how their  operations, supply chain, and business model create positive impact. Currently in beta testing phase, the full launch is planned for January.
 
Amey announces 5% spending commitment with social enterprises by 2023
Amey, a £2bn infrastructure provider and consultancy company, has announced ambitious targets to spend through social enterprises.
In a speech earlier this week at social enterprise Good Hotel in London, the firm's chief procurement officer John Cully committed 1% of Amey's annual global addressable spend with social enterprises by 2020, increasing to 5% by 2023. 
The move makes Amey the first so-called 'strategic supplier' – companies that get over £100m in revenue a year from government contracts – to commit a percentage of its spending to social businesses.
In 2019 Amey will spend around £1.5bn over 4,500 goods and materials suppliers, services suppliers and subcontractors. The firm employs 19,000 people internationally with a focus on the UK, but with businesses in Australia and America.
Cully welcomed the UK government's proposals to legislate for more social value in public services. He said: "We want to see social enterprises flourish as part of these procurement reforms because we understand the immense value they can unlock for local communities and the significant innovations and solutions they can offer businesses like ours."
Claire Dove, the government's Crown Representative for voluntary, community and social enterprise (VCSE) organisations, said Amey's commitment would set "an excellent example of how to incorporate social value in commercial business activity".
Amey joined SEUK's Buy Social Corporate Challenge in 2017, an initiative that commits businesses to collectively spending £1bn with social enterprises. 
US, Myanmar and New Zealand citizens are the world's most generous
Charities Aid Foundation (CAF) has released its annual research into how people around the world give to charity, volunteer and help strangers. 
This 10th edition of the report also includes aggregate data from the past decade, finding that the most generous country over that period – based on a combination of all three measures above – was the US. Myanmar and New Zealand take second and third place.
However, levels of giving in the USA as well as Canada have been trending downwards over recent years. Asian countries look set to challenge their lead: half of the countries who have risen most in the CAF World Giving Index are from Asia.
Over the last decade, Indonesia and Kenya are the most improved countries overall. Myanmar, which has been ranked the most generous country in the world for four of the past 10 years, has seen a steep decline across all three of the measures since the 2016 report. CAF research does not take into account other factors that might drive or impede growth in generosity, such as the political, social and economic situation.
 
SE100 award-winning social enterprise kicks off refugee entrepreneurship programme
A pilot project to encourage refugee entrepreneurs to establish businesses launches in Bristol today, part of a one-year programme funded by the Home Office and The National Lottery Community Fund. 
It will be delivered by the local office of ACH, a social enterprise specialising in refugee integration and employment services – and whose CEO, Fuad Mahamed, took home the NatWest SE100 leadership award earlier this year.   
ACH will support refugees new to entrepreneurship as well as those looking to grow existing businesses.  
Mahamed said: "As an entrepreneur myself I have been keen to see changes within the business support ecosystem so more individuals from refugee communities are able to develop their own businesses. This grant allows us to take forward our innovative plans to build a service for Bristol's underrepresented communities that is accessible, relevant and focused on their specific cultural and business needs." 
People and places: Social Investment Scotland, Emerald Peak Private Equity, Paul Polak passes away
Social Investment Scotland (SIS) has promoted Lindsay Wake, formerly business support and development manager, to a new role as head of impact. Wake will be responsible for the organisation's impact strategy and objectives and for developing social impact practices across all of its current investment activities. The newly-created role has been part-funded by Big Society Capital, as part of its commitment under the £17m Scottish Social Growth Fund, which launched earlier this year.
Central American investment firm Emerald Peak Private Equity has hired Mateo Neri, a move that aims to position the firm as a major technology driver and consolidator in the fields of recycling, circular economy models for plastics and upcycling of agricultural and organic waste in the region. 
The serial social entrepreneur Paul Polak has died. Polak founded Windhorse International, a for-profit social venture, and iDE, which he led for 25 years. He was the author of Out of Poverty: What Works When Traditional Approaches Fail. Read more about his work here.
Send details of your appointments and career moves to news@pioneerspost.
Thanks for reading our stories. As an entrepreneur yourself, you'll know that producing quality work doesn't come free. We rely on our subscribers to sustain our journalism – so if you think it's worth having an independent, specialist media platform that covers social enterprise stories, please consider subscribing. You'll also be buying social: Pioneers Post is a social enterprise itself, reinvesting all our profits into helping you do good business, better.