Seven social enterprise superstars: Meet the 2019 WISE100 winners
From Glasgow to Plymouth, from tour guiding to financial advice: this year's top women in social enterprise had powerful stories to tell about their work at last week's NatWest WISE100 celebrations. Find out why they stood out from a strong field of contenders.
Seven inspirational women in social enterprise took home the top awards at a celebration in London last Thursday.
The 2019 NatWest WISE100 once again saw one hundred individuals named as the UK's leading women in social enterprise. For the first time, this third annual WISE100 celebration – delivered by Pioneers Post in partnership with NatWest – also asked judges to select the most outstanding women in six categories.
Social Business Leader of the Year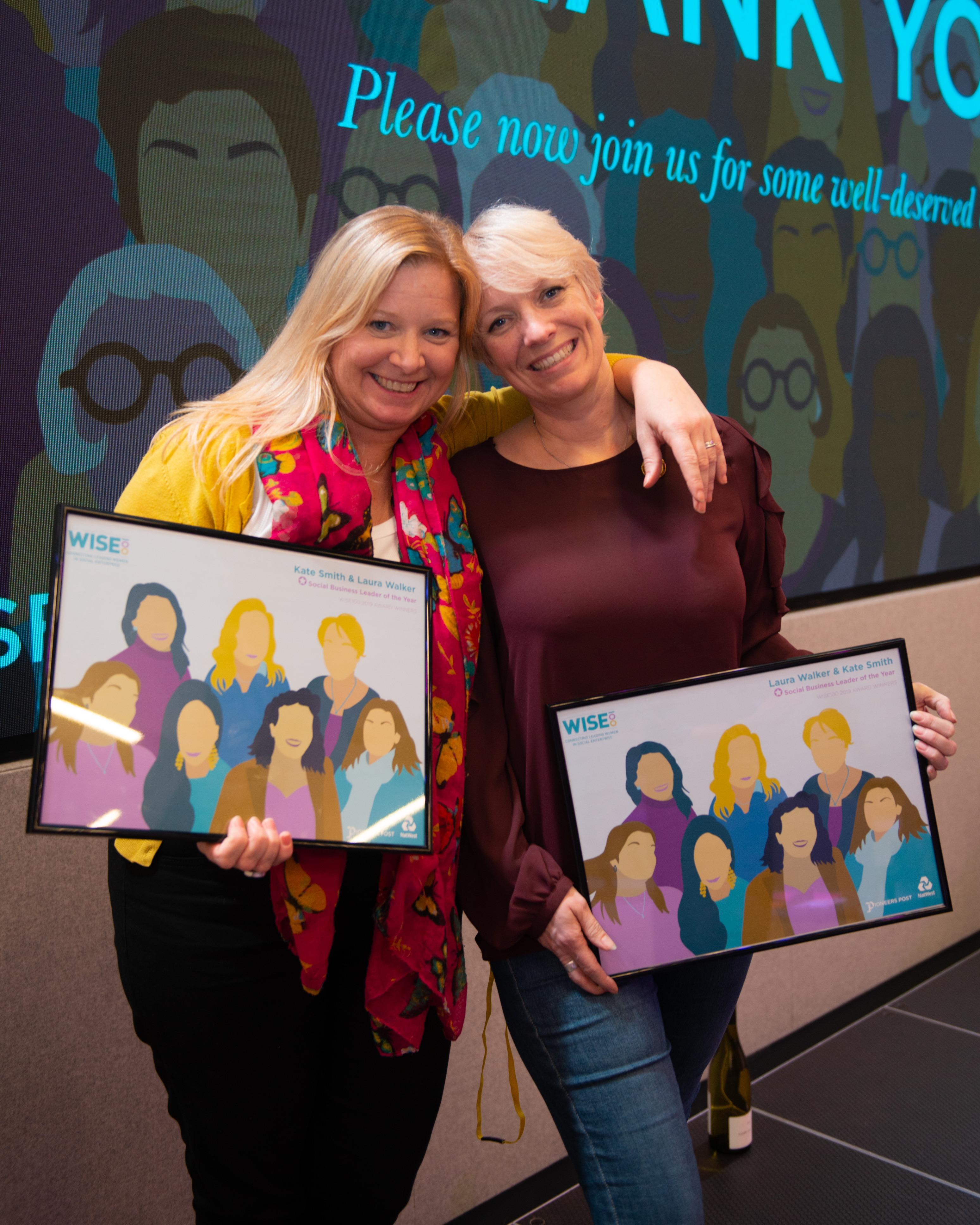 Social Business Leader of the Year was given jointly to Laura Walker and Kate Smith (pictured left; Laura with purple top), the joint directors of Memory Matters SW CIC, a Plymouth-based social enterprise that provides a range of therapy, support services and education to help people to live well with dementia.
Both nurses, Kate and Laura set up Memory Matters in 2010 out of frustration with the lack of support for people living with dementia, as well as their carers. In 2017, they opened a cafe and information hub, with all profits going towards supporting people and families affected by dementia. Now with a staff of 25, Memory Matters won the social enterprise award in this year's Plymouth Business Awards.
Presenting the award, judge Mary Rose Gunn, CEO at The Fore, praised the winners for making the leap from nursing to running a business – "not an easy transformation to make" – as well as the "huge impact" they're making in helping to destigmatise dementia. "The cafe is taking on huge international brands on the high street and winning. It's a fantastic example of how people can make a difference."
"They have made dementia a topic of discussion and public life by putting it on the high street. Their passion and dedication shine through." – Kate and Laura's nominator
The judges also gave a special mention to Camilla Marcus-Dew, Head of Sustainable Growth at CLARITY & Co.
One to Watch
The 'One to Watch' was named as Zakia Moulaoui, who founded Invisible Cities, a tour operator whose guides have all experienced homelessness, addiction, or other challenging life circumstances. The tours highlight stories of real people, while raising awareness about social justice.
Founded in 2016 in Edinburgh, Invisible Cities has now expanded to Glasgow, Manchester, York and Cardiff through a social franchise model, with plans to expand to further cities in the UK and internationally. The past 12 months have seen the community interest company grow from being volunteer-led in July 2018, to a team of four with 12 guides and over 50 people trained across the UK.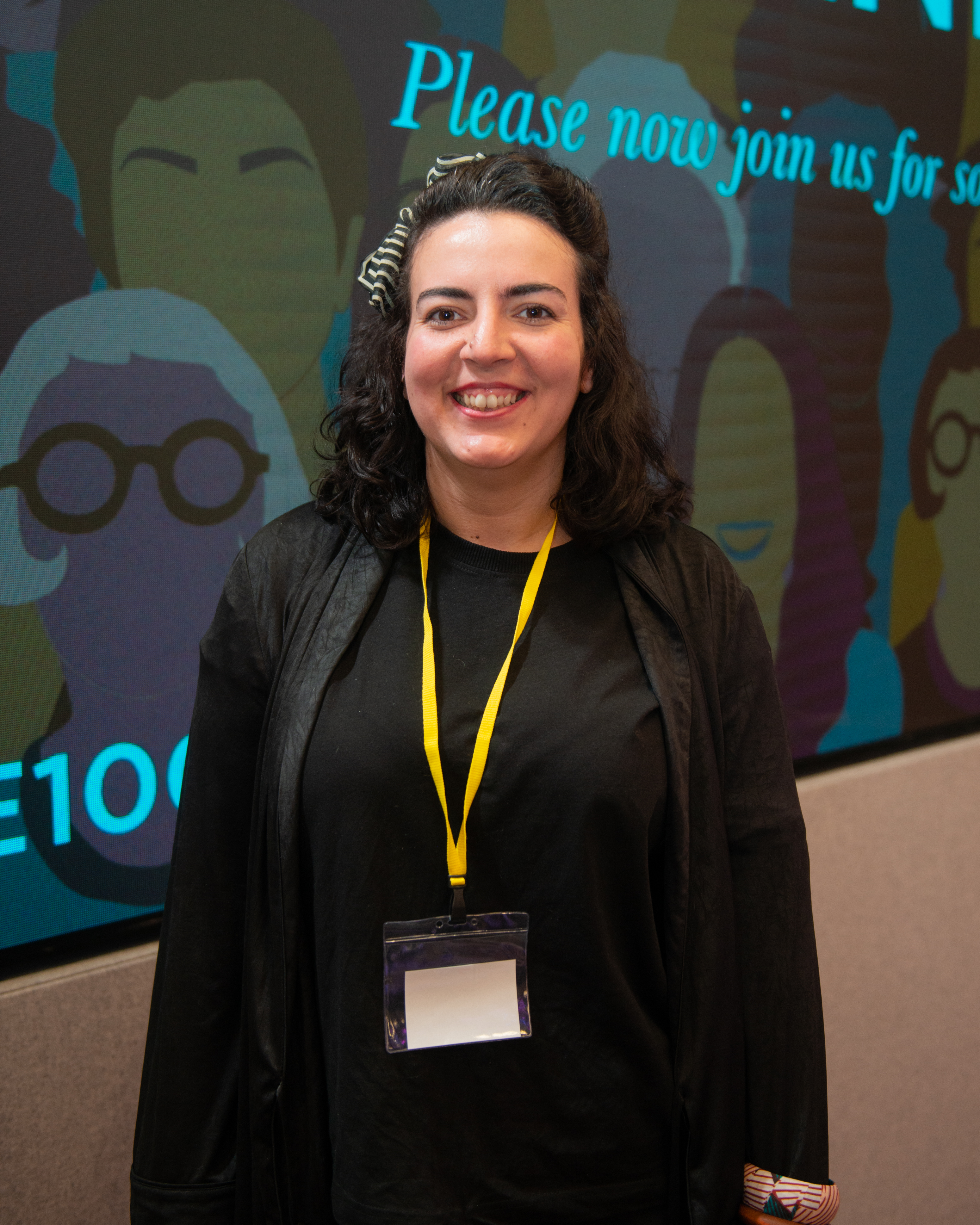 Zakia, who formerly led international partnerships at the Homeless World Cup Foundation, was also spotlighted as one of 12 leading women in last year's WISE100 list.
The judge for this category, Hey Girls' CEO and founder Celia Hodson, praised Invisible Cities' rapid growth and its focus on the the customer at the heart of its business model. Accepting the award, Zakia praised her "incredible team of guides" and shared her next ambition: "New York City is a great place I think it's where dreams are made. If we make it [there], that's when I retire!"
The judges also gave a special mention to Natalie Mady, founder and director at Hackney Herbal.
Social Finance Champion 
Isabelle Irani took home the award for Social Finance Champion. Isabelle is a director and founder of Sumerian Partners, which was set up in 2013 to improve how philanthropic capital is deployed.
Isabelle has more than 17 years' experience in investing in public and private companies worldwide. At Sumerian Partners, she has led in structuring new financial instruments to help UK social enterprises scale up and grow their impact, as well as providing integral skills support for success. This has included pioneering "transferrable shares" in Moneyline and Fair Finance, as well as new equity-like mezzanine instruments – and always with a strong focus on non-financial support.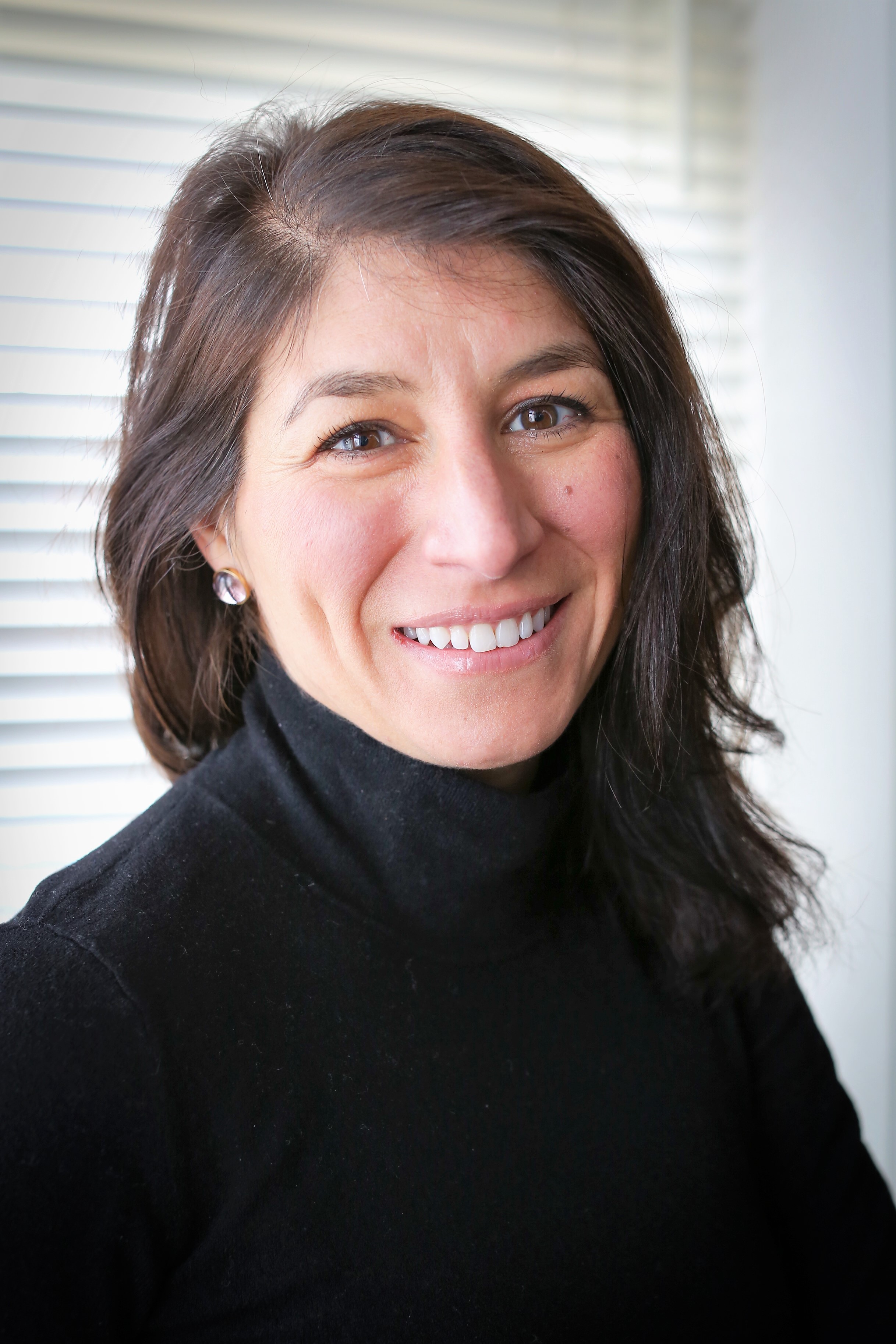 Presenting the award, Social & Community Capital CEO Megan Peat said it was "an amazing field of applicants", but that the panel picked out Isabelle because they felt she had "broken new ground" in co-founding her organisation and that she led the field by "putting social impact forefront and centre."
"The ability to think about "impact first" financial structuring while combining crucial skills support is what differentiates Isabelle from many other social investors in the UK." – Isabelle's nominator
The judges also gave a special mention to Linda Rutter, consultant at New Leaf New Life.
Women's Champion
The Women's Champion award, recognising someone who mentors or champions women to succeed in their social enterprise careers, went to Andrea Gamson, co-founder and head of learning at _Social Starters.
After 12 years working in content marketing, Andrea founded _SocialStarters in 2014, which helps start-ups and social enterprises (especially those led by women) to do business better and make more impact by matching them with expert consultants. To date, these consultants have provided well over 10,000 hours of low-cost or free support, helping 200+ social entrepreneurs or enterprises. Andrea has also recently helped to develop and launch a new social impact incubator in Brazil for women from the favelas.
The judges were impressed by Andrea's "impact across multiple countries" as well as her "track record within the social entrepreneurship space," specifically in her work relating to women.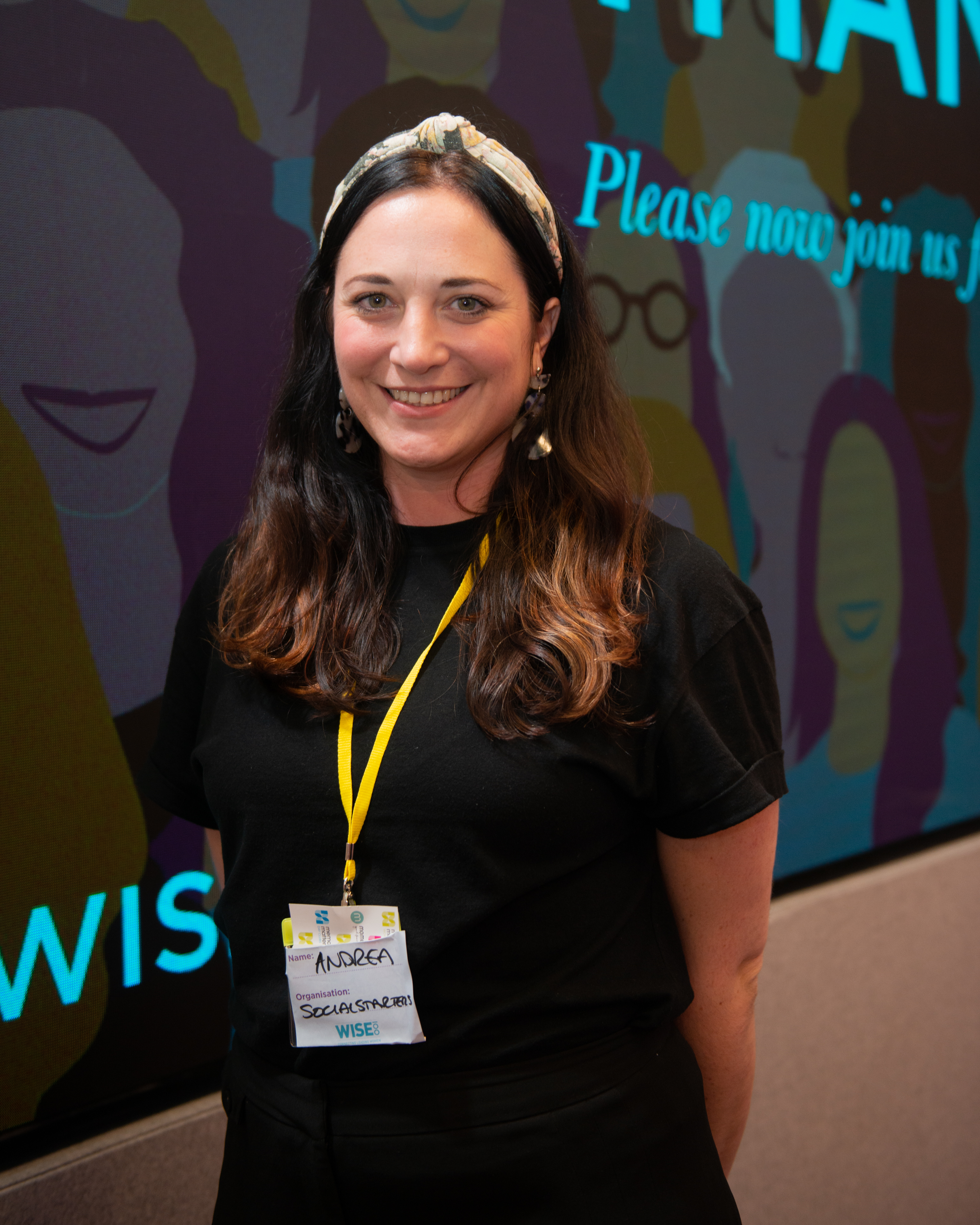 Accepting the award, Andrea said it was crucial to support people working at the grassroots "to go on not just to survive, but thrive."
"Andrea inspires, mentors and supports so many amazing women in business…  and somehow manages to make everyone around her step up and stand out – this is a rare leadership skill that deserves to be recognised" – Andrea's nominator
The judges also gave a special mention to Efe Ezekiel, founder and youth mentor at Ushine Ishine.
Anchor-Woman
Our category for the WISE100 'Anchor-Woman' – defined as someone who keeps things moving and gets things done, often behind the scenes – went to Paula Healey, operations manager at Romford-based IncomeMax CIC.
IncomeMax provides independent, personal financial advice, helping its customers to reduce bills, manage debt and access unclaimed benefits, grants and other financial help. The social enterprise has found over £20m of new income for families since it was founded in 2009 – £2m of this directly thanks to Paula, who joined in 2011, following earlier careers in shop management and as a 999 call handler for the Metropolitan Police.
She currently oversees and manages day-to-day operations of the business, which has a team of 25 full-time advisers. Her input is credited as helping the organisation grow into a national social enterprise helping thousands of families every year, with particularly strong growth over the past 12 months, recently hitting a turnover milestone of £1m.
The judge, Parveen Bird, director at The Big Issue, said Paula was "the ultimate professional" and the kind of person who responds to every new challenge with the response: 'Bring it on'. She also highlighted Paula's huge capacity for empathy and kindness when dealing with clients.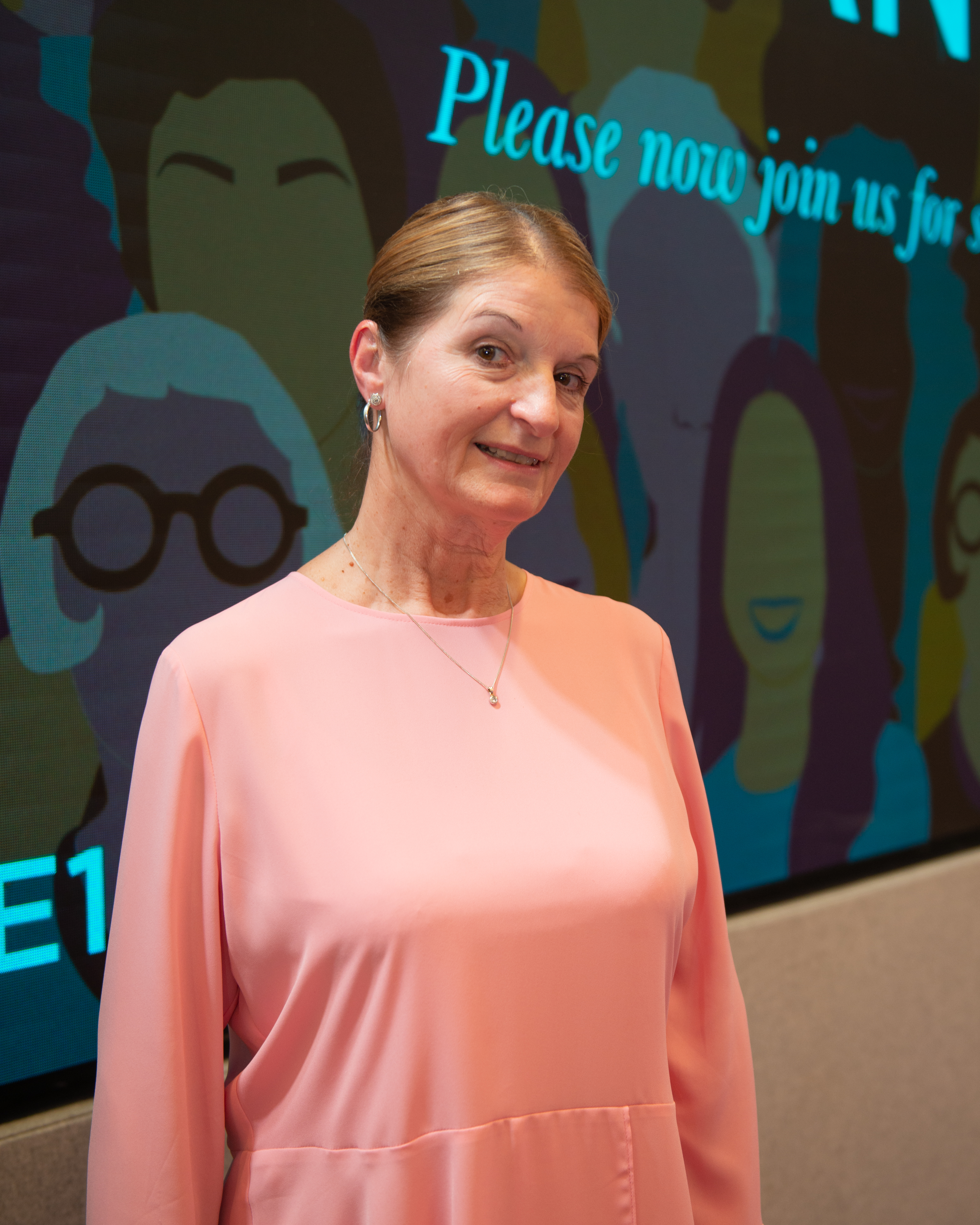 Paula's son Lee Healey, who is founder and managing director at Income Max, told the audience he had asked his mother to step into the operations manager role two years ago. "It was the best business decision that I have ever made. I couldn't have asked for a better anchorwoman."
"She consistently goes above and beyond with her work, both with staff and clients, showing empathy, care, understanding and kindness every day… Every social enterprise needs a Paula if it is to succeed." – Paula's nominator
The judges also gave a special mention in this category to Gill Collins, production director at Sortified CIC.
Environmental Champion
This year's Environmental Champion is Sophie Lejeune, founder and manager at Society Zero_CIC, a zero-waste shop and social enterprise in Glasgow.
Founded in 2018, Society Zero offers advice and organises talks, workshops and litter picks as well as selling sustainably-made products. It aims to make a zero-waste lifestyle accessible to all.
An environmental science graduate with a background in community work, Sophie has created a platform for likeminded people, spreading the word about reducing waste and pollution.
The judge, Jo Hand, founder of Giki, said Sophie was inspirational and "really stood out for the range of activities that she does" in helping "a huge range of individuals reduce their environmental impact… she has her fingers in so many pies."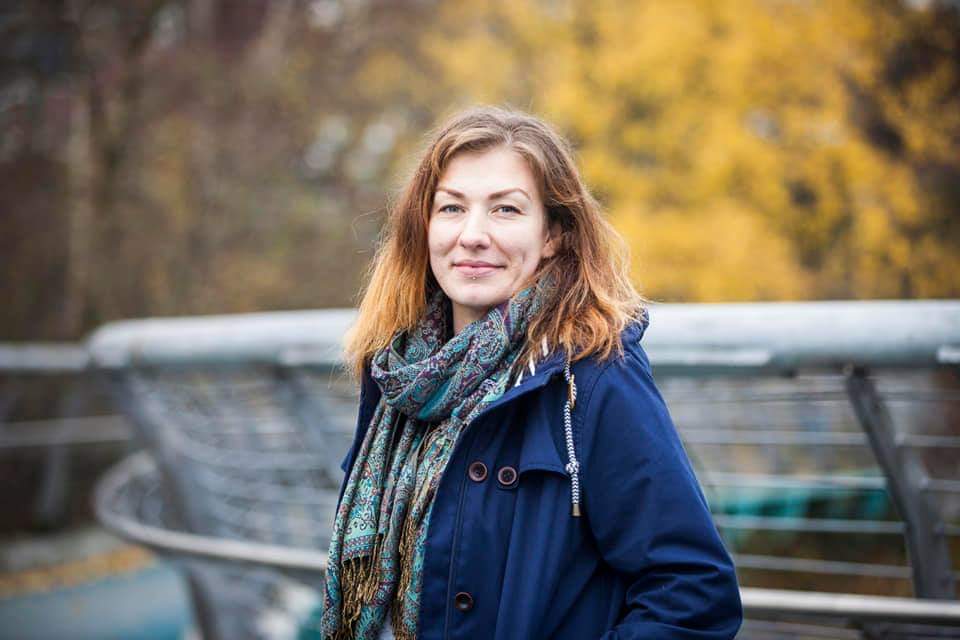 Sophie was unable to collect her award but told us that her own source of inspiration came not from one individual but from communities. "What we can do as individuals and communities is massive and hopefully we'll put pressure on the big boys. We all have the ability to do something... small changes add up."
"She represents the change we need for our future! She has worked so hard, and continues to do so for a greener future!" – Sophie's nominator
The judges also gave a special mention to Kath Austin, CEO at BeeBee Wraps.
Header photo: Award-winners pictured on the evening of the ceremony, from left to right: Laura Walker, Kate Smith, Paula Healey, Andrea Gamson, Zakia Moulaoui
Photo credits: Sam Rielly