Ladies who lunch: "Tour guiding gives people who have experienced homelessness a purpose in life"
In 2016, Zakia Moulaoui founded Invisible Cities, a tour operator with a difference: all of its guides have experienced homelessness, addiction, or other challenging life circumstances. Three years on, how is it going? We found out over (virtual) lunch, as a part of our series getting to know some of the inspirational leaders from our NatWest WISE100 list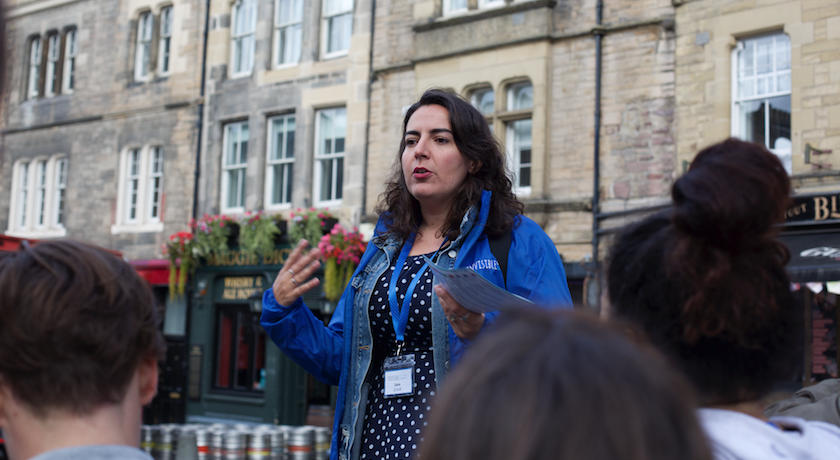 Zakia Moulaoui leading her own tour in Edinburgh (credit: Caroline Hailstone/Pioneers Post).
"The question I get asked a lot is: 'Why do you work with homeless people? Have you been homeless at some point your life?' But no, I'm really lucky that I haven't..."
Zakia Moulaoui did not always dream of working with people experiencing homelessness. The issue, she says, "found her". After growing up in the south of France, Zakia studied English at university, then started a career in teaching English and French as a foreign language. A change of path came, though, when she started working at the Edinburgh-based Homeless World Cup Foundation, which puts on annual football tournaments for hundreds of players representing over 50 countries, all of whom have faced homelessness.
​The experience was life-changing: "It made me realise that I love working with people, and that I love how different people can be." She eventually became director of partner development and stayed with the organisation for over four years.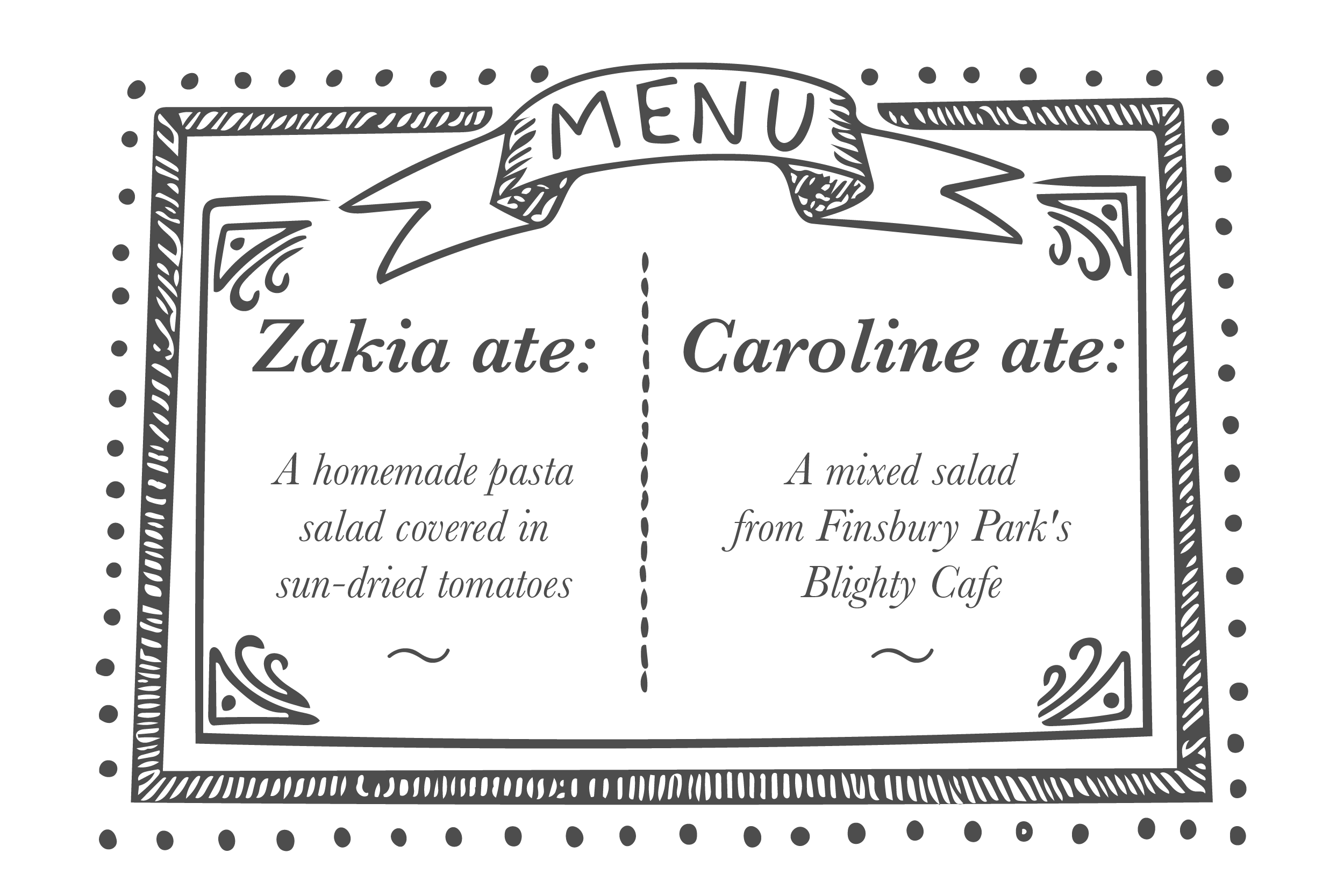 I meet Zakia on a lunchtime Zoom call, and we're both hungry. She is having a homemade pasta salad, with extra sundried tomatoes. "I LOVE sundried tomatoes," she tells me. I tuck into a mixed salad made by Blighty cafe, which is on the floor below our new office workspace in Finsbury Park, north London. 
Many never thought they could guide 30 tourists around the city, but now they do it every week
I was first introduced to Zakia on a cobbled street of Edinburgh last September, where I had been attending the Social Enterprise World Forum. That morning, Zakia took a group from the conference on a specially-designed tour of the city, which stopped at some of its social enterprise hotspots including The Melting Pot, a buzzing co-working space for social enterprises of all sizes. During the tour, she also told us all about the work of Invisible Cities, the tour guiding organisation she set up in 2016.
Some Invisible Cities tours bring you to the tourist hotspots, but others are more unusual. One is based on the theme of Irvine Welsh's Trainspotting (a novel about a group of young drug addicts, also adapted into the 1996 film starring Ewan McGregor). Another, 'The Paths of Inspirational Women', is led by women who themselves have lived on the streets. All of the guides have experienced homelessness, addiction or other challenging life circumstances.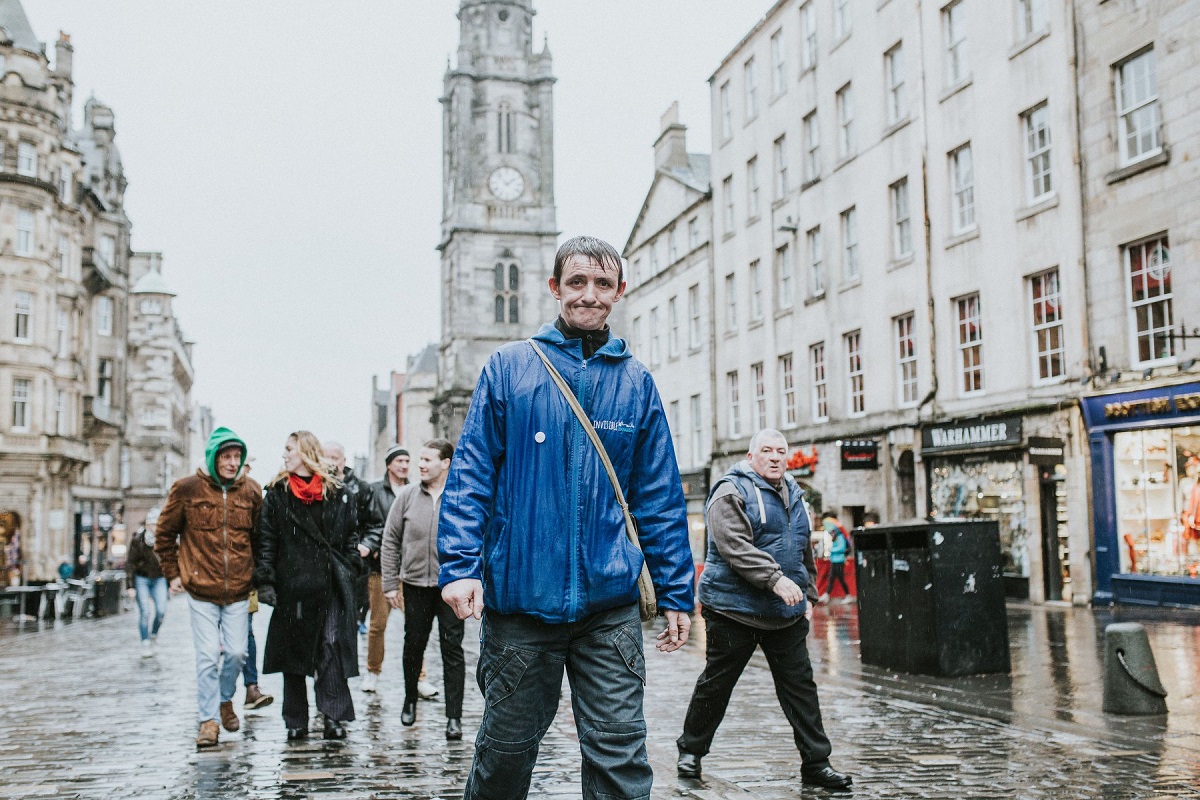 Above: Guide Sonny poses for a photo in Edinburgh (credit: Luke Bennet Photography).
The guides have three full days of workshop training where they learn about customer service and public speaking, and then they spend anywhere from four months to a year creating their own tour, and practising it. Zakia says they tell her it gives them "a purpose in life, and something to do."
"It also pushes the boundaries of what they think they can achieve," she says. "They often say to me, 'I never thought I could guide 30 American tourists around the city, but now I do it every week'." On top of training, guides get support in other areas of life including securing housing and finding other types of employment – either by the full-time support worker at Invisible Cities, or through referral to another organisation.
If you're a woman (or know one) making a tangible difference in social enterprise, impact investment and mission-driven business, nominate for WISE100 2019 now!
During our call, Zakia tells me that she is working at a friend's house for the afternoon. But she won't be hotdesking from friends' places much longer – Invisible Cities will soon have its first Edinburgh office. "I really like flexible working, but having an office that is ours that we can access all the time will be a really good experience," she says. 
There are currently 12 guides and guides in training across the UK, including two in Manchester and two in Glasgow. The model has also been replicated as a franchise in York, where a team has been supported by Invisible Cities to run its own training. And Zakia is setting her sights even further afield. "My dream would be New York City. The day we make New York City happen, I'll retire."
The day we make New York City happen, I'll retire
Just over a year ago, Zakia was still funding her work through her full-time role as an international business development manager at Social Enterprise Academy. But working a full-time job at the same time as running her own venture was demanding, so last year she decided to focus full-time on Invisible Cities. This was possible through funds generated from the tours (a typical tour costs £12 per person, and in 2018 they had 2,500 customers), as well as a grant from UnLtd and a £30,000 investment from Big Issue Invest. "I could have stayed in my previous role at the Social Enterprise Academy, but then Invisible Cities could not have gone any further. Now I'm no longer split between two roles, and it's amazing what you can do with a full head space."
Zakia says the support she has received from a large network of partner organisations has been crucial to her success. These include Crisis, Social Bite, and Women's Aid, and they help her in everything from the recruitment of new guides, to working together on events. "We do nothing on our own," she says. "There's no point in everyone duplicating efforts. We can do so much more when we do it together – especially in a small country like Scotland."
Zakia brings this sense of collaboration to work with her own team. "I've seen the power struggles that can happen. But the CEO at the Homeless World Cup once told me 'it's amazing what we can achieve when we don't care who gets the credit', and that has always stayed with me."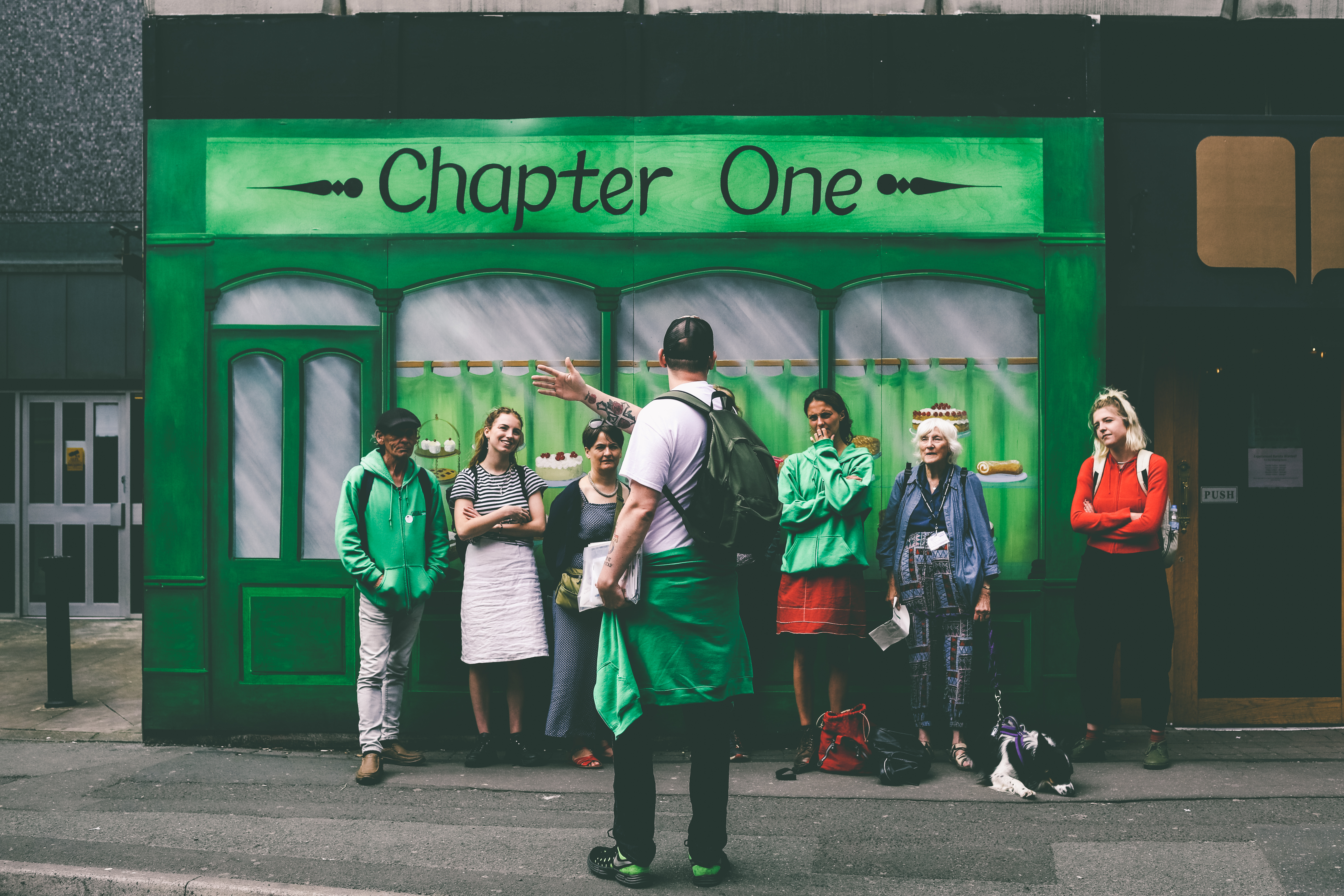 Above: Guide Laura leads a tour in Manchester (credit: Emma Boileau)
The replication of Invisible Cities' Edinburgh model in Manchester, where it now has one fully-fledged guide and one in training, has mainly taken place under the direction of Zakia's colleague, Alice Sparks. Alice is 22 years old, and started planning how she could bring Invisible Cities to the city when she was still studying at university there. "I don't have to be at the forefront all the time, and I'm so pleased she feels empowered by our team to do a great job." 
There's no easy path to anything that's really worth it
Has there ever been a time when Zakia wanted to give up? "Every week maybe, or at least every month… it's really hard. I don't know what's coming up next most of the time, there's no guarantee we will be touring every day. But you need to carry on with what you believe is right, and a good quote that a friend once told me was 'There's no easy path to anything that's really worth it'". Three years later, and they are still going strong. "I never thought that would have happened!"
Key figures: Invisible Cities
Founded: 2016
Legal structure: Community Interest Company (CIC)
Region: UK
Turnover: £70,000 (2018/19)
What it does: Trains people affected by homelessness to become walking tour guides of their own city and offers alternative walking tours
Primary audience: Tourists
Business model: Generates income from tour sales, merchandise, sponsorship and events
Notable investments secured: Big issue Invest (£30,000 in 2018)
Key social impact metrics: To date, has trained 52 people in Edinburgh, Glasgow, Manchester and York. It reached 2,500 customers in 2018 through tours and a further 1,000 via public speaking and school sessions
Zakia Moulaoui was listed on the 2018 NatWest WISE100 – a list of the UK's 100 leading women in social enterprise and impact investment – and spotlighted as one of 12 particularly influential and inspiring women.
Header image: Guide Danny leading a tour in Manchester (credit: Emma Boileau)