Davos 2020: Six stories you may have missed
The annual gathering of the World Economic Forum took place last week in Davos, Switzerland – this time on the theme of 'stakeholders for a cohesive and sustainable world'. Here's our pick of the impact economy headlines.
1. Move aside Shareholders, the Stakeholders are in town
With a new World Economic Forum manifesto putting forward 'stakeholder capitalism' (and echoing the 1973 edition), the scene was set for a slightly different tone this year. According to Quartz reporters, you could "barely walk ten steps" without overhearing the S-word; it also popped up in the title or description of 13 sessions in the forum's main programme.
Colin Mayer, the academic lead on the Future of the Corporation project, was invited to speak alongside fellow Oxford professor Paul Collier – and Mayer's book Prosperity: Better Business Makes the Greater Good was namechecked by Microsoft boss Satya Nadella, who praised it for "a very good definition of the social purpose of a firm".
2. It was all about climate (unless you're the Donald)
For the first time ever, the top five risks reported in the World Economic Forum Global Risks Report related to the environment. PwC's Annual Global CEO Survey revealed a record level of pessimism, largely caused by uncertainty (driven by various factors including climate change) – but also found that CEOs today are far more likely to see the benefits of going 'green' compared to 10 years ago. US president Donald Trump dismissed climate activists as "prophets of doom", but the Bank of England governor Mark Carney and former US vice-president Al Gore disagreed. And meat and fish were off the menu in the main Congress Centre for the first time, Thomson Reuters reported.
The Climate Disclosure Project unveiled its 'A-list' of 179 companies leading on environmental transparency and performance. Among them: Microsoft (which recently announced it would become carbon-negative by 2030, and remove all carbon it has ever emitted by 2050) and Nestle (which has just promised to invest CHF 2bn in sustainable packaging).
3. Calling out elitist billionaires and sexist economies...
In a recent interview feature with The New York Times, WEF founder Klaus Schwab defended the apparent paradox of inviting the world's rich and powerful to discuss changing the world: "Elites have always existed. We bring together people of influence, and we hope that they use their influence in a positive way."
But Davos wouldn't be Davos without a stark reminder that many of those flying in for the week are far removed from the realities of global poverty.
Oxfam released a report showing that the world's 2,153 billionaires have more wealth than 60% of the entire population, or 4.6 billion people. The report also highlighted how our "sexist economies are fuelling the inequality crisis [by] enabling a wealthy elite to accumulate vast fortunes at the expense of ordinary people and particularly poor women and girls". Meanwhile, the UN's UNDESA World Social Report, exploring the impact of four 'megatrends' on inequality, pointed out that countries where inequality has grown are home to more than two-thirds of the world's population.
4. ...but corporate inclusion of disability made strides
Last year's WEF gathering saw six global firms – Unilever, Microsoft, Barclays, Fujitsu, Cinepolis, and Accenture – sign up to The Valuable 500, an initiative aiming to get 500 global businesses to commit to putting disability on their board agendas in 2019. 
This year, attendees heard that more than 240 companies in 24 countries with a combined workforce of more than 9.8m had signed up. Organisers hope to announce the final 500 leaders at the United Nations General Assembly this year.
5. Greta wasn't the only teenager invited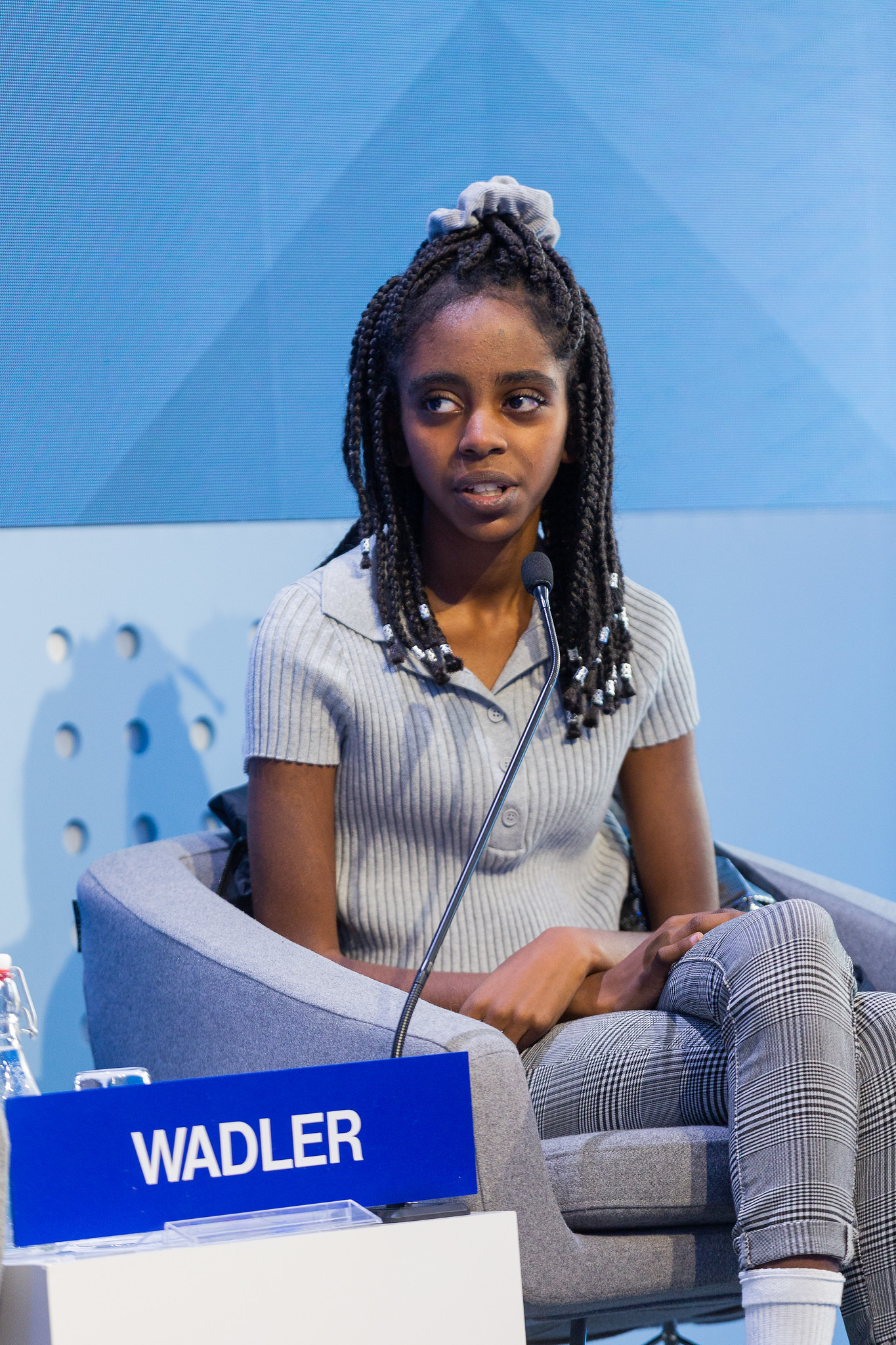 Swedish activist Greta Thunberg followed up last year's headline-grabbing speech ("Your house is on fire") with a similar message: "Your inaction is fuelling the flames by the hour".
But she wasn't the only one invited to the Swiss resort. For the first time this year, a group of 'teenage change-makers' – Greta plus nine others from around the world – were invited to take part in sessions on the official programme. 
The youngest delegate of them all was 13-year-old Naomi Wadler (pictured), an activist on gun violence and discrimination against African American girls, who organised a school walkout at the age of 11 following the shooting in Parkland.
As well as joining musician will.i.am on stage, she spoke out about the responsibility placed on young activists, saying: "We need to look at ourselves first – and make sure we're OK. We're not going to have the capacity to make the world a better place if we're not taking care of ourselves."

6. Money, money money for the impact economy
Lots of organisations used the occasion to announce or launch headline-grabbing initiatives or funding. Among those we spotted:
Thanks for reading our stories. As somebody working in the impact economy, you'll know that producing quality work doesn't come free. We rely on paid subscriptions and partnerships to sustain our purpose-led journalism – so if you think it's worth having an independent, specialist media platform to share your news, insight and debate across the globe, please consider subscribing. You'll also be buying social: Pioneers Post is a social enterprise itself, reinvesting all profits to help you do good business, better.
Photos: Closing concert: Voices of Light, at the World Economic Forum Annual Meeting 2020 in Davos-Klosters on 24 January; Naomi Wadler speaking on 24 January (World Economic Forum/Christian Clavadetscher)