The 'doctor brides' revolutionising Pakistan's healthcare
Thousands of Pakistani women qualify as doctors every year, but half of them quit after they get married and have children. Telemedicine social enterprise Sehat Kahani gets these women back to work at the same time as extending healthcare into the poorest communities. Our Young Storymaker Hamna Iqbal reports.

"Everyone wants to show doctor brides as a trophy, but then they also want them to stay at home," says Dr Sara Saeed Khurram when asked about the "doctor bride" phenomenon – women who do not practise medicine after marriage in Pakistan, a country which has a total medical workforce of nearly 200,000 certified doctors, yet for every 1,200 patients in a population of 219 million, there is only one doctor available. The blame for this shortage is often placed at the feet of women who are accused of wasting their medical education following graduation.
It is estimated by the Medical Council of Pakistan that half of female doctors drop out of work. More than 70 per cent of medical students are female, yet only 23 per cent of them practise after they graduate.
This was the same scenario in Khurram's class at medical college in 2010 which was comprised of 70 per cent women and 30 per cent men. During the final year, she saw her female classmates suddenly getting engaged or married and having children while juggling with exams and rushing back home to feed their babies.
Khurram stopped medical practice as well after getting married and became part of the doctor bride phenomenon herself. Her personal struggles – moving to a new city after having her first daughter and post-partum depression – encouraged her to figure out how female doctors could get back into the medical workforce.
Over three years, Sehat Kahani has served more than 150,000 patients via online consultations through its 26 clinics set up in deprived areas
Her unflinching resolve to address the issue of non-practising medical graduates coupled with providing quality healthcare for all led her to experiment with doing Skype consultations for patients in Karachi's Sultanabad area, where she had previously worked for a USAID-funded project, from her home in Lahore.
This worked out well, as patients were satisfied with seeing a doctor via video. This was the first step which eventually led to Khurram launching Sehat Kahani, a telemedicine social enterprise with a majority female staff that provides quality healthcare to those in need.
Read more: Our Voices from the Frontline series features social entrepreneurs talking about the challenges they have faced and how they have supported their communities during the Covid-19 pandemic.
On how she laid the foundation of her company along with co-founder Dr Iffat Zafar Aga, another woman with a medical degree who ended up quitting work following the loss of her first baby, Khurram (pictured top) tells Pioneers Post: "We submitted a concept in a start-up competition just to get some initial funding and we were happy to secure a good amount to start the company." The $25,000 from the non-profit grantmaker CRDF Global was enough to get the business up and running.
Accessible healthcare for all
The company, which focuses on primary care, prides itself on paving the way for health-tech in Pakistan.
Khurram explains that Sehat Kahani is based on an impact vertical – which works for "the low income segment in which we connect under-served patients to female doctors through clinics which are in brick and mortar spaces", and a revenue vertical – "for the middle to high income class, we have a mobile app that the customer can either download themselves or they can avail through our corporate packages".
Instead of creating additional infrastructure, Sehat Kahani partners with the resources available, upgrading existing clinics in low-income communities, which are usually run by nurses or midwives. 
The nurse makes appointments and enters the medical history of the patient. "Whenever a patient comes to a clinic, a nurse connects the patient to an online doctor who is present through the telemedicine software," says Khurram. All the doctor needs to have is a laptop and valid internet connection to work from her home, even with her children around. "The doctor is notified through the software as soon as a patient comes in." Between 10 and 15 minutes is allocated for each patient, who is then prescribed medicines and lab tests, which can be carried out locally, if needed, by the doctor. Those patients who cannot be treated through telemedicine are given hospital referrals.
Nur Tabinda is the nurse with whom Sehat Kahani joined hands to inaugurate its first telemedicine clinic in Karachi's Model Colony, a low-income area on 11 May 2015. Although Tabinda, who has given 20 years of her life to her patients, has ample experience of running a clinic, Sehat Kahani gave her further training to enable her to operate a telemedicine clinic.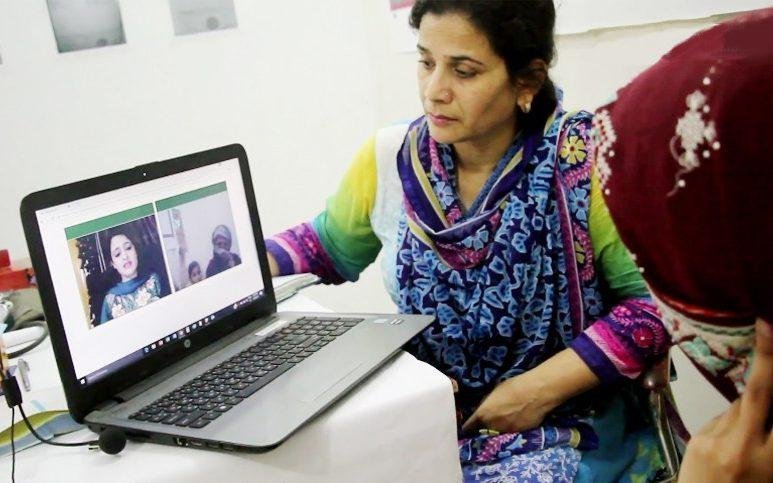 Nurse Nur Tabinda, a trusted member of the community, is key to the success of Sehat Kehani's first telemedicine clinic
Pioneers Post visited Tabinda's clinic in October and we asked her about how her community – which previously mainly relied on self-medication – initially reacted to the idea. She explains, "people had trust issues and said things like 'we don't know if it's even a real doctor or not on the other side of the screen'."
However, with the help of advice sessions, mobilisation, mohalla (neighbourhood) meetings and awareness campaigns, Tabinda – a familiar face in the community – was able to convince people to give her new venture a chance.
The clinic received its first few patients after they set up a dedicated meeting for diabetic and hypertensive patients where many benefitted from treatment provided by the telemedicine consultants. And, eventually, word of mouth helped attract more people. Five years later, the clinic now has patients coming from far off areas and many people enthusiastically inquire about their appointment prior to it without reminders being sent.
These clinics function as affordable and convenient out-patient departments and are equipped with a lab, ultrasound services and medicines. "We cater to viral, seasonal and epidemic diseases such as heat stroke, chest congestion and viral fever," Tabinda says. The clinic also boasts that it is able to employ specialist consultants which are affordable to the community.
A sustainable business
On how the doctor-duo has been able to sustain their business, Khurram tells Pioneers Post that most similar tele-health projects in Pakistan rely on donor or charity funding, and they have a tendency to run out of money.
She attributes Sehat Kahani's success to its sustainable business model which charges 50 to 100 Pakistani rupees per patient, and stipulates that each clinic needs to see 350 of them per month to break even. "Whether Sehat Kahani remains or not, the clinic should make enough revenue to sustain itself," says Khurram.
From day one, the clinics were making money due to the social enterprise's paid model. This revenue enables them to pay the doctors and the community female mobilisers as well as cover a clinic's utilities expenses.  
Over time, they were able to reduce their dependence on grant funding and hope to decrease it even further in the future. As of now, 60% of the turnover is the business's earned income and 40% is grant funding. 
For its more well-off patients, Sehat Kahani's mobile application, launched in 2019, is for people with access to smartphones and for those who cannot visit a doctor physically. All you have to do is download the application, log in and tap on the 'Consult Me' to find a doctor for a real-time video consultation. "We also sell this app to companies as a cheap alternative to get consultations for their employees because a lot of them in Pakistan do not have medical or health insurance," says Khurram.
Trust, infrastructure and training
The social enterprise had its fair share of challenges along the way. Khurram believes that the playing field between a male and female is not level in Pakistan. "We are a female-led company so the biggest challenge was to be taken seriously by stakeholders, corporates and the government," she says. 
Some stakeholders predicted that doctors who wear a niqab (face-covering veil) would struggle to build trust among patients. Khurram counters that one of their doctors who wears a niqab has built up a strong number of patients due to the quality of her consultancy. It's all about developing a good doctor-patient relationship, Khurram adds. 
Having to work in diverse Pakistani communities with different needs and creating a standardised model that could be replicated was another challenge. Additionally, Pakistan's fragile infrastructure, particularly in rural areas, can be a problem. "From power supply to internet connection, the firm had to make sure everything is working and how to deal with it if something stops working considering there are hardly any electricians in villages," says Khurram.
The doctorpreneur shares that training and capacity-building of nurses and female doctors was another challenge the company encountered. Female doctors' self-esteem takes a big hit after being out of work for a few years: "I sat at home for two years so I am a victim of it," she says. Hence, it was important to ensure that these doctors are confident enough to see a patient on their return to the profession and can adapt to telemedicine as "there's a vast difference between seeing a patient physically and seeing someone through a screen," Khurram explains. 
Sehat Kahani conducts due diligence to make sure doctors are up to date with the current medical knowledge and are capable enough to return to medical service. After recruitment, female doctors enter the Sehat Kahani provider network where they take up courses through their online learning system. "From this network we recruit them into active clinics and in our mobile apps – it's a two-step process," Khurram says. 
150,000 patients in three years
Over three years, Sehat Kahani has served more than 150,000 patients via online consultations through its 26 clinics set up in deprived areas in Karachi, Sindh, Punjab and Khyber Pakhtunkhwa. It has established an extended network of 1,500 female doctors who were either unemployed, not working to their full capacity or weren't in the field of their preference. At present, around 60 of these doctors based in Pakistan and abroad – US, Canada and the UK – work for the clinics and the mobile application, and others in the network will be added as demand increases.
"Our massive health education and promotion in our clinics has impacted 1 million people and we have carried out 20 healthcare drives so far," says Khurram. 
The social enterprise's efforts have been recognised internationally as well. In 2019, Khurram became the first Pakistani woman to win the Rolex Award for Enterprise as Associate Laureate for her telemedicine delivery system. 
Later, in the same year, Sehat Kahani's digital and innovation lead, Nida Shehzad, was awarded the Diana Award for her contributions to women's empowerment through the use of digital technology in the development of healthcare delivery in Pakistan.
Recently, co-founder Aga was featured in a documentary by Microsoft, which is one of Sehat Kahani's key technology partners.
Khurram's vision is: "Whenever a person needs a doctor in Pakistan, the doctor should be available via their phone, because this is life for most of us." But since everyone does not have access to technology, "we plan to make 100 e-clinics across Pakistan by 2023".
Mother of two young children, the doctorpreneur manages to balance family life and running a social enterprise with the support of her family. "I am blessed to have a very strong team at work and a very strong team at home which comprises of my parents and husband who really help me manage my work as well as my children."
Editor's note: since this article was written, Sehat Kahani has taken on a key role in Pakistan's response to the Covid-19 pandemic by providing free online consultations for the next three months in partnership with the country's Digital Pakistan initiative.
Hamna Iqbal Baig is a DICE Young Storymaker – one of 14 young journalists recruited by Pioneers Post and the British Council from six countries to report on social and creative enterprise around the world.