To help women entrepreneurs in Pakistan, it pays to think BIG
Running a business in rural Pakistan isn't easy – and for women, it's even harder. Our DICE Young Storymaker on an initiative that's bringing blockchain solutions to age-old challenges, and combining it with more traditional skills training to help entrepreneurs break down barriers.

Running a business in a low-income area of Pakistan is a challenge, to say the least. Internet access is limited, transport to major cities is not guaranteed, digital skills are in short supply and opportunities to learn them are lacking. 
For women, the challenge is two-fold. Not only are they faced with the lack of support to expand their business, but they also face prejudice about what kinds of businesses women can run. 
'Female entrepreneurs often lack sufficient business skills and knowledge of market demands'
"Female entrepreneurs in remote areas are skilled in developing their cultural crafts," says Umayr Khan, a project manager at DEMO, an Islamabad-based organisation that provides digital skills and entrepreneurship training. "But due to their often isolated context, they lack sufficient business skills and knowledge of market demands." This makes it hard to sustain a business and therefore earn a living.
The cocktail of social, economic and geographical barriers means that those that most benefit from economic growth are men, while women continue to struggle to break into the market. In 2012, they made up just 5% of all Pakistan's entrepreneurs, and only 1% of women run a business. 
Powered by partnerships
DEMO's latest project provides training to women wanting to start or grow a business in underdeveloped regions in Pakistan. But its work to address this skills gap isn't done alone – for years, DEMO has collaborated with the grassroots digital innovation organisation MadLab. Based in Manchester (UK), MadLab has over 10 years' experience helping underrepresented communities with business skills, first locally and now, internationally. The two organisations have worked together previously, and funding from the DICE (Developing Inclusive and Creative Economies) Fund, developed by the British Council to encourage partnerships between intermediary organisations that support creative and social enterprises, gave them the perfect opportunity to develop their next project.  
By offering female entrepreneurs the training and connections to grow their business ideas, the project also offers them a chance to challenge the social and economic barriers that women in rural Pakistan face.
Not only this, but it's a necessary step towards achieving an inclusive economy – that is, an economy based on social and economic justice and sustainability. When men own 50% more wealth than women worldwide, it's more important than ever to directly tackle a system that inhibits growth and justice more than it empowers. The BIG – or Blockchain for Inclusive Growth – initiative is one example of a partnership that's not afraid to change the narrative. 
DEMO and MadLab had already collaborated to deliver digital skills training in Pakistan – and found that participants wanted proof that they had completed the training to show to business partners or potential employers (not all trainees are making a living off their business yet). Without a credible certificate, the participants struggled to prove their skills. DEMO and MadLab wanted to address this need: they needed to think BIG.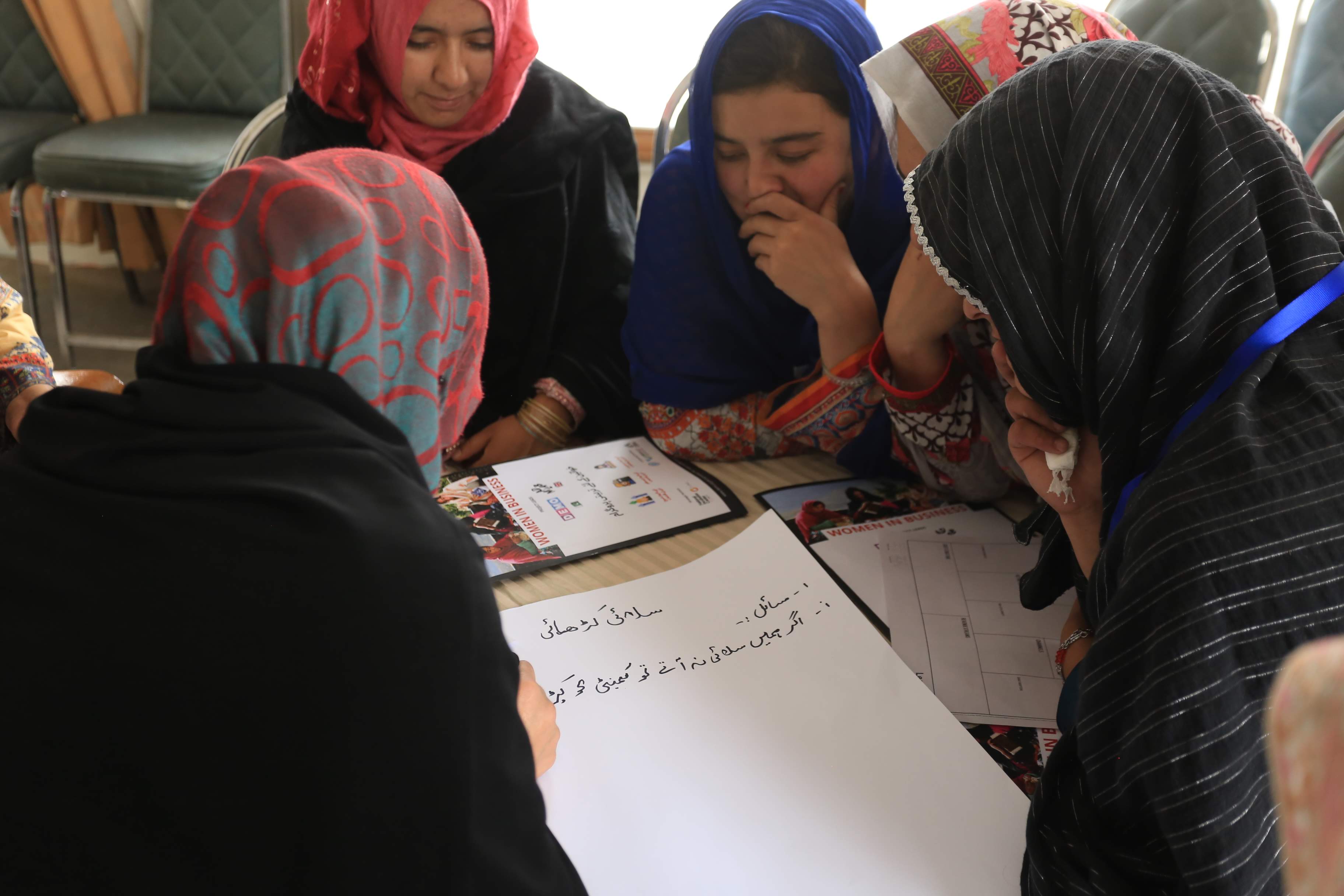 Above: a business planning activity in a session run by DEMO (photo credit: DEMO).
Blockchain for Inclusive Growth 
Many will be familiar with the term 'blockchain' since it was first hailed as the new revolutionary technology a few years ago. But fewer – myself included, when I first began researching BIG – could explain what it actually is. Broken down to the basics, blockchain is a time-stamped piece of data that is managed by multiple computers rather than just one. This means that when a piece of data is passed from A to B, it needs to be verified by thousands of other computers, and creates a unique record with a unique history that can't be copied. 
'Blockchain certificates will potentially replace the outdated and tedious process of issuing qualifications'
The initial hype around blockchain has died down somewhat, but the concept is steadily finding its use in certain sectors (following the typical path new innovations take, as set out in the Gartner Hype Cycle). As Asa Calow, director of MadLab, put it, "it hasn't revolutionised everything but it has revolutionised some things." One of those things is the BIG project. 
The project works in two parts. First, there's the training. In the summer of 2019, DEMO unrolled their training programme in four cities in Pakistan: Hunza, Skardu, Swat, and Abbottabad – chosen because they fit the profile of low socio-economic areas with few existing opportunities for digital entrepreneurship or resources for female business owners. DEMO conducted two-day skills training workshops in each city, focused on launching and growing creative social enterprises. The training, attended by around 150 women, covered a range of business skills including customer acquisition, marketing and budgeting. 
In June during a pilot stage of the project, DEMO also held summits in Hunza and Skardu to connect business leaders and policymakers with female entrepreneurs, and to educate leaders on the role they could play in helping empower women to grow their business beyond their current cities. 
The summits and the training have proved a considerable success so far. Rukshan Jahangir, one of the participants in the training at Swat, told DEMO she had previously "struggled and fought" to establish a vocational training centre for women. "This training has helped me enhance my branding and marketing skills which I believe is the most important component to run my business successfully."
Project leaders were keen to ensure accessibility was not an issue. They hosted the training close to where participants lived; DEMO worked with local community partners to offer transport to those without easy access to the city, and delivered the workshops in a mixture of Urdu and the local languages. Partnering with community organisations has laid the roots for more local cooperation in future training. 

Breaking barriers
Looking to the future, we need step two of the project: blockchain. Currently in the beta stage of developing the technology, MadLab provided the participants with certification through the Blockcert platform (the blockchain technology that creates the shareable webpages). The certificates are designed to be accessed in the least technical way possible, requiring neither the participant nor the employer to have expertise in blockchain. MadLab was set to launch the public website that provides this technology earlier this year. 
MadLab has developed certificates that are delivered through private shareable webpages online. Participants receive a link to the webpage, which they can then print if needed, and show to employers or prospective business partners. The webpage is encrypted using blockchain, meaning it can't be falsified or replicated. "The blockchain certificates will potentially replace the outdated and tedious process of issuing qualifications and remove the limitations of regular paper-based certificates, records of which have always been difficult to trace back to the issuers," says Khan.
'We've increased the tech affinity of rural women entrepreneurs to leverage digital tools to grow their businesses and reach customers beyond their cities'
So, will the BIG initiative pay off? According to Calow, it already has. "Success looks like an in-country programme that wasn't there previously, networks, things happening that wouldn't otherwise have happened," he says. Khan reiterates this: "We travelled over 3000km and empowered over 150 women entrepreneurs in low socio-economic areas of Pakistan with essential business skills and resources to amplify the growth and outreach of their businesses," he says. "We've increased the tech affinity of rural women entrepreneurs to leverage digital tools and social media platforms to grow their businesses and reach out to customers beyond their cities."
Calow references the double diamond design model to sum up the journey that the BIG initiative has taken perfectly: what you set out to do is only the first step towards arriving at what you should do. What started as an endeavour to reach female entrepreneurs and provide digital training resulted in MadLab's first foray into blockchain technology, an international partnership that pushed both DEMO and MadLab out of their comfort zones, and a new tool for female entrepreneurs in Pakistan to break barriers in business.
Julia is a DICE Young Storymaker – one of 14 young journalists from six countries selected to reporting on social and creative enterprise as part of a joint initiative of Pioneers Post and the British Council. 
Header photo: Trainees work on logo development in a session run by DEMO (credit: DEMO).