The hip hop DJ helping lower crime and boost entrepreneurship in São Paulo's suburbs
A project that began in DJ Bola's parents' garage is now a cultural centre that's supporting local businesses, engaging vulnerable youth – and helping transform what was once the world's most dangerous neighbourhood. Our DICE Young Storymaker Maria Eduarda Lannes reports from Jardim Ângela in Brazil.

The year is 1996 and Jardim Ângela, a suburban district in southern São Paulo, has just been named the most violent neighbourhood in the world, with a homicide rate of 108 per 100,000 people. This designation, which comes from a United Nations ranking, cements a reputation for violence that Jardim Angela has accumulated over decades. 
But it also inspires a turnaround – with social enterprises and other initiatives by local residents contributing to a 70% reduction in crime by 2019.
Marcelo Rocha, commonly known as DJ Bola, was born and raised in the neighbourhood. During the 90s he was a young teenager. "It was a harsh reality that was imposed on us. I was the victim of violent acts every single day," he says. At 15, Bola began searching for a platform to express his passion for hip-hop culture. So, in 1999, with the help of neighborhood friends, he created A Banca, a youth organisation that held hip-hop events around Jardim Ângela. "At that time, our only objective was to survive. To have a voice and be respected here," Bola recounts. 
'At that time, our only objective was to survive. To have a voice' - DJ Bola
As A Banca grew, Bola began earning a livelihood as a DJ and event promoter. He became known not only for promoting hip-hop culture as an antidote to violent surroundings, but also as a stimulator for creative and social enterprises in periferias, as poor suburban neighbourhoods are called in Brazil. (Favelas, by contrast, are typically located in city centres.)
Today, A Banca is a cultural production centre and social enterprise, specialised in planning events, hip-hop and cultural workshops (often hiring young people to deliver them) and promoting cultural, social and economic inclusion for vulnerable youth. Through art and music, it engages the young community in conversation circles to take action in improving education and health standards and developing political conscience.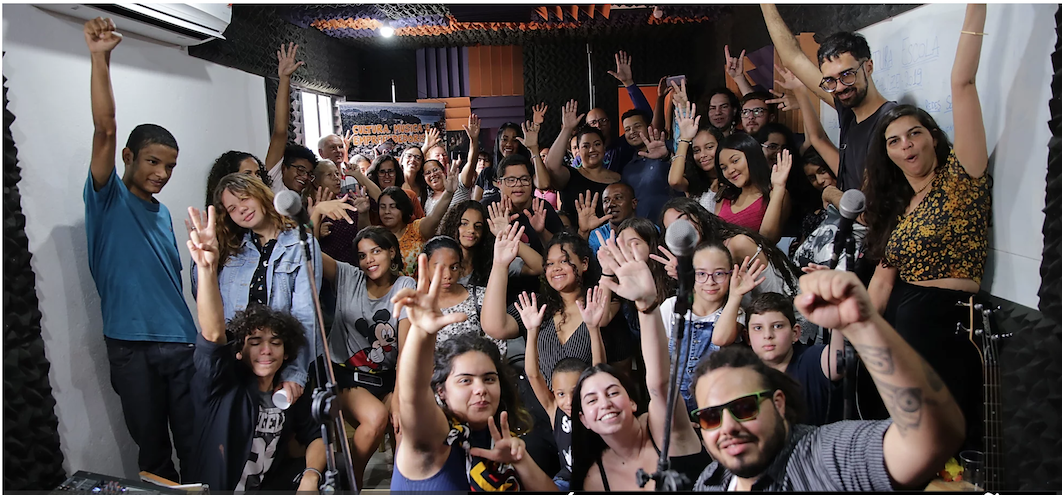 Above: the A Banca team (credit: A Banca).
For the last two years, their latest mission has been to incubate local entrepreneurs, an essential step for residents to develop their own businesses that address problems in the community. In 2019, A Banca selected 10 businesses to accelerate. 
Bola, as executive director, does all the fundraising, strategic planning and partnerships. Most of his colleagues were born and raised in Jardim Ângela as well – including Fabiana Ivo, A Banca's education director, who has spent 13 years specialising in human rights and feminism. "Surviving the district's environment was crucial in helping me decide what my life's purpose would be," she says. "It made me realize that my dreams wouldn't be limited to the high walls of the public school I went to. I wanted to transform the way young people are educated." 
'I wanted to transform the way young people are educated' -  Fabiana Ivo, education director at A Banca
Ivo says A Banca has helped transform Jardim Ângela. When it was formed, hip hop culture was niche and had very limited appeal beyond a core group of followers, whereas today it's part of mainstream youth culture. "We hold organised events that promote dialogue between residents, even the ones that didn't feel involved show up. Our events also aim to stimulate conversation circles about gender equality, especially in the hip-hop scene." 
Bola believes the parallel work of various organisations helped to diminish Jardim Ângela's violence. "We collaborate to promote what already had potential here in our surroundings."  A Banca also brings residents from other areas to exchange ideas. 
 
Entrepreneurial energy
In its first ten years, A Banca was run from Bola's parents' garage, but its prospects changed after it took part in an acceleration programme in 2006 offered by Artemisia, a non-profit that supports social impact businesses in Brazil. It was during this programme that Bola and his colleagues first learned about the concept of social enterprise – leading to the creation of their first business plan. As one of the programme's five finalists, A Banca also received a grant that allowed Bola to start running his organisation full time.
Since then A Banca and Artemisia's partnership has bloomed into new projects such as ANIP – Aceleradora de Negócios de Impacto de Periferia (Periphery Impact Businesses Accelerator), whose mission is to invest in and strengthen social impact businesses in peripheral neighbourhoods of São Paulo. In cooperation with the Getúlio Vargas Foundation's Center for Entrepreneurship and Businesses, ANIP supports residents of Brazilian periferias and favelas in developing businesses that address their social problems,  providing them with expertise and mentoring, entrepreneurship training and an initial grant of R$20,000 (around £4,000).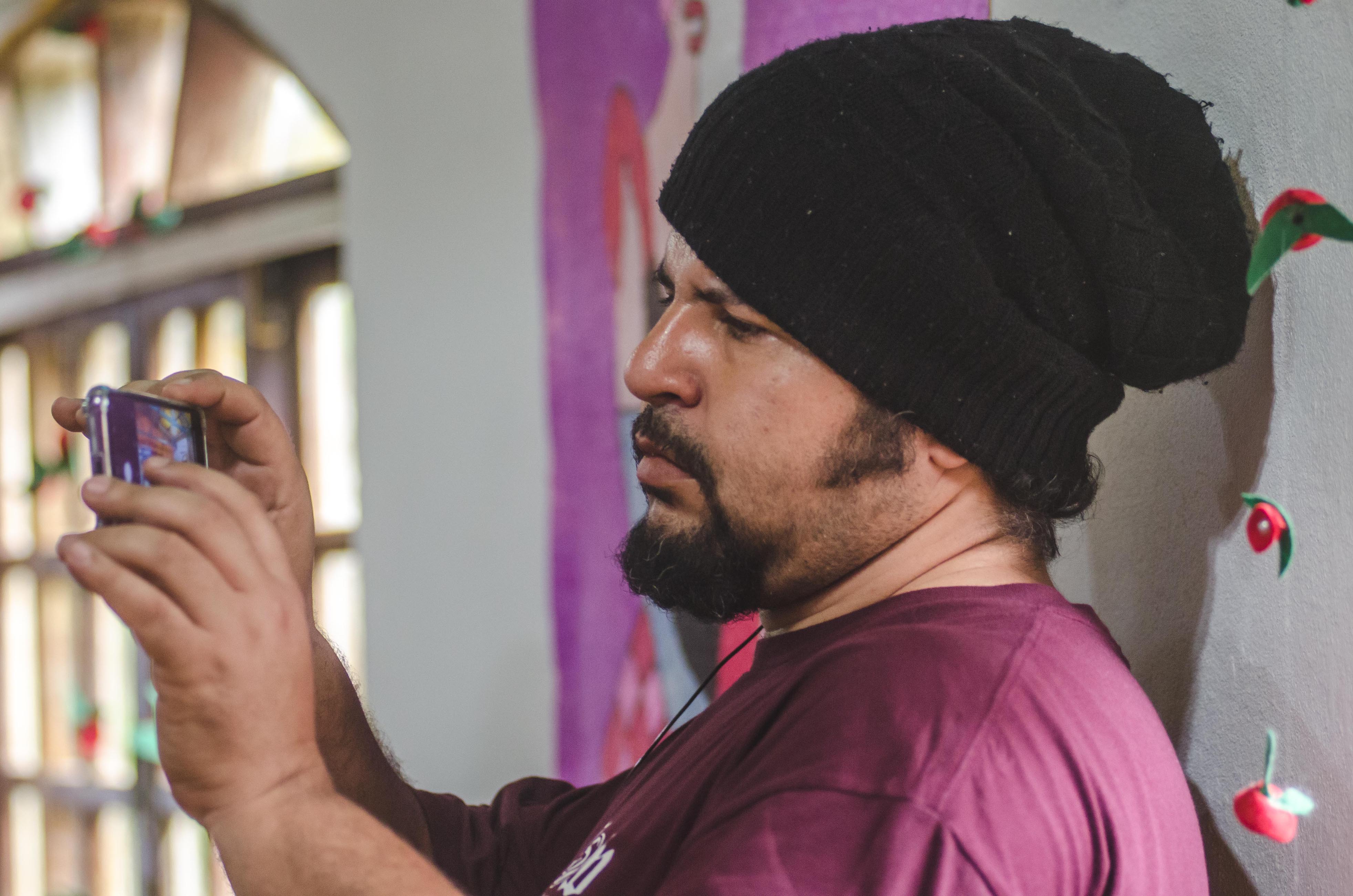 Above: DJ Bola, pictured at an event last year.
In August 2019, the organisations held the 2nd Peripheral Impact Businesses Forum (FNIP). Designed to support social and creative entrepreneurship in disadvantaged communities, it brought together entrepreneurs from the outskirts of Sao Paulo and from five other Brazilian states as well as investors and creative entrepreneurs from across Brazil and the UK. "FNIP is a way to study the ecosystem of businesses on the outskirts, and form new ways of thinking about what we see as traditional finance models," Ivo says. 
Among the speakers at the forum was Jaqueline Bleicher, director of UK-based Global Urban Design, a social enterprise that specialises in providing urban design and placemaking services. Her organisation was visiting Brazil as part of a partnership with A Banca, funded through the British Council's DICE programme which supports creative and social entrepreneurs in five emerging economies to connect with peers in the UK.
"Working with A Banca was a really wonderful experience," says Bleicher, who during her visit did workshops with the organisation on the creative process and on marketing for creative social enterprise. "My engagement with the creative entrepreneurs was incredibly positive. Everyone was very warm, loving and receptive to the teaching and learning exercises." 
Serving the underserved
Silvana Trucss (pictured below) was one of the 10 participants of ANIP's 2019 acceleration programme. While working in hospitals as a hemotherapy technician, she assisted patients in the treatment of disease by the use of blood transfusion. Trucss had noticed many transgender women coming in with  kidney problems caused by the same thing. Many of these women practise "tucking" – the use of adhesive tape and strong glues to hide their genitalia so they are not conspicuous through clothing – in order to pass as a cisgender females; some cisgender men employ the practice to dress in drag.  This causes people to hold in their urine for many hours, which can lead to kidney problems requiring dialysis. Trucss decided that she had to do something, so she created her specially-designed, eponymous underwear brand. These underpants come with a funnel inside so that the women can tuck in a practical, fast and comfortable way.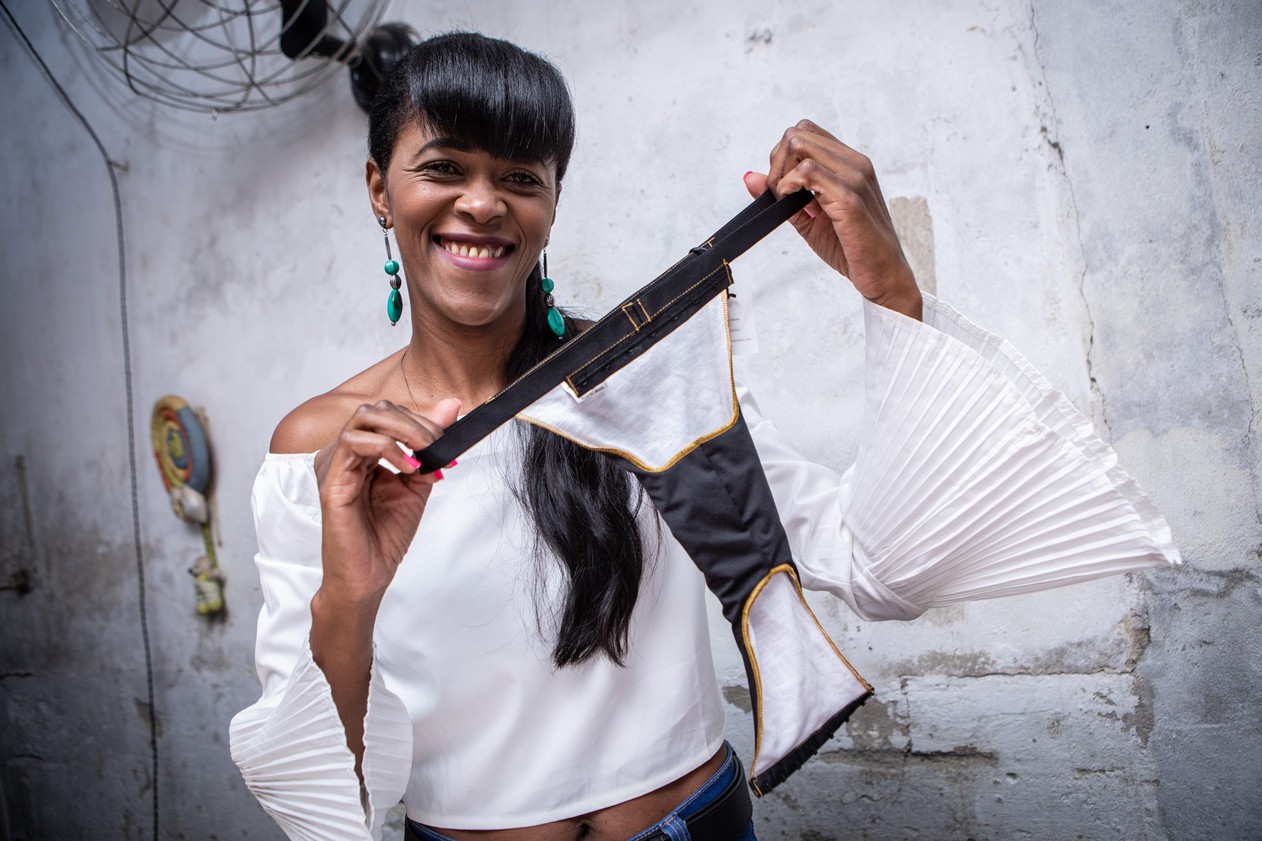 "Nothing is more challenging than tackling an issue that so far, has had no solution. Trucss is a unique way out for many," the founder tells Pioneers Post. 
But the entrepreneur was struggling to get the backing she needed, even more so as her business is based in the peripheries of São Paulo and because its consumers are marginalised members of society. Joining ANIP, she says, "gave me guidance to overcome the challenges that had me stuck. I was able to gain access to legal advice to establish a contract with the national mail service so my product could be sold nationwide online, launch an influencer campaign to market my brand on social media and also professionalise my website," Trucss explains.
'My company is now at a level I didn't think it would be' - Silvana Trucss, entrepreneur
By the end of 2019, she was able to launch a new summer collection that included beachwear, and sales have been growing by 50% each month. "I was very well received at the accelerator and my company is now at a level I didn't think it would be," Trucss says. 
A Banca plans to support many more businesses like this one. This year, the plan is to expand the ambitions of the ANIP accelerator: it will not only aim to grow small businesses but also build deeper relationships with them and have more conversations – and therefore deeper impact. The change in tone is reflected in the new language – Ivo says it will be known as an 'articulator', not an 'accelerator'. ANIP will expand to two more states in Brazil this year, too. "The goal is to always respect the peculiarities of the region we are working with, and expand regional capacity," says Ivo.
Maria Lannes is a DICE Young Storymaker – one of 14 young journalists from six countries selected to reporting on social and creative enterprise as part of a joint initiative of Pioneers Post and the British Council.